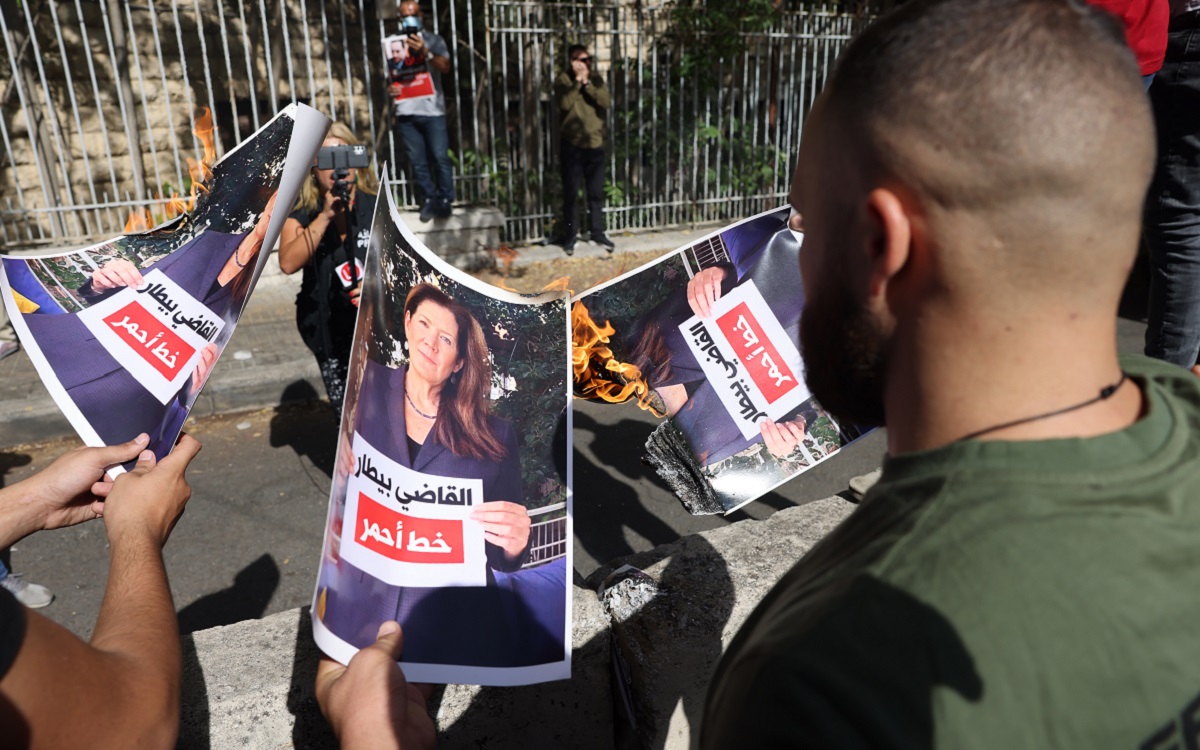 Supporters of Hezbollah and the Amal movement burn a portrait of US Ambassador to Lebanon Dorothy Shea near the Justice Palace in the capital Beirut on October 14, 2021, during a gathering to demand the dismissal of the Beirut blast lead investigator. Photo: Joseph Eid, AFP.
The seven faces stood out, smiling on the image in the pro-Hezbollah Telegram group. Next to them was the face of the lead investigator of the August 4 Beirut port explosion Tarek Bitar with one phrase written over his face: "Their blood is on his hands."
This was one of many images and posts that targeted Bitar in the wake of the October 14 shootout that left seven dead and over 30 injured. All of the posts put the bloodshed on Bitar, claiming that he was responsible for what happened.
It is not just social media, though, that has targeted Bitar. Hezbollah politicians and Shiite sheikhs with ties to Hezbollah are also urging Bitar to resign or for the government to replace him.
Their reasoning?
He has polarized the nation, leading to a rise in sectarian tensions and his stepping down would help to ease these tensions.
According to Bachar el-Halabi, a Middle East analyst, this is all part of a coordinated effort by Hezbollah to manipulate the public perception of Bitar from a man investigating a crime that killed over 200 people and injured thousands more, to a man that is causing violence in the streets of Beirut and is "leading the country down a dark and treacherous path". Changing the narrative around the judge will help justify his removal for the sake of the country.
"When the society is deeply polarized, you will see the likes of Walid Joumblatt, Saad Hariri and all of those people saying 'Well you know what? The peace and security in the country is more important sometimes than finding justice," Halabi told NOW. 
Lighting the fuse
Tensions in Lebanon have been high since the fighting in Tayouneh with the Shiite Hezbollah and the Christian Lebanese Forces embroiled in a war of words. 
Hezbollah accuses the Lebanese Forces of wanting to start a civil war while Samir Geagea, the head of the Lebanese Forces, says that if he needs to appear before a court to give testimony about the events of October 14, the Hezbollah's secretary-general, Hassan Nasrallah, should do the same.
However, for Hezbollah, this is all part of a strategy towards shutting down the port explosion investigation with little public protest.
"Basically, I think the organization is building a parallel narrative around the Tayouneh clashes, in which we have a crime versus another," Mohanad Hage Ali, director of communications at the Carnegie Middle East Center in Beirut, told NOW. 
"They need to push this grievance forward to pre-empt the Bitar-led investigation from going any further. Hezbollah has no interest in seeing this investigation go forward, as it seems committed to protecting its allies, Ali Hassan Khalil, [Yousef] Fenianos and Hassan Diab."
In addition to this, Hezbollah views Bitar's investigation as a challenge to its growing authority in Lebanon. Should Bitar be able to continue and complete his investigation, it presents an independent judiciary that is able to confront the group and stand up to the political class, something that Hezbollah cannot allow.
"They want to revive the old system and reshape it their way. Hezbollah setting the agenda in the country and having an independent judiciary don't work together," Hage Ali stated.
"While Hezbollah was out of the game [during the civil war], they re-entered later and caught up with the militia order, taking the lead. They have accumulated quite a bit, from assassinations to intimidation and government misconduct, and an independent judicial investigation seems like a step in the wrong direction to them."
They want to revive the old system and reshape it their way. Hezbollah setting the agenda in the country and having an independent judiciary don't work together.
Halabi agreed with Hage Ali and added that if they are able to force the removal of Bitar and steer the investigation in the direction that they desire, then it would prove to be another notch in their belt of state institutions that they can influence.
"If Bitar is sidelined, this is where Hezbollah would have coopted the judiciary and then we are left with the army's commander who enjoys Arab and US support," he said. "And I think it would only be a matter of time until Hezbollah coopts him, if Bitar is sidelined or kicked out."
When it comes to sidelining Bitar and ending the investigation, the fighting that took place in Tayouneh gives Hezbollah the perfect opportunity to cash in on the fears of an escalating conflict, especially between two opposing sectarian parties. The fact that several people were killed in the four-hour firefight only adds to their narrative that if Bitar is going to continue his investigation, the violence will escalate.
"For Hezbollah, driving up sectarian tension, which resulted in bloodshed, is also an initiation tactic because, at the end of the day, Hezbollah's plan, or one of its strategies, has been let's exacerbate tension and this is when everyone else caves out of fear from bloodshed and civil strife," Halabi explained.
While in the past this might have worked in stirring up public fears, Halabi argues that their efforts this time have been less effective in lieu of the hundreds that were killed in the August 4 explosion and half the city being reduced to rubble. 
"People have less to lose this time and this is why invoking civil war is not as threatening as it might have been probably a year or two ago," he added. "This is why Hezbollah's strategy is not working. And this is why Bitar is still, up until this moment, working and trying to do his job."
That has not stopped the armed group from continuing to put pressure on the political class to take action against Bitar.
In order to do this, they utilize a combination of politicians, sheikhs, media outlets and, especially, countless accounts on social media stoking the flames.
A unified front
Hezbollah, the Amal Movement and Marada Movement's refusal to take part in government meetings until a solution is found has forced Prime Minister Najib Mikati to indefinitely postpone the meetings until an agreement is made on how to handle Bitar.
With Amal and Hezbollah threatening to resign from the government, a move that would topple the newly formed government, Mikati has to take these threats seriously whether or not the parties truly intend to pull out.
"They are holding the government of Najib Mikati hostage in the current situation and they are threatening to resign from the government and to delegitimize the government in case they don't get what they want," Halabi stated. "Everyone kn0ws how high the stakes are for this government in order to negotiate with the World Bank in order to tap into donor money and humanitarian aid."
It is not just the politicians who are putting pressure on the government. Sheikhs affiliated with Hezbollah have also been vocal about the removal of Bitar and have issued statements attacking the judge.
Following the shootout, Jaafari Mufti Sheikh Ahmed Qabalan stated that Bitar was to blame – a line that became utilized by Hezbollah's cyber army not long after – and linked him with the US embassy.
"Every bloodshed, sedition, a threat to civil peace and security chaos that has occurred today on the defenseless protesters, is because of the American embassy and Judge Tarek Bitar, who must be dismissed, arrested and questioned severely," Qabalan stated.
Hezbollah's deputy secretary-general and spiritual leader Naim Qassem has also called on Bitar to step down, describing the judge a "real problem in Lebanon".
"We wanted a real investigator to reveal what happened at the port so that justice can prevail," the spiritual leader said.
These continued attacks against Bitar are all one part of a unified strategy to delegitimize the judge and present him as the bigger threat to the country.
"The first [part of the strategy] is continuing to up their rhetoric against Bitar, continuing to threaten with civil strife, continuing to say that Bitar's existence and him basically doing his job is something that is dictated by embassies and he's an agent, he's a threat and a menace to society," Halabi stated. 
"And we are seeing this across the board from the senior leadership to their propaganda mouthpieces that they unleash in Al-Akhbar, in written media or audio-visual media."
Social media has also been widely employed not only to attack Bitar, but to add to the rising tensions and put blame on Geagea for what happened on October 14.
Pro-Hezbollah journalist Hosein Mortada tweeted a picture of a prison jumpsuit, saying that it was ready for Geagea to wear.
جهزها وضب تيابه ، لباس #جعجع خلال الفترة القادمة #صار_لازم_ترجع_عاليرزة pic.twitter.com/kt0P9eACb0

— hoseinmortada حسين مرتضى (@HoseinMortada) October 25, 2021
An anonymous account tweeted something similar, saying that it was time to put Geagea back in prison.
لصقاً على باب حصنه في معراب أُبلغ رئيس ميليشيا القوات سمير جعجع بالحضور إلى وزارة الدفاع للإستماع إلى أفادته حول مجزرة الطيونة التي ارتكبها قناصو القوات ضد المحتجين السلميين على استنسابية طارق البيطار
على جعجع أن يحضر يوم الأربعاء إلى وزارة الدفاع التي كان أُحضر إليها مخفوراً ? pic.twitter.com/eD7XThSDUN

— مي (@1oFJ3IlDybS5wVA) October 25, 2021
This is all part of Hezbollah's network to push the narrative further, something that has been utilized by the group against the slain publisher and activist Lokman Slim and even the Maronite Patriarch Bechara Rahi. 
These attacks on Geagea and the Lebanese Forces are another part of their strategy to neutralize LF opposition – especially since some of the families of the Beirut blast victims are supporters of the Christian party. 
"Samir Geagea was trying to position himself as the statesman who wants to support the judiciary, who wants to support the Republic, who's standing for state institutions and this is a narrative that plays well with the Maronite constituency in the country," Halabi explained.
"So, by going after Geagea through the military court, summoning him, issuing a subpoena for him and him not showing up, this kind of backfires at Geagea in a way and it allows them to accuse him of double-standards. And this kind of weakens Geagea's hand a bit in the process of fighting back against Hezbollah."
Hage Ali believes that it is only a matter of time before Hezbollah's strategy pays off and Bitar is removed, despite the fact that he enjoys support from a majority of the Lebanese public, many civil society organizations, as well as the international community. But there is little support from any faction in the political establishment for Bitar and his investigation.
Furthermore, by pushing this conflict between Muslims and Christians and by continuing to fuel tensions, Hezbollah is raising the cost of removing Bitar including making things more difficult for their ally, President Michel Aoun's Free Patriotic Movement, since they would have to justify their support for Bitar's removal with elections just months away.
"They will succeed but I think they're raising the cost significantly with every blunt move like Thursday's and the preceding Nasrallah speech," Hage Ali stated.
"Now, many are asking questions about a potential hidden agenda here, basically whether the organization wants to bury the investigation to hide something. It makes little sense to people that Hezbollah, which is not implicated or pursued yet in the investigation, is merely pushing Bitar out to protect allies. This is not very convincing."
Nicholas Frakes is a multimedia journalist with @NOW_leb. He tweets @nicfrakesjourno.