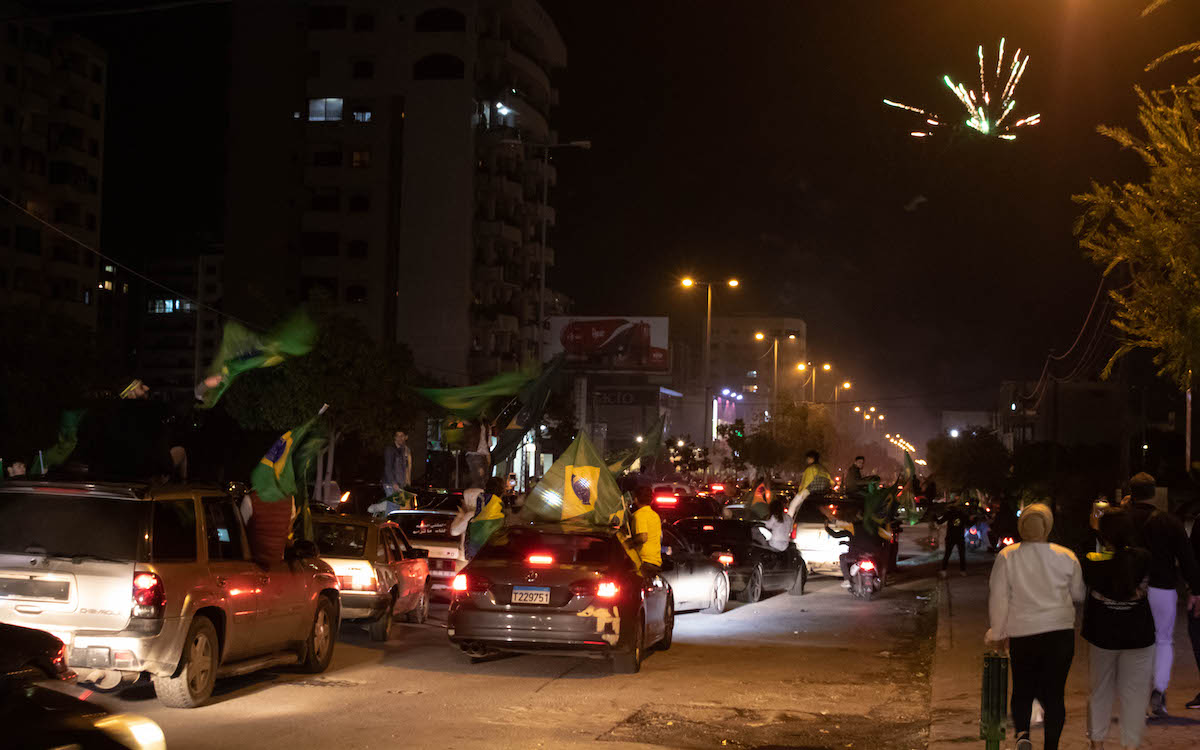 Fans of Brazil's national football team celebrate their teams victory in Tripoli on November 28 after Brazil qualified for the knockout stage of the 2022 World Cup. Photo: Nicholas Frakes, NOW
The streets erupted in celebration on November 28, as Brazil held off Switzerland to qualify for the knockout stage of the World Cup.  Cars blocked the roads as fans streamed out of the coffee shops where they were watching the match, waving flags, honking their horns, and setting off fireworks.
This was not on the streets of Rio de Janeiro.
Rather, it was in the Dam w Farez neighborhood of Tripoli, where many of the city's residents are diehard supporters of the Brazilian national team.
For Lebanese fans, football is an extremely serious matter, with some fans even taking to shooting guns in the air, an act usually reserved for special occasions, to celebrate their team's victory. 
However, this support can sometimes take a violent turn, such as when a Germany supporter shot at a Brazil supporter after they made fun of Germany for losing to Japan.
"When it comes to the ambiance of the World Cup, it's really nice, but in certain matches," Omar Matari, a partner of the new Ward restaurant in Dam w Farez, told NOW. "The ambiance when it comes to the important matches, you feel like you are literally at the stadium here at the restaurant, especially when goals are scored, they start dancing and celebrating. For example, when Brazil won, the adjacent street was closed by cars and traffic for an hour. You feel like it was the final match."
Since the start of the World Cup on November 20, cafés and restaurants in Tripoli have seen a massive influx in business as the city's many football fans flock to them in order to watch their favorite teams compete, or to support fellow Arab countries, such as Saudi Arabia, whose victory against Argentina 2-1 in their opening match transcended political lines in a rare show of regional unity.
In terms of money, this has created a delicate balancing act for these cafés and restaurants as they look to ensure that they make a profit during the monthlong tournament, while also trying to not charge too much which could scare off potential customers.
Some establishments have taken to implementing a minimum charge on customers, which effectively serves as entrance fees as they only guarantee fans a seat. Some have called this practice exploitative, while other restaurant owners have defended the imposition of a minimum charge as necessary in order to make up for paying to broadcast the World Cup matches.
"beIN Sport is very expensive, we are paying about $20,000 each year," Matari said. "It's very hard. If we don't put a minimum charge, we cannot make a profit or at least pay it off."
The cost of doing business
Since Lebanon failed to negotiate the rights for the state television channel to broadcast the World Cup, the country's resident football fans have been left with few options, with establishments seeking the best way to broadcast the world cup matches.  
In Tripoli, there are two main ways of doing this: paying for a subscription to the Qatari beIN Sport channel, or using a VPN to illegally stream each of the matches.
For restaurants and cafés, to subscribe to beIN means paying thousands of dollars, something that not many can afford.
Some restaurants, while normally popular throughout the year, say that they decided not to broadcast the matches due to costly subscriptions and a reluctance to illegally stream the matches out of fear of being fined by the government if they are caught.
Matari says that the high cost of subscriptions is one of the main reasons why restaurants are charging minimum fees for customers who want to watch matches.
These minimum charges can range from around 100,000 lira to well over 600,000 per person, none of which include any drinks, food or shisha. Many in Tripoli are unable to afford these charges, as prices at restaurants have skyrocketed amid the ongoing economic crisis. On top of this, many restaurants have begun pricing their menus in dollars rather than in lira due to the constantly fluctuating exchange rate, making them even more out of reach for much of the population.
"We studied our prices to be fair and to benefit the people," the 27-year-old stated. "For example, our first minimum charge price was 600,000 Lebanese lira but we reduced it to 200,000 Lebanese lira so people can come enjoy the match, have a shisha and a drink. We decreased our prices because people started calling to reserve a seat and felt it was expensive."
Though even this is not always enforced. Matari said that while some restaurants might put a minimum charge for every match, he primarily limits it to the matches that will draw in large crowds, such as when Germany or Brazil play, and sometimes simply does away or decreases the minimum charge if it is a "smaller" match where only a few people might attend.
"For important matches, we are taking minimum charge, because there's a lot of people calling to reserve, and we have to decline to make room for others and people who come randomly at the door," he explained. "For example, if you say that the restaurant can serve 150 individuals, we are trying to squish 200 individuals to give more opportunities to the people to come and watch."
Normally, during the day, most cafés and restaurants see a steady stream of customers come through their doors, but, during this World Cup, most people are preferring to go when there is a match on since it makes more sense for them to only pay once, rather than two or more times per day.
They don't care about spending money here. Unfortunately, the people who get paid in lira here are unable to do anything. We all here get paid in Lebanese lira, which forces me to work three jobs in order to survive.
With restaurants being compelled to buy their products in dollars, forcing them to raise their prices as the economic crisis worsens, it has also somewhat limited the number of people who choose to eat out. But since his restaurant is broadcasting the entire World Cup, it has all but guaranteed that he will have a packed house multiple times per week.
According to Matari, the real test for his month-old restaurant will come after the World Cup is over.
"There's the World Cup so the situation is really good," he said. "People would come to nice places, that have good food to watch the game. Then, after the World Cup, they will return to cheaper places. This is why we will know how the real situation will be after the World Cup. Things will be clearer."
But even during the football tournament, much of the clientele attending matches at the restaurants implementing a minimum charge is significantly limited to the middle and upper class who are able to spend close to a million lira, if not more, to watch a football match several times per week. For an increasing number of people, this is a luxury that they cannot afford.
This is something that is not lost on Matari.
"The people you see that are coming or even standing in line in their cars outside to celebrate, wasting gas which costs around 800,000 Lebanese lira, those people are getting income from OMT [from family members who are abroad]," he stated. "They don't care about spending money here. Unfortunately, the people who get paid in lira here are unable to do anything. We all here get paid in Lebanese lira, which forces me to work three jobs in order to survive."
Those who cannot afford to go to restaurants to watch the World Cup are often limited to smaller cafés that do not charge minimum fees, putting an emphasis on community rather than making money.
For the love of the game
The massive celebrations that occur after a favorite team scores or wins are not exclusive to the large restaurants where a couple of hundred people are seated.
Rather, it is often the smaller cafés that see some of the biggest celebrations by some of the most diehard fans.
For 37-year-old Adel Refaie, the owner of one of these smaller cafés, this is a point of pride.
Refaie is a sports addict, evening naming his café, 4×4, in honor of offroad racing.
So when the World Cup was set to begin, it was a no-brainer for him whether or not to broadcast the matches.
"I usually target the audience that loves sports," Refaie told NOW. "My café broadcasts sports events all the time whether it's the World Cup or other. It's a "guys'" cafe. We either put movies or sports to entertain our guests."
It becomes very obvious how passionate his customers are about sports when Brazil is playing, with people waving flags and using air horns when their team scores or wins. Many Brazil fans will even show up during Germany matches, so that they can cheer on whoever is playing against Germany.
Even during "smaller" matches, the café is almost always busy, partly due to how much cheaper it is than at other establishments down the road.
Refaie refuses to put a minimum charge in place, and scoffs at the restaurants and cafés that raise their prices during the World Cup.
"The World Cup ambiance here in Tripoli is utilized and exploited by people," he stated. "People wait for the season to benefit from just events and make a huge profit. They know that, for example, the World Cup is for a month, so they try their best to make the highest profit possible."
Refaie believes that these restaurants are not serving the "real" Tripolitans and that they are catering towards the "rich" side of Tripoli, rather than being open to everyone.
"Tripoli is separated into categories: the rich and the poor," Refaie explained. "I have sat with the other side of Tripoli and they cannot afford such [extravegances]."
He even argues that the notion that restaurants are having to charge more because they have a subscription to beIN is false.
I'm not here to do a huge profit, I'm helping friends and family. I know my audience and what they are capable of, I will not rob the kid that comes to my cafe and has an allowance of 50,000 to 100,000 Lebanese lira and take it away from him. He will not come back. He will hate me.
All of the matches broadcast at Refaie's café are through beIN, a subscription he says that he cannot live without because of his love for sports, and that he is paying around $3,500 for it.
According to Refaie, restaurants and cafés can pay a network provider to have a receiver for beIN that allows for anywhere from 12 to 15 people to use one account, something he described as a sort of "family receiver," which allows for multiple restaurants and cafés to have a subscription but for a fraction of the cost of a full subscription. He claims that practically everyone is doing this, and that very few are actually paying for an entire subscription on their own.
"Restaurants and cafes here are not abiding by the rules [of paying for a subscription for beIN]," Refaie stated. "If it was more organized, I would be the first one to join.  If there isn't any proper organization, each person is working on his own to make a profit."
While he is making a small profit, that is the last thing on his mind, focusing more on enjoying the experience of the World Cup with people he views more as friends rather than customers.
"If I knew fancy rich people are coming, things would be different," he said. "I'm not here to do a huge profit, I'm helping friends and family. I know my audience and what they are capable of, I will not rob the kid that comes to my cafe and has an allowance of 50,000 to 100,000 Lebanese lira and take it away from him. He will not come back. He will hate me."
With several weeks left in the World Cup and as the knockout stage is set to begin soon, fans from all walks of life are going to continue clamoring to Tripoli's restaurants and cafés each kickoff so that they can cheer their teams to victory.
Nicholas Frakes is a multimedia journalist with @NOW_leb. He tweets  @nicfrakesjourno.
Rayanne Tawil contributed to this report.