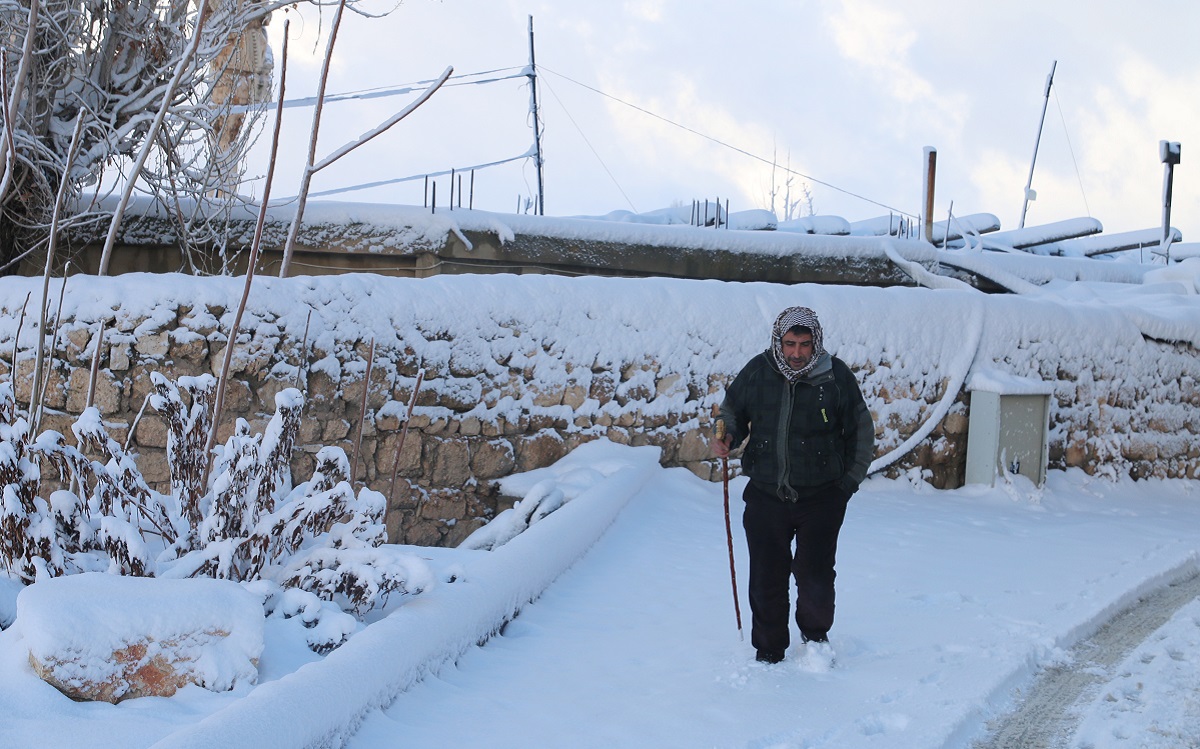 A man walks through a snow-covered road in Lebanon's historic city of Baalbek in the eastern Bekaa Valley, following overnight snowfall on January 27, 2022. Photo: AFP.
Last week passed under the sign of Saad Hariri's announcement that he's quitting politics, leaving many to wonder what's next for the Lebanese Sunnis and, if by any chance, this may be the end of an era for the entire Lebanese political system. Within a few days, everyone realized it wasn't: there are plenty of leaders in the family, his brother quickly proved.  
A leader can falter, but stone… will endure.
But beyond the cold cold politics, it was also the cold in our homes, as most Lebanese, as well as refugees, faced the freezing temperatures of a rare blizzard that covered the Middle East with snow. 
It may have been picturesque to see snow on the beach in Byblos or over the temple in Baalbeck, but the harsh fact behind the pretty pictures is that most households have no means of heating. Most Lebanese households are dependent on electric heaters in the winter, and the government only provides one or two hours of electricity per day, if any, in most areas.
Moreover, hundreds of thousands of refugees are forced to brave the cold in tents, with barely enough clothes to cover their children. 
Regional tides
Under review: Kuwait said Sunday that a Lebanese response to a list of suggested measures to ease a diplomatic rift with Gulf Arab countries is currently under review. He spoke after a meeting of the top diplomats of the GCC, where Lebanon's foreign minister Abdullah Bou Habib also was present.
Kuwaiti Foreign Minister Sheikh Ahmed Nasser al-Mohammed Al-Sabah announced that receiving the response was a "positive step by the Lebanese authorities". There was no surprise that among the requests there was the demand to set a time frame for implementing U.N. Security Council resolutions, and among them Resolution 1559 which was adopted in 2004 and calls for the disarmament of non-state militias in Lebanon. Basically, disarming Hezbollah. 
Bou Habib told Al Jazeera that he was not going to the meeting to hand over Hezbollah's weapons, but that there could be a commitment that no Lebanese party would launch any aggression against another Arab state. It is not really clear if that includes Hezbollah's involvement in Iraq, Syria and the support for the Houthis in Yemen. 
France takes the lead: French President Emmanuel Macron stressed the "need to accelerate" efforts to achieve progress in the Iranian nuclear talks, during a telephone call with his Iranian counterpart Ebrahim Raisi, aides said Sunday.
Macron's call with Raisi on Saturday came a day after the EU mediator said the latest negotiating round in Vienna had been put on pause while calling for "political decisions" to break the deadlock.
As Germany is currently going through political adjustments in the post-Merkel era, Paris, which holds the presidency of the European Union until June, is pushing more on the foreign policy front. Paris has been more assertive in the Middle East in the past two years, trying to quell criticism that the EU as a bloc lacks real foreign policy leadership, is a heavy and rusty animal and is not very visible in the region, despite being the main donor.

Another airstrike: Israel bombed again at dawn on Monday a Hezbollah weapons depot in east Qalamoun, AFP reported. 
Money and power
The budget: The cabinet has convened once again on Monday morning to discuss some aspects of the budget for 2022, a prerequisite for the deal with the International Monetary Fund. 
The can down the road: It may seem that the cabinet is back on track trying to solve some pressing issues, but many expert and opposition voices have warned that the cabinet is simply trying to gain time. 
"The draft budget without a clear financial recovery plan is futile and isn't worth discussing at all. Its sole purpose is to kick the can down the road on accountability, keep paying the public sector before elections, and devalue state assets significantly," Minteshreen's Samer Makarem tweeted.

Expert advocacy group Kulluna Irada also launched many warnings last week claiming that the budget discussed by the cabinet is not what it seems. 
The draft budget is completely disconnected from the current socio-economic context, fails to address any of the needed reforms & is another ineffective, unjust & piece-meal tool used only to tick the box ahead of the @IMFNews official mission & to evade accountability. 1/5 pic.twitter.com/DogPOIkMUT

— Kulluna Irada (@KullunaIrada) January 25, 2022
The money for the PCR: Several Lebanese and foreigners who arrived in Lebanon and were asked to pay 30$ in order to do a PCR test on arrival have complained that the results came days late, if at all. Many also asked where the cash went. 
Hey bro @firassabiad I never got my PCR results from the airport I want a $30 refund ?

— DO NOT WORRY (the pod ?️) (@anthonysargon) January 28, 2022
Minister of Health Firas Abiad said the Court of Audit was looking into it. 
The power conundrum: On January 26, Lebanon signed the agreement with Jordan and Egypt that could make imports of electricity and gas possible. 
But when would that translate into more hours of electricity for Lebanon? It's quite unclear, according to Saroj Kumar Jha, the World Bank MENA director, who spoke to L'Orient Today last week.

The deal with Jordan, Egypt and Syria depends on World Bank funding and the devil is in the details: to get the money for the power and gas imports, the cabinet has to submit a reliable reform plan for the energy sector. According to Al Akhbar, which is close to Hezbollah, there may be a draft of a reform plan. But no one in the government has confirmed its existence. 
Normally, in most countries, such a plan would be subjected to public consultation so that environmental organizations and energy experts would amend it and add to it. Yes, the process would take some more time, and Lebanon is already facing a dramatic electricity crisis that has left thousands to cope with freezing temperatures in the winter. But Lebanon is a small country and experts would probably come up with solutions long before politicians who know nothing about energy would negotiate the draft. Just saying. 
Elections
Are they actually happening? Many analysts say that they may not, because, frankly, no one is ready to go to the polls. The establishment doesn't want them because the economic crisis has brought people to the brink of despair and the political elites still in charge of governance in Lebanon have spent most of their time bickering over the port blast investigation, blocking even the band aid policies necessary to temporarily ease the pain. 
The opposition is still not organized nor properly registered, and is having trouble finding its way between the social movement, civil society initiatives and the political paths, fighting legal and administrative obstacles.

State institutions that are essential for fair elections practically do not exist in Lebanon and some have had a huge revelation on that front in 2022. 
Hariri out, Hariri in: Saad Hariri announced last week that he was quitting politics and asked his fellow Sunni politicians from the Future Movement and members of his family to do the same. Some said his decision leaves a dangerous vacuum in the Sunni community and leaves Hezbollah without a real counterbalancing political movement.

However, despite Saad Hariri's call to end the family's political involvement, his brother, Bahaa took over and announced he was going to continue his father's legacy. He released a one-minute and a half video to state his decision.

View this post on Instagram
No registration issued: The opposition is still struggling to organize properly and in a transparent way, the street movement has died out due to layers of crisis and emigration, people's discontent is mostly expressed on progressive social media bubbles and some political parties (we shall not name names) are really versed in using their cyber armies to assassinate characters and intimidate opponents.

NOW's Dana Hourany investigated. 
Rent for the Electoral Commission: Retired judge Nadim Abdelmalak, head of the elections supervisory commission, told The National that his commission is not able to supervise anything, the employees haven't been paid for two years and, in fact they can't even pay the rent for the office. 
"I'll tell you why this commission was created," he told Sunniva Rose from the National. "It's to satisfy the international community and say that Lebanon is working according to transparency and accountability, but unfortunately that is only in name."

The commission was created only in 2017. All elections before that have taken place under relaxed to non-existent supervision of electoral commissions that did nothing and investigated nothing. Elections were simply a free market: each party in charge of its own sectarian group. Votes for the independents were conveniently canceled without any right to appeal. And even in 2018, after this penniless commission was created, votes were canceled, there were no investigations and no reaction from the international community. 
Ask Joumana Haddad and her colleagues and supporters who counted votes that vanished into thin air. 
It was pretty toothless then too, nothing new there. But no one spoke up then. The question is, why?

Hezbollah doesn't want to be the bad guy (again): Hezbollah said on Sunday it saw no reason to delay May's parliamentary elections.
This is what Hezbollah's politicians say, not necessarily what they think will happen. 
Lebanon +
Once again, politicians are on podcasts: Ronnie Chatah is back with Ziad Baroud tomorrow night, so tune in. 
View this post on Instagram
He has also recorded an episode with assassinated publicist and activist Lokman Slim's family to be released on February 4, the one-year anniversary of his death.  Tune in to the Youtube channel here. 
Jad Ghosn spoke to Charbel Nahhas, leader of the Citizens in a State.

Till next Monday, follow NOW Lebanon on Twitter, Instagram, Facebook, and LinkedIn, and subscribe to our weekly newsletter.