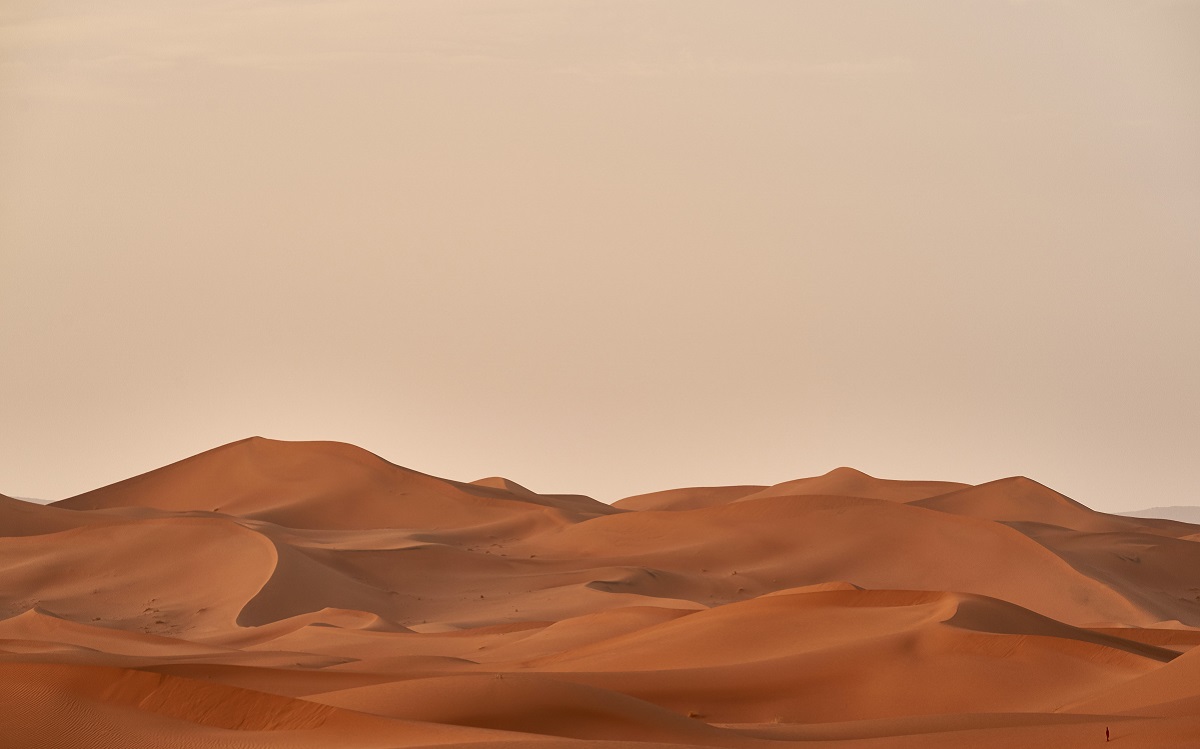 Photo by Wolfgang Hasselmann on Unsplash.
The English word bedouin comes from the Arabic badawi, which means "desert dweller". It is traditionally contrasted with hadir, the term for sedentary people. 
Salman Al-Ansari, founder and president of the Washington DC-based Saudi American Public Relation Affairs Committee (SAPRAC) is most definitely not a Bedouin, and even if he was there would be absolutely nothing wrong with that.
The problem is that Lebanese caretaker Foreign Minister Charbel Wehbe angrily walked out of an interview with A-Hurra TV absolutely convinced that calling Ansari a "Bedouin" was an insult. From hadir to badawi.
"Michel Aoun is the one who said that Lebanon will go to hell," Al-Ansari said during the debate. 
"His Excellency, President Michel Aoun", Wehbe responded. "I'm in Lebanon, I'm being insulted by someone from the Bedouins… I don't want to continue." 
And he left. 
He handed in his resignation on Wednesday after his reaction sparked outrage in Lebanon. 
Hello. This is your weekly Lebanon newsletter from NOW. It is definitely not all you need to know, but it will highlight a few reads and listens to help make sense of what is happening around us lately.
Speaking from a diplomatic protocol perspective: Ansari was not at all bound to stick to the honorifics because he is not a diplomat and the conversation was in a television studio, not in an official meeting. 
We're not sure how things function (sic!) in the Lebanese Ministry of Foreign Affairs, but Foreign Ministers of democratic countries neither bow to their presidents' personality cults, nor do they insult people during interviews using chauvinistic expressions. It comes in contradiction with their post. 
Diplomacy as strategic defense: Lebanon, as a small state with a weak military and plenty of problems on all fronts, should look to diplomacy as a strategic defense. This means that its diplomatic corps should be composed of the elite of the international affairs graduates of top Lebanese universities.
Ministers, be they caretakers, should be held accountable for this sort of behavior that may put at risk national security. Not because Wehbe may start a war by insulting an analyst on TV, but because by doing so, he raised even more questions over his competence as a foreign minister, and worse – or better? – also brought to the spotlight the uselessness of the Lebanese Foreign Ministry. 
Several Lebanese politicians, including Interior Minister Mohammed Fahmi visited Saudi Ambassador to Lebanon Walid Bukhari and expressed their condemnation in relation to Wehbe's statements. 
Bukhari's reply was diplomatic: "Our country has earned the respect of the international community because it speaks one language and has one political discourse in public and in private."
Presidential reactions: If ministers coming from his political faction display racist, chauvinistic and/or sexist behavior, maybe a tweet to mend relations with the Gulf states is not enough to solve that problem. Neither is Wehbe's resignation, for that matter. 
There is much work to do. But it comes as no surprise that fresh Lebanese graduates of prestigious international universities prefer to work in international institutions and NGOs, rather than representing their country as diplomats. 
Beirut, we have a problem: It is not the first time this year racism came into conversation at the highest political level in Lebanon. In February, Lebanon's Deputy Speaker of Parliament Elie Ferzli called the World Bank Middle East regional Director Saroj Kumar Jha… "faroosh maroosh" (slang for "grilled chicken", a reference to Jha's nationality and skin color). 
Meanwhile, Bedouins and analysts using Michel Aoun's official title should have been the least of  Wehbe's concerns on Monday night. 
Six shells were fired from Lebanon towards northern Israel on Monday but fell short of crossing the Blue Line, the ad-hoc temporary border between Lebanon and Israel. The Israeli artillery fired 22 shells towards Lebanon, aiming at "the sources of the launches".
The United Nations Interim Force in Lebanon said it had detected rocket fire from around Rashaya Al Foukhar in South Lebanon.
This was the second round of rockets launched from Lebanon into Israel after last Thursday's round landed in the sea. The rockets were fired as a response to the escalating violence across the border.  
At least 213 Palestinians, including 61 children, have been killed in Gaza since the attacks began on May 10. About 1,500 Palestinians have been wounded. Twelve people in Israel have died, including two children, and at least 300 have been wounded.
Several protests took place in Lebanon in response to the disproportionate use of violence by Israeli security forces. On Saturday, the Israeli army gunned down a Hezbollah member who attempted to climb the protective fence built on the border during a protest in solidarity with Palestine.
Hezbollah itself did not issue any statement or reaction to the incident but organized an official funeral for its member. However, it unofficially denied any involvement in the rocket launch. 
Lebanon is not a country to take a clear and strong stance on the conflict between Hamas and the Israeli military. After a long and complicated history of war and occupation, to some Lebanese, the protests, marches are too little and the rockets are too much. Politicians prefer to mildly express sympathy and even Hezbollah is keeping from making any incendiary statements. 
It's all about changing geopolitical priorities, Imad Salamey, Lebanese American University international relations professor, told Matt Kynaston yesterday. 
"Many countries now fear Israel less, fear Iran more, and Iran fears the Saudis more than [it fears] Israel. The priorities in the region are no longer in favor of the Palestinians."
Another small guide to navigating currency uncertainties:
The three exchange rates for one dollar saga continues, and is likely to impact public transportation quite soon, Tala Ramadan reports. 
According to Head of the Land Transport Union Bassam Tlais, the price of 20 liters of gasoline will soon jump to 70,000 LBP ($7 if one counts the market exchange rate and $18 if one counts the official rate used by commercial banks).  
Consequently, the cost of a service (shared cab) ride would rise up to LBP 9,000 ($1 at the market rate, $2.25 at the commercial bank rate). Inner-city taxi rides will cost a whopping LBP 45,000, four times the current subsidized price. 
Noone can tell exactly when subsidies would be lifted, not even the government, which increases general anxiety and, consequently, prices. For Lebanon's residents, be they locals, migrant workers or expats, all this is dramatic, especially since all employees receive their wages at the commercial bank rate – 3,900 LBP/dollar – while landlords require to be paid at the market rate – 10,000 LBP/$. 
Electricity: The two power generation barges Lebanon rents from Turkey's Karpowership, a provider of floating power plants, shut down the supply of electricity last week due to payment arrears exceeding $170 million and a dispute over allegations of corruption. Jessica Obeid explains in this policy brief for Middle East Institute what went wrong, where and why it's unlikely to get better. 
A booster shot: Beirut-based American artist Brady Black drew the Lebanese protests in October 2019 while they happened. 
Most recently, he also drew the portraits of those killed in the August 4, 2020 Beirut port blast and lines the walls in Martyrs Square. Not to just honor their memory, but also to remind us all that so many months have passed since the tragedy without any sign of accountability. He spoke to Nic Frakes last week about his life, art and mission. 
Lebanon +:
No matter where you lie on the political spectrum, getting engaged and exercising your civic duty begins with active listening. We prepared a pacy round-up of Lebanese influencers' broadcasts on daily life in Lebanon. 
During her live session, Lawyer Diane Assaf spoke with Rana Sharara, one of the doctors sentenced in Ella Tanous' malpraxis case.

The 8-month-old girl underwent surgery in 2015 after a streptococcal infection and it resulted in the amputation of all four limbs. 
In one of the few malpraxis cases ever in Lebanon, the Beirut Court of Appeal issued a verdict on Wednesday, May 5, after six years of trial. It ruled that Notre-Dame des Secours hospital and the AUBMC, as well as two doctors, Issam Maalouf and Rana Sharara, pay Ella Tannous a compensation of LBP 9 billion. The ruling led to a week-long strike in several Beirut hospitals and protests from the Order of Physicians.
To celebrate International day against homophobia and transphobia, social media-based platform Megaphone has released a video on May 17th explaining how the queer community in Lebanon, after years of struggle, has succeeded in creating safe spaces for LGBTQAI+ people to tell their stories and counter the anti-LGBTQAI+ narratives.
Ronnie Chatah, the host of Beirut Banyan, has released episode 259 with Mona Fawaz, Urban Studies professor at the American University of Beirut. It's not an episode to be missed. 
"Lebanon still doesn't have a working theory of change," Fawwaz says.  "We need to come up with a theory of change that's workable, what is going to get us to the next step in which we can build a new collective, a new sense of "we', that we can build around, that we can share, that can help us invent a better future," she insisted.
Sectarianism obviously did not work, the nation-state is also in a crisis everywhere. As an urbanist and anthropologist focusing on cities and urban dwellings, she finds the solution to the problem right where people manage to share the space.
"As an urbanist, what I find hope is the fact that the cities, their neighborhoods, provide a space where people can concretely talk about how we're going to share that space, what's a good way of living in it," Fawaz explained. 
It may just be that small dose of optimism that gives us the strength to go on. 
Some countries in Europe have dropped the compulsory mask outdoors, but in Lebanon keep safe and wear your mask.