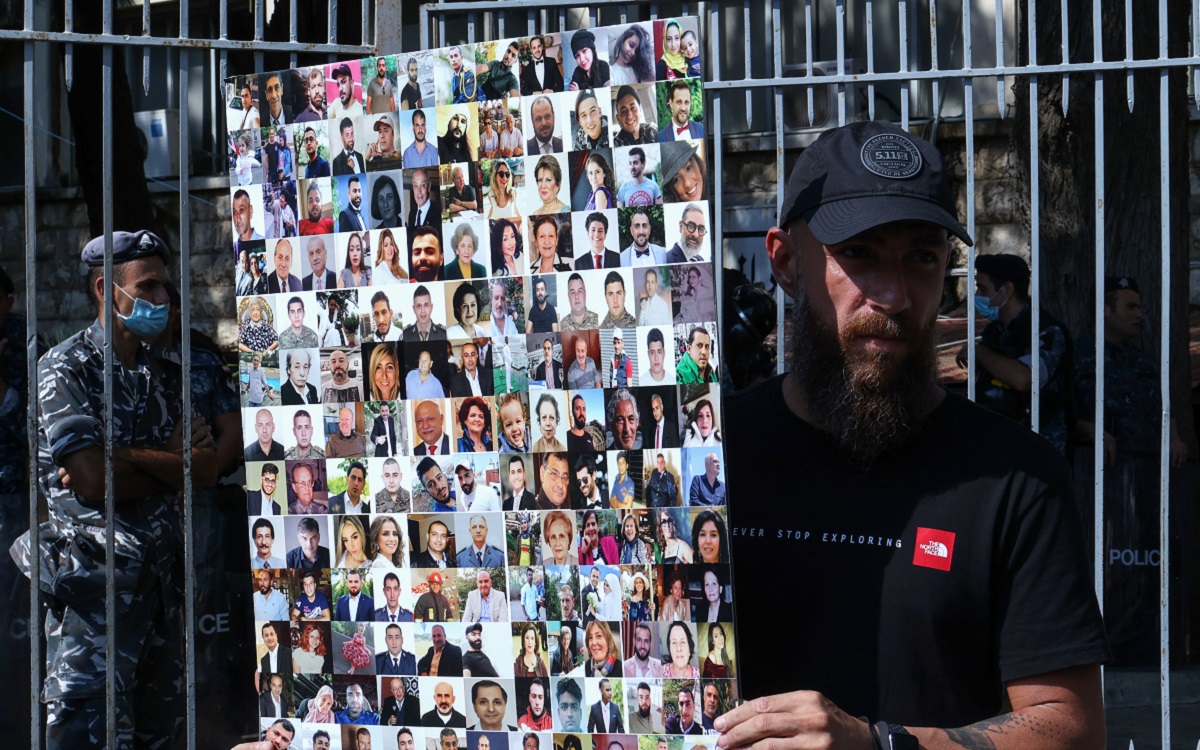 Activists and relatives of victims of the Beirut port explosion demonstrate on September 29, 2021 outside the Lebanese capital's Justice Palace to protest the suspension of the investigation into the August 4, 2020 port explosion.. Photo: Anwar Amro, AFP.
Cecile Roukoz, who lost her brother in the August 4, 2020 blast that left over 200 dead and over 7,000 wounded, marched on Thursday evening together with about 50 other family members of other victims to demand justice.
The families of those who perished in the blast that destroyed the port of Beirut and damaged large parts of the city center gathered to hold a vigil in the memory of their relatives and to voice their support for the head of the blast investigation, judge Tarek Bitar, who has been under political pressure in the past months. A few hundred meters away, another smaller group of families help another vigil, but without voicing support for Bitar.
The Beirut blast investigation was suspended on Thursday over a lawsuit filed by former public works minister Youssef Fenianos, whom he has summoned in for investigation.
It is the third time that Bitar has had to suspend his probe in the face of lawsuits filed by former ministers suspected of negligence over the August 2020 explosion.
"When there's this big of an attack on a person and all of the defendants are politicians fighting him like this it means they don't like it and they are scared of him. We want to tell him that we have a lot of trust in him and we're waiting for him to put out his indictment," Roukoz told AFP.
The total number of lawsuits filed against Bitar now stands at 15, according to judicial sources who spoke to AFP.
The suspension of the probe comes as the Court of Appeals accepted on Thursday the case submitted against Bitar, in which Fenianos requests his removal. An initial lawsuit submitted by Amal MPs Ghazi Zeaiter and Ali Hassan Khalil, also suspects in the probe, was rejected by a judge in September. However, they filed another lawsuit to suspend the Court of Appeal judge that rejected their complaint.
Fenianos' complaint was admitted by a new judge.
The additional pressure on the probe comes amid a campaign led by Hezbollah demanding Bitar's replacement over allegations of "bias" that have been widely dismissed by rights groups and families of blast victims.
The Shiite group's representatives in government have said they will boycott cabinet meetings until it takes a clear stand on demands to replace Bitar.
The cabinet, as a result, has failed to hold a single session in three weeks.
Prime Minister Najib Mikati on Thursday condemned attempts to force his government to intervene in judicial affairs, in a thinly veiled criticism of Hezbollah.
"We have tried as much as possible to keep the Beirut blast probe under the purview of the judiciary and we have rejected any kind of (political) interference," Mikati told a news conference.
Human rights groups and victims' relatives fear the repeated suspensions are a prelude to Bitar's removal, which would further derail the official inquiry into Lebanon's worst peacetime tragedy.
Bitar's predecessor, Fadi Sawan, was forced to suspend his probe for the same reason before he was finally removed in February, in a move widely condemned as political interference.
The families of the victims, a group that has been very vocal in support of Bitar during the past months, has also been split by political developments. Following the clashes in Tayyouneh on October 14, which left 7 dead and 32 wounded after armed clashes broke out during a protest by Hezbollah and Amal against Bitar and his probe, one of the spokespeople for the victims' families, Ibrahim Hotteit, announced on social media that he resigns. Despite concerns that he was pressured into it, Hotteit explained that he holds Bitar responsible for the bloodshed on October 14. Some families of the victims joined his position.
However, the large majority of those affected by the explosion and the families of the victims have announced that they continue to support Bitar.
Footage: Dylan Collins, AFP.
Script and video editing: Dana Hourany.