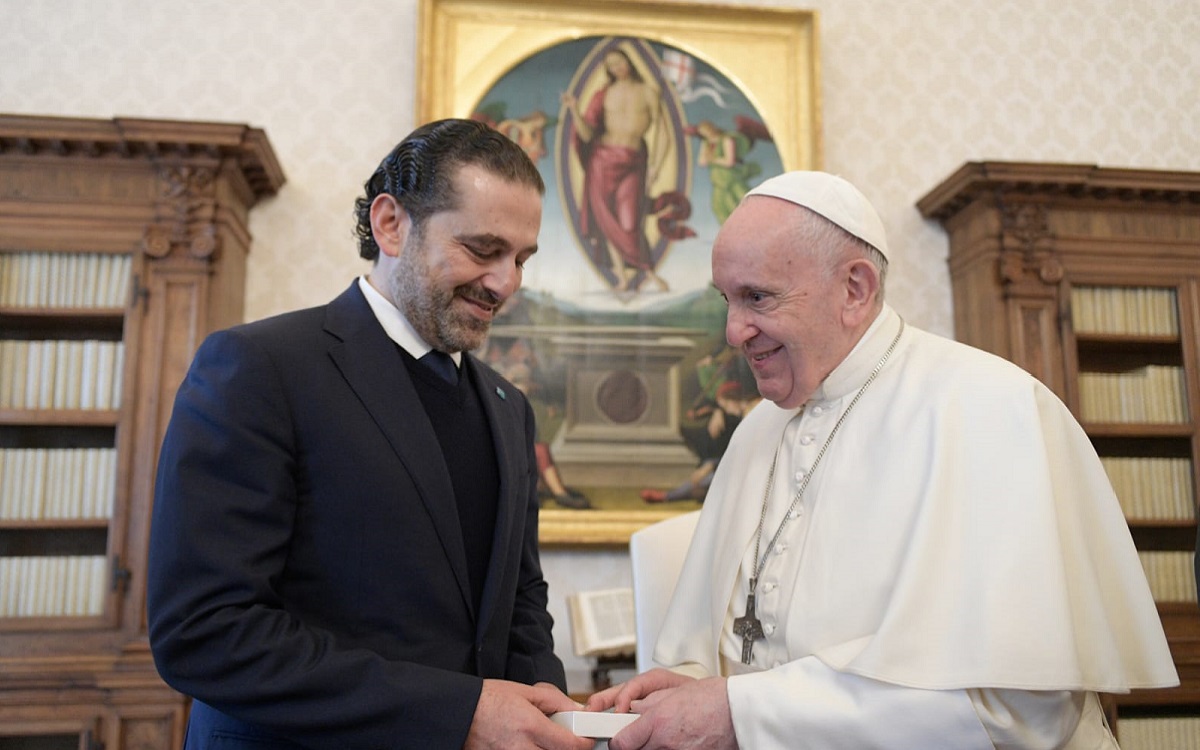 Prime Minister-designate Saad Hariri with Pope Francis at the Vatican. Photo: National News Agency.
Pope Francis will visit Lebanon only after a government is formed, Lebanese Prime Minister-designate Sadd Hariri announced on Thursday after a meeting with the Pontiff at the Vatican.  
"The Vatican knows well who is hampering the formation of a government in Lebanon," he told journalists at the Vatican. "There are external obstacles hampering the government related to [Free patriotic Movement leader] Gebran [Bassil] and his allies," he added. 
Hariri arrived in Rome on Wednesday evening. He is also to meet Italian PM Mario Draghi and Foreign Minister Luigi Di Maio. 
The visit to The Vatican comes as part of Hariri's efforts to secure international backing for the formation of a government in Lebanon and a bailout plan to recover its economy which has been struggling with a deep crisis since 2019. 
Hariri said he asked the Vatican to interfere in Lebanese affairs where it finds it effective. 
"Some politicians are trying to picture Lebanon as a hopeless case, but we can stop the collapse if we form a government. But some want the Lebanese entity to collapse," Hariri said.
Government negotiations in Lebanon have been dragging on for over six months because PM-designate Hariri and President Michel Aoun have failed to reach an agreement over the cabinet membership. The Free Patriotic Movement, led by Aoun's son-in-law Gebran Bassil, has been seeking the blocking third in the cabinet, as the party leader says it is necessary to protect the rights of the Christians in Lebanon. 
On the eve of Hariri's meeting with Pope Francis, the FPM chief Bassil visited Maronite Patriarch Bechara al Rahi, who has been at the leadership of a political initiative that advocates for Lebanon's neutrality in regional conflicts. 
"We know that right will win in the end and that the truth is what saves peoples in the eras of major crises… We know that the sacrifices will be big," Bassil said on Wednesday. 
Rahi has been holding meetings with political leaders from all Lebanese political parties and told CNBC in an interview that aired on Monday that  he was hoping for a meeting with Iranian-backed Hezbollah, a political ally of the FPM. 
Rahi also visited Pope Francis in November 2020.