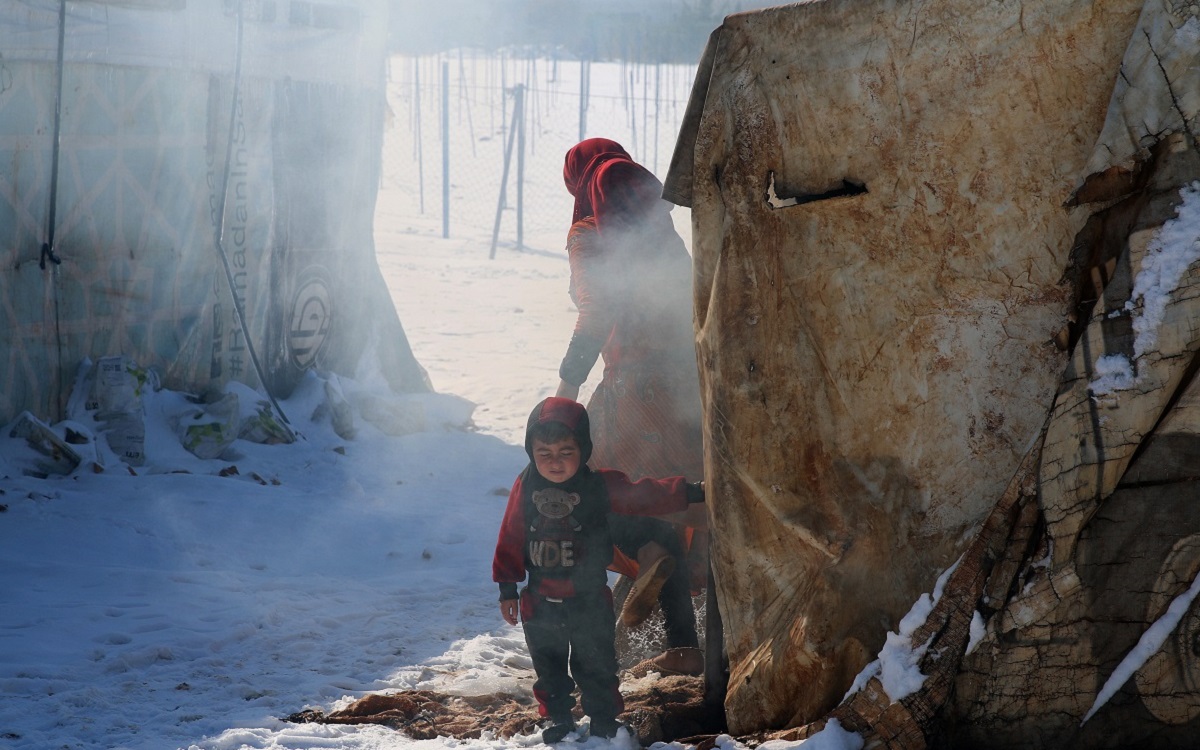 A Syrian woman and a child stand amidst snow in the Syrian refugees camp of al-Hilal in the village of al al-Taybeh near Baalbek in Lebanon's Bekaa valley on January 20, 2022. Photo: AFP.
Lebanon residents, including thousands of refugees, struggled to keep warm on Thursday, as the ice storm named Hiba brought snow and freezing temperatures across the Middle East.
Thank you for reading this post, don't forget to subscribe!
Hiba reached its peak on Wednesday night, leaving behind a wave of frost as temperatures dropped below zero, lower than they have in 40 years, and snow blocked roads across the country.
The low temperatures have hit Lebanon as the country is experiencing an economic crisis that has seen electricity blackouts and fuel crisis.
As the storm peaked on Wednesday night, power cuts and insufficient fuel to power generators have left most poor Lebanese and refugees struggling to find means to keep warm.
Humanitarian organizations such as CARE International have warned on Tuesday that the low temperatures would impact dramatically the refugees who live in informal camps across the Bekaa Valley.
Snow fell at low levels in various regions, cutting roads and isolating villages, trapping residents in the snow, the NNA reported on Thursday.In the eastern city of Baalbek, the snowstorm brought a drop in temperatures to 7 below zero on Thursday morning.
Municipal police workers and elements sprinkled salt manually and used agriculture tractors to open roads and remove the ice, urging residents to stay indoors.
In the North, heavy snow-covered various towns and villages starting from 300 meters altitude, as well as coastal areas in Miniyeh, Beddawi, or Deir Ammar.
In the Chouf, snow cut off roads in Deir al-Qamar and Baaklin. The snow paralyzed traffic, isolated villages, and damaged crops and waterpipes, which froze due to sub-zero temperatures.
Lebanon is also the host of an estimated 1,5 million Syrian refugees who live in tents, in camps spread out across the Bekaa Valley. Several humanitarian organizations have warned that
The municipality of Arsal, a town on in eastern Bekaa Valley, bordering Syria has declared a fuel emergency on January 6, as local administration and humanitarian workers warned that the soaring heating prices would lead to a tragedy as winter was getting harsher, snow was falling and temperatures dropped.
The town, originally inhabited by 40,000 residents, the majority of which are Sunnis, also hosts 70,000 Syrian refugees fleeing the war across the border. It lies at an altitude of 1,400 meters and is regularly among the communities worst affected by harsh winters.
Photo: AFP.