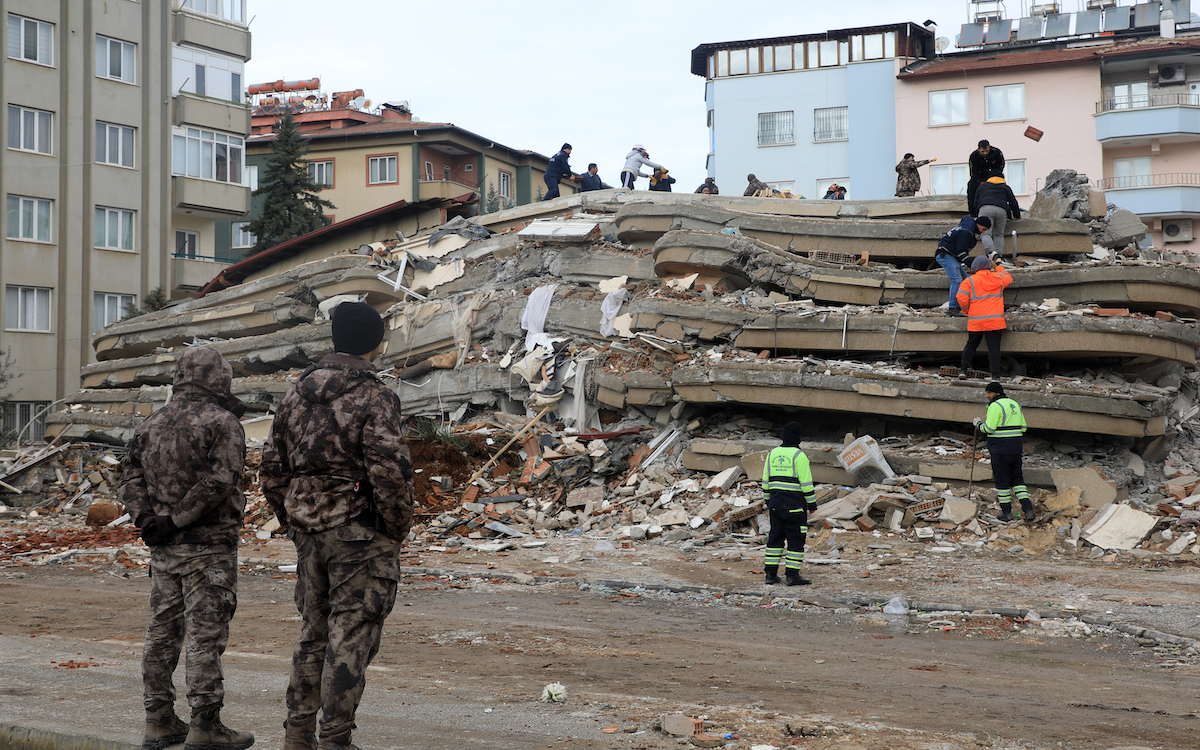 Rescuers search for victims and survivors in the rubble of collapsed buildings in Gaziantep, close to the quake's epicenter, a day after a 7.8-magnitude earthquake struck the country's southeast, on February 7, 2023. Photo: Zein Al Rifai, AFP
More than 11,000 people have been killed and tens of thousands injured in an earthquake measuring magnitude 7.8 that devastated areas of Turkey and Syria on Monday.
Although the earthquake was felt throughout Lebanon, Jordan, Iraq, and Palestine, northern Syria and southern Turkey were the hardest hit, with the epicenter located in the Gaziantep area.
Many Lebanese who had been living in or visiting the affected areas are either still missing or were reported dead, and efforts are still underway to find survivors. Even though Syria and Turkey have received aid, much remains to be done.
Why this matters, The natural disaster has resulted in the death of six Lebanese as of Tuesday evening. Among those killed were Lebanese novelist and activist Dalal Zeineddine and her three sons and grandson in Hatay's Antakya.
Wissam al-Asaad and his daughter Nadwa, who were residing in the Turkish city of Gaziantep, along with Sawsan Nasouri and her daughter Celine Haddam from Tripoli, perished in the Syrian coastal city of Latakia during the earthquake.
Three more Lebanese were thought to be buried beneath the debris of the Ozcan Hotel in Hatay. Bassel Habkouk was rescued this morning, but the fate of Elias Haddad and Mohammad el-Mohammad is still uncertain.
Lebanese Mohammad Chamma and his son were also discovered alive in Hatay under the rubble of their house on Tuesday afternoon.
Furthermore, the Lebanese Army dispatched 15 engineers to Syria and 20 to Turkey to aid in the two nations' rescue operations.
According to the Lebanese Red Crescent, teams were sent to the two countries after the Syrian and Turkish governments asked for assistance.
Also, the Lebanese government has done little effort in aiding the search of its missing citizens. The Lebanese Ambassador to Turkey, Ghassan al-Muallem seems to be the sole participant in the process.
As people in Lebanon searched for solace after an onslaught of devastating images, videos showing Lebanese troops aiding in rescuing people are gaining popularity online.
Conclusion, Considering the extent of the destruction, the aid that both afflicted countries have received is still insufficient. In spite of this, as individuals organize to send donations to Syria in the form of blankets, canned food and clothes, crisis-ridden Lebanon continues to try to provide any kind of aid to its neighbors.  
Dana Hourany is a multimedia journalist with @NOW_leb. She is on Instagram @danahourany and Twitter @danahourany.