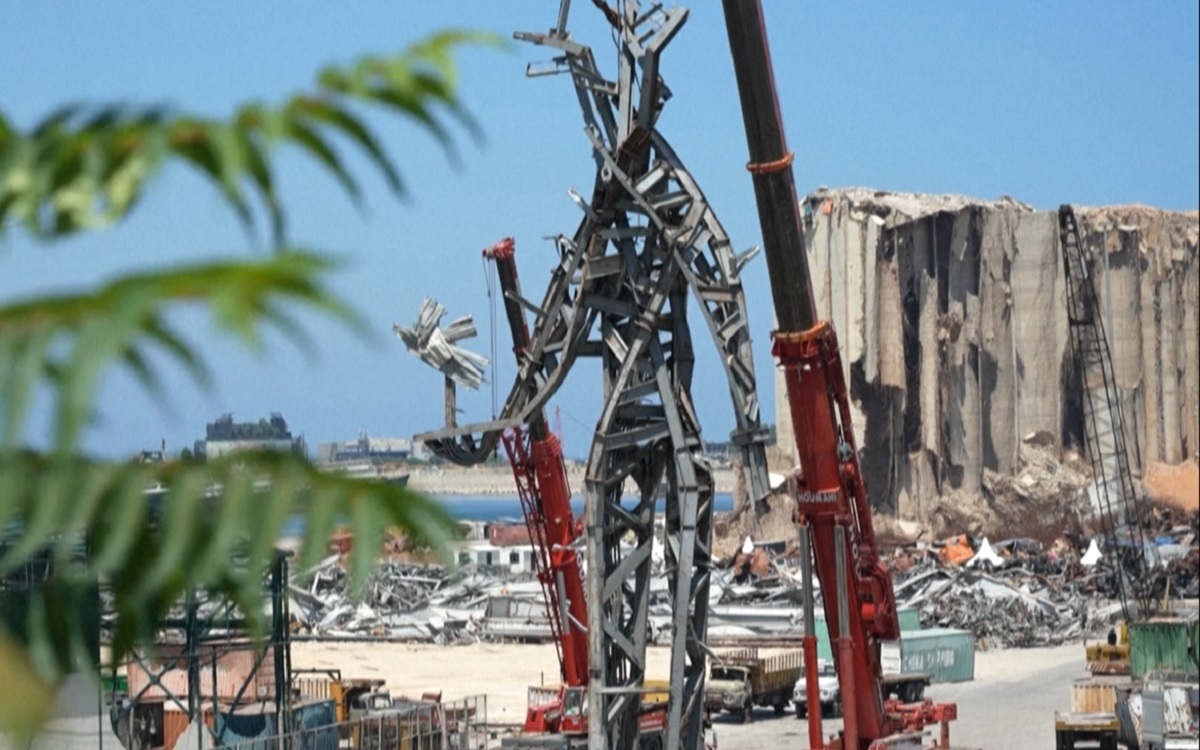 The installation is set to mark the anniversary of the Beirut blast that killed 200 and wounded thousands on August 4, 2020. Photo: AFP.
Workers in Beirut port constructed on Wednesday a 25-metre-tall steel sculpture named "The Gesture" by Lebanese artist Nadim Karam. The installation was made from debris from the August 4 Beirut port blast.
The explosion that thundered through the city leveled entire neighborhoods, killed more than 200 people, wounded 6,500 others, and pummelled the lives of survivors.
Beirut is still struggling following the deadly explosion, with the country facing an accelerating financial crisis branded by the World Bank as one of the worst in modern times.
Karam, 64, is the founder of Atelier Hapsitus and is the creator of several large-scale urban art projects in different cities including Beirut, Prague, London, Tokyo, and Melbourne
His installation has caught the attention of many Lebanese social media users, drawing both praises for the initiative as well as criticism for his cooperation with the Lebanese state institutions to finish the project.
In one of the Instagram posts the artist dedicated to the installation erected among the Beirut Port ruins, Karam thanks several private companies and state institutions for their support.
However, a day after the installations was erected in the Beirut port, Karam responded to criticism on his Instagram account saying that no politician or public institution was ever involved in the project.
"The Gesture is a grassroots project. It has been put together over many months by a community of professionals who all worked pro bono," he said.
Source: AFP. Video editing: Matt Kynaston, NOW.
Disclaimer: The article was updated on July 29, 2021, to add the artist's reactions to criticisms on social media.