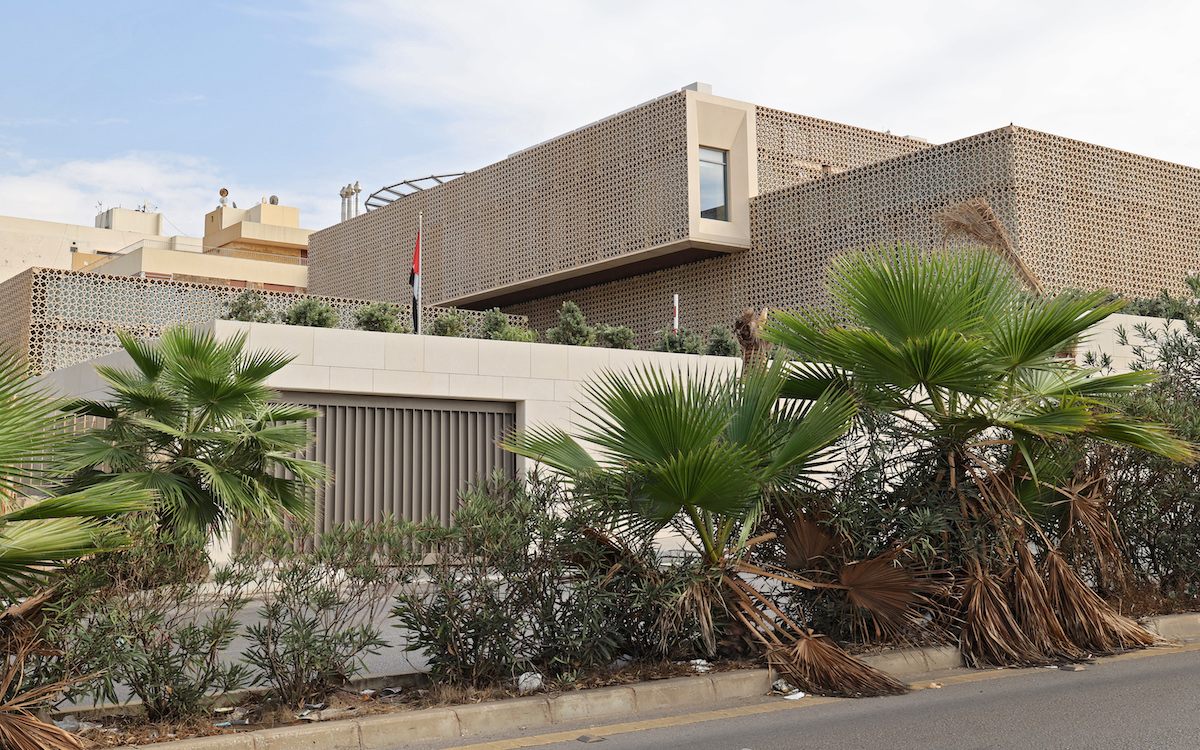 A picture shows a view of the United Arab Emirates embassy in the Lebanese capital Beirut on October 30, 2021. Photo: Anwar Amro, AFP
The United Arab Emirates has lifted its previously imposed restrictions on visas for Lebanese, following a month-long suspension that left many confused and unable to travel.
For weeks, Lebanese citizens found that their visa applications were not being accepted, while travel agents have reported that they were unable to request UAE visas for Lebanese nationals through the usual online systems.
This situation led to a de facto ban on Lebanese seeking entry into the UAE, but without any official announcement or explanation. This is speculated to have been done in response to Hezbollah's recent condemnation of Abu Dhabi's normalization of relations with the Israeli government.
"Hezbollah – and its Iranian connection – poisons Lebanon's relations with most Gulf Cooperation Council countries" Hilal Khashan, Professor of Political Science at the American University of Beirut, told NOW. 
"Now and then, these countries impose sanctions on Lebanon, including banning importing Lebanese produce, and issuing tourist or work visas for Lebanese citizens, to pressure the government in Beirut to rein in Hezbollah, which is beyond its capability," he continued. "This practice has been recurring for years."
Lebanese nationals can now apply for a UAE visitor visa, either through embassy offices or authorized travel agencies. The removal of the restrictions represents a return to previous visa procedures and reinstates travel access to the UAE for the Lebanese diaspora.
Before entering the UAE, Lebanese travelers are required to apply for a visa first, as they are not eligible to apply for a visa on arrival or visa-free travel to the region. The type of visa required depends on different factors, such as the purpose of their visit, as well as the duration of their stay in the UAE.
Those planning to travel to the UAE for tourism purposes, or other purposes for a period shorter than 30 days, are not required to seek employment and long-term residence in the UAE.
The UAE has maintained that the temporary restrictions were in place in response to security concerns, but have now been rescinded. The UAE has yet to elaborate on what those "security concerns" were.
"Temporary restrictions are in place in response to security concerns," a UAE official said in a statement, without offering further clarification. "Temporary restrictions continuously undergo review and are subject to be lifted for specific categories of visas in the coming days."
Lebanon's Ambassador to the UAE, Fouad Chehab Dandan, called the resolution "a result of concerted efforts and diplomatic dialogue between the two nations." However, many visa requests are still pending as the process continues to be slower than initially expected.
Now and then, these countries impose sanctions on Lebanon, including banning importing Lebanese produce, and issuing tourist or work visas for Lebanese citizens, to pressure the government in Beirut to rein in Hezbollah, which is beyond its capability. This practice has been recurring for years.
Lebanon has been without a head of state since former President Michel Aoun's term came to an end last October without there being a clear successor. Since then, Prime Minister Najib Mikati's government has remained in office in a caretaker capacity. This leaves Lebanon with a debilitating lack of political agency, both at home and on the international stage.
"Today, Lebanon is drowning in its own issues on many levels," said Salim Daou, a Lebanese Public Relations and Communications Consultant based in the KSA, told NOW. "The absence of a president, and the tensions arising from it, has aggravating consequences on diplomatic relations."
"This absence [allows] the political party controlling Lebanon – who is not appreciated by most Arab countries – to more easily manipulate the country as they like, especially on a security level, [facilitating activities like] drug trafficking," he added. "All these factors would motivate any country, not only the UAE, to ban Lebanese entry visas."
Until relatively recently, the Lebanese economy was also significantly enhanced by exports of fresh fruit and vegetables, along with other agri-food products, to countries like the Kingdom of Saudi Arabia. However, that ended in 2021, following an attempt to smuggle more than five million pills of Captagon – an illegal amphetamine – into Jeddah port, concealed in a shipment of pomegranates, that resulted in a total embargo on all Lebanese agricultural goods.
For farmers living in areas of Lebanon like Akkar and the Bekaa Valley, the cessation of this trade with the KSA cut off a vital source of income, leaving many who were already struggling in great distress. However, the decision was endorsed by other Arab nations – including Bahrain, Kuwait, Oman and the UAE – souring relations even further.
Many Lebanese work in Gulf countries, attracted by better pay and living conditions. Many of those who live there also send money to their families back home, providing critical income at a time when more than 80 percent of Lebanon's population are living in poverty as a result of the country's ongoing economic crisis.
Most Lebanese that have chosen to work in Gulf countries do so on work visas and still return to Lebanon frequently. Further bans could lead them to consider countries even further away, such as Europe or the United States, encouraging them to emigrate and settle permanently outside of Lebanon, taking valuable labor and income out of the country for good.
"Lebanese working abroad contribute to the country's economy," said Daou. "Bans [like the one recently from the UAE] reduce their job options. Their families are already suffering from a bad and tiring situation, [and] regional countries have many employment opportunities, due to the rising need for employees in a growing work environment with many institutions and businesses. The Lebanese population shouldn't be the one paying the price of political tensions or disagreement, nor the price of an irresponsible and egoistic authority."
As long as Lebanon maintains rocky and unstable relations with the Gulf Arab countries, it will continue to have a significant and negative impact on Lebanon and the Lebanese people.
Robert McKelvey is a multimedia journalist with @NOW_leb. He tweets @RCMcKelvey.