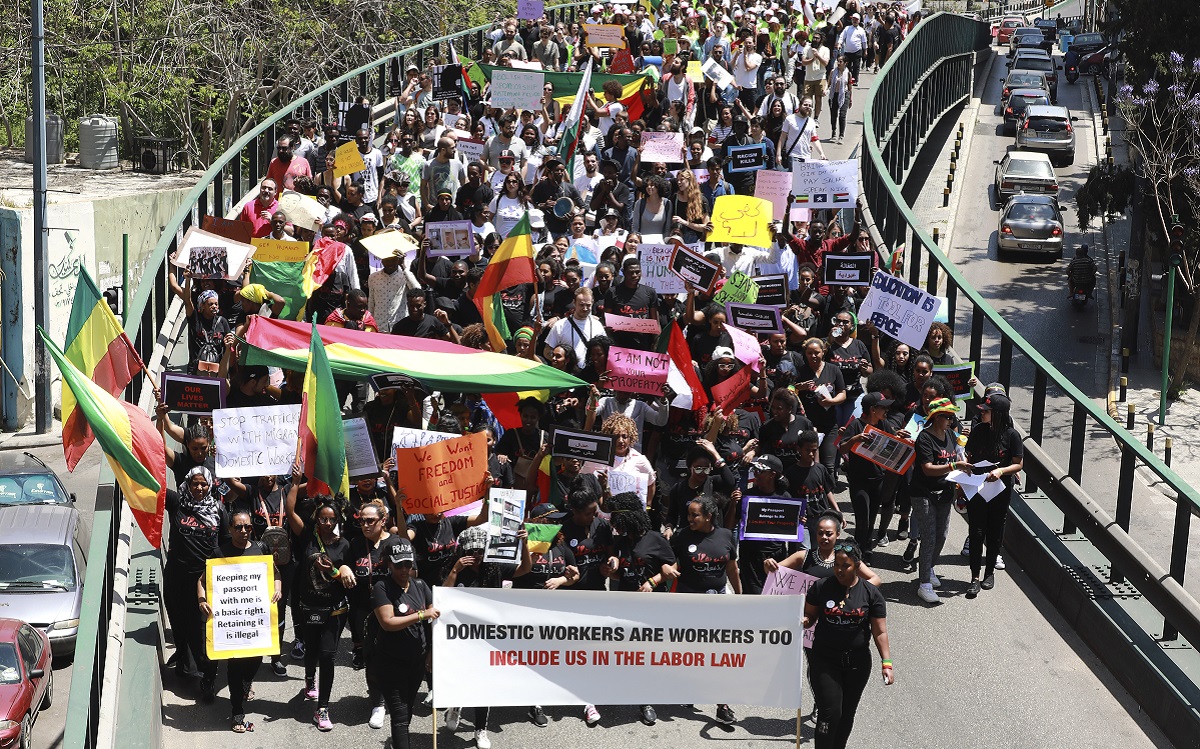 Migrant domestic workers carry placards during a protest in the Lebanese capital Beirut on May 5, 2019, to call for the abolishment of the sponsorship (kafala) system and for the inclusion of domestic workers in Lebanese labor laws.. Photo: Anwar Amro, AFP.
The second court hearing of the monumental first-ever criminal case in Lebanon whereby a migrant domestic worker is prosecuting her former employer and recruiter on the grounds of slavery and slave trade was adjourned on Thursday. 
One employer attended the hearing without an attorney while the other defendant remained absent for the second time, pushing the judge to set another hearing next month and further impeding the court case.
The case's first hearing was set to take place last October in the Justice Palace in Baabda but was later postponed till February 10, 2022, after both defendants failed to appear in court. 
The case was filed by Legal Action Worldwide (LAW) who seek equal access to justice for the marginalized and vulnerable and is representing a 40-year-old Ethiopian former migrant domestic worker in her fight for justice for having been locked up in her employer's house for over eight years, forced to work over 15 hours a day without compensation or days off, and subjected to verbal and physical abuse. 
"It was a nightmare for me," the domestic worker, identified as M.H., said.
During the second hearing, the former employer requested further time to designate legal representation and a copy of the complaint. Investigative Judge Rania Yahfoufi postponed the hearing till March 31, 2022.
LAW's attorney demanded an arrest warrant for the recruitment Matta Agency, for failing to attend the second hearing. According to LAW, the judge had previously agreed to issue arrest warrants for the defendants in case of no show but was incapable of carrying out such a resolution on Thursday due to the ambiguity of the defendant's identity.
Article 569 of the Lebanese Criminal Code authorizes sanctions against people who deprive others of their liberty and Article 8 (3) (a) of Decree No. 3855 prohibits compulsory labor, both of which the plaintiff is citing and accusing the employer of. 
The plaintiff is accusing the recruitment agency of human trafficking on the grounds of "deception by recruiters, including dishonesty about the contract, discrepancies between promised and actual wages, and insufficient information about working conditions in general…" They are Article 586 which criminalizes trafficking and exploitation.
Lebanon housed before the economic crisis hit in 2019 over 250,000 migrant domestic workers, the vast majority of which were women. Many argue that the Kafala, or sponsorship, system, which governs the migration and labor of these workers instead of the nation's labor law, is a also form of modern slavery. 
Under this system, employers normally pay a recruitment agency to hire domestic workers from African and Asian countries to work in their private households. They often get to choose her from a catalog with potential workers' pictures and descriptions, bring her in, feed her, clothe her, house her, and overwork her for a small compensation, typically a salary below the country's official minimum wage. The Kafala system does not protect migrant domestic workers from labor exploitation, racial discrimination, trafficking, or forced labor.
If won, the ground-breaking criminal case alleging slavery and slave trade in Lebanon and the region will not bring justice to the thousands of migrant workers who fall under the broadly-condemned Kafala system but it would be a momentous achievement down that road and would set a legal precedent. The defendants are only a few of many employers and recruiters in the region who are responsible for racial discrimination and abuse toward migrant workers but such cases usually go unrecognized and remain protected by the Kafala system. 
Amnesty International reports that barriers to MDWs' access to justice usually include but are not limited to, "fear of arrest, fear of being unable to obtain new employment and fear of being falsely accused of theft."
"I am hoping to get my rights – It is very important to me to get justice!" says M.H. "I want my rights back from my Kafeel and compensation. I am hoping that LAW's lawyer could get me this."
Sally Abou AlJoud is a multimedia journalist with @NOW_Leb. She is on Twitter @JoudSally.