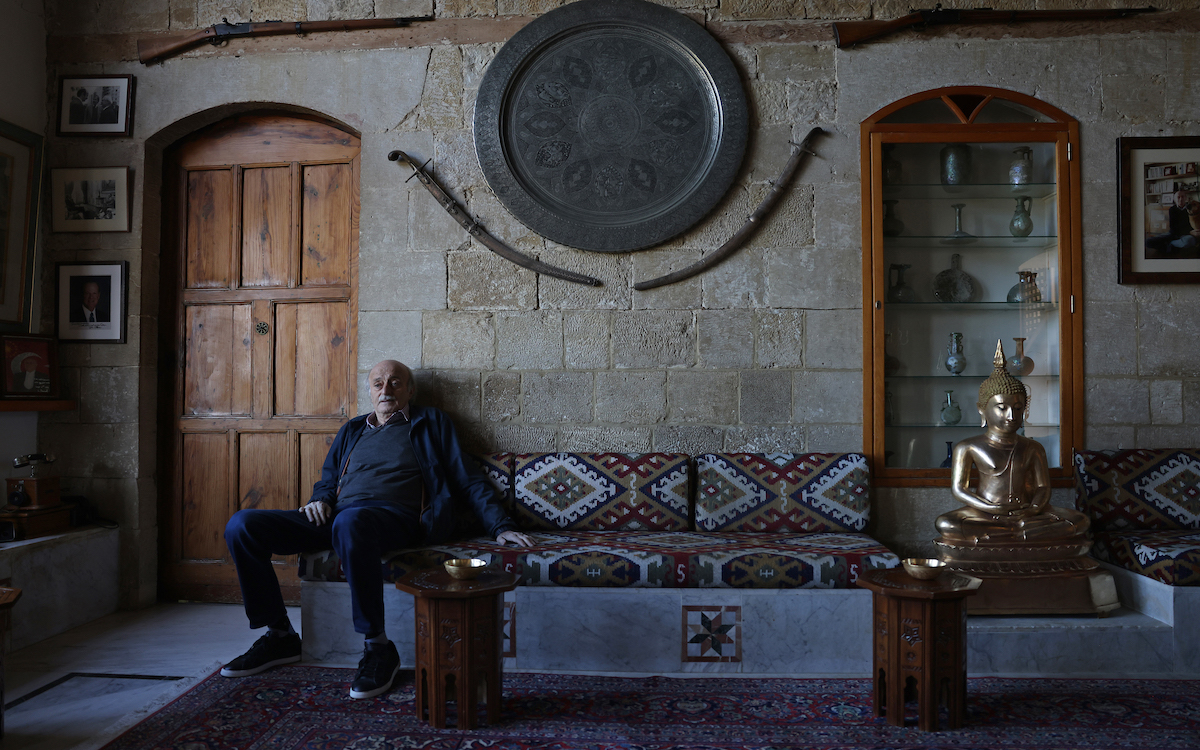 Lebanese Druze Leader Walid Joumblatt is pictured in his residence of Mukhtara, in the Lebanese Chouf mountains, southeast of the capital Beirut, on November 12, 2021. Photo: Joseph Eid, AFP
After 46 years, Walid Joumblatt, the head of the Druze Progressive Socialist Party, announced that he would be stepping down from his position.
Joumblatt has been head of the PSP since 1977 following the assassination of his father, Kamal Joumblatt, that same year. While the culprit was never officially uncovered, it is widely believed that he was killed by the Syrian government.
For decades, Walid Joumblatt has been a mainstay of Lebanese politics, leading the PSP from one of the leading militias during the Lebanese Civil War to an influential political party.
Joumblatt's influence in Lebanese politics did not come from the number of seats that his party holds in Parliament, which currently stands at 9, but, rather, from how his support can make or break legislation or political candidates.
Given the near-even divide in Parliament, support from Joumblatt's bloc has for years been the factor that swayed a vote more often than not.
His politics have also been associated with survival and adaptation, sometimes flip-flopping on his beliefs to ensure his survival. Some political analysts have even gone as far as to say that you can tell where the wind is blowing in Lebanese politics depending on Joumblatt's position.
Joumblatt is likely to continue to weigh in on Lebanese politics from time to time, but it is not clear if this will become less frequent.
As with most all political parties in Lebanon, it is a family affair and Joumblatt's son, Teymour, is favored to become the next head of the PSP – making the upcoming internal vote in June more ceremonial than a serious electoral bout.
Once Teymour is officially at the helm of the PSP, all eyes will be on the young Druze leader to see in what direction he will take his party. Will he continue in the footsteps of his father or will Lebanon see a new PSP?
No matter what happens with the PSP going forward, it is unlikely to have a major impact on Lebanese politics which remains the same, even as the faces running them begin to change.
In Lebanon
Cast aside: The United Nations announced that it was suspending a plan to give Syrian refugees in Lebanon aid in dollars after it received pushback from Lebanese officials.
The proposed plan would have seen Syrian refugees in Lebanon start to receive dollar payments in aid rather than the Lebanese Lira that they had been receiving thus far. There would also have been a cap of $125 per family. Refugees were previously receiving at most around eight million Lira per month (around $80).
Lebanese officials were quick to condemn the plan by arguing that this would incentivize the refugees to remain in Lebanon.
There has been a recent spike in anti-Syrian rhetoric in Lebanon, with the government looking to try and send the refugees back to Syria despite the risks that it would pose to their lives.
On the flip side, the World Bank announced that it would be providing $300 million in humanitarian aid to Lebanon.
This will entail cash transfers to around 160,000 families who will receive at most $145 per month for two years.
On the list: Lebanon is at risk of being gray-listed by the Middle East and North Africa section of the Financial Action Task Force. This would deliver yet another blow to the country already suffering from one of the worst economic crises that the world has seen in over a century.
Being gray-listen means that Lebanon would be added to a list of countries under scrutiny due to its failure to combat money laundering and terrorism financing.
Such a listing could have a negative impact on Lebanon financially and reputationally.
Lebanese officials are reportedly lobbying to improve the country's score just enough so that it would not be gray-listed, however, one diplomatic source told Reuters that the current report was already very lenient and that "anything but graylisting would be a scandal."
Turning up the heat: The pressure on Riad Salameh to step down from his position as governor of Lebanon's Central Bank is ratcheting up, with an increasing number of high-profile Lebanese officials and figures calling for his resignation.
The biggest and most influential call for him to step down came on May 25, when Hezbollah Secretary-General Hassan Nasrallah threw his weight against the embattled BDL head. He has so far refused to step down.
International arrest warrants have already been issued by France and Germany for Salameh, two countries where he faces charges for financial-related crimes.
A Lebanese judge also confiscated Salameh's passport on May 24, a move that analysts have said is actually in Salameh's benefit, as it gives him an excuse for not traveling abroad to attend hearings.
No decision yet: Lebanon's Constitutional Council, the country's highest judicial authority, said that it had not come to a decision yet as to whether or not it was legal for Parliament to postpone the country's municipal elections.
A statement from the judicial body added that a decision could be expected tomorrow.
Parliament had voted in April to postpone the municipal elections until May 2024, something that opposition parties called unconstitutional.
Should the Constitutional Council rule that the postponement is illegal, it would have a wide-reaching impact on Lebanon as the municipal councils' terms end on May 31, meaning that in addition to having no president or government, Lebanon would also be without local governments.
Free (sort of): The United Arab Emirates released nine Lebanese nationals who have been in custody for two months.
All nine of the individuals were alleged to have laundered money on behalf of Hezbollah.
The decision to release the nine came after one of the group died while in custody, allegedly while under torture.
The remaining individuals are awaiting deportation back to Lebanon.
Presidential election update: Lebanon has been without a president for 209 days.
Caretaker Prime Minister Najib Mikati has said that he expects a president before June 15, with Free Patriotic Movement leader Gebran Bassil recently more involved in talks. There is no clear indication, however, if there is any truth to this, or if any candidate has enough votes to back them for the presidency.
The opposition is also expected to announce former Finance Minister Jihad Azour as their candidate for the presidency, although it remains to be seen if the fractured group will be able to wholly agree on the name.
Azour's candidacy has already been vetoed by Hezbollah, with MP Mohammed Raad (Nabatiyeh-Hezbollah) calling his candidacy a "waste of time" and that those nominating him are "delusional" and "do not know the facts," essentially putting the chances of electing a president soon close to zero.
In the region
Erdogan emerges victorious: After a fierce battle for Turkey's presidency, Recep Tayyip Erdogan maintained his grip on power, winning 52.2 percent of the vote while his opponent, Kemal Kilicdaroglu, won 47.8 percent. 
While Erdogan may have won, the fact that the elections went to a run0ff could indicate that his power is beginning to wane.
Kilicdaroglu conceded to Erdogan Sunday night, but deemed the elections some of the most unfair in Turkey's history, a reference to how Erdogan used state resources and influence to give himself a clear edge over his opponent.
In Lebanon, there were celebrations throughout parts of the country following the announcement of Erdogan's win.
Passing a hurdle: Israeli Prime Minister Benjamin Netanyahu succeeded in passing a budget for two years, something that threatened to upend his tumultuous premiership.
While passing the budget may have ensured that his far-right coalition will remain in power for the foreseeable future, it came at a cost.
Critics were quick to note that Netanyahu capitulated to the ultra-Orthodox members of his coalition by designating millions of dollars for their religious schools.
While Netanyahu has continued to insist that he is in control of the government, the amount of power that the more extreme members of his coalition have over him is becoming increasingly evident.
Clashes on the border: At least three people were killed during clashes that took place on the border of Iran and Afghanistan on Saturday.
The clashes were part of a wider issue that has to do with the flow of the Helman River from Afghanistan into eastern Iran.
Iran has accused the Taliban of restricting the river, which the Taliban denies.
Out: Iran's top national security official Ali Shamkhani has been removed from his post after it emerged that his close associate, Alireza Akbari, had sold secrets to the British government.
While being dismissed from his influential role, Iranian Supreme Leader Ali Khamenei said that Shamkhani was being appointed to the Expediency Council which advises the supreme leader, a largely ceremonial role.
There have also been rumors that Shamkhani is eying a run for the presidency in 2025.
Israeli strikes: Israel once again struck the Syrian capital of Damascus Sunday night, striking an air defense site that hosts Hezbollah fighters.
There were no reported fatalities in the strike, but five were reported wounded.
Israel has repeatedly struck Iranian and Hezbollah targets inside Syria, although Israel rarely acknowledges this.
Trade: Belgian aid worker Olivier Vandecasteele was returned to his native Belgium after spending 455 days imprisoned in Iran.
Vandecasteele's release came as part of a prisoner swap between Brussels and Tehran which saw Assadollah Assadi, an Iranian diplomat jailed for his role in a planned 2018 bomb plot, return to Iran.
Vandecasteele was convicted of spying, money laundering and currency smuggling, charges that were widely viewed as being fake, and was sentenced to 40 years in an Iranian prison along with 74 lashes.
Iran has long been accused of arresting foreign nationals that they can then use as leverage later in negotiations.
What we're reading
A chance for change: Lebanon's second-largest city, Tripoli, is set to take on the role of Capital of Arab Culture in 2024. I wrote about how Tripolitans and cultural organizations in the city hope that this will be an opportunity to better the city's negative image.
A tragic raid: Israel's security forces have become increasingly emboldened under the leadership of Netanyahu's far-right government. An investigation by The Washington Post's Imogen Piper, Meg Kelly and Louisa Loveluck found that a March raid by plainclothes security agents not only killed a 14-year-old child, but could also potentially violate international and Israeli law.
Exchange: Despite Lebanon's ongoing economic crisis, Hezbollah has mostly maintained its financial capabilities. This is due to an extensive local and global network that it uses to ensure that there is a continuous cash flow.
Half-truths: Nasrallah is no stranger to making large claims in his speeches. Hussein Abdul-Hussein argues in his latest speech, Nasrallah's claims about the future of the region and the world have no semblance in reality.
Lebanon+
Podcasts: Ronnie Chatah is no stranger to having heated discussions on his podcast. The latest episode of The Beirut Banyan is one of those. Chatah spoke with political psychologist Ramzi Abou-Ismail about the year since the parliamentary elections, what sectarianism really means, and the case for a wider national identity that transcends individual sects and communities.
An interesting watch: Outside of the economic crisis, Lebanon has also become known for captagon smuggling. In the first part of this short documentary by Fida Itani, he looks at the trade from its production in Syria and its smuggling in Lebanon.
Until next week, follow NOW Lebanon on Twitter, Instagram, Facebook, and LinkedIn, and subscribe to our weekly newsletter. And stay safe!