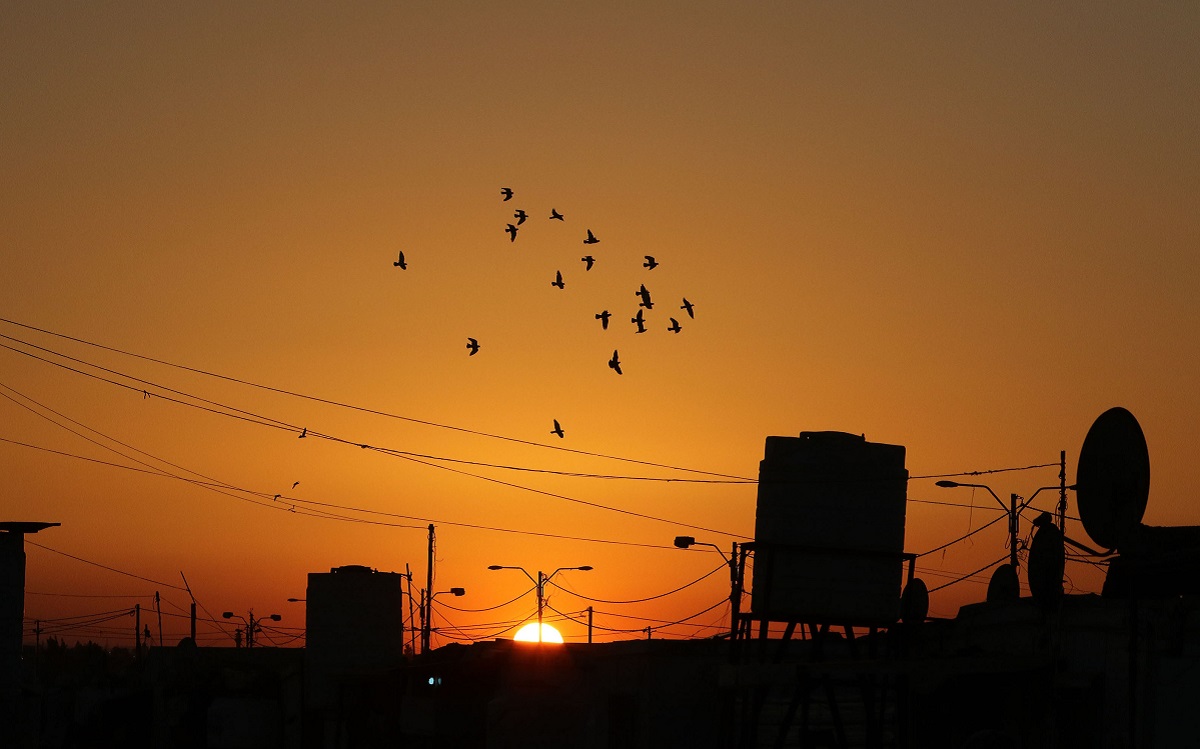 The picture is from Zaatari Camp, but we found the image of electricity poles and cables disappearing into the sunset sort of poetic. Photo: Khalil Mazraawi, AFP.
Lebanon did not plunge into darkness on Saturday. The country plunged into darkness months ago. 
But the international media could not use that terrible headline because, well, we had that hour of power per day that prevented our misfortune from becoming complete. 
The Lebanese have spent their summer nights sleeping on balconies, next to their cars on the road, waiting for gas stations to open and fill a gas tank of a car they needed to use, because there was no alternative public transportation. The country had no government, operated on six to seven currency exchange rates. Schools have been delayed because they have no fuel to light up the classrooms, hospitals were barely functional and people brought medicine in with their suitcases from abroad. 
House appliances have become useless in most households. Laundry machines and water heaters were the last to forever turn off.  
Some Lebanese have spent weeks in darkness during the summer because they could not afford the illegal neighborhood generator subscription. 
So Saturday, when the headlines of Lebanon "going dark" or "falling into darkness" were bleeping on TV screens worldwide, in Lebanon, it was… just Saturday. 
It's alive!
Sort of: Lebanon's electricity grid was back online Sunday after the army supplied 6,000 kilolitres of gasoil for the power plants in Deir Ammar and Zahrani. It will be enough to produce 500 Megawatts over a few days (Lebanon needs 3600 megawatts to keep the light on 24/7). 
What is "normal" anyway? Energy Minister Walid Fayad said Sunday that the grid was back up and running.
"The network is back to normal, as it was before the gasoil [diesel fuel] ran out at Deir Ammar and Zahrani," he said in a statement.
New shipment: The state electricity company had said Saturday that a shipment of fuel oil was expected to arrive from Iraq, and be offloaded at the start of next week. 
New funds: Fayyad also noted that the central bank approved on Friday $100 million for gasoil. However, it has to go through a publish bidding process and that will take, Fayyad said, until the end of the month. 
On other fronts: PM Najib Mikati was in Jordan on Sunday and visited the Jordanian King Abdullah, a week after the Jordanian PM visited Beirut. 
This is probably the closest diplomatic relations between Beirut and Amman in decades, the National journalist Aya Iskandarani noted on Twitter.
After US mediation last month, Lebanon has reached an agreement towards bringing Jordanian electricity and Egyptian gas into the country via Syria. The idea was older, Jordan was on board from the beginning, but Syria had said no. But the grid needs maintenance, and the Jordanian Energy Minister Hala Zawati, said she hopes her country would start exporting electricity to Lebanon by the end of the year.
The government is also bringing in some fuel oil for power stations in exchange for medical services under a swap deal with Iraq. We covered the side-plots of this deal in last week's briefing.
Lebanon has spent $40 billion in 30 years on subsidizing electricity produced with expensive fuel instead of gradually overhauling the system to be able to function with natural gas. 
Public relations
Everyone wants to rebuild the port: Iran's Foreign Minister Hossein Amir-Abdollahian was also in Beirut last week, meeting with various officials. He said during a press conference with Abdallah Bou Habib, his counterpart, that his country was ready to help Lebanon build two electric power plants and rebuild the Beirut port.

Hard to see that happening in reality, as money for the reconstruction and for possibly building powerplants would likely come from international donors or international loans. 
Also, this may also be a reason:
One important part of the "Iran providing electricity to Lebanon" conversation is to realize that this would be a significant, long-term financial and political burden on the Iranian regime. Iran can hardly keep the lights on for its own people… (cont)

— Mustapha Hamoui (@Beirutspring) October 10, 2021
A harsh statement: The United States on Thursday denounced Hezbollah's deliveries of Iranian fuel as a public relations stunt and warned that Tehran remained under sanctions.
Beirut in a nutshell
Pandora leaks: The first name released was PM Mikati's, who denied any illegal activity in an official statement. 
Daraj, the official partner of the International Consortium of Investigative Journalists in Lebanon, has been publishing during the past week several in-depth reports into the high-profile Lebanese names found in the leaks ICIJ released last week.

You may want to read Diana Moukalled's long and detailed piece on the West Africa- based Hezbollah-related tycoons under sanctions by the US Department of Treasury. They also denied any illegal activities. They did not deny financing Hezbollah, though.

Another interesting piece is this one, featuring a company named Agon –no, not inspire by Aegon Targaryen – that only existed for a year and a half in the Virgin Islands. Two reasons for such a short life: you're really bad a business or you want to erase your off-shore financial traces. 
But all in all, the investigations have not had much echo in Beirut. 
Show us the money: Several protesters filed complaints against the security guards of the Lebanese Bank Association Salim Sfeir, after they were allegedly beaten on Saturday night while demonstrating in front of his house.  
Lebanese depositors have been protesting in front of banks in Beirut, including the central bank. Demonstrations have been quite frequent in the past 2 years, since the financial crash has prompted banks to restrict access to current accounts in dollars, obliged clients to withdraw only limited amounts in Lebanese pounds at a rate of 3,900 LBP/$, which is a third of the current market rate and banned transfers abroad. 
Meanwhile, there is no credible and transparent investigation into what led to the 2019 financial crash, with bank officials denying any wrongdoing and the central bank audit has been dragging on for two years, as the head of the institution has refused on several occasions to release documents citing banking secrecy. 
What's in a page: Or 14 pages. According to Swiss publication Le Temps, Lebanon's central bank governor, Riad Salameh, made disappear 14 pages of an IMF report in 2016 that warned of an upcoming crisis. He said it was all a fabrication.
Death of a hijacker: Hezbollah member Ali Atwi who was wanted by the FBI for his involvement in the 1985 hijacking TWA flight 847, during which US Navy diver Robert Stethem was tortured and murdered, has died on Friday of cancer in Lebanon. A family member confirmed his death to AFP. 
TWA Flight 847 was travelling from Cairo to San Diego with stops in Athens, Rome, Boston and Los Angeles. It was hijacked on June 14, 1985 after it took off from Athens.
An appeal in the Hariri murder: Prosecutors on Monday appealed against the acquittal by a UN-backed court of two suspected Hezbollah members over the 2005 murder of Lebanese former prime minister Rafik Hariri.
The prosecutors said judges at the Special Tribunal for Lebanon made "fundamental" errors by not considering circumstantial evidence when they cleared Hussein Oneissi and Hassan Habib Merhi.
Details, they said: One of six women elected to the Lebanese Parliament, Inaya Ezzedine, got very "emotional" and "stormed out" of a committee meeting after two older and more "rational" colleagues, Ali Hassan Khalil and Eli Ferzli, dismissed her proposal to introduce a women's quota in the upcoming elections. "We're running short on time," Ferzli said. "We cannot discuss these new details."
View this post on Instagram
More on the proposal:  Read Sally Abou Al Joud's piece on NOW. 
The "details" pushed aside, the committees focused on what was more important: bringing forward the general elections to March 27, although it may influence voter registration. 
Lebanon+:
How we lived the Facebook blackout:

Instagram vs Facebook vs Twitter vs LinkedIn in Lebanon ? pic.twitter.com/aXfDICiwG8

— Elio Wehbe (@Elio_w) January 2, 2021
Podcasts: 
Ronnie Chatah talked to Kulluna Irada's Diana Menhem on The Beirut Banyan. 
Medea Azouri and Mouin Jaber continue their artist series on Sarde after Dinner with musician Mazen El Sayed.
Agenda: 
School resumes in person across the country on Monday. 
Also on Monday, the Parliament Finance and Budget is scheduled to discuss several proposals such among which regulating importing medicine and amending the bank secrecy law.
Hezbollah chief Hassan Nasrallah is scheduled to deliver a speech on Monday evening. 
Ex-minister Ali Hassan Khalil is scheduled for questioning in the Beirut port blast inquiry on Tuesday. Ghazi Zaayter and Nohad al-Machnouk testify on Wednesday. 
US Subsecretary of State for Political Affairs Victoria Nuland is expected in Beirut on Thursday.
Until next week, subscribe to our newsletter, follow us on Twitter, Instagram, Facebook, or LinkedIn and stay safe.