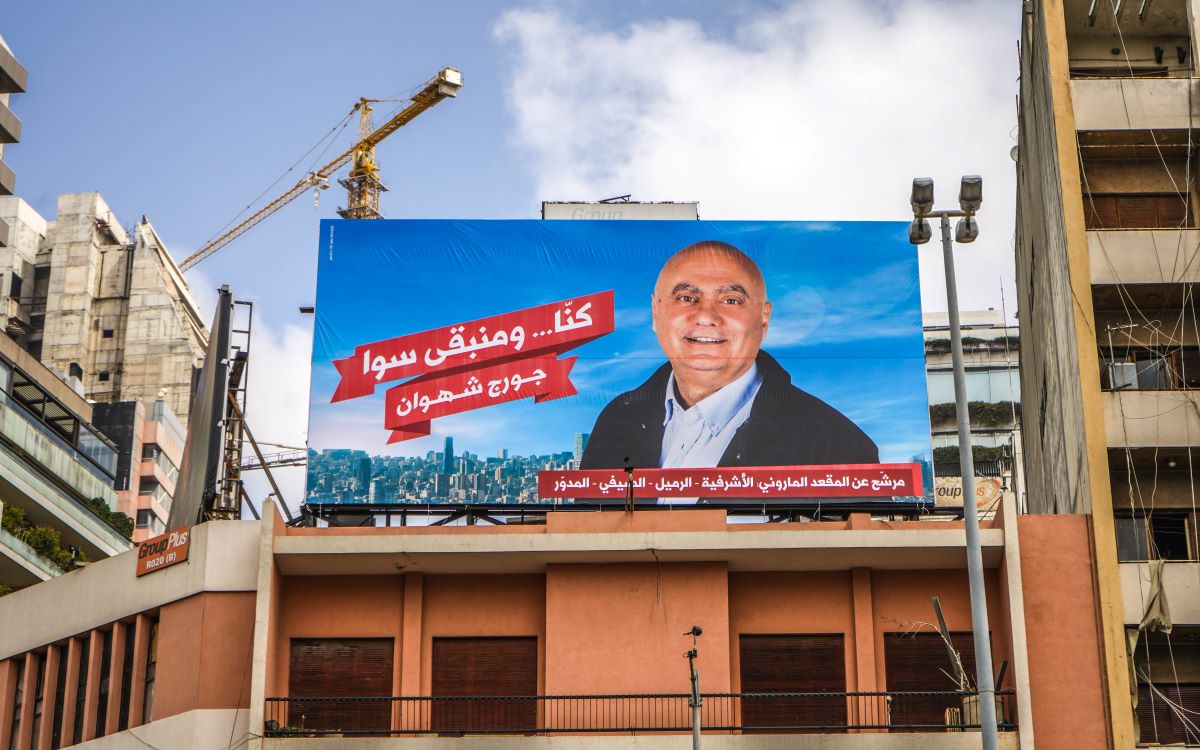 Amidst the ads of Makhzoumi and Sawa, one can get a glimpse of smaller-scale posters for independent candidates, such as this for candidate George Chehwan with a slogan that says: We did stay… and will stay together. Photo: Dana Hourany, NOW.
A giant red billboard, hanging on a run-down building in downtown Beirut, with a heart logo and a slogan that reads "Beirut needs a heart". An equally giant gray billboard, picturing the port explosion with even a grimmer slogan: "Our silence will cause another explosion". 
Whether headed East or West of the capital, one is likely to run into the president of the National Dialogue Party, MP Fouad Makhzoumi's gray and red political ads. His campaign was launched on February 19 and was the first to display electoral billboards and dominate the political street advertising scene in the capital. 
Sawa Li Lubnan, a political movement run by Bahaa Hariri, Saad Hariri's brother, came second with its solemn political ads that had been placed in close proximity to Makhzoumi's. Sawa's ads are "scrollers", that alternate texts every few seconds; "they took your life savings, vote against them" to "they threatened you with weapons, vote against them", to name a few.
In between Sawa and Makhzoumi, it was still possible to get glimpses of ads dedicated to other Beiruti candidates such as former MP Paula Yaacoubian and businessman George Chehwan. 
With billboards costing between $3,500 and  $8,500, the younger opposition groups that resulted from the October 17 uprising prefer to campaign on social media, where the costs are significantly smaller.
Shamaluna, an opposition coalition list in north Lebanon, launched in December 2021 and did not opt for a classic campaign with billboards and a slogan. The social media posts present candidates and upcoming events.
The National Bloc, a secular party established in 1936 and revived in 2018, has also used social media to present candidates and announce online meetings and events, with occasional posts pointing at the establishment's corruption and flawed governance.
Another opposition faction, Citizens in a State, also used social media to present their candidates and explain their political program. The faction also organized electoral meetings in person in various districts and localities. 
With only 6 weeks to the general elections, political content generated from parties, groups, and individual candidates has been displayed all over the virtual and physical spheres. However, experts and political observers debate whether these efforts will reap results in the polls.
On the one side, Carmen Geha, associate professor of public administration at the American University of Beirut, says that the main problem afflicting the opposition is their inability to form a united front and re-create the momentum of the October 17 revolution that had riled the people against the establishment. 
"The opposition's current campaigns are very candidates-based. This contradicts the essence of the revolution that brought us all together regardless of our sectarian background or geographical location. From North to South, we felt like one entity; now from North to South we have different campaigns with several logos", Geha told NOW. 
On the other hand, sectarian factions use the same redundant style of political campaigning they have always used, because they count on the loyalty of their constituencies and are not interested in putting in the effort to shape credible messages and policies, Ibrahim Lahoud, Strategy Director and Head of Insights at Brand Lounge brand consultancy, pointed out.
"In recent campaigns, there's more emphasis on the intention to save the country than there is on political programs. It's all slogans that make you go, ok but how are you going to do so?"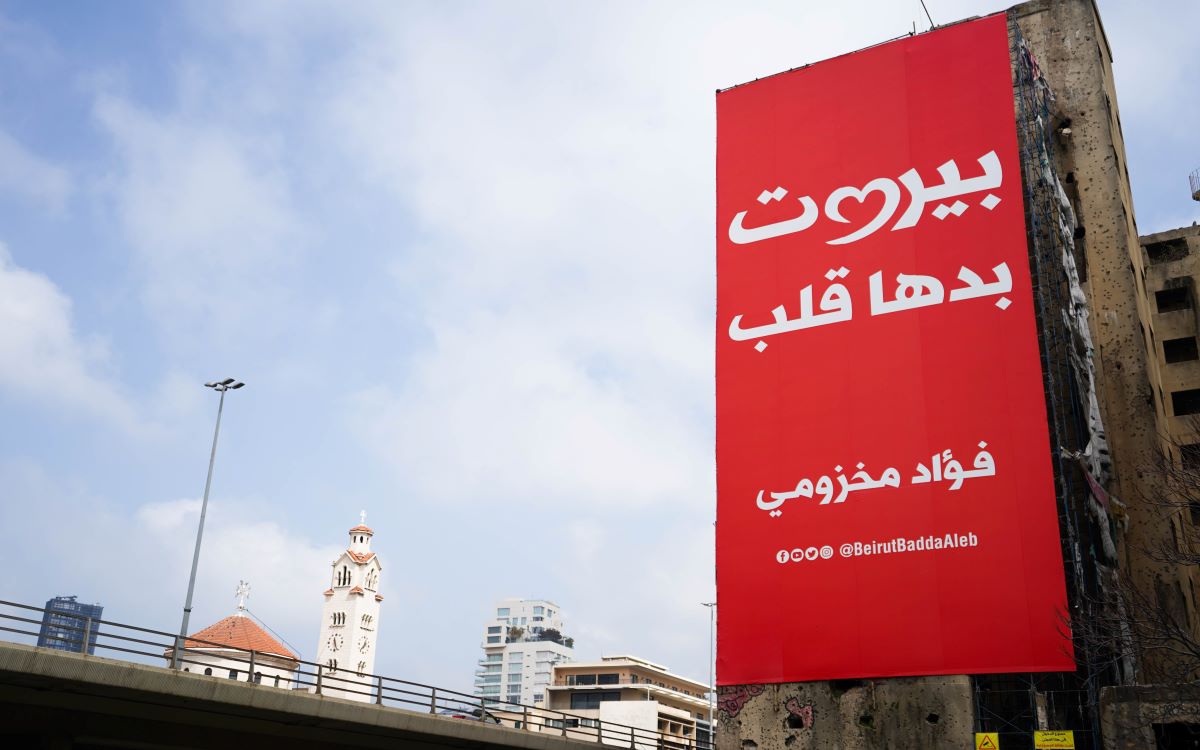 More questions than answers
The keyword of this electoral season is "change". Whether it's the establishment of sectarian factions, reformed historical parties, or opposition movements, they all revolve around the same principle of changing the system. Only, experts and observers told NOW, that is not the same change they believe in and it's not clear how any version of such change is going to be achieved. 
The Lebanese Forces, for instance, used a red background with bold white font and slogans analogous to the ones used in the last round of elections. The message is along the lines of Barack Obama's famous "Yes, we can!". 
The 2018 slogans that read "It's time to have a government, not a farm" developed into "There are those who are capable of [change] but don't want to" or "we want [change] and we are capable [of change]" to name a few. 
Reformed Kataeb used a green background with white texts; their slogans referring to the country's recent concerns: "Enough postponement" – referring to the port blast investigation or "Enough excuses"- referring to the current government's lack of real action. 
Shiite parties, Amal Movement and Hezbollah did not put much effort in electoral banners or presenting candidates. Hezbollah prefers to campaign in person, with political leaders speaking at gatherings and mosques in various regions. On the other hand, an awkward electoral poster depicting Amal Movement leader Nabih Berri has made the rounds of social media.  "Doctors advise looking into his eyes [Berri] to improve dignity and honor levels," it reads.

The Free Patriotic Movement, led by President Michel Aoun's son-in-law Gebran Bassil, has not started campaigning yet. If in the past the orange banners with slogans were displayed across beirut early on during campaign season, this year, much like its political ally Hezbollah, the party did not push any electoral promises.

For Joe Rahal, independent political activist and electoral observer, the general rhetoric of "we can, they can't" raises more questions than answers about a party's ability.
"If you are truly capable of change, then what stopped you from doing so in the past? Please explain that to me. I'd love to have a truthful campaign where candidates were honest about what they can and can't do," Rahal said. 
For Lahoud, the rhetoric of "complaints" used by some opposition groups, where images and slogans would point out the ongoing crises, was insufficient.
"The people are not in need of reminders, they are in need of solutions," he said. For the expert, groups were not focused enough on breaking down their political agendas for the electorate to understand proposed policies and reforms.
"I'm voting for the agenda, not for the faces. The opposition is still immature in its soft approach compared to the establishment parties that want to cannibalize the elections. This is why I ask all candidates: Why would I vote for you? What makes you different?" Lahoud said.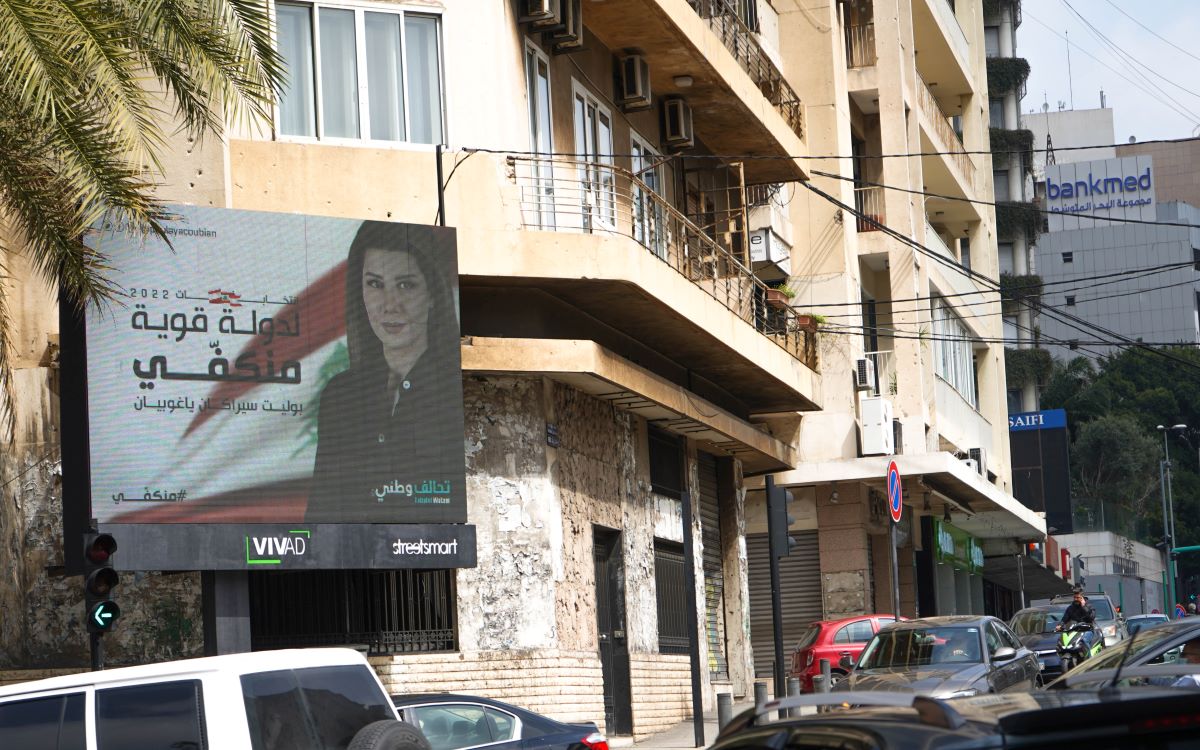 Opportunistic vs Realistic
Both the establishment and the opposition garnered criticism and mockery online. Political researcher Nadim el Kak, compiled a few slogans under one post on Twitter to point out, what he described as "dumb electoral campaigning". 
One of the criticisms el Kak made was directed at Madinati, an opposition group running with 11 candidates in Beirut, for setting utopian expectations. 
Madinati's online campaign compiled visual material introducing the candidates, as well as posts showing two contrasting realities; a family gathered together at a lunch table versus the photo of a person walking at the airport – the slogan read "The difference between family and expatriation is your vote". 
"Did you know that once you vote you'll return home to a bag of cash, a loving reunited family, and everything in your life suddenly get better?", el Kak wrote sarcastically.
Rassil Ladiki, brand consultant at Madinati, says that the group believed these messages were basic human expectations that were feasible. The point of these posts, she said, was to install hope in the people's hearts so that they don't feel discouraged from heading to the polls.  "Change is viable and voting is impactful," she told NOW. 
El Kak told NOW that while the split within the opposition was normal, it resulted in an overwhelming amount of political content that created confusion for the electorate.

He says that the opposition has split into pragmatic groups that use populist verbiage and exaggerate the elections' capacity to make an impact, as to draw more voters; and the realistic groups that don't make promises but rather view change as a long journey, with elections being a stop, not a destination. 
"The first groups create a sense of urgency, it's now or never for them. It makes more sense for groups, in general, to focus on realistic avenues of change and for candidates to be clear about their limitations," El Kak explained. 
Indeed, Geha believes that the opposition groups should put their resources to good use by creating unified campaigns, with volunteers, slogans, and logos all working for two or three main principles. She fears, however, that the elections might end up reaping results based on personal preferences. 
"Lebanon is a small community of people and it's like we all know each other so people are very likely to vote for their closest connections. Elections are not only about winning, but they're also about political mobilization; we need to feel heard and included in the conversation. Right now it feels like every group is mobilizing on its own," Geha said. 
Successful campaigning, experts say, is a laborious effort, requiring thorough research, preparation, and most importantly, political knowledge and shrewdness. 
What makes a good political campaign?
Lahoud explains that a successful campaign stands on the four main pillars of a brand. 
First is the Purpose; campaigns should have a valid reason to exist. They should be clear and precise about their contribution and impact to the political scene, he stressed.
Second comes Innovation: what makes you stand out from the crowd? How are you different from the rest? We need concrete evidence and actions.
The third is relating to the electorate's Culture; Lebanon is rich in culture and diverse beliefs, so candidates need to provide a deep understanding of needs and concerns. 
Fourth is the choice of images. Political ads should focus on providing answers, not on evoking senseless emotions or implementing an 'Us versus Them' approach. 
"If an ad for soap shows you how it eradicates stains in a one-minute TV break, electoral campaigns can use their finances efficiently to market feasible and applicable reforms," he said.
Credibility and emotional connectivity are added factors that the expert said were needed to gain popularity amongst electorates. These were reinforced when candidates gave back to society through charity work, volunteering, and donations. 
Colors play a vital role as well, Lahoud says, the most common colors used recently were gray and black, signifying power and authority, and red signifying passion and bloodshed. 
"Memories of bloodshed [during the civil war] and populist slogans are successful only within the supporters of establishment parties. But for the people with a developed political conscience, these tactics are futile," the expert said.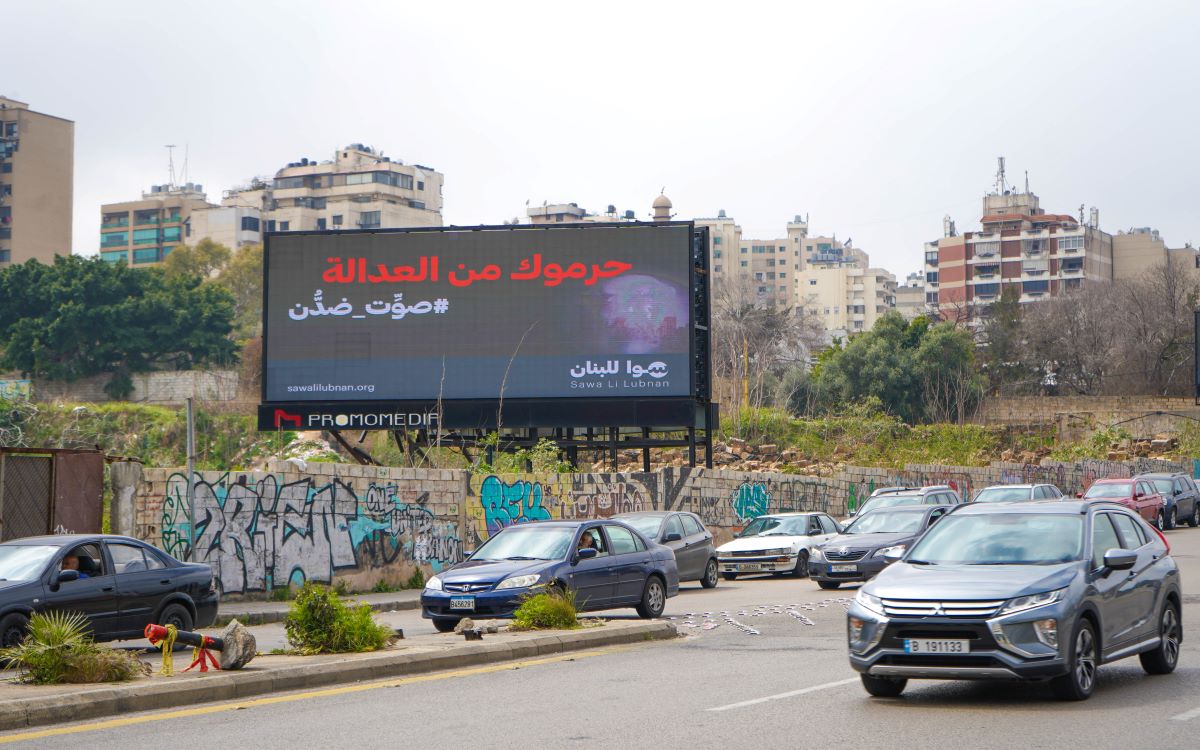 Building connections with the people
El Kak explained that opposition groups didn't have the time, resources, or recognizable faces, therefore, their efforts should be redirected to door-to-door approaches and real-life meetups with the electorates.
The researcher said he liked the campaign strategy of Citizens in a State party, established in late 2015. The candidates journeyed all over the country to organize meetups and seminars. 
He adds that the party's "Qadreen list", which comprises 65 candidates, running in all electoral districts, brought to the table a policy-driven not individual-driven discourse not present elsewhere. 
Emilio Matar, the Media Commissioner for Citizens in a State, told NOW that slogans were indeed not a priority to the group, although the group did launch a social media campaign. Instead, he said, the party is more concerned with pushing the political program, introducing candidates, and forming coalitions. 
"We know the elections won't produce radical change, it's one battle in a long series of wars against the establishment but we are confident in what we do and we are ready to be held responsible for our actions," Matar said.

For the smaller secular groups formed by members of Secular clubs across Lebanon who are proposing candidates for various regions, their campaign strategies are adapted according to the regions they want to run in. 
The group campaigning in Beirut, Beirut Tuqawem, have been relying on door-to-door campaigning and organizing public events on the streets of the Lebanese capital to explain to potential voters their electoral plans and ideas. But there are risks that come with this form of campaigning. Two weeks ago, the campaigners were chased away from the Beirut neighborhood of Tariq el Jdideh by supporters of Sunni Future Movement party. 
In South Lebanon, a district tightly controlled in terms of security by Amal Movement and Hezbollah, Al Janub Yuwajeh volunteers and members rely heavily on social media for security reasons. The group's supporters have been targeted by online bullying campaigns and they fear they could be targeted on the ground too. 
"We struggle to find volunteers because people fear for their lives. But it is still important for us to present our political program to the people, in the hopes of establishing the grounds for future change," Soltan Husseini, member of Al Janub Yuwajeh, told NOW.
Dana Hourany is a multimedia journalist with @NOW_leb. She is on Instagram @danahourany and Twitter @danahourany.