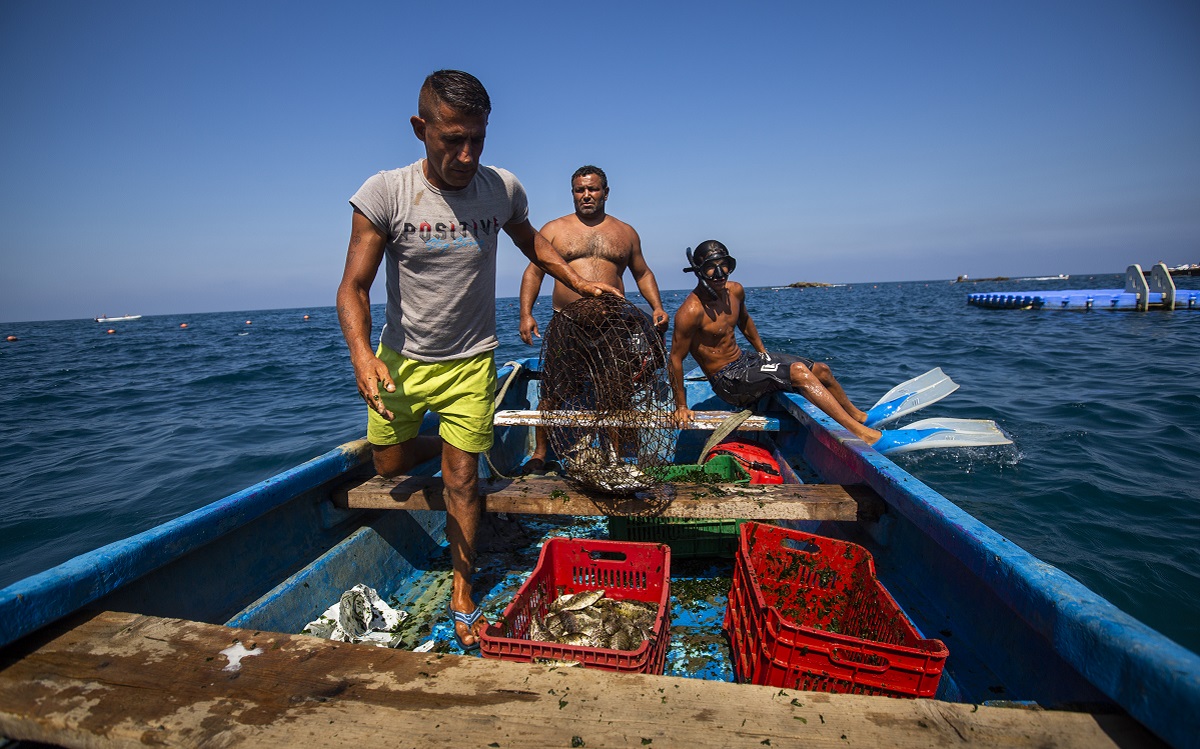 Nasser Msheyk prepares to empty marbled spinefoot from a cage into a plastic basket as Moustapha Itani gets ready to dive and his father steers the felucca, Beirut, Lebanon on June 26, 2021. The economic crisis has made boat upkeep difficult so some fishers, unable to pay for repairs, send their boats to the junkyard. The fishermen also struggle to get gasoline during the country's fuel shortage, with gas station attendants telling the fishermen that fuel for a boat is a luxury, so they often refuse to sell gasoline to them. Photo: Sally Abou AlJoud, NOW.
On Raouche's limestone rocks sits a perma-tanned man, huddled around a large butcher block, chopping away at sea lettuce to stock-up on bait before his boat leaves the lagoon and guns for the fish.
Fisherman Mohammad Itani, 52, starts his day at 5 a.m. He arrives at the Dalieh Marina, Beirut's remaining coastal outcrop, and embarks on his circadian journey. By 9:30 a.m., he heads back out to collect the wire cages, which he pulls up from a depth of around 7 meters underwater, now loaded with fish.
Itani comes from a long line of fishermen who have relied on the Mediterranean Sea to make a living. With his arms spread out, he circumscribes the land his dad once cultivated and returned to after a long day at sea. 
"I was born here and I grew up here, and then the war erupted," he says. "We left after 30 years, in 1982, upon the Israeli land invasion, because my father deemed it too dangerous."
Today, Itani, along with his fellow fishermen and their traditional fishing practices, is reeling from high maintenance costs and gasoline shortages.
Last week, hours after Lebanese Prime Minister-designate Saad Hariri announced his resignation after failing to form a government for nearly nine months, the Lebanese Lira took a nosedive, trading at more than LL23,000 per $1 on parallel markets. This came after Lebanon's crisis was ranked one of the world's worst financial turmoils since the 1850s, according to a World Bank report.
"I was born here and I grew up here, and then the war erupted. We left after 30 years, in 1982, upon the Israeli land invasion, because my father deemed it too dangerous."
Mohammad Itani, 52, fisherman.
Raw materials, fishing gear, maintenance costs and everything else a small-scale fisherman needs are continuously experiencing price hikes. For a service-oriented economy that relies heavily on imported goods, these items have to be sold in U.S. dollars or its equivalent at the black market rate, giving rise to unserviceable boats that end up in junkyards.
To prevent barnacle build-up on the bottom of his felucca, a traditional small boat, Itani used to treat the hull with anti-fouling paint that costs $100, more than LL2 million at the black market rate for the two kilos he needs every nine months. Now, with his co-worker's help, he hauls out his vessel twice a month to scrape off any growth that would aggravate the boat's friction drag and increase fuel consumption.
Itani dons a mask, a snorkel, and some fins then dives from his boat into the water. He resurfaces, shortly after, effortlessly, with a circular fish trap that he hands to his coworker, Nasser Msheyk. Itani takes turns recovering cages with his son, who hits the water when he's not studying for his college. "I've always hoped that my kids would never have to work at sea," he says. "I want my kids to have better jobs."
Msheyk briskly jerks the cage, knocking marbled spinefoot out the small opening at the cage's center and into a plastic container, then refills the cage with sea lettuce and casts it, ever so gracefully, toward the diver who places it underwater for a second catch. He then spots an undersized fish in the basket, locks his fingers around it and tosses it back into the water.
"We throw back the small ones so they grow bigger and give us more fish," Msheyk explains.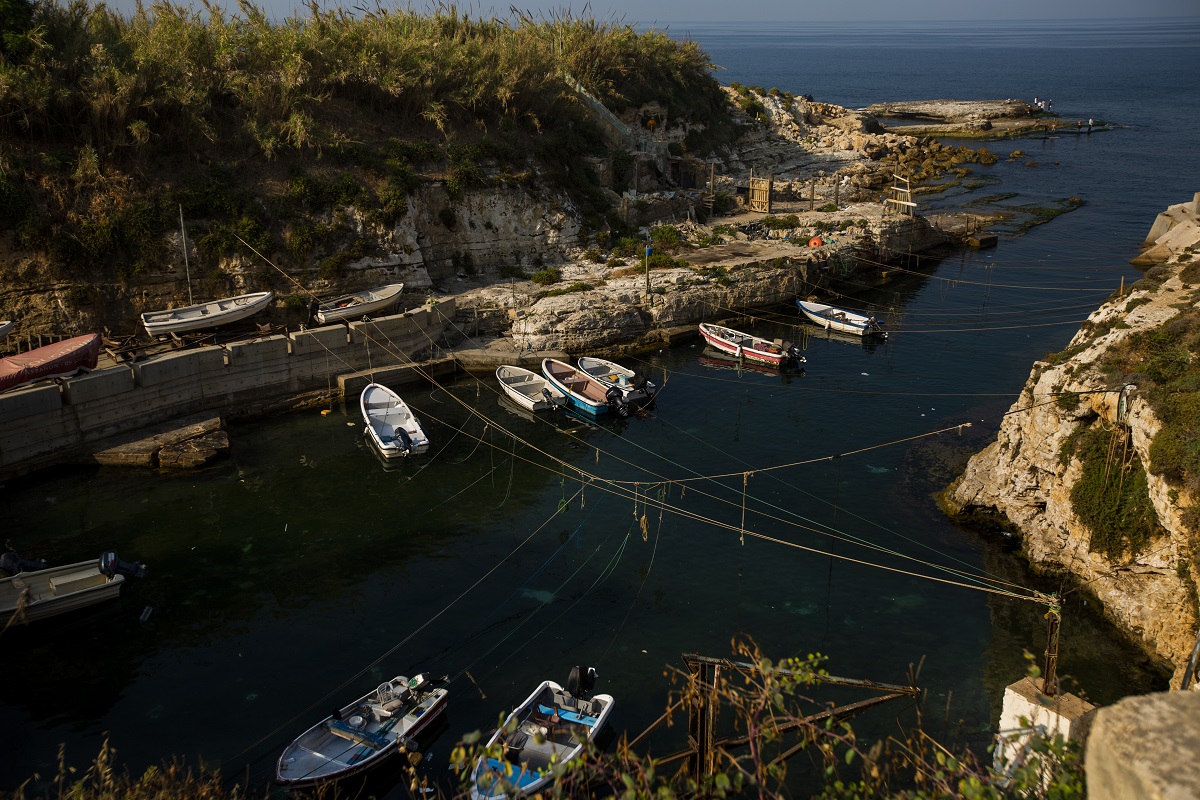 Not only in Beirut
Conditions haven't been kinder in other cities on the coastline. Tripoli's fishermen's co-op director, Rafayel, or as widely known, Rafo, wanders across wrecked boats at Hukran port. The boats ended up in the junkyard due to lack of maintenance, which many of Rafo's fishermen can no longer afford. "Salty water and marine microorganisms cause the wood to rot away," he says. "These boats require constant care, which requires dollars."
Jamal Salemeh, 38, operates a workshop in Tripoli's El Mina, which he inherited from his father and where he manufactures and repairs boats. "I would say around 85% of my recurring customers no longer have the means to restore their boats or buy supplies from my shop," he says.
Those who are still capable of repairing their vessels at his workshop are not securing Salemeh much profit due to the unpredictability of the Lebanese Lira devaluation against the greenback. His clients pay him in advance and unless the exchange rate remains stable when Salameh is working on the boat, the settled payments value diminishes, affecting Salameh's ability to purchase new materials and provide the same services.
"We are monumentally tied-up to the fisherman – when his situation improves, it shines back on us and when it deteriorates, we are subject to the same." Salameh says.
Salameh plans on passing the business on to his son, who already joins him at the workshop from time to time, especially during the summer. "But priority is for his schooling," he says. "He lends me a hand at the workshop only after he finishes his homework."
Gasoline shortages
In crisis-hit Lebanon, fishermen have to grapple with the debilitating fuel shortages. Like everyone else, they wait in line for hours at the gas station or purchase gasoline from the black market at higher rates.
Last month, the caretaker Prime Minister Hassan Diab signed a decree that authorized lifting fuel subsidies and selling fuel imports at the semi-official exchange rate of LL3,900. The decision was supposed to ease fuel shortages and tail off the long queues at gas stations but failed to achieve any of that.
Back on the sandy hills of Dalieh, as Itani weighs his catch using a rustic balance scale, two of his co-workers appear from a run-down tin shack and dash toward their motorbike clutching empty water gallons that have a light-green tint indicating habitual use. "Here they go again," Itani explains. "They're off to bring back some gasoline."
"We stand in line at gas stations to be sent away when it's our turn," Itani says, who needs at least 27 liters of petrol per working day. "They tell us that priority goes to those with cars."
He sits back on his chair and soaks up the sun. It will be another two hours before he is sea-bound, for the third time this morning, to haul out the fish cages.
Sally Abou AlJoud is a journalist based in Beirut. She is on Twitter @JoudSally.