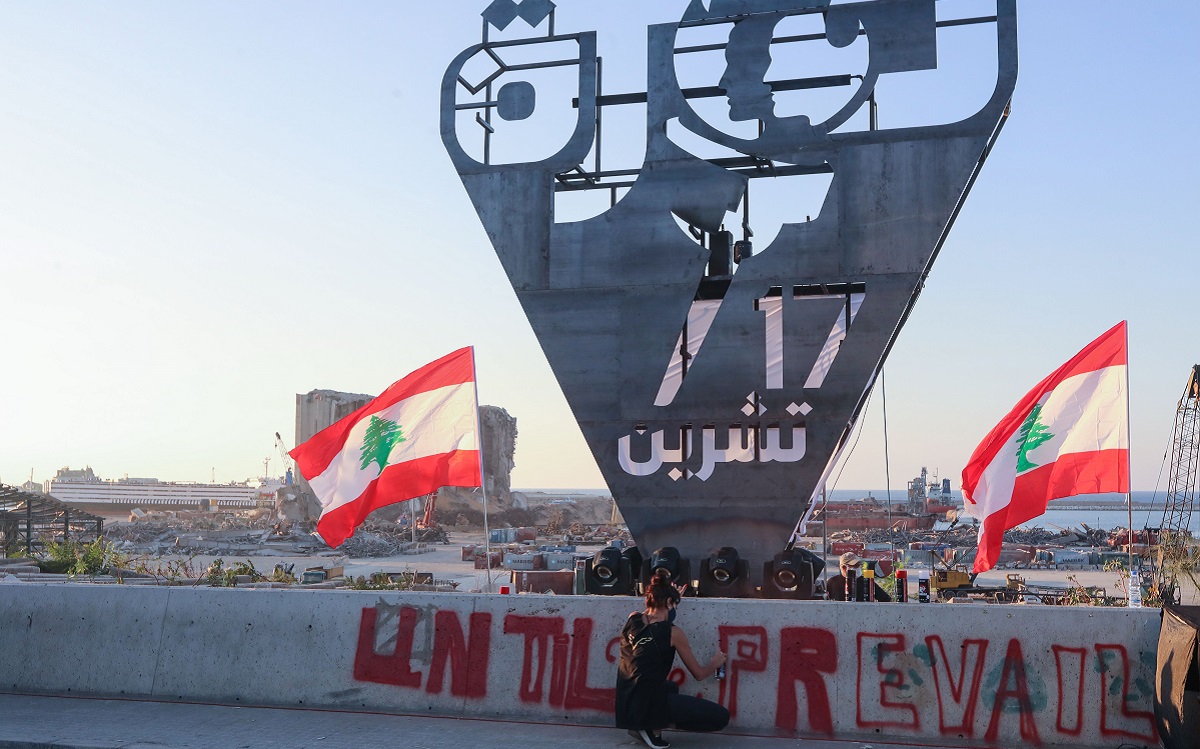 A Lebanese protester sprays graffiti on a concrete barrier beneath the "October 17 torch" during a demonstration marking the one year anniversary of the beginning of a nationwide anti-government protest movement, in front of the devastated port of the capital Beirut where a massive explosion took place more than two months ago, on October 17, 2020. Photo: Anwar Amro, AFP.
For a country better defined by political violence than standard democratic practice, it is hard to build a case for fundamental change following next year's parliamentary elections. We can go a step further…Lebanon will almost certainly remain ungovernable so long as it hosts a regional army – and geopolitical conflict – within its borders.
Electoral outcomes in our recent history have not ushered in improvement. A proxy army sets the limits for good governance, and whatever agency remains is confined to the margins.
A small amount to work with, where skills and knowledge are taken to the halls of power and fail.
Yet the pessimistic reality we live with may actually offer the first step in eventually pushing inwards, even if that is years from now. And one day, perhaps, even allow us to enter the system's core, and usher in long-overdue reform.
Previous efforts have been made. I have, in fact, used this column to express that sentiment in detail (see last week's piece, 'Agency, Not Surrender'). I also acknowledge that 2021/22 is not exactly 2005 or 2009. Those earlier election years saw majority wins amount to nothing against Hezbollah's demands, accompanied by assassinations and the impact that weapon has on politics.
At the same time, small differences that have emerged since are important, and they offer good reason to still hold onto the electoral process as a conduit for hope.
October 17
Large swathes of Lebanese have lost hope in traditional political parties. They may not be the majority, but a sizable minority that turns to the October 17 uprising for inspiration believes that new groups – and new names – are needed.
And they are organizing. Fast.
The same individuals that protested with revolutionary chants two years ago in Martyrs Square, Riad el Solh and throughout Lebanon, in those early days following October 17, eager to barge into government buildings and reclaim what was rightfully theirs, have now entered mainstream politics and are campaigning across the country.
Candidate lists will be announced over the coming weeks (individuals have started launching their candidacies). Coalitions among October 17 supporters have come to fruition. There are smaller groups – perhaps out of principle and stubbornness – that continue to go at it alone, and their presence will likely diminish once elections are underway.  But a new political force, rising from the street and currently politicking, has begun.
A new political force, rising from the street and currently politicking, has begun.
A friend from civil society, and a voice I turn to when I need a positive jolt, offered his take: "a new name in parliament from a brand-new party is a 100% increase in visibility." Two is two hundred. And so on…
I agree. These individuals need the experience of navigating Lebanon's complexities. The narrowest of accomplishments they muster will provide some respite. And the more they persuade, the greater the numbers will grow in 2026 and 2030.
They are setting the stage for the long haul. March 14 was given that opportunity (twice), and Hezbollah murdered those aspirations. October 17 deserves their try, and here comes my limited hope in regional political developments as they impact Hezbollah's position in Lebanon.
The Proxy
I may be stretching here, and I realize recent years have pointed in the exact opposite direction of what I am about to say…
But I think Hezbollah, as it exists now, with its known capabilities, is untenable. And that bodes well for reformists in the long-run.
For several reasons. The first has to do with Iran's limitations in subverting the Lebanese state. The cash-strapped Iranian economy is crippled by sanctions. IRGC military adventures abroad (proxies from Yemen to Iraq and Lebanon) are increasingly expensive, and equally important, unpopular at home. The Abrahamic Accords, irrespective of their sidelining of the Palestine question, have also made it difficult for Iran to claim ownership of the Palestinian cause through Hamas and Hezbollah's arsenal, alone – both groups have withered in popularity and, to a degree, legitimacy within their own respective populations and cannot confront Israeli without paying an enormous price. And the US and Iran's return to nuclear negotiations, combined with increased bilateral talks between Iran and Saudi Arabia, hint at possible stabilization in the near future. Lebanon's status is up in the air, but there is a trend towards rapprochement between Iran and its Gulf opponents, and we may benefit from reposturing in the region.
The second is Hezbollah's local limitations. The group clearly circumvents justice – years spent on the Special Tribunal for Lebanon's investigation and verdict against Hezbollah operative Salim Ayyash brought no direct political consequence to the party, and Ayyash remains free. Obstacles placed by that group against the port blast investigation, in addition to a delegitimization campaign against Judge Tarek Bitar's mission, have forced the cabinet to suspend its meetings while further obstructing the investigation process.
Members of parliament that resigned lamenting stagnation and decline, as well as parties that nominated reform-minded ministers to previous cabinets, should be embraced by October 17.
Yet despite Hezbollah's uncompromising position, the group today, unlike in 2005 and 2009, is increasingly unpopular, and is blamed for political assassinations alongside accusations for indirect responsibility for the port blast, along with protecting regime figures summoned by Judge Bitar. Public opinion against Hezbollah has shifted dramatically against the party following their entry into the Syrian war and military support for the Assad regime, and their recurring threat of civil war increasingly falls on deaf ears. Even their political allies do not always speak in line when it comes to the port blast investigation. And their weapons' raison d'être as a bulwark against Israel has long expired.
The third is the state of the state they depend on. The group's position is unsustainable without a semi-functioning government that protects the group's security needs. The real threat of social explosion harms Hezbollah as much as any other entrenched party, and they have limited interest in involving themselves with the day-to-day affairs of statehood. That they have increasingly dominated local affairs places them in the crosshairs with a population largely fed up with the status quo Hezbollah helped preserve. That status quo may not be directly challenged in next year's parliamentary elections, but if regional trends cool the temperature down enough on Lebanon, it is critical to have reform-minded sovereigntists in positions of power and ready to advance the goals set out on March 14, 2005.
Traditional parties
This may remain an unpopular opinion until election day, but I think members of parliament that resigned lamenting stagnation and decline, as well as parties that nominated reform-minded ministers to previous cabinets, should be embraced by October 17. When and how and in exactly what form that embrace occurs is not for me to say, but excluding older parties in the conversation is senseless, and there should be a hand extended to established and reforming groups that seek common cause in state-building.
And that should include members of the present cabinet.
There are individuals affiliated with traditional parties in ministerial positions today, not because of corruption and mediocrity but rather their skills and expertise. One in particular, Minister of Environment Nasser Yassin, is openly supportive of the aspirations of October 17, and was nominated by Najib Mikati and Saad Hariri. Another member named by both, Minister of Health Firas Abiad, shined during the coronavirus pandemic with confidence and competence as he presided over Rafik Hariri Hospital. The SSNP-somewhat-affiliated (and Mikati-approved) Deputy Prime Minister Saade Shameh, an IMF-man through and through, is a well-positioned economist able to help push for our much-needed IMF deal.
The acknowledgment that reform is a necessity, and not a luxury, has taken hold. Those that do not conform, and their leaders in their later years, will begin to fade away. It is a matter of time.
I could expand on this list (with obvious limitations in mind), but irrespective of their old guard backing, these individuals are not political the way the term has been abused in recent history. They are neither power-grabbers nor authority-chasers, and refreshingly shy away from celebrity-like notoriety. They are technocrats and are playing their small role in preventing Lebanon from complete collapse. At the same time, no matter who is running the environment ministry, there are extreme consequences to corruption and limitations to extinguishing forest fires that raged across Lebanon over the weekend without the necessary equipment. Irrespective of anyone in charge of the health ministry, a parallel black-market taking advantage of lifted subsidies will continue to rob Lebanese of the medicines they depend on, regardless of organization skills. And whether or not a prime minister's deputy is eager to get an IMF deal signed, there are endless impediments to getting everyone on board, from careerists at the finance ministry to the head of the Central Bank, and almost everyone in-between. 
That may as well be the entire state.
The benchmark may be low when it comes to expectations. But the acknowledgment that reform is a necessity and not a luxury, has taken hold. Those that do not conform, and their leaders in their later years, will begin to fade away. It is a matter of time. New names eager to join parliament next year, alongside earlier reformists pushing through against the odds, will face a decades-old nightmare.
But they are just getting started.
And if you believe in their potential, and their commitment to this country in its most difficult of times…support them. Because they need your vote.
And if you live in the diaspora and there is one thing you have not done yet, you have until this Saturday, November 20 at midnight Beirut time to register to vote.
Click here for the direct link to register, and click here for a podcast episode outlining the process step by step. 
Ronnie Chatah hosts The Beirut Banyan podcast, a series of storytelling episodes and long-form conversations that reflect on all that is modern Lebanese history. He also leads the WalkBeirut tour, a four-hour narration of Beirut's rich and troubled past. He is on Facebook, Instagram, and Twitter @thebeirutbanyan.
The opinions expressed are those of the author only and do not necessarily reflect the views of NOW.