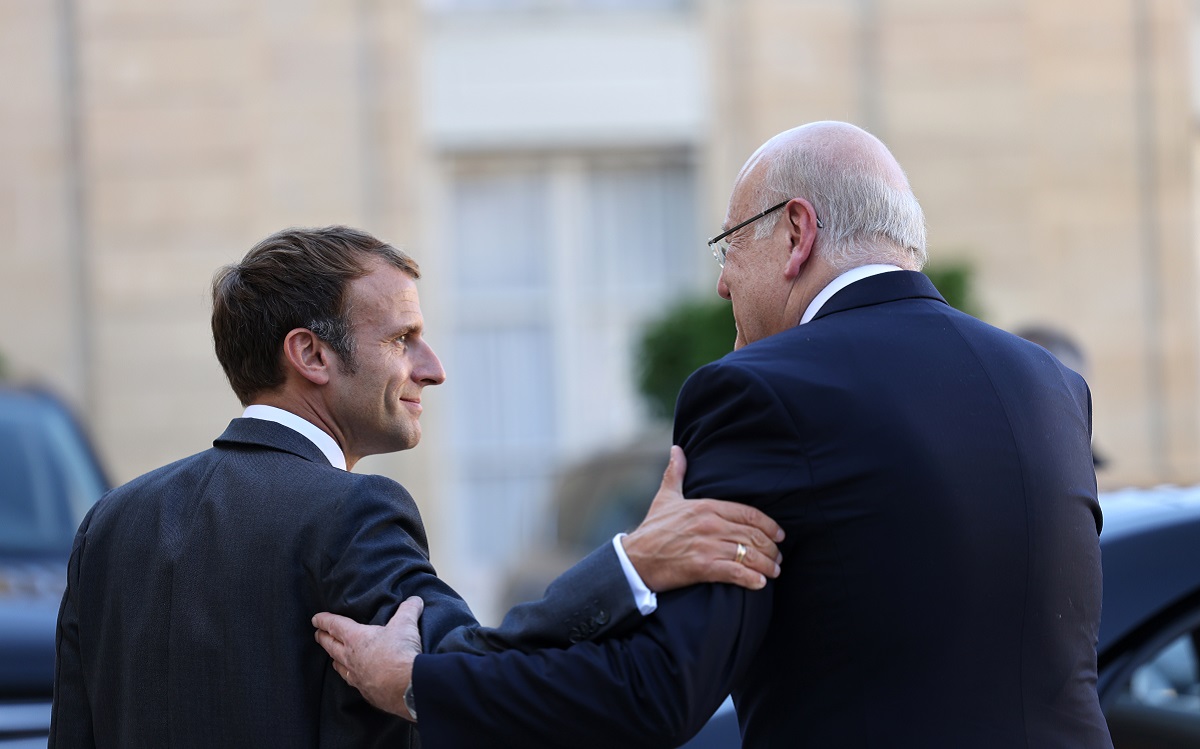 French President Emmanuel Macron (L) and Lebanese Prime Minister Najib Mikati walk after a working lunch at the Elysee Palace, in Paris, on September 24, 2021. Photo: Thomas Coex, AFP.
Emmanuel Macron will not give up on Lebanon. 
Thank you for reading this post, don't forget to subscribe!
That's what the French president promised Prime Minister Najib Mikati during a working breakfast on Friday, when the Lebanese head of government was in Paris hoping to reactivate the 2018 CEDRE donor conference that pledged $11 billion in development aid and to support Beirut in reopening the negotiations with the International Monetary Fund. 
Mikati is to head to the Gulf next week in an attempt to melt some hearts. 
But looking at the talk of the main European cities – Berlin and Paris right now – France remains Lebanon's best bet, especially in terms of support given to progressive voices in the country and pressure applied to political groups. 
WELCOME to the weekly roundup from NOW. It's not exactly all you need to know to end a week and start another, but it may give one some insight into interesting changes that could play a role in Lebanon's future.
Rearranging the EU may help rearrange Lebanon
Elections in Berlin: With Angela Merkel retiring and Germany most likely undergoing a long process of political rearrangement after this weekend's parliamentary election, France is expected to take the lead in the European Union's foreign policy. Germany, as the most developed economy of the EU, was not the foreign policy-oriented leader anyway – Berlin was more focused on EU cohesion and internal policies. It also had a very pragmatic multidirectional and hard to sustain foreign policy: gas from Russia, trade with China, and NATO security. 
A new foreign policy for the bloc: France, on the other hand, is emerging as the EU bloc's foreign policy voice, more focused on principles, and it has been quite active and vocal lately. It also sent hints that there may be a bit of a breakup with Washington, after Australia decided to silently ditch a deal with France for conventional submarines and go for US-made nuclear ones. Of course, the deal with Australia, changes things strategically in the pacific and in the balance of power with China. But it also made Paris, and, with it, some parts of Europe say "hm, maybe we need to get our own defense and be more assertive in our foreign policy."
As far as Lebanon is concerned: That may pose various problems inside the EU, but with Paris at the helm, the bloc is expected to become more assertive in the Middle East – where it's political visibility as a liberal hub has been indirectly proportional to the amount of money it donated in the past decade. It should at least become more visible in the Lebanese crisis, if not also in Syria, where all moves continue to be frozen by "we don't really know what to do anymore." 
Elections on the mind: For the new government in Beirut there is one high priority: to buy time for the country until the parliamentary elections and reconnect with some important donor capitals to get support and restart the dialogue with the International Monetary Fund. Basically, to show there is a captain on the ship and that it's worth saving it from sinking. Nicholas Frakes spoke to Carnegie Middle Middle East Center's Michael Young and Middle East Institute's Firas Maksad to find out what to expect from Mikati's third cabinet. 
A renewed plea for justice
As this year's third meeting of the UN Human Rights Council began in Geneva mid-September, the families of the Beirut blast victims renewed their plea to the international community to find a way to get international institutions involved in the investigation that is constantly at risk in Lebanon. 
More pressure on the Lebanese investigation: Several former dignitaries and current Lebanese MPs who are expected to show up for questioning as suspects in the explosion probe have found various ways to skip it. After former PM Hassan Diab left the country for the US days before his scheduled questioning, former Minister of Interior Nohad Al Mashnouk and Former Public Works Minister Youssef Fenianos sued chief investigator Tarek al Bitar at the Supreme Court claiming he was biased. 
Some international lobbying results: Human Rights Watch researcher for Lebanon and Bahrain Aya Mazjoub told NOW last week that, even if Lebanon is not per se on the agenda of the UN Human Rights Council, several countries have agreed to mention it during their interventions, as a first step to push one of the largest non-nuclear explosions in the world that killed 218 people and flattened half of Beirut on the UN's agenda. 
Germany delivered: The German representative expressed official concern for human rights in Lebanon right after expressing concern for human rights in Afghanistan. And yes, one thing many people forget when confronting with everyday hurdles and the explosion many people are never going to recover after, but Lokman Slim's assassination is part of that human rights story. The long series of assassinations are part of Lebanon's quest for justice and, yet, they are too many times pushed aside and left to the care of surviving relatives. 
But procedure is procedure: However, Mazjoub said, there can't be any motion on a fact-finding mission to Lebanon voted in Geneva unless someone – a state or a group of countries – takes the bull by the horns and actually submits the draft. 
A much-awaited trip: Olivier De Schutter, Special Rapporteur on extreme poverty and human rights at the UN Human Rights Council is coming to Lebanon during November 1-12 to assess the situation. In advance, he submitted a request for input from all stakeholders in Lebanon – be they individuals or organizations, including civil society organizations, activists, and academics. 
I have a feeling his inbox will be full. 
There is a silver lining: The Balkans are probably the most cited example when it comes to traditional justice and, although there are many differences, there are some lessons the Lebanese human rights and justice advocates can look at and use when they ask for justice in the Beirut blast case. The main point I tried to make in an op-ed is that as long as civil society keeps speaking up and pushing for justice, the file will never be buried. 
Lebanon +
Diaspora dissent: He didn't melt the hearts of the Lebanese diaspora members in Paris, who showed their disapproval of PM Mikati : a satire poster showed up at the door of the Lebanese Embassy to France upon his arrival. 
View this post on Instagram
In terms of podcasts, the news of the week is that some politicians are now starting to go on podcasts and the level of conversation changes radically. 
Jad Ghosn had an in-depth episode (in Arabic, no subtitles yet) with former Justice Minister Marie Claude Najm who opened up about internal divisions in the government she was part of and how the same old political elites buried a financial plan. She also speaks about how the cabinet failed to remove central bank governor Riad Salameh. 
NOW's weekly columnist Ronnie Chatah spoke to Sami Gemayel, head of the Lebanese Kataeb party, for his Episode 277 of The Beirut Banyan. Some questions were not comfortable, but Gemayel answered nonetheless. Ronnie also made a call to viewers to like and subscribe to the podcast Youtube channel, comment and engage, not just watch. Algorithms are unforgiving.  
Luna Safwan talked to our former boss Hanin Ghaddar, former managing editor of NOW and currently theFriedmann Fellow at The Washington Institute for Near East Policy, where she is preparing a book. This episode is in Arabic and they discussed how Hezbollah employs disinformation. 
Until next week, keep safe.