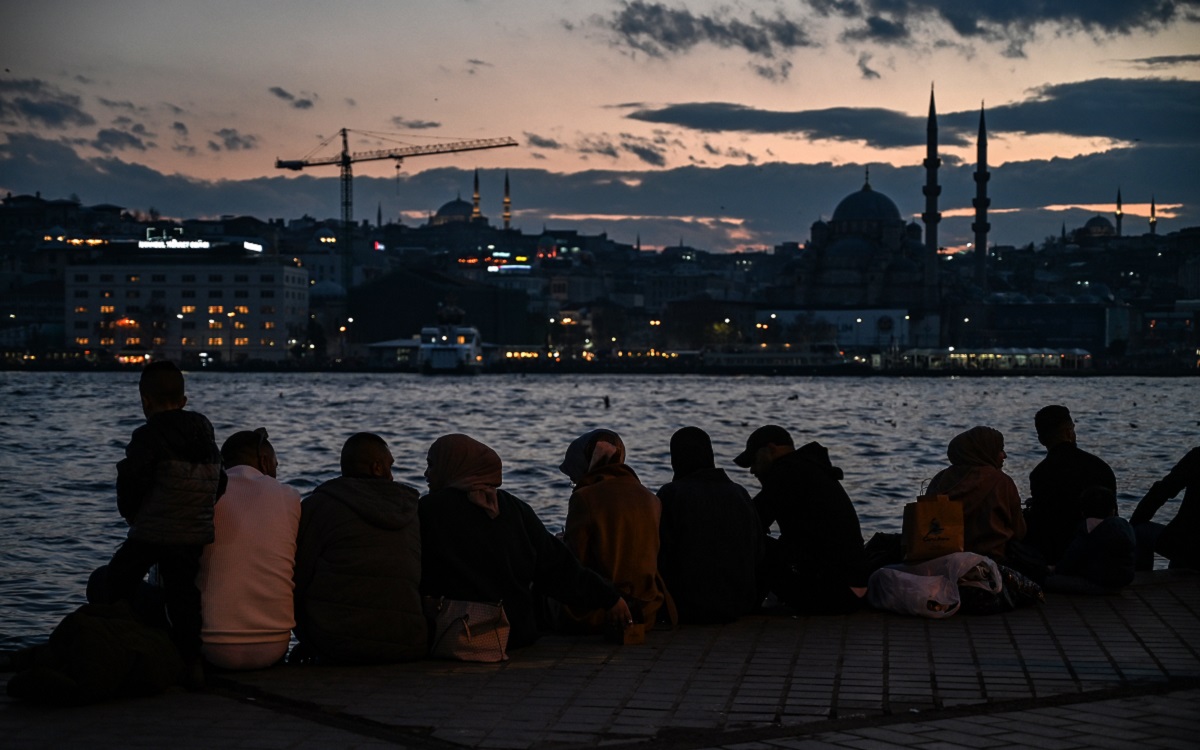 People sit near the shore of the bosphorus strait near Karakoy port on December 6, 2021 in Istanbul. Photo: Ozan Kose, AFP.
Soha Fawaz says she often lies in bed trying to sleep, her thoughts moving through her head at a lightning-fast pace, forcing her to stay awake.
The 30-year-old NGO worker had moved to Gaziantep, a city in southern Turkey near the Syrian border, a little less than a month ago and was still trying her best to adjust to life in Turkey.
She did not speak the language. She did not have an apartment of her own. She was even still finding her favorite path to walk to work every day.
Still, she did not regret her decision to move to Turkey after she finished her Master's program in Crete, Greece. It was a better choice than returning to her native Lebanon. 
"I miss [my family] a lot but I don't miss Lebanon because when I returned during summer, I felt like I didn't belong to that place," Fawaz told NOW. "[My family] lives on a street very close to Hamra and one time I returned by walking and it was at night and I was so afraid because there was no electricity. There was nothing."
Just like Fawaz, many Lebanese left their collapsing home country to find a more secure place to live, despite the inevitable struggle that comes with starting over in a new country.
Searching for stability
Lebanon is no stranger when it comes to emigration.
For years, Lebanese who feel like there are few opportunities for them at home have looked abroad to start a new life, chased out by civil wars, sectarian strife and constant economic instability.
Lebanon has a domestic population of around 6.8 million, although exact numbers are hard to produce as Lebanon has not held an official census since 1932, the Lebanese diaspora vastly outnumbers the total Lebanese in Lebanon, with an estimated 16 million living outside of their home country.
Since the start of Lebanon's economic crisis in October 2019, the number of Lebanese leaving their country increased dramatically.
In 2o21 alone, around an estimated 78,000 Lebanese left to seek stable lives abroad. According to Beirut-based Information International consultancy firm, almost 200,000 Lebanese have emigrated since 2018.  Many Lebanese who hold a second passport or who are working on their postgraduate degrees have been able to leave for European countries or the US. But those who only hold the Lebanese nationality have few choices left.

Many chose to move to Turkey or travel between Istanbul and Beirut because they do not need a visa to enter the country and the flight is only one hour and a half. Turkey also makes it easier than other states for Lebanese citizens to obtain a short-term residency permit which costs between $130-$160. 
According to the Turkish Directorate General for Migration Management official statistics released in December 2021, Lebanese are not among the top 10 nationalities that sought and were granted residency permits in Turkey. But the numbers of residencies issued by Turkish authorities were significant. Turkey only returned 7 Lebanese citizens to their country last year. 
Ali Hamdar, 38, from Sidon, a city south of Beirut, moved to Istanbul in November 2021 with his wife and two young children after working for several years as a salesperson. 
"There is nothing good in Lebanon [at this point]," he explained. "I would prefer a European country because it would be better for sure. But they will never let me into these countries."
After Fawaz finished her degree in Greece, she could only find work in Lebanon or Turkey, so she chose Turkey because it felt more stable.
"I didn't stop applying for [work with] NGOs abroad other than applying in Lebanon because I didn't want to come back and work there," Fawaz said. 
The hurdles of relocating
One of the biggest shocks for Fawaz and Hamdar has been their lack of ability to communicate with people in Turkey.
While Turkish citizens might study English, it is not widely spoken. The vast majority of the population speak very basic to no English.
"In Greece, we used to speak in English so it was okay. Even at my university. A lot of young people know English," Fawaz stated. "[In Turkey], young people or teenagers, it is difficult for them to speak [English]."
Fawaz says she has had to rely on Google Translate to communicate with people. However, since Gaziantep is by the Syrian border, Arabic is more commonly spoken than in other parts of the country, which allows her to communicate with more people than Hamdar who lives in Istanbul.
Hamdar says he speaks four languages, but Turkish is not one of them. He recently started taking courses so that he can learn the language.
The hardest part of moving for the two Lebanese has been finding a place to live.
Upon their initial move to Turkey, they both lived in hotels, forcing them to spend more money.
"I spent $8,000 since I came because I didn't know anything," Hamdar recalled. "I faced many scammers who made me lose a lot of money. Here you can face a scammer with anything, even if you want to rent a flat."
Eventually, Hamdar was able to find an apartment for him and his family.
I faced many scammers who made me lose a lot of money. Here you can face a scammer with anything, even if you want to rent a flat.
Fawaz, though, is still trying to find a place to live.
She stayed in a hotel for about a week and, during that time, she went to social media in the hopes that someone would be able to help her find an apartment.
She got lucky, finding a Lebanese man also living in Gaziantep who introduced her to another Lebanese woman who insisted that she move in with her for the time being so that she could save some money instead of spending it on a hotel.
"She told me that after one week of staying in the hotel that I was moving out from there because I'm paying [a lot] and it was costly for me and until I could find an apartment, I could stay with her," Fawaz said. "Now, I'm still staying at her place and the anxiety and my stress levels have dropped by like 80 percent because I don't have to pay since I'm just staying with her. She's supporting me a lot and she's helping me whenever we go out such as where to buy and where not to."
Her new friends have also told her that she needs to find an apartment nearby so that they were in reach if she ever needed help. 
Hamdar was eventually able to find a job working 10 hours a day at a cafe where he makes 4,000 Turkish lira a month ($290 at the current exchange rate), while his wife is looking for work online. However, this is far less than the around $1,000 that he needs to make to ensure that his family can live comfortably, forcing him to use the money that he had saved up.
But he remains hopeful and added that he is waiting on the Turkish authorities to issue him a residency permit which, from what he was told, should only take around another month.
His children are currently at home as it was too late for them to register for school, but he plans on doing this upon the next enrollment as soon as they receive the residency permit.
"I will never regret that I took the decision to leave Lebanon," Hamdar said. "It was a choice between bad and worse."
While they might have left Lebanon, in some cases the trauma and anxiety that they experienced while living in Lebanon followed them.
Gone but not forgotten
When Fawaz first moved to Turkey, the country was in the midst of its own economic crisis, caused by Turkish President Recep Tayyip Erdogan's economic policies, with the Turkish lira going from just over six lira to $1 to nearly 17 in the span of a month.
I think that one of the challenges from Lebanon and living in Lebanon is that you are always anxious about everything. You move your anxiety with you even after you move to another country. Even if it's super safe.
For the Lebanese who had moved to Turkey in order to escape the financial meltdown in Lebanon, this was an all too familiar scenario.
"I tried to ask locals and people who have lived here more than me about the situation. Is this going to escalate where things get worse," Fawaz stated. "The economy here is not stable but, now, I'm pretty sure that they won't reach the situation in Lebanon. I hope not."
Although the economic situation in Turkey has somewhat stabilized, the fact that she went from one economic crisis to another terrified Fawaz, who feared that she would have to look for yet another country to move to.
This was not the first time that her anxiety was triggered since moving to Turkey.
She was having trouble falling asleep.
"Whenever I try to sleep, I feel like my brain is still active," she said. "It's like these moments when you sleep but you are still awake and you need to rush things as if you are not settling down and as if you are not stable. I think that one of the challenges from Lebanon and living in Lebanon is that you are always anxious about everything. You move your anxiety with you even after you move to another country. Even if it's super safe."
Fawaz continues to worry about her parents who are still in Lebanon, and hopes that they will also decide to move, even though she knows deep down that they will never leave.
"I just wish that my family could leave also, but, of course, they won't," she stated. "Right now, I have all of my cousins outside of the country. Two of them left now. I left. Another one left one month ago. We are leaving. Only our families, like my mom and dad, are staying and it's frustrating for them after all of these years. Their children are leaving this country."
Nicholas Frakes is a multimedia journalist with @NOW_leb. He tweets @nicfrakesjourno.