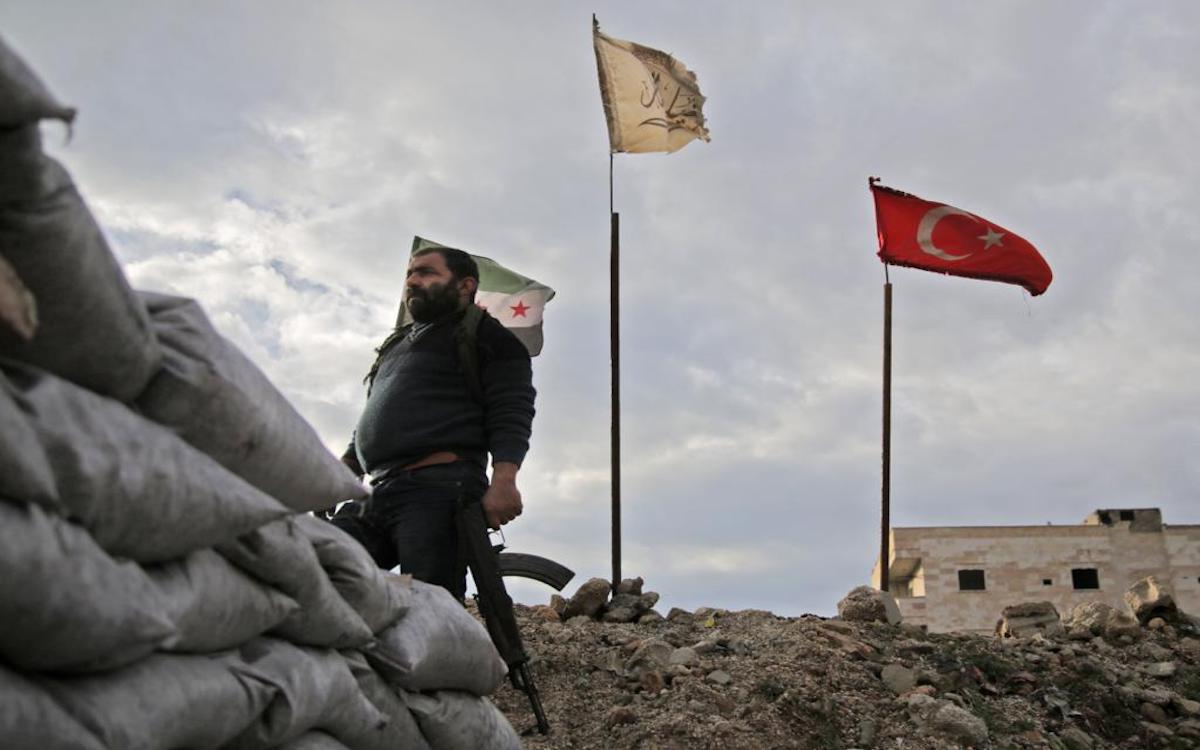 A fighter from Faylaq al-Sham (Sham or Levant Legion), one of the factions of the Turkish-backed National Liberation Front (NLF) factions, is seen holding a Kalashnikov assault rifle as he stands in front of the flags of (L to R) the Syrian opposition, the faction, and Turkey, at a position in the village of Kiridiyah, about 30 kilometres west of the northern town of Manbij, on January 15, 2019. Photo: Bakr ALKASEM, AFP
On May 25, Turkish forces struck positions of the Kurdish-dominated Syrian Democratic Forces (SDF) across northern Syria. Though it is not unusual for Turkey and its proxy force, the Syrian National Army (SNA), to bombard SDF positions along the contact lines between the two, Turkish President Recip Tayyip Erdogan's recent rhetoric and the scale of the bombardment could indicate that Turkey may launch another operation into northern Syria.
Earlier this week, Erdogan announced that there would be a new military operation in northern Syria "soon." He went on to say that Turkey would resume its efforts to establish a 30km "safe zone" along its border with Syria.
This is not the first time Erdogan has made such an announcement, but there is always the possibility that the Turkish military will go on the offensive.
It has been nearly three years since Turkey's last operation in northern Syria, and, since then, Russian forces have been deployed across SDF-controlled eastern Syria. Russia's presence acts as a buffer between the SDF and Turkey, but Russia could always withdraw from the border like US forces did right before the last operation.
There have been reports that Russia is partially withdrawing its troops from the SDF-controlled city of Manbij, while Turkey is moving troops into al-Bab, which borders Manbij from the west.
As always, it is unclear whether Turkish forces will push past the current contact lines, but one thing is for certain: an agreement with Russia would have to be made for such an operation to be carried out.
Frenemies
Turkish and Russian interests have been mostly at odds in Syria and throughout the Middle East as a whole. When the Syrian revolution broke out in 2011, Russia and Turkey almost immediately picked their respective sides, with Russia backing the Syrian government under Bashar al-Assad, and Turkey backing the nascent armed opposition, which used Turkish territory as a safe haven to launch attacks against government forces.
As the war progressed, however, Turkey's goal shifted away from opposing the Assad regime and toward containing the burdening Kurdish armed movement that appeared early in the war.
The People's Protection Units (YPG), a Kurdish militia that is essentially the Syrian offshoot of the Kurdistan Workers' Party (PKK), began to take territory in 2012, and it became one of the main factions in the war. Though a somewhat neutral force, in many instances the YPG sided with the government against the rebels, especially extremist groups such as Jabhat al-Nusra and Ahrar al-Sham.
Due to the YPG's close ties to the PKK, which has waged an on-and-off guerrilla war against the Turkish military since the late 1970s, Turkey's concerns regarding the group taking territory along the Syrian border continued to mount, until the status quo in Syria seriously changed in 2015.
With the Syrian government losing major battles in Idlib, Palmyra, and Daraa, Russia directly intervened in the conflict in September 2015, reversing the war's direction. A few months earlier, the United States also had changed its goals in Syria, shifting from supporting the rebels against Assad to supporting the YPG in its fight against the Islamic State (IS).
These two changes in the status quo forced Turkey to make fighting Kurdish militants in Syria its primary goal.
Russia's presence acts as a buffer between the SDF and Turkey, but Russia could always withdraw from the border like US forces did right before the last operation.
Turkey launched Operation Euphrates Shield, its first direct intervention into Syria, in 2016, and captured al-Bab from IS as the YPG, under the banner of the US-backed SDF, pushed toward the city from Manbij. As IS's self-described caliphate crumbled, Kurdish forces sought to connect the SDF-controlled regions of eastern Syria, with Afrin, which sits west of al-Bab and just north of Aleppo.
Turkey could not accept Kurdish control over nearly the entire Syrian border, so it likely made a deal with Russia. In exchange for Turkey taking al-Bab, Russia, Iran, and Hezbollah could take rebel-held east Aleppo without Turkish intervention. The rebels simply could not maintain their grip on east Aleppo without Turkish support, and the city fell by December 2016.
Turkey's next intervention into Syria, Operation Olive Branch, occurred in 2018, and saw Turkey and its proxy forces capture the Afrin region from the SDF. Turkey's invasion allowed Russia to make a deal with the SDF, and Syrian and Russian forces entered Tel Rifaat, creating a small pocket just north of Aleppo.
Finally, in 2019, Turkey launched Operation Peace Spring, which allowed Russia and its allies to enter SDF-controlled eastern Syria.
Since then, there have been a number of instances in which Erdogan has threatened to launch another invasion of northern Syria, even moving Turkish troops to the border.
However, no such invasion has occurred, as Syria's war came to a territorial standstill in 2020, after Russia and the government launched an offensive against rebel-held Idlib, capturing the strategic M5 highway. This offensive saw Syrian and Turkish forces come into direct conflict, leading to heavy casualties on both sides.
The war in Ukraine and Russia's posture in Syria
There has been a lot of talk of Russia pulling troops out of Syria to bolster its forces in Ukraine.
Indeed, the war in Ukraine has put a lot of pressure on Russia's position in Syria, as it continues to grind on into its fourth month. Some have even said that the US may assist the remnants of opposition forces in southern Syria to rearm, but there is no hard evidence of this.
Additionally, it would not really matter either. Even if the remnants of the opposition managed to regroup and rearm to some degree, they simply do not have the momentum they had during the early years of the war, especially if they don't have heavy weapons.
There is already a low-intensity insurgency underway in southern Syria, and if Russia pulled its forces from the region, Iran and Hezbollah could easily fill the vacuum.
There have also been reports that Russia, and to some degree the West, would be more open to a Turkish operation in northern Syria, as the world is so focused on Ukraine.
However, it is important to ponder what Russia would actually gain from a new Turkish offensive.
If Turkey took Tel Rifaat, for instance, Russia, Iran, and Hezbollah, would lose their strategic depth near Aleppo. Aleppo, specifically its countryside, is an area that is particularly important to Iran and Hezbollah, which have a strong presence there.
In particular, the Tel Rifaat pocket borders two key pro-government Shiite villages: Zahra and Nubl. The two villages were besieged by rebels in 2013, leading to Hezbollah deploying a contingent there to establish a local militia and defend the village until the siege was broken in 2016. Iran would simply not want to see Turkish-backed rebels on the borders of Zahra and Nubl, as it could threaten its presence in the northern Aleppo countryside.
Though Iran is not a power-broker in Syria in the same way that Russia is, its input and interests are still important to Russia's calculus.
Another area in which an offensive could be likely is Manbij, but again, it is unclear what Russia would gain from Turkey taking this area.
A Russian-backed offensive into Idlib would be a nightmare scenario for Erdogan, especially now that Turkish elections are coming up next year.
For Russia, Turkey's threats of invasion serves as strong leverage for getting concessions out of the SDF, which Russia and the Syrian government seek to dominate. 
The only thing that Turkey could really give Russia in exchange for a new offensive would be allowing Russia and the government to take at least part of rebel-held Idlib, which is highly unlikely.
There are millions of refugees trapped in Idlib, and a Russian-back offensive could potentially drive them into Turkey, which Erdogan simply cannot afford.
One of the main drivers of Erdogan's decision-making in Syria since 2015 has been the millions of Syrian refugees living in Turkey. On the domestic political front, Erdogan needs to find ways to manage these refugees to shore up support.
Alongside opposing Kurdish militancy, Turkey's operations in Syria have allowed it to resettle refugees, who otherwise would stay in Turkey.
A Russian-backed offensive into Idlib would be a nightmare scenario for Erdogan, especially now that Turkish elections are coming up next year.
Of course, there is the possibility that Turkey could give something to Russia outside of Syria.
Though Turkey, which is a NATO member, has supported the alliance's goals in Ukraine, it has still hedged its bets regarding dealing with Russia.
Turkey has not supported sanctions against Russia, and its relationship with NATO has recently been strained by the possibility of Finland and Sweden joining the alliance.
Turkey is in a relatively strong position, as the alliance has deemed Finland and Sweden's entrance critical. Turkey can always use its relationship with Russia as extra leverage, which it has done in the past.
However, the US has clearly said that it would not accept another Turkish invasion of northern Syria, as it would threaten the SDF's ability to contain the IS insurgency that rages on in the region.
Though Donald Trump was more than happy to withdraw US forces from the Turkish border in 2019 and allow Turkey to launch Operation Peace Spring, the Biden administration does not have the same policy goals.
Considering the US's haphazard withdrawal from Afghanistan last year, Biden cannot afford to look weak on foreign policy in the Middle East.
At the end of the day, the decision to launch another Turkish operation in northern Syria hinges on an agreement between Russia and Turkey. The US and Iran are important players, but they do not have the same degree of control of the situation as Russia and Turkey do.
An offensive still looks unlikely, but, unfortunately, that does not mean it will not happen.
David Isaly is a journalist and researcher with @NOW_leb. He tweets @DEyesalli.