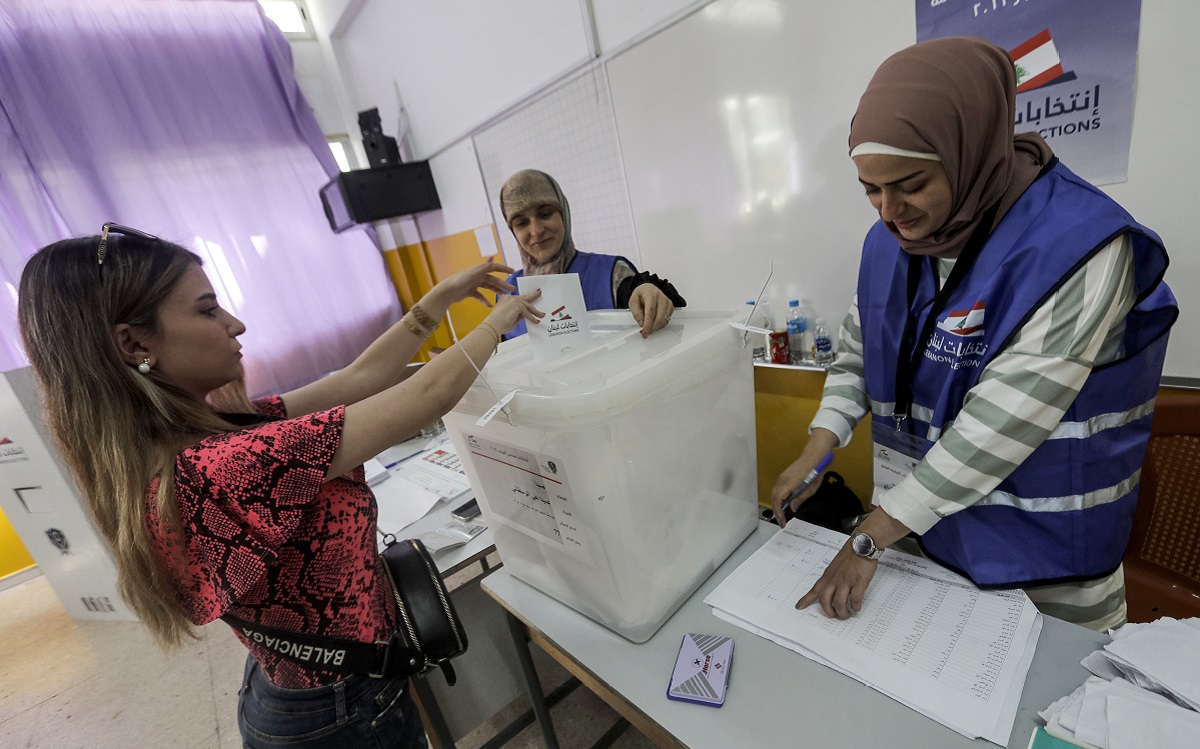 A woman casts her ballot while voting at a polling station in Lebanon's southern city of Sidon, on May 15, 2022 during the national parliamentary elections. Photo: Mahmoud Zayyat, AFP.
Low turnout in most districts, clashes between party supporters, attacks on polling station personnel, armed attacks against Lebanese army troops, lack of electricity in the voting booths.

Party volunteers carrying disabled voters, including some on hospital beds, and "helping them" vote.

A large part of the population, fighting misery and poverty, disinterested in the political process and distrustful of all political currents. 

Voters proving their participation in the electoral process by dipping their middle finger in ink.

Lebanon held on Sunday the first round of parliamentary elections since the large street protests of October 17, 2019 triggered by the collapse of the country's financial system and endemic corruption. Despite calls for participation from various opposition groups running on anti-corruption and sovereignty platforms, and despite an enthusiastic mobilization of the Lebanese diaspora which voted a week before with a turnout of 63.05 percent, the country's residents did not follow suit.

Only 37.52 percent headed to the polls, with the highest turnout in districts controlled by Hezbollah and its political allies the Free Patriotic Movement, reaching over 50 percent in the Bekaa Valley or Nabatieh. 
Traditional parties controlled the territory, making it difficult for opposition candidates and supporters, as well as independent observers, to express dismay at the violations committed across the polling stations.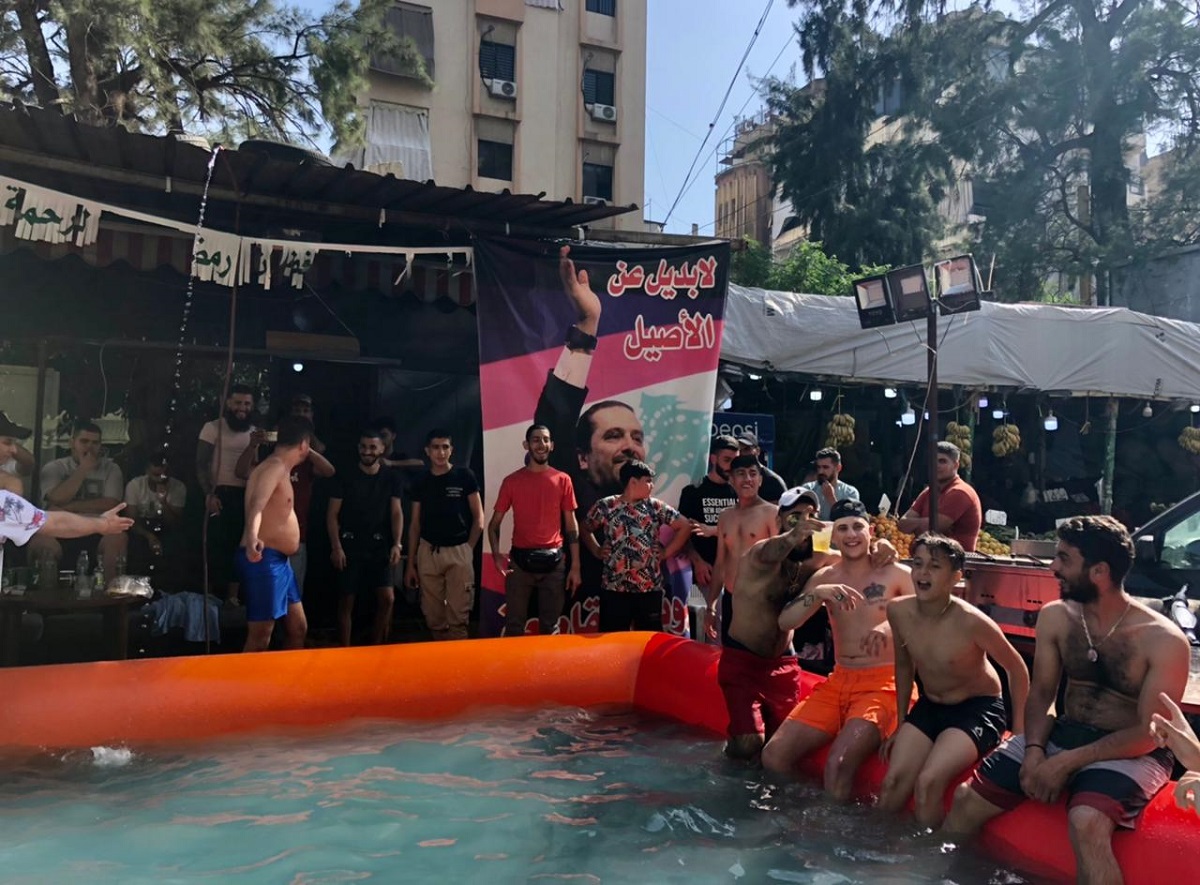 Swimming pools and fair play in Beirut
With 10 electoral lists, all eyes were fixated on the Beirut II constituency, which includes Tariq el-Jdideh, a Sunni stronghold of three-time PM Saad Hariri, where a wide election boycott was expected to take place. A group of supporters started a rather eccentric protest: they set up two large pools and partied instead of going to the polls.
But electoral campaigns were spread across the neighborhood and many people were crowding polling centers. 
"On the contrary, no one is boycotting – the lines are long inside the schools that you would need to wait hours for your turn," Rana Ayyad, representative of Beirut al-Taghyeer's list told NOW. "[Our campaigners] came here today with sheer enthusiasm but I hope no voter fraud is committed and they count the votes with integrity."
A man supporting Beirut Towajeh [Beirut Confronts] list said he is voting for this list because it is sponsored by Saudi Arabia and is against heavily armed and Iran-backed Hezbollah. "We want a strong government that has legitimacy and grants legitimacy only for its own arms and no one else's," Wissam Shkeifeh said.
"Saad Hariri has decided that 'me or no one else' but we are not willing to sell out our neighborhood, our religion, and our [Sunni] sect," he added. 
Hariri's decision in this neighborhood was significantly frowned upon Sunday with many residents expressing their disagreement with the ex-PM to step down from politics, saying that they hope he would go back on his decision.
In Beirut I district, many voters were disheartened by the low voter turnout.  
 "This is really disappointing, especially after what happened to us on August 4 and amid this economic situation. It's really sad that not more than 20 percent are giving their opinion after the [2022] explosion; it should be 100 percent," one voter said. 
Despite being certain that opposition wouldn't win many seats, he voted for one of their lists. "I hope they win a couple of seats so that they stand in the face of corruption, unjust parliamentary decisions and laws, and Hezbollah's arms."
Electoral campaign booths were spread out across Christian neighborhoods, including Free Patriotic Movement, the Lebanese Forces, the Kataeb Party, and opposition lists including Li Watani and Beirut Madinati. Reportedly, no quarrels or clashes occurred in this constituency despite the booth of rival parties closely bordering one another.
"We are hopeful that there is a good percentage of votes going toward the civil society lists," said Maria Kobeisi, representative of the Beirut Madinati list. "We've had many people come to our booth to ask about our list or tell us they voted for us."
Kobeisi told NOW Lebanon that she has witnessed a fair practice of freedom of choice, freedom of plurality, and freedom of expression in the Beirut I district. "We haven't seen lists of traditional parties clash with each other nor with opposition groups nor vice versa – things have been relatively calm."
"If no change materializes today, at least we can say we planted the concept and convinced people there are other options out there," she added. "Change won't happen overnight and if not today, hopefully, more people vote differently next elections."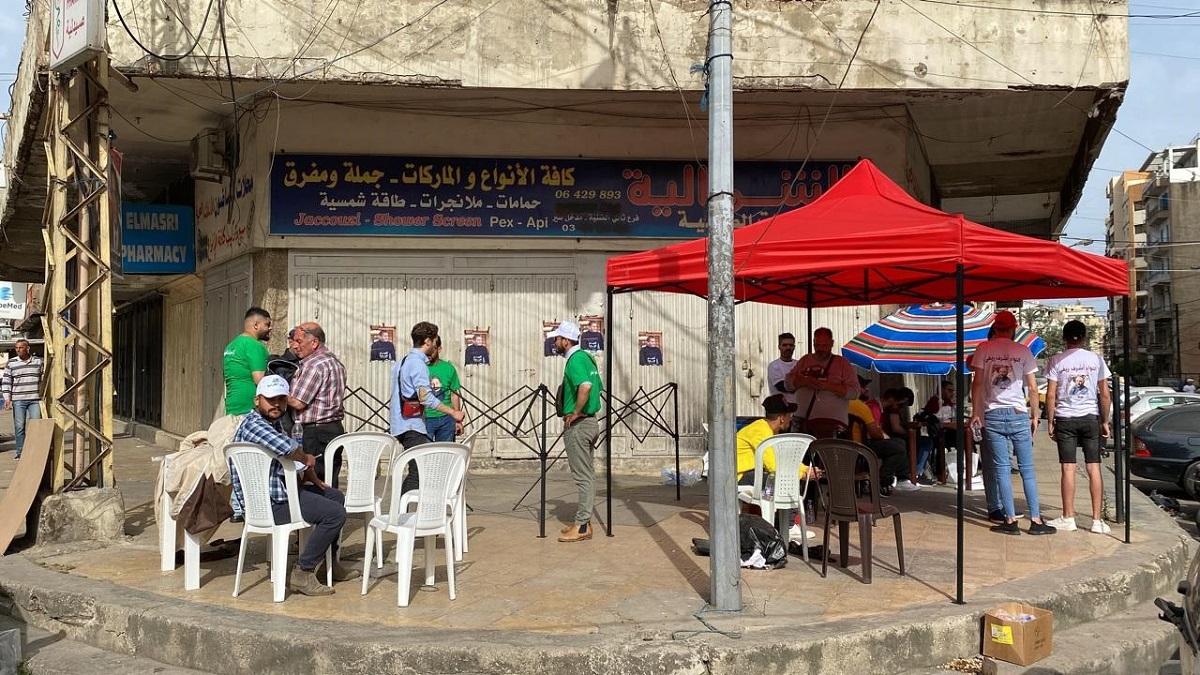 Disappointment in Tripoli
The turnout in Tripoli was one of the lowest in the country, with most residents expressing disinterest in voting, despite efforts by some candidates to animate the atmosphere by hiring musicians to parade on the streets. 
One woman in the Bab al-Tabbaneh neighborhood, an area often associated with extremism and which was once a stronghold for former Prime Minister Saad Hariri's Future Movement, said that she did not see a point in voting. 
"If you are going to vote, then they should do something for you [after they are elected]," the 60-year-old woman told NOW, a short walk away from the nearest polling station. "But they [the politicians] don't do anything."
Another woman who owns a small shop in the Zehrieh neighborhood said that sitting behind her desk in the shop was better than 100 elections. The voting center was just around the corner from her store.
Mohammad Ali, 60, another resident of the Bab al-Tabbaneh neighborhood, voted, motivated by the already traditional anti-Hezbollahs sentiments. He told NOW that it did not matter which party was running, as long as they opposed Hezbollah, then they would have his vote.
Even some who supported opposition candidates, such as first-time voter Hala Baltaji, 23, acknowledged that any changes to the political system were not going to happen in this election, but, rather, potentially in four years with the next one.
In previous elections, the Future Movement would often sweep through the district, winning a majority of the vote and, along with it, the majority of the eight seats in Parliament that Tripoli offers. But since Saad Hariri decided to not run in this year's poll, the situation caused a free-for-all for candidates, as they now had a real opportunity to pick off the seats being left by Hariri and his party.
For sectarian groups like Prime Minister Najib Mikati's Azm Movement and Faisal Karami's Dignity Movement, both willing to work with Hezbollah, it was an opportunity to expand their influence. 
Should the Azm and Dignity Movement do well in the election, it would give Hezbollah a small foothold in Tripoli. But this very possibility is what motivated electors to vote for Rifi or Mustapha Allouch, the former vice president of the Future Movement who ran as independent.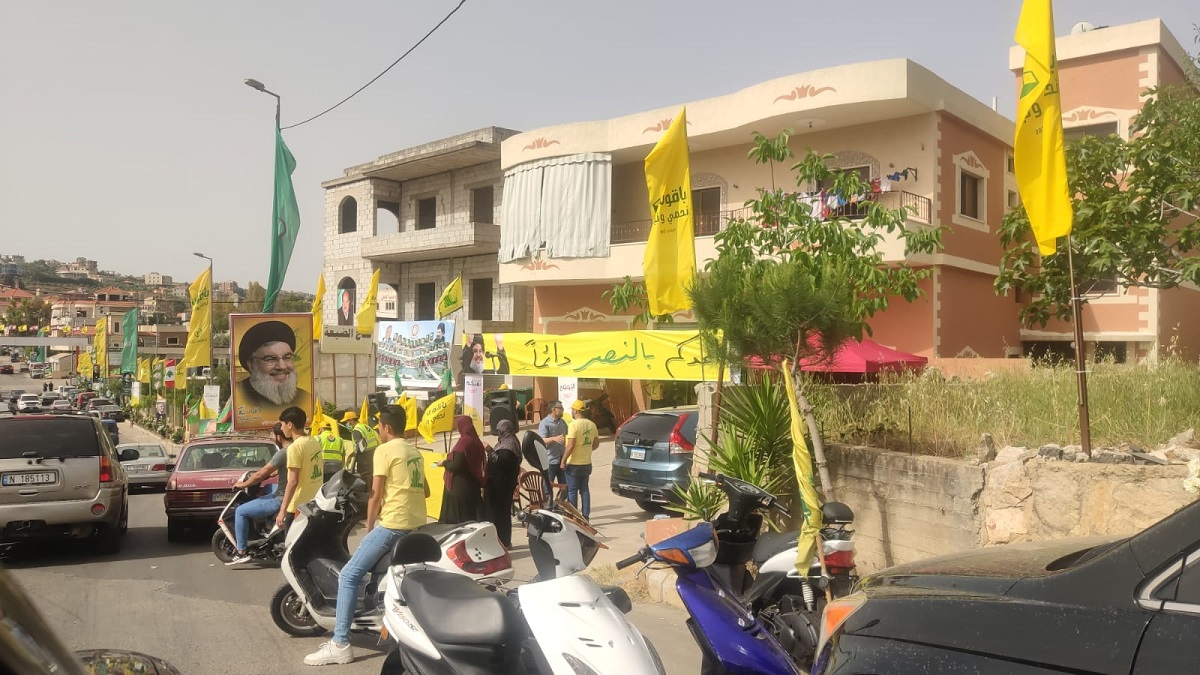 Hezbollah's turf
Fatima, 68 years-old, began her journey from Beirut to her village of Bent Jbeil, at the crack of dawn. Her main objective was to vote for Hezbollah. "This round is more important than the one in 2018 because all political sides are targeting Hezbollah. So it is our duty to show up and fight," she told NOW.
The third southern constituency harbors the largest, most religiously diverse electorate in the south. It includes the districts of Nabatieh, Bnet Jbeil, Marjayoun, and Hasbaya, the last two being predominantly Druze. However, since the region's liberation from Israeli occupiers in 2000, the south has been under the tight grip of the Shiite political duo Amal movement and Hezbollah, the latter being the most potent. 

In Sunday's parliamentary elections, three electoral lists (the lowest number in the country) contended for the MP seats in South III, traditionally dominated by Hezbollah: the Shiite duo's list – Hope and Loyalty, the opposition list – Together towards Change, and an independent list – the Voice of the South.

Women voters showed up in large numbers, especially elderly women who needed help from Hezbollah's volunteers to climb the stairs and, often, also to vote. 
The Lebanese Association for Democratic Elections "LADE," had a shy presence in Bent Jbeil's polling stations and completely vanished in the afternoon. LADE announced that one of its observers was beaten in Sidon by Hezbollah supporters, and others were intimidated and left polling stations.
But despite the high turnout, there were some young voters who did not vote Hezbollah. Ali, 23, told NOW that although he supports Hezbollah, he cast a blank vote, as a protest against the party's alliance with Amal.
For Nada Jouni, in her 20s, it was essential to vote for the opposition to make a statement against the establishment that their traditional ways of politics.
"I trust the opposition as I find them to be close to us. They're lawyers, professors, and farmers, they're everyday people like us," she told NOW.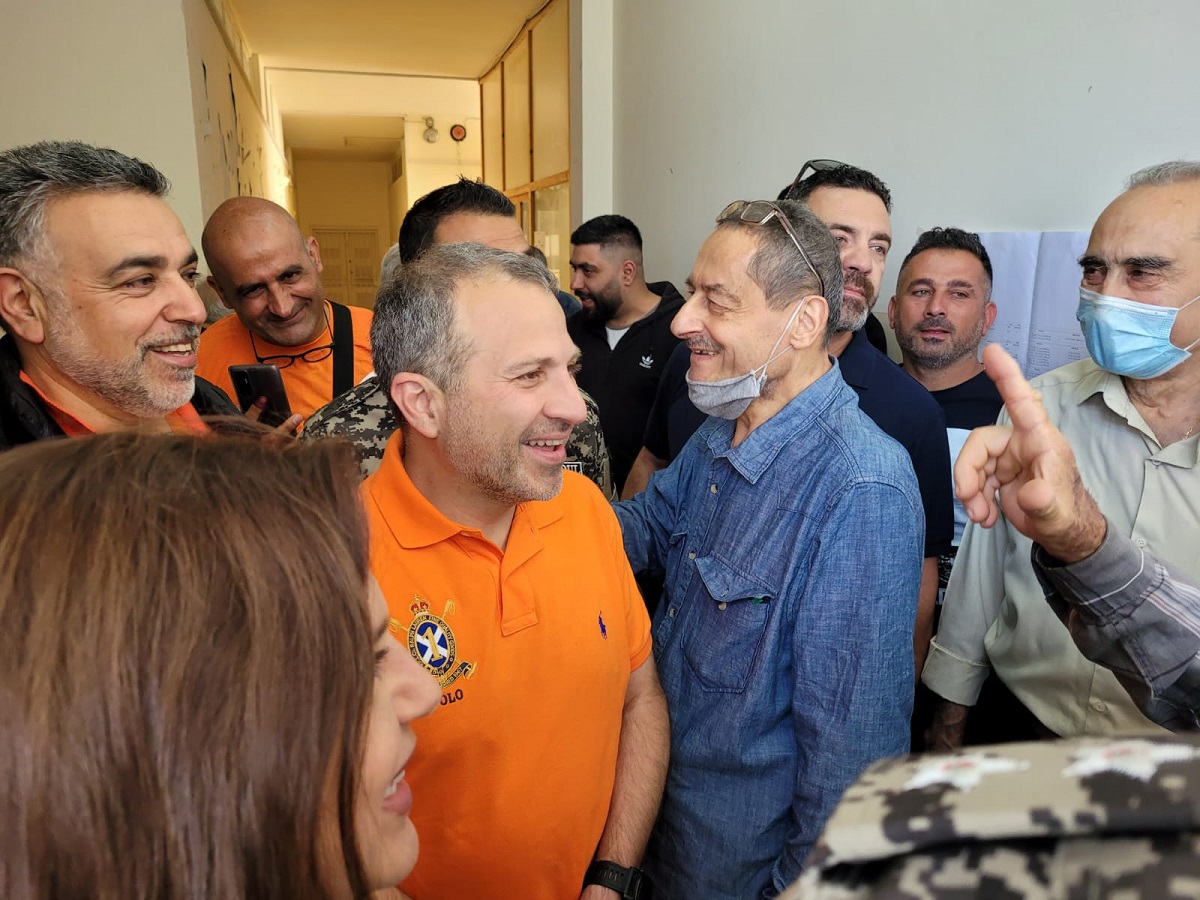 Batroun: the "mother of all Christian battles"
North III district hosted the "mother of all Christian battles", pitting all major Christian leaders against each other following the traditional pro- versus anti-Hezbollah cleavage. 
Batroun set the stage for the FPM's survival, as its leader, Gebran Bassil faced increasing pressure from the LF's Gayath Yazbek (editor-in-chief of MTV) and Majd Harb, son of former MP Boutros Harb, who ran for a Kataeb-led list.
"They all want to take his seat, it's a plot against him", said FPM-supporter Asad Kabaz, 73, and who claimed to know Bassil personally. "He's good for Batroun", he said.
Bassil voted at 9am in Saint Estefan school in the heart of Batroun. "No one can make me fall. I can only fall from the inside", he told NOW Lebanon when asked what his chances were of (politically) surviving his rivals' offensive. Enormous posters of him plastered the city.
Watching him vote and leave for his tour, Lebanese Forces supporters themselves were quite unsure of their chances. "I don't expect victory, but I have hope. If Bassil wins, our Lebanon and our Christian identity will get erased by Hezbollah and Iran", declared Celine, 40, who came from Beirut with her three kids, "early enough to avoid potential clashes".
The office of Majd Harb was only a few meters away. The young lawyer "is exactly what we need to fight Bassil's corruption", said Georgio Germanos, who is part of his communication team.
"[Bassil] invested a lot in Batroun and made it beautiful, but it's stolen money which worsened the crisis – if everyone starves or dies, there will only be beautiful stones left", Germanos said. He said he was sure that the joint Kataeb-Moawad-Harb list would win two seats in North III.
Michel Moawad, a quite popular figure in Zgharta, was an FPM deputy before switching to the opposite camp after the Beirut explosion. This weakened Bassil's chances for reelection, and may have ended the domination of pro-Syrian Marada in Zgharta.
Two factors promised to disturb this expected battle, which turned out to be a "big family reunion" in Batroun, "where everyone knows everyone", said Joelle Dada, 32.
"Independent candidates finally have a chance, we're almost sure of gaining one or two seats", said Bassel Smaily, a campaigner for Chamaluna, a civil-society coalition running in North III and Akkar.
In Koura, his hopes were especially high. "There's a power vacuum to fill here, and people tend to be very progressive and liberal", he said.
In Batroun, observer teams from LADE, LUPD and from a women's parliamentary delegation from the Middle-East, reported many cases of campaign propaganda, party representatives taking advantage of voter's disabilities to embezzle them, non-existent accessibility for disabled voters.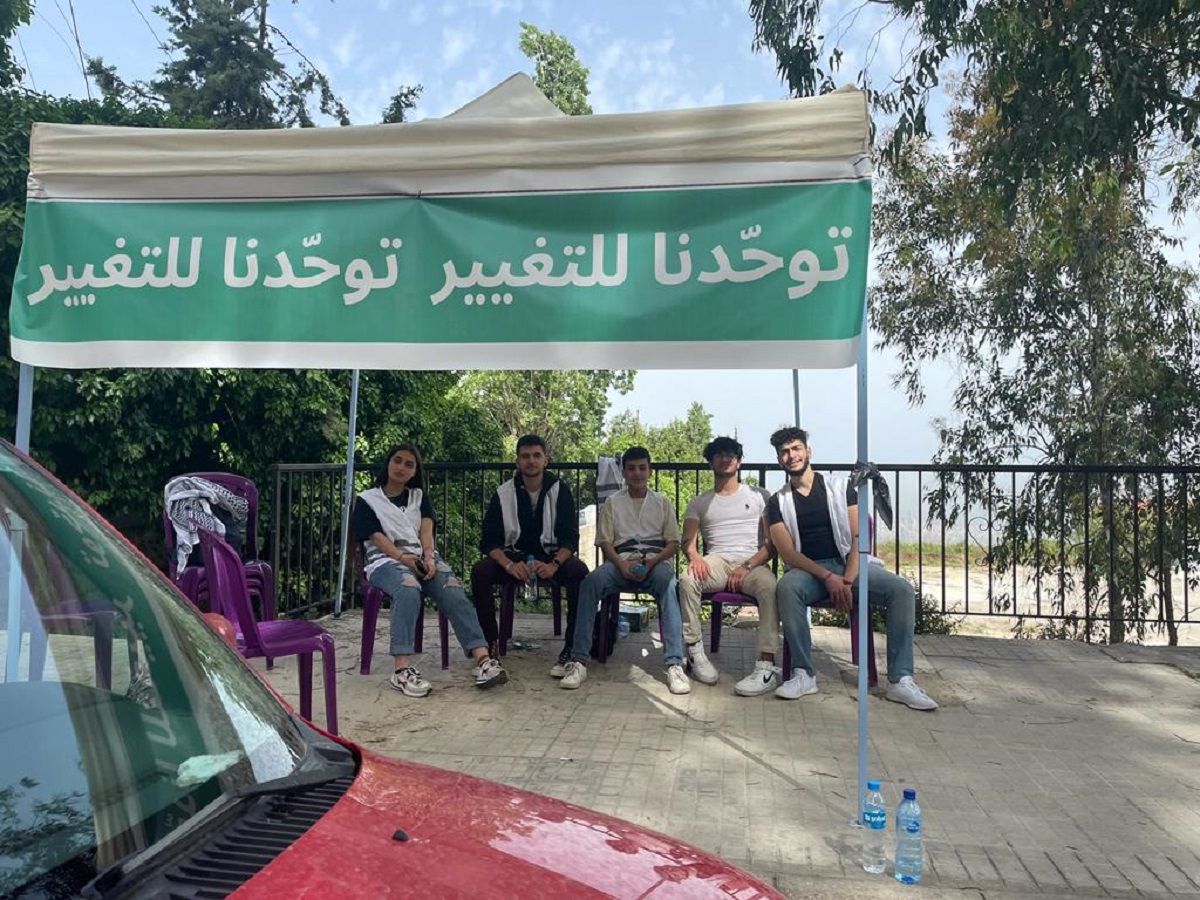 Still a PSP fief: Aley
Aley felt empty throughout Sunday, with low voter turnout across the city resulting in about 35 percent half an hour before the polls closed. The PSP was the most obvious political movement in the area, and its members seemed confident that it would maintain its grip on power. 
In Aley, Walid Jumblatt's Progressive Socialist Party (PSP) and the Lebanese Forces (LF) will square off against Talal Arslan's Lebanese Democratic Party (LDP) and the Free Patriotic Movement (FPM), both of which are allied with Hezbollah. The opposition has fielded a number of lists, with the most prominent being United for Change (Twahadna Lil Taghyir).
Though it is unlikely that the opposition will unseat Jumblatt's PSP, the most dominant party in Aley and Chouf, the writing on the wall is clear that the party will have to reinvent itself to survive.
In 2018, the PSP, LF, and Saad Hariri's Future Movement managed to capture nine of the 13 seats in Mount Lebanon IV (Aley-Chouf), with the remaining four seats going to Arslan and the FPM.
The Future Movement's withdrawal from Sunday's elections has weakened the PSP and LF's position, as Sunnis constitute a third of the electorate.
Of the seats in Aley, the most competitive is Arslan's seat, as it may be taken from him by Mark Daou, a member of Taqqadom who is on the United for Change list.
The piece was written by Sally Abou al Joud, Nicholas Frakes, Dana Hourany, David Isaly and Philippe Pernot.