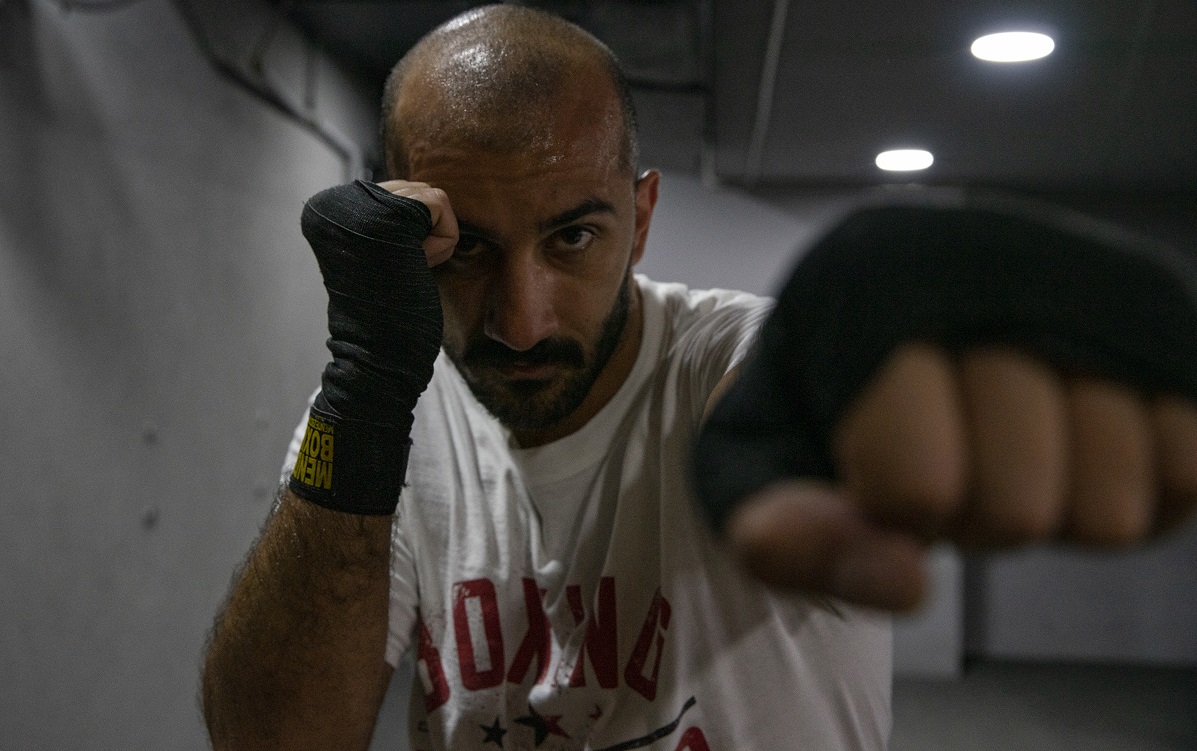 Nadim Salloum training at a gym in Ashrafieh neighborhood in Beirut. PHOTO: Matt Kynaston/NOW.
Nadim Salloum steps lightly, balanced as his wrapped fists fire a rapid succession of uppercuts. Eyes wide, pulls back into his guard, pivots and recovers to jab at his invisible opponent, each punch thrown with a sharp exhale. He dances, circling and shifting across the floor of the BoxLab gym in Achrafieh, emulating the great Mohammed Ali whose poster hangs on the changing room door behind him.
Shadowboxing is just part of 27-year-old Nadim 'the unpredictable' Salloum's typical twice-daily training routine. It's a regime that Lebanon's first professional boxer has developed since his father encouraged him to step into his local boxing gym in Jounieh, aged 13.
"He told me to go train there initially to get fit and lose some weight," Salloum remembers smiling. "For the first two years it was a lot of fun."
When he was 17 he entered into his first national championship. Pitted against other Lebanese youngsters, he brushed aside his competition; he had his first taste of victory.
"It was the best feeling. I felt like this is what I should do for the rest of my life. This is what I have to work for, so I can get that feeling again and again."
That night didn't only create a lust for winning, it ignited something deeper in Nadim that would take him on a journey no other Lebanese had ever embarked on before. Inspired by the greats like Mohammed Ali and Manny Pacquiao, who also came from disadvantaged beginnings, he set his ambitions high.
"I said to myself at that moment, 'if Manny can make it, why can I not be world champion?'" says Salloum.
His latest posts on Instagram feature showreels of some of his more savored winning moments, reminders of the victories down a path that has been laden with obstacles that required steep sacrifices.
After his first win, he continued to enter into competitions and fights in Lebanon, but it didn't take long for him to hit the ceiling of Lebanese amateur boxing. He would go for months without a fight, and those who were pitted against him failed to match his ability. It got to the point where there were no challengers left and no resources or coaches that could take him to the next level. If he wanted to chase his dream of being a world champion, he would have to look abroad.
To be the best, you have to learn from the best
And so after some Googling, Salloum discovered the world-renowned Wild Card Boxing gym in Los Angeles, owned by Fred Roach, famous for training many great fighters including his hero Pacquiao. It was where he would have to go.
In the years between 2014 and 2017, Salloum made several trips to LA for one month at a time, networking, sparring, and learning what he could about how to turn 'pro', whilst training at a much higher standard than he had in Lebanon.
"I had to start from zero; once I just trained for a month on how to throw a correct jab," Salloum remembers.
The trips were invaluable as he grew as a fighter, whilst exploring the ways in which he could become a professional. However, when every trip came to an end, Salloum was faced with the frustrating prospect of returning to Lebanon, just to save up the money he needed to head back to LA.
As the years started to come around and as Salloum spent more time outside of the ring and unable to progress from or within Lebanon, he sensed the window of opportunity for real success closing. 
With great dreams comes great sacrifice, something Salloum had come to learn. As well as selling his beloved car to pay for flights, he committed himself fully to his dream and dropped out of university, causing somewhat of a crisis in the family.
"At first they were mad," remembers Salloum. 
"Our parents come from the thinking that a degree guarantees at least some sort of security," explains Rabih, Salloum's older brother to NOW Lebanon. "Dropping out wasn't really an option."
As Nadim's older brother of 10 years, and himself as a professional musician having not taken a conventional path, Rabih was caught in the middle of a family crisis. As discussions continued over time, Rabih found himself siding with Nadim.
"When someone has such an obvious passion for something, they don't control it, it controls them. And if they don't follow that call then they are going to be miserable whatever kind of security comes into their life," says Rabih Salloum. "I personally don't know anyone this driven or this dedicated as Nadim."
The first professional wins
"When I do something I go for it. I don't think twice, I don't have a plan B," Nadim Salloum confirms. "I don't want to live this life without being a boxer and a world champion. This is what I wanna be, this is who I wanna be."
Gradually the family came to accept his choice, and have grown proud as he has gone from strength to strength, picking up wins and gaining more ground.
And so eventually with the blessing and support of his family, Salloum continued his trips to the US. 
View this post on Instagram
It was in Mexico that he got his first real break.
His training and his form was impressive enough to convince Mexican coach Juan El Panda Martinez that he was ready to 'turn pro'. Martinez drove Nadim Salloum from LA over the border to Tijuana, where Salloum would make history by being the first Lebanese boxer to step into the ring as a professional.
"To be fighting in a professional event, with everyone watching," remembers Nadim Salloum. "It was like a dream coming true."
For his first bout Nadim Salloum was facing a local fighter, Dario Cervantes in front of his home crowd.
"In an arena of almost 3,000 Mexicans, I was the only Lebanese."
The bell sounded. Unperturbed, Nadim Salloum wasted no time. 
Just a few seconds into the first round, Nadim leaned in and jabbed with the left, then followed up with a powerful right overhand. It connected to the head of Cervantes who stumbled back onto the ropes. Nadim swung once, twice more, finally landing a brutal left to the midriff; a liver shot, the knock-out blow. The Mexican folded and fell. Nadim was sent to his corner as a professional and a winner.
"The feeling I felt after that fight, I cannot describe it." Nadim Salloum recalls smiling, "I was grateful to be able to make it happen and live out my dream."
Nadim returned to Lebanon victorious and a champion in his own right. However, he was determined that his first professional victory was not going to be his last. 'Turning pro' was never the final goal, merely another step in his boxing career on the way to becoming a world champion. Something that would not be possible to achieve in Jounieh.
"I couldn't keep going back and forth to the States, spending thousands of dollars just to make one fight. I had to leave Lebanon."
A new life across the ocean
Within a few months, Nadim Salloum was back in Mexico to pick up where he left off, this time in Mexico City where Martinez connected with a new coach. He lived at the gym, training intensely for five months, entered into two more fights, winning them both. He was on a roll. 
Determined to keep up the momentum, his coach started to eye up more fights in Mexico, but Salloum sensed it was time, once again, to step things up a gear.
"I wanted to make it bigger, so I went to New York."
To most, this move would seem at least a little intimidating. Salloum took it all in his stride. To him moving to another huge new city, without friends or close family is a minor footnote in a larger story of pursuing his goals. He booked his flights without hesitating.
"Honestly, everything besides focusing on my dream and winning fights is just a detail for me," says Salloum, "nobody achieved greatness without taking risks."
It was a risk that at first nearly didn't pay off. Salloum had been offered a bed in New York at his brother-in-law's for just a few weeks to get started. When that time came to an end, Salloum found himself out of options, without a place to stay.
"I was lost, devastated, and depressed." Salloum says, "I was willing to live on the streets. I would not go back to Lebanon without finding a way to fight in the US."
It was only by chance, and the power of social media, that his dream was saved. A primary school friend, Roberto Salem, who Salloum had not seen since he was 10 years old, just so happened to catch a video of one of his fights on Facebook. Salem was living in New York, and messaged Salloum, asking to meet up.
Over dinner, Salem listened to Salloum's story and the sacrifices he had made to get to New York. Inspired and eager to help, Roberto offered Salloum a couch to stay on until he could work out his next steps.
"The couch has become my best friend," Salloum says, laughing "It's been two and a half years and I am still on this couch."
Roberto saw the potential in his friend, and shared his vision of success; he took up the position as his manager.
"We are like a family now, I wouldn't be here without him," says Salloum.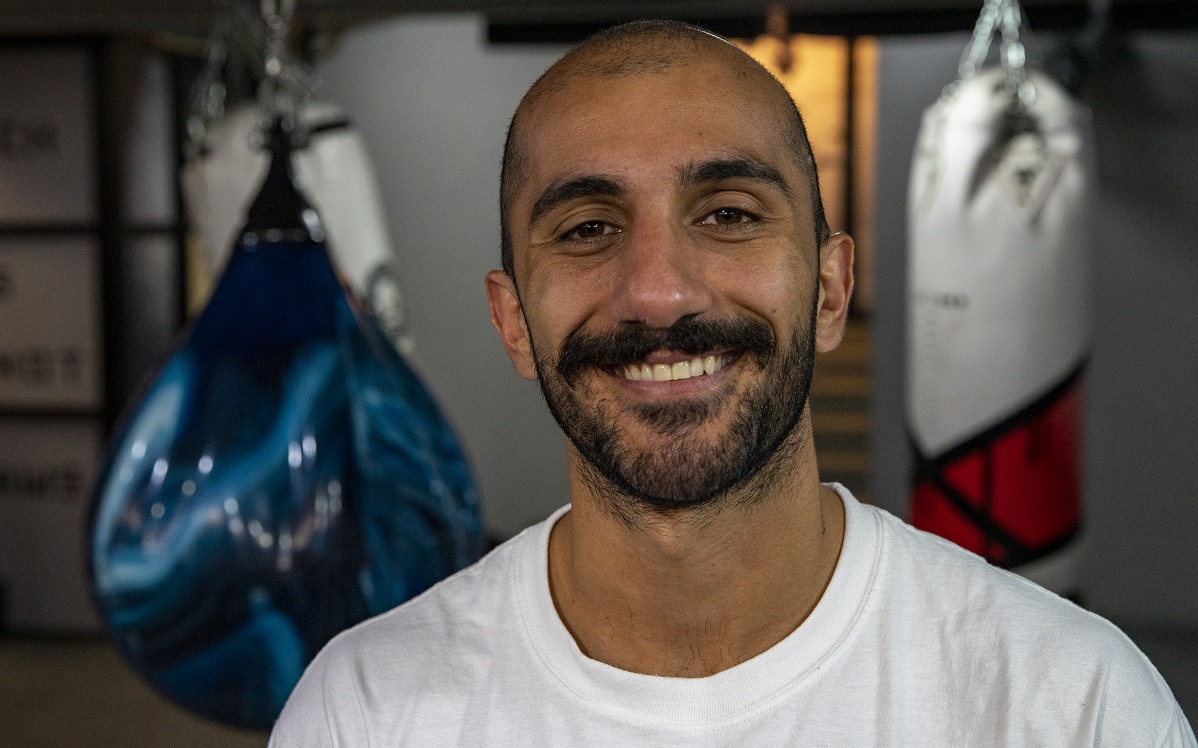 "He has the hunger"
Set up with a base and an all Lebanese team in New York, Nadim Salloum could get to work. He was offered support through the World Boxing Council (WBC), who connected him to his current trainer and mentor Jose Guzman.
Guzman is realistic about what Nadim needs to do to succeed in the US, where competition is fierce and standards are at their highest.
"Coming from a country like Lebanon where boxing is not so big compared to here in the US, he knows he has a lot of catching up to do," Guzman tells NOW.
When asked if Salloum could go all the way and become world champion, Guzman is firmly in his corner.
"He definitely does. He has the hunger. That is the most important thing. He wants to be big one day, so he knows he has to work even harder, especially having a whole country behind him."
Salloum has started to capture the imagination of the Lebanese, particularly the diaspora. His last fight in March drew crowds of flag-waving Lebanese Americans in Atlanta, who watched him win convincingly by technical knock-out (TKO). The cedar was embroidered onto his boxing shorts.
Back in Jounieh, and all around the country, punching bags can be seen on balconies, terraces, and rooftops. There is no doubt how much the sport is loved in Lebanon, but it is also sadly neglected.
"I trained for 11 years in Lebanon, I have a lot of respect for the coaches here, but to make it big you have to leave the country," says Salloum.
This advice carries with it some regret for the boxer, who put his 'late' arrival into professional boxing down to the lack of knowledge and support in Lebanon. Whether he would have chosen to or not, he has had to be pioneering in his quest for greatness, going where no other Lebanese had gone before.
"I love my country, but I am doing this for Nadim as a human being and then for Lebanon. But I love to raise the flag to give hope. It's something positive," the boxer says.
Despite the disadvantages attached to his nationality, the athlete has learned that his struggle to get into the ring can also be used to his strength. The story of his unconventional, 'unpredictable' path into boxing gains interest and sells tickets.
"Being Lebanese is enough to sell the story, they know where it is now, especially since the August 4th blast."
Salloum has at least two more fights in the calendar for this year, his next bout scheduled on July 31st in Atlanta, the opponent is yet to be confirmed. In the shape that he is in, and as the world opens up from the coronavirus pandemic he is hoping to get several more bouts in the next year. Every victory opens up more opportunities, more exposure and the likeliness for bigger wins that would see him climb the world rankings.
Looking back at the journey he has taken, he hopes that one day he would like to make things easier for other aspiring Lebanese boxers.
"If someone wants to make their dream come true, I can make their path easier. Because I lived all of this I can help."
Nadim also talks about opening boxing schools and has spoken with Guzman about the possibilities of bringing professional expertise into Lebanon. However, for now, all of that will have to wait.
"My first goal is to be a world champion. That is it, that is my main goal. I have to make it happen."

Matt Kynaston is a multimedia journalist with @NOW_leb. He tweets @MattKynaston.