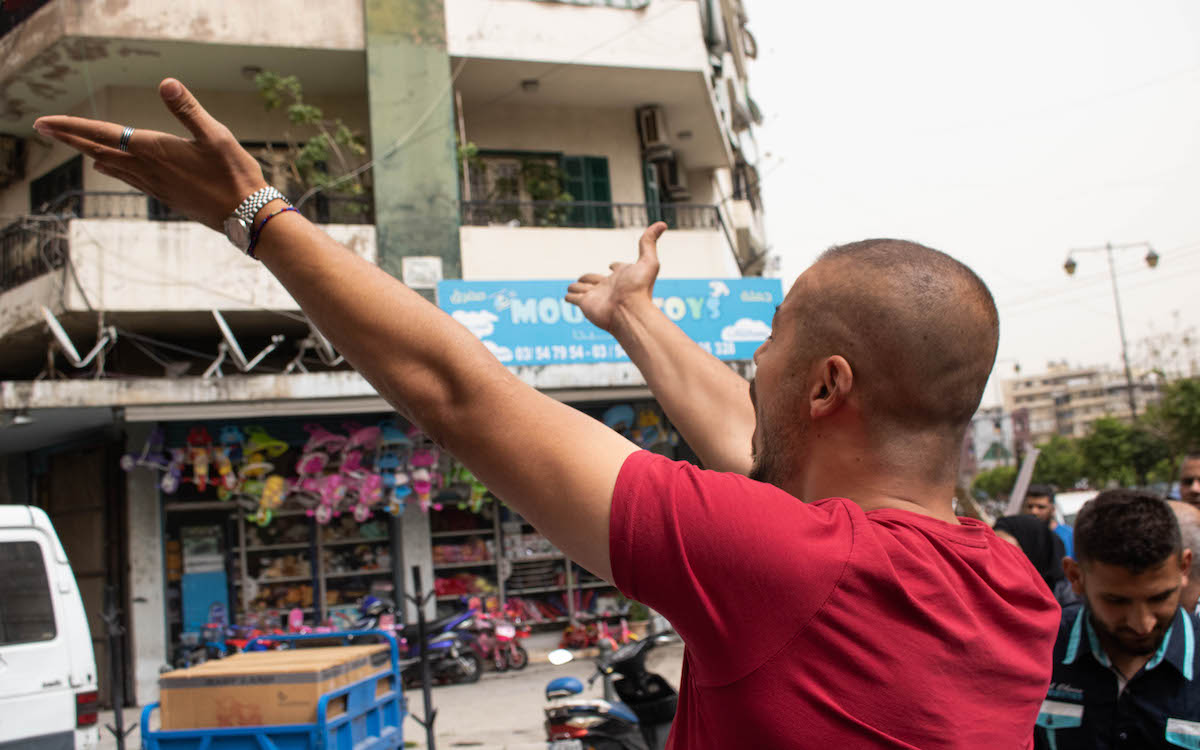 Protesters gathered in front of Interior Minister Bassam Mawlawi's Tripoli residence amid an outpouring of anger at Lebanon's politicians after a boat carrying 60 migrants sank off the coast of Tripoli which, according to survivors, was caused by the military ramming their boat. Photo: Nicholas Frakes, NOW.
The boat was old and should have carried at most 10 people. 
Early Sunday afternoon, the head of Lebanon's naval forces, Haitham Dannawi, explained to the Lebanese press why a boat carrying 60 people attempting to flee to Cyprus sank in the Mediterranean, killing 7 off the coast of Tripoli, Lebanon's second-largest city. 
According to the commander, the boat was made in 1974 and should not carry more than 10 people. Given that there were believed to be around 60 migrants onboard, it was carrying well above its threshold.
Dannawi claimed that the military attempted to stop the boat from leaving Lebanon, when the smuggler driving the boat made evasive maneuvers that ultimately led to the old vessel disintegrating.
It did not take long for many of the 47 surviving passengers to refute this version of events. The military, they say, rammed the boat full of migrants while chasing it. The army boat left, returning 90 minutes later to rescue them.
Gunfire sounded all day on Sunday and Monday on the streets of the Lebanese northern city, from morning until dusk. Some of the gunfire was for the funerals of the seven victims. But Tripolitans are angry, many shooting in the air as a sign of protest against the politicians ruling Lebanon and against the Lebanese Army, who they blame for the tragedy.

Prime Minister Najib Mikati, who is one of Tripoli's representatives, designated Monday as a day of mourning. But for the residents of Tripoli, these symbolic gestures in the wake of a tragedy are just a reminder of the inaction that led to the impoverishment of the city's population over decades.

Protests have taken place across Tripoli, including in front of the Interior Minister Bassam Mawlawi's home in his native city, leading to clashes with the army. Protesters clashed with security forces in the Qoubbeh neighborhood.
"We are being deprived of our basic rights here in Tripoli," Samer, who was participating in a demonstration outside of Interior Minister Bassam Mawlawi's residence in Tripoli, shouted. 
"They're making us leave, kill each other. People know that they are going to die in the sea, and are still going. No medical assistance, no money, no electricity, nothing in this country. Mafias controlling our country and are on the loose and the government is letting them do it without saying a word."
Tripolitans from all over the city came down to the streets, boiling with rage at the city's politicians, including Prime Minister Mikati, who have neglected Tripoli for decades, leaving its residents to fend for themselves in deprivation.

"People are just pissed," Charif Dandashi, 47, who lost a distant relative that attempted to cross into Europe on the boat, told NOW at his metal shop in the Tabbaneh neighborhood.
"I do not approve of what they are doing, but I cannot blame them. There are people, relatives, friends and families, who are dead in the sea. This is so sad."
"People are furious and devastated after this incident," Dandashi stated. "These people are living in extreme poverty and had the chance to live abroad and have a country or government look after them. To live a better life. And [the government] just killed them."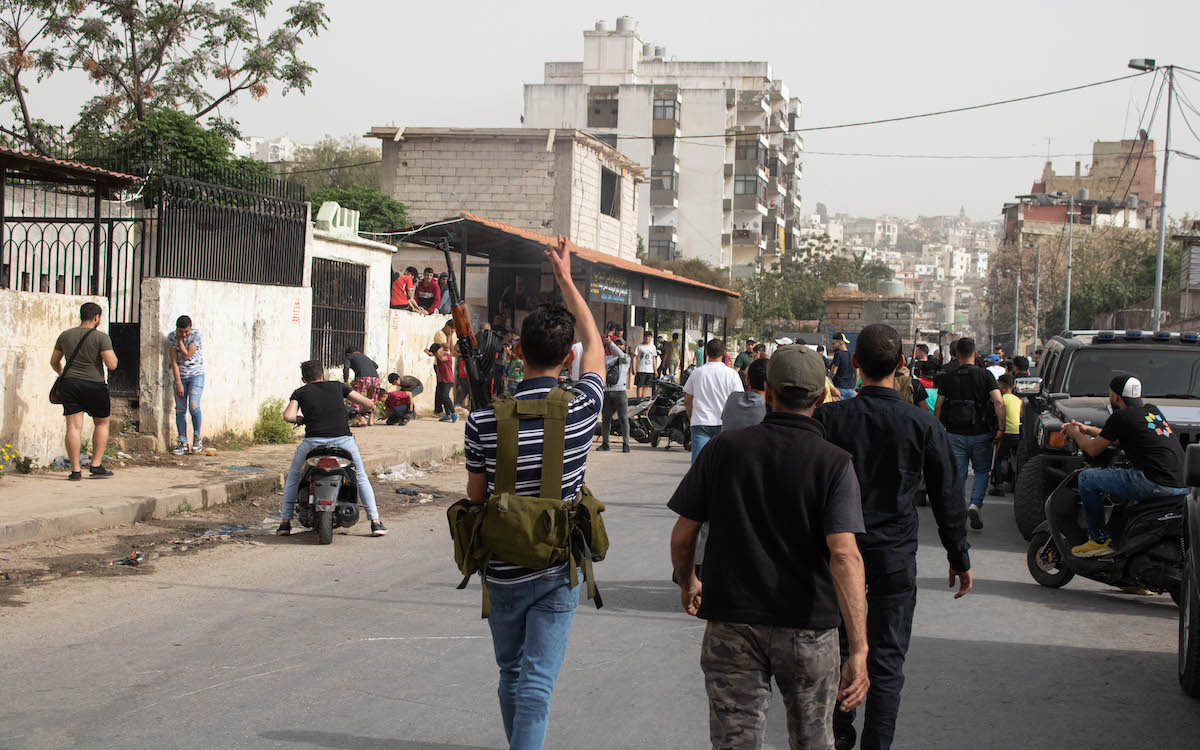 Risking it all
Poverty is nothing new to Tripoli.
Since the end of the civil war in 1990, the city, although it is Lebanon's second-largest, is the most neglected and the most impoverished.

Over two-thirds of Tripoli's residents estimated at 230,000, excluding over 100,000 Syrian and 30,000 Palestinians, are unemployed. Child labor is on the rise, with UNICEF estimating that around 700,000 Lebanese and refugee children have left school indefinitely in order to provide a secondary income for their families.
With the cost of living skyrocketing, selling all their belongings and paying a smuggler for the risky trip to Cyprus has become the only way out for many.
Since the beginning of 2021, approximately 1,500 people have attempted to cross into Cyprus from Lebanon by boat and, in the second half of 2021 alone, the Lebanese navy stopped around 500 migrants from leaving the country.
Some attempting the journey are Lebanese who have lost everything in the economic crisis. Others are Syrian or Palestinian refugees who have found it impossible to live their lives in Lebanon, where they don't have the right to work to support their families. 
A ticket on the overcrowded boat costs several thousand dollars and offers no guarantees that they will arrive safely.
NOW previously told the story of Farid, a former soldier in the Syrian army who fled his home country after he was detained and tortured, who decided to try and get smuggled out of Lebanon in September 2020. He, like so many others before him, never arrived in Cyrpus. The boat he was on ran out of fuel, stranding its passengers in the middle of the sea until they were rescued by a Turkish UNIFIL ship after eight days.
Seven people died on that journey.
The gunfire on Sunday expressed a renewed wave of rage in the Tripolitans. The May 15 elections are quickly approaching, while the economic crisis has worsened significantly as the government led by a Tripoli billionaire has done little to protect the suffering population. The Lebanese lira sells at around 28,000 to one US dollar on the black market and the price of basic necessities has grown out of reach.
The cost of fuel is nearly 500,000 LBP for 20 liters and only rising. There are fears of bread shortages amid the Russian invasion of Ukraine on February 24. Eating meat has become a luxury that few can afford.
"The situation is really bad," Abdelrizak Jazzar, 41, who took part in a protest outside of the Interior Minister Bassam Mawlawi's residence, told NOW. "The people do not have any money. They cannot buy anything. One Lebanese Lira is nothing compared to the dollar rate. The dollar rate is 28,000 Lebanese Lira, it was 1,500 Lebanese Lira!"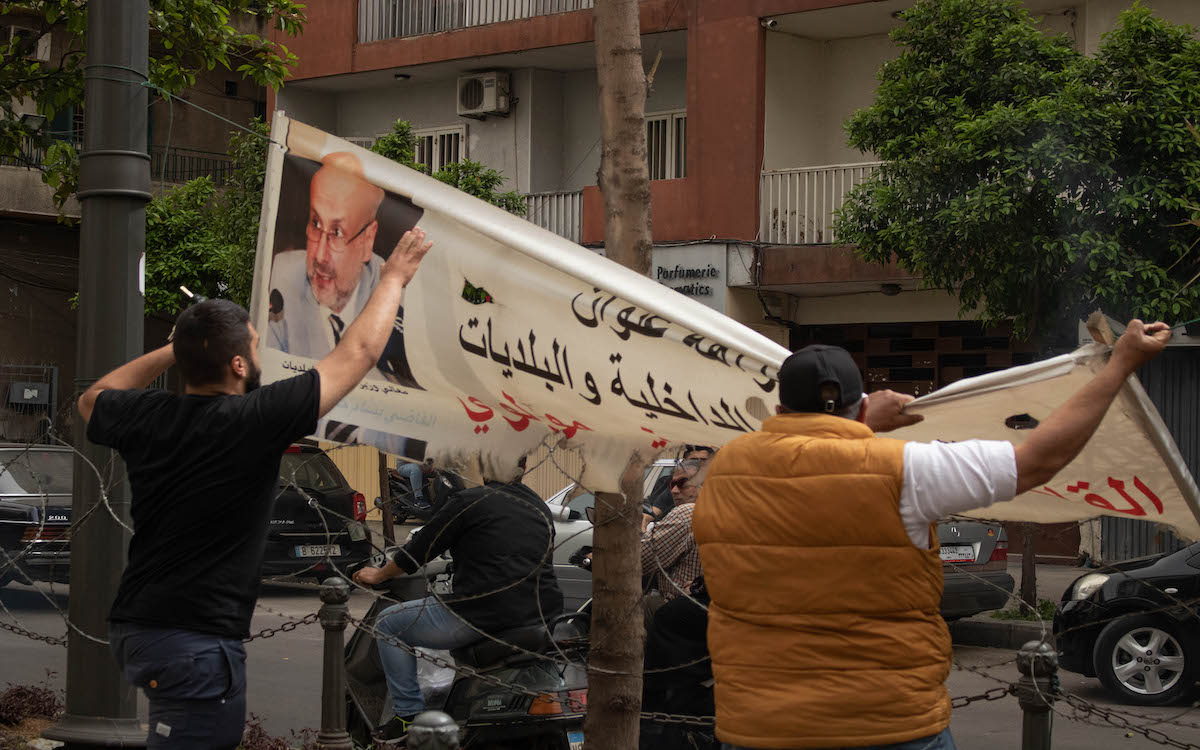 No more posters
In regards to the recent tragedy, former Prime Minister Saad Hariri called Lebanon a "failed state" since people are risking their lives to leave the country, and called for a "quick investigation".
The armed Shiite party Hezbollah also released a statement saying that this should "serve as a wake-up call for all officials in the country and at all levels" and called for a "quick, transparent, impartial and fair judicial investigation to reveal the truth of what happened."
The Interior Minister, Bassam Mawlawi, also offered condolences to the families of the victims. 
"My heart is with my family in Tripoli, and I stand by them. May God have mercy on the martyrs and condolences to their families," he said. 
But these statements enraged protesters even more. 
"The situation is getting worse," Mohammad, another demonstrator at the protest outside of Interior Minister Mawlawi's residence, shouted. "We are waiting for more citizens to come and protest. We will not be silenced. We are going to the dogs' houses and kicking them out from Tripoli. Other than that, there will be nothing else to say."
The protesters tore down posters of Mawlawi. 
"We are going to remove all the pictures of all the politicians and put it under our feet and step on it," Mohammad stated, pointing at the posters of Mawlawi on the ground. "I would wish upon everyone not to stand in our way, if so, we will not take no for an answer."
Later, on Sunday night, some Tripolitans went throughout the city, tearing down some of the posters of other politicians.
"A one-month child was murdered," Jazzar stated angrily. "A whole family was murdered. After they sank the boat, they just watched them die. They did not help them."
For residents of Tripoli, the only people that are to blame for the ship sinking are the country's politicians for allowing the situation to reach the point that it is at, ultimately forcing these 60 people onto that fateful boat.
"These people who are going in boats to the sea are committing suicide," Jazzar explained. "His whole family, him, his wife and kids, because there is no money, no income, the expenses are more than their income. There is no other choice but to leave this country illegally in hopes of living another decent life abroad."
The only way out
Even as Tripolitans continue to denounce the politicians who put them in their current situation and as the search continues for the remaining missing passengers of the sunken boat, others are getting ready to leave, praying for the chance at a better future and that they will not meet the same fate as so many before them.
Ahmad, a resident of Tabbaneh who asked to remain anonymous, said that his brother made the journey and that he was also planning on leaving Lebanon soon, believing that there was nothing left for him here.
"We will not stop going illegally through boats," he told NOW. "Even if we die, we will go because we are already dead here. We might as well try our chances."
Ahmad is not alone in feeling that it has become a choice of dying in Lebanon or dying trying to escape.
Given the ongoing economic crisis, Dandashi says that people can no longer live in Lebanon or else they will die here since they cannot get any of their basic needs met.
"Everything is expensive," he said. "We barely can afford anything. Therefore we just cannot live in this country anymore."
"Lebanon is a failed country," he added.
Nicholas Frakes is a multimedia journalist with @NOW_leb. He tweets  @nicfrakesjourno.
Rayanne Tawil contributed translating to this report.