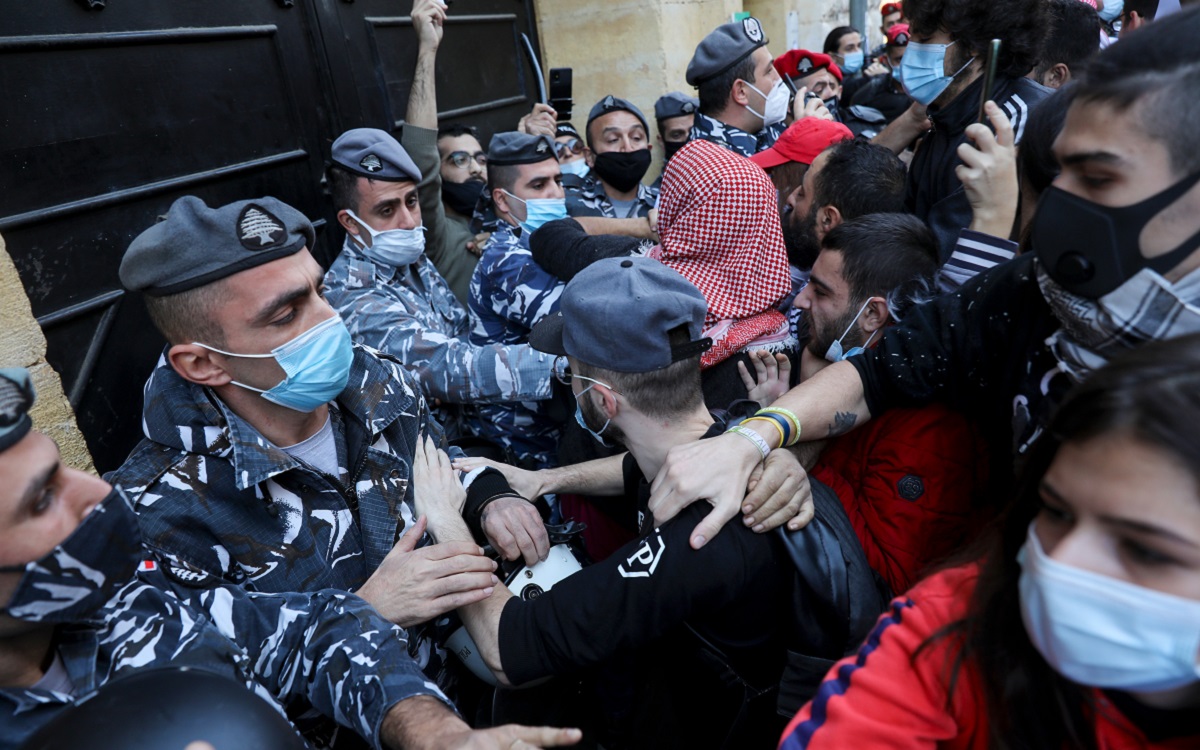 Demonstrators face off with police during a demonstration outside the entrance of the American University of Beirut, in the Lebanese capital's Bliss street on December 29, 2020, against the decision by a number of universities to adopt a new dollar exchange rate to price tuition. Photo: Anwar Amro, AFP
Every September, Lebanon's metropolis used to awaken to snarled-up traffic at its north, south, and east entrances marking a new academic year. But the scene might be different this time around. Instead of causing dreaded traffic jams around school and university zones, cars today are trudging bumper-to-bumper in hours-long queues at gas stations waiting to fill up on scarce overpriced gasoline.
Exalted for its progress, and for having the lowest illiteracy rates in the Arab region, the education system in Lebanon is struggling as collateral damage in a dreadful economic crisis as thousands of students drop out or transfer to poorly equipped and underfunded public schools. According to the Ministry of Education, more than 90,000 students have moved to public schools since the crisis erupted in 2019, a number expected to surge starting September 27 when schools reopen.
The endemic electricity blackouts, limited access to hoarded and rationed fuel, the surge in tuition fees, along with academics' exodus, all aggravated by a worsening financial and economic crisis, have set off a distress signal in Lebanon's regionally revered education sector.
At the outset of the COVID-19 outbreak in Lebanon, schools closed and lecture rooms relocated to the virtual world but the drastic transition wasn't terribly sudden to students. They had already tasted the nuisance of distance learning during Lebanon's October Revolution in 2019 when thousands of disenchanted protesters regularly deserted their offices or classrooms, thronged the streets, and mobilized a country-wide series of anti-government demonstrations to denounce political corruption.
Almost two years later, the country is leaderless and experiencing a domino effect across all sectors with shortages in electricity and gasoline, both vital for remote and in-person learning. This school year's fate remains obscure in a sector unable to further withstand disruptions for the third year in a row.
Disconnected e-learning
With the world clasped in the jaws of a pandemic, schools globally went online. But what happens when students reside in a country where internet access is inhibited by persistent electricity outages?
"Education has become a barrier to us, rather than a right like in other countries," said Mohammad Moslimani, a physics student at the Beirut Arab University. "We are working day and night only to have access to education instead of using this time to actually study."
Last academic year, Moslimani experienced anxiety and lack of concentration during his online classes and exams, worrying about whether electricity, the lifeline to his computer and internet connection, might go out at any second. This summer, he felt helpless when he missed the only course he registered for altogether because he failed to have electricity each time he had a class.
Power provided by the state-owned Electricité du Liban has been slashed to about two hours a day forcing backup generators, running on empty, to fill the gaps. But not everyone can afford the astronomical private generator subscription bill amounting to around a million lira per five amps, approximately $660 at the official exchange rate. 
"Education has become a barrier to us, rather than a right like in other countries. We are working day and night only to have access to education instead of using this time to actually study."
Mohammad Moslimani, a physics student at BAU
Frederic Berjaoui, 25, who has dyslexia, hasn't registered for his second academic year yet, fearing another cycle of remote learning, not only because he is deprived of a reliable power supply but also because the university denies him the bonus time it had previously granted him on his exams to accommodate his learning disability. 
A study conducted by the Lebanese Centre for Studies (CLS) found students with special needs are among the two groups most likely to drop out of distance learning arrangements on account of them being "largely excluded or marginalized due to inaccessibility or/and unsuitability of provisions to their needs." Males are the other group.
Berjaoui's professors suggested their students resort to coffee shops, where there is better electricity and internet access when he complained about not being able to attend classes, which the university has held online for the past year in the wake of the pandemic. 
"What's the purpose of confinement if they're asking me to go to a crowded public space and endanger myself with exposure to COVID-19," Berjaoui said.
Meanwhile, inflation scored 100.64 percent this July resulting in unaffordable e-learning devices. Berjaoui's laptop needs a new battery that costs around $100, almost LL2 million at the market exchange rate, which is too expensive for his family who survives on a salary paid in Lebanese pounds, a currency that lost at least 90 percent of its value. 
University fees soaring
Despite promising not to increase tuition fees, the Lebanese International University (LIU), a private institution where Berjaoui studies, recently created a LL2,425.5 per dollar exchange rate for tuition payments, swelling them up by 61.7 percent. With the risk of wasting his money on an inflated fee he could barely afford and not receiving a proper education in return, Berjaoui is holding off on resuming his studies until things clear up. 
Other universities executed a 160 percent increase in university fees. The American University of Beirut (AUB) adopted the LL3,900 per dollar bank exchange rate in December. Accordingly, the university committed itself to enlarge its financial aid operators and beneficiaries in an effort to draw in new students, retain the present number of students, and support them with their academic journey through graduation, according to Hani Hasan, a Philosophy and Civilization Studies professor at AUB.
Scholarships have plummeted by 10-15 percent, on the other hand, at other private institutions, like Notre Dame University (NDU), where Jeffrey Aramouny is battling inflated fees to finish his degree in International Affairs and Diplomacy. 
"Things are bad and Lebanon's news abroad is even worse. When you talk about international students who have received full scholarships to study at a university in Lebanon, they're basically leaving their country with a functioning apparatus and coming here."
Hani Hassan, professor, AUB
The university, which recently adopted the bank exchange rate, justified the reduction as "a sacrifice everyone needs to make" in an email sent to students affected by the decision. 
"Over 60 percent of these students are dependent on financial aid because most of them come from middle-class families with low income or moderate income," said Aramouny, who is also NDU's Secular Club member and a candidate in student elections aspiring for system change.
Housing fees at the university were also affected, and increased to at least $1000 paid in fresh dollars, around LL19 million, for shared accommodation, Aramouny said.
Making matters worse, a number of universities surprised their students with tuition fee hikes days before their fall semester commencement, allowing them no time to re-adjust or consider cost-effective alternatives.
Transition to in-person learning 
Despite the fact that Caretaker Education Minister Tarek Al Majzoub is adamant about resuming in-classroom teaching nationwide this year, Lebanon's fuel crisis and perpetual power cuts are forcing thousands to question his ambitious decision and leaving students in limbo. 
Since October 2019 Lebanon has faced a new level of crisis every other week, forcing institutions to play catch-up, Hasan said. In the throes of a deep and ever-evolving economic meltdown, gasoline prices recently suffered a 66 percent increase over a one-month period, but remained considerably below black market prices, driving many importers to carry on hoarding fuel and leaving vehicles and backup generators dry. 
Houssam Chehade, who studies International Business and Management at LIU, lives far from the university and is worried about making it to campus with rising transportation costs. "The service is LBP15,000 now and it'll probably skyrocket once subsidies are lifted." Service (Lebanon's shared taxi) round trips once every weekday would cost him around LBP600,000 a month or $400 at the official exchange rate. 
Fuel subsidies are to be lifted by the end of September.
"We have shortages because we have subsidies," said Walid Marrouch, an associate professor of economics at the Lebanese American University (LAU). He explained that not only is gasoline scant but its price on the black market is greater than its unsubsidized price. 
"The immediate solution is to remove the subsidies now and not wait until the end of September as they are planning," he added.
"Some universities will not survive"
Severely neglected and underfinanced, the country's only public university, the Lebanese University (UL), is not considered an alternative for many university students. Chehade said he is not willing to transfer from the U.S. education system at LIU to UL, a move that would cost him his last two academic years and would entail starting over in UL's French system. 
"I would be willing to start from zero in another country at a respectable university but it's not acceptable that I do that in a country like Lebanon," Chehade said.
Liberal thought and sociopolitical activism are harbored in many Lebanese private universities. AUB's Professor Hasan said the space, not necessarily the campus, was quite dynamic over the last two years. "Student clubs were tremendously pivotal in the Lebanese uprising and the political movements that followed. [Events of] the last year have invigorated them rather than dampened [them]." 
Many international students, he added, notably those coming from other Arab countries, arrive and become engaged as well. However, Hasan, who is also the director of Tomorrow's Leaders scholarship program funded by the Middle East Partnership Initiative (MEPI-TL), said there have been a considerable number of international students either withdrawing or postponing their programs after receiving  scholarships.
"Things are bad and Lebanon's news abroad is even worse. When you talk about international students who have received full scholarships to study at a university in Lebanon, they're basically leaving their country with a functioning apparatus and coming here," he said. 
Grappling with the compounding crises, Hasan said he has to maintain, along with his faculty, the mission, which is to remain committed to teaching and engaging their students, who are equally facing the same reality. 
"It's an immense challenge to maintain what you have signed up to do," he said. "I've started to grow uncomfortable with the world, with this part of the world."
The local atmosphere of an economic crisis and its repercussions occasionally takes a toll on Hasan, which affects his professional progress and puts him in academic paralysis.
"It's not easy to replace these faculty members and there are no incentives to make academics come from abroad and work in Lebanon."
Walid Marrouch, professor, LAU
"It would be an understatement to say this is one of the roughest patches the institutions of education, particularly higher education, have witnessed," Hasan said. "The kind of challenges that we're facing, you get the economic and then the logistical, are all rolled into one. We don't have any experience in dealing with this."
To maintain Lebanon's quality education, the country has to "retain its top talent" which requires huge resources, Marrouch said. "The quality of education matters for future employment prospects."
Academics are among those first to relocate and contribute to a brain drain in such drastic circumstances. "It's not easy to replace these faculty members and there are no incentives to make academics come from abroad and work in Lebanon," Marrouch said. He added the wage differential between Lebanon and the market abroad lies behind the country's brain drain. 
"In a few years the number of universities will reduce in Lebanon, some universities will not survive," he said.
Saving the educational sector is possible only through saving the economy, which is facing a comprehensive threefold crisis: an economic depression, a banking crisis, and a currency crisis, Marrouch said.
"We have to find a solution. We, as Lebanese, have no other hope but our education," Chehade said. "Both, the people staying here and attempting to change things, and those who want to leave, need education to do what they wish to do."
Sally Abou AlJoud is a multimedia journalist with @NOW_Leb. She is on Twitter @JoudSally.