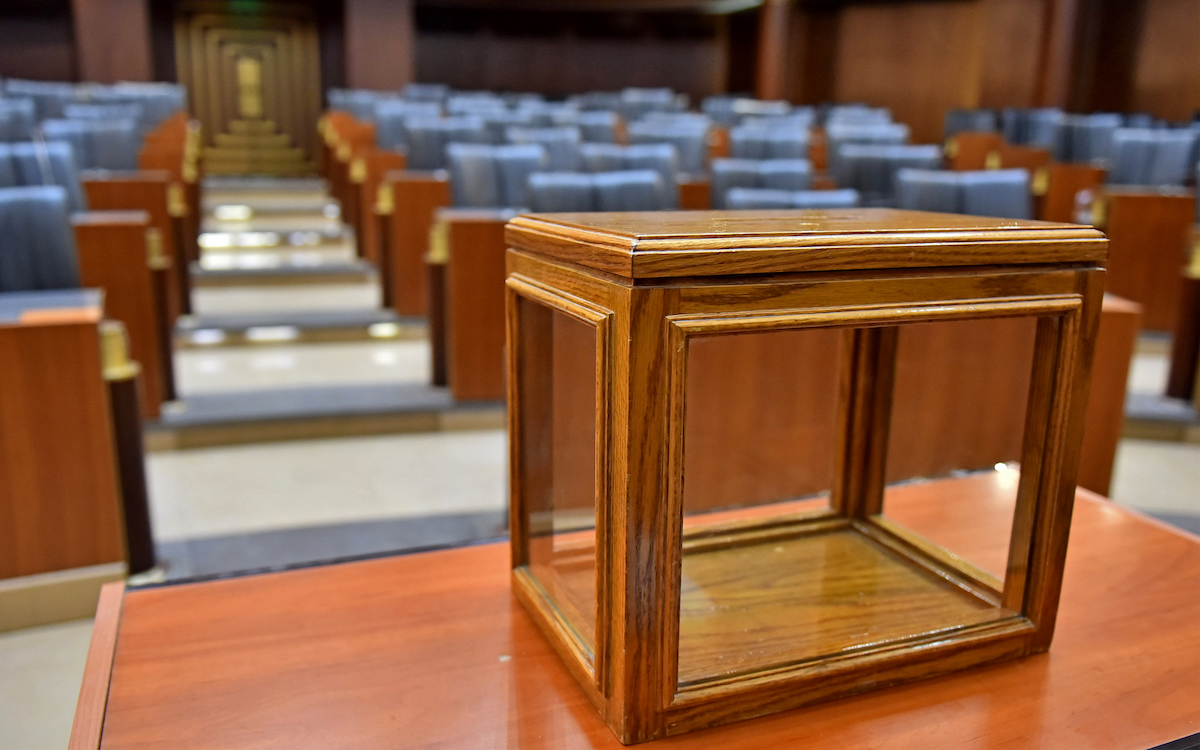 A ballot box for the presidential election is placed on a table at the parliament in the Lebanese capital Beirut, on September 28, 2022. Lebanon's speaker Nabih Berri called for parliament to meet this week to elect a president to replace Michel Aoun whose term expires at the end of October. Photo: Joseph Eid, AFP
Lebanon has been without a president for 119 days so far, and it has been over a month since the last failed attempt by Parliament to elect one.
Since then, there has been no word of scheduling a new electoral session. The Lebanese people continue only to hear talk coming from the MPs and their parties, all of whom are pushing the same line of the need for dialogue in order to elect a president quickly, while doing little to nothing to make that happen.
A growing lack of optimism is rearing its head.
Recently, caretaker Prime Minister Najib Mikati stated that there are "no indications of electing a president soon,"  only confirming to the Lebanese people what they already knew.
Even the "change" MPs are increasingly becoming like the traditional politicians that they swore to combat.  MP Waddah Sadek told Lebanese broadcaster MTV that they will "not elect a president who will take Lebanon to the abyss."
للـ"MTV": لن نُشارك في جلسة قد تؤدي إلى انتخاب رئيس سيأخذ #لبنان إلى الهاوية ولا أحد يهمّه لبنان والملف اللّبناني آخر أولويات المجتمع الدولي.@MTVLebanonNews

— Waddah Sadek – وضاح صادق (@WaddahSadek) February 26, 2023
This is a great sentiment to have, but the "change" bloc has been largely unhelpful in electing a president almost from the start by mostly refusing to nominate any candidate for the presidency or to push the political discourse towards any candidates who they view as being viable solutions.
However, there is a possible deal on the horizon which could see either Sleiman Frangieh, Hezbollah's preferred candidate, or Joseph Aoun, the Lebanese army commander widely seen as a consensus candidate, elected as president and Nawaf Salam, a judge on the International Criminal Court who has US backing, chosen to form the next government as long as Hezbollah agrees not to seek a blocking third in.
Should this occur, it would be eerily similar to the 2016 agreement which saw Michel Aoun ascend to the presidency and Saad Hariri tapped to form a government.
Still, no matter who will become president, the most important approval comes from Hezbollah who, given their grip on Lebanese politics, will have the final say.
In Lebanon
Akkar sheikh killed after abduction: For nearly a week, Sheikh Ahmad al-Rifai was nowhere to be found, mysteriously abducted without as much of a trace as to his whereabouts or what happened to him besides a mask, glove, and traces of blood found behind the Arab League building in Tripoli.
Then, on Saturday, Lebanon's Dar al-Fatwa announced that the sheikh's body had been found.
After the initial abduction, suspicion quickly fell upon Hezbollah, as al-Rifai had often used his pulpit to lambast the Iran-backed group. However, soon after his death was announced, Lebanon's security forces said that they had raided the home of al-Qarqaf's mayor, Yahya al-Rifai, and arrested him and his son Mohammed, as well as his nephew Abdul Karim al-Rifai for the murder.
According to the security forces, the murder stemmed from a familial dispute that began in 2012.
Another kidnapping: Michel Makhoul, a Lebanese citizen in the Bekaa, was freed after being kidnapped on Sunday in Zahle.
Security forces also arrested the alleged kidnappers, who shot at the soldiers.
One soldier was injured in the raid.
Media heist: On Monday afternoon, an unknown group broke into Lebanon's state news agency, the National News Agency, and stole servers that contain the organization's archives, along with five computers.
Following the theft, caretaker Information Minister Ziad Makari stated that the stolen servers contain photos and other material that date back to 1961, and called it a "crime the size of the nation".
This theft comes as a significant blow to the NNA, which has been working to digitalize its archives and has struggled to stay open amid the economic crisis.
Security forces are currently searching for those involved in the break-in.
Banks reopen: Lebanon's banks announced Friday that they would temporarily suspend their open-ended strike for one week upon the request of caretaker Prime Minister Mikati.
The strike began on February 7, and was showing no signs of ending anytime soon.
The call from Mikati to suspend the strike comes as many in Lebanon are set to receive their monthly salaries, including the country's civil servants.
While no formal announcement has been made, the strike will likely go back into effect after the suspension is over.
Hezbollah financier arrested: Romanian authorities, on Friday, arrested Mohammad Bazzi, a dual Lebanese-Belgian national, who they accused of being a key financer of Hezbollah.
Bazzi was designated as a "global terrorist" by the United States in 2018 for helping to funnel millions of dollars to Hezbollah.
The US is seeking Bazzi's extradition along with Lebanese citizen Talal Chahine. Both men were caught in recorded conversations discussing how they could hide from US authorities that Bazzi was the one channeling the funds.
It is unclear who will represent the men once they arrive in the US.
Salameh finally charged: Lebanon's Central Bank Governor Riad Salameh was finally charged with corruption in Lebanon after a months-long investigation into his alleged misdeeds.
Beirut's Attorney General Raja Hamoush also charged Salameh's assistant Marianne Howaiyak, and his brother Raja Salameh with embezzling public funds, illicit enrichment, money laundering and tax fraud.
Salameh has maintained his innocence and is likely to fight to either have the charges outright dropped or the case held up indefinitely.
He is also being investigated in France, Luxembourg, and Germany for similar crimes.
Managing the crisis: Lebanon's caretaker government held a meeting on Monday in which the cabinet agreed to give five liters of fuel to teachers to help with their transportation to and from schools.
The goal of providing the teachers with this fuel is to meet part of their demands as public school teachers continue their strike. 
However, given that the teachers are also demanding better wages amid the ongoing economic crisis, the gesture of the fuel is unlikely to convince them to end their strike.
The cabinet also could not come to a decision about extending General Security chief Abbas Ibrahim's term which ends this week.
Also, following the meeting, Ibrahim Kanaan spoke on behalf of Parliament's Finance Committee in which he stated that the draft budget for 2023 requires the government's strategy for combatting the economic crisis and what the recovery plan will be so that they know how to finance the country going forward.
More earthquakes: On Monday, February 20, a 6.4-magnitude earthquake struck the Turkish city of Antakya on the Turkey-Syria border which was felt in Lebanon and sending people to the streets in fear of their buildings collapsing on them.
In #Tripoli, people are telling me that they are going to be sleeping outside of their homes tonight over fears of the #earthquake and their buildings collapsing. The Maarad is filled with cars and people have left their homes. #طرابلس #زلزال

— Nicholas Frakes | نيكولاس فريكس (@nicfrakesjourno) February 20, 2023
Lebanon has continued to feel earthquakes of varying magnitude since the devastating 7.8 earthquake that struck Kahramanmaras. 
In response to each new earthquake, people flee their homes, sometimes sleeping outside for the night, as they are scared that, given the state of Lebanon's infrastructure, their building might collapse on them.
View this post on Instagram
The region is expected to continue to feel more seismological activity in the continued aftermath of the Kahramanmaras quake.
In the region
Violent confrontations: Violence between Palestinians and Israelis is continuing to be on the rise with 2023 already looking like it will be a deadlier year for Palestinians than 2022, which as already the deadliest in over a decade.
On February 23, Israeli forces led a bloody raid in the West Bank city of Nablus which saw at least 11 people killed and over 100 injured in the confrontation.
Then, on the evening of February 26, Israeli settlers went on a violent rampage in the West Bank in response to a Palestinian shooting and killing two settlers just hours before.
Israeli, Palestinian, and international leaders have called for calm following a one-day meeting in Jordan, but given the growing intensity and violence of the Israeli crackdown on Palestinians, led by the most extreme government in Israeli history, this seems highly improbable.
Assad continues his normalization push: Arab lawmakers, including Egyptian Parliamentary Speaker Hanafy el-Gebly, visited Syrian President Bashar al-Assad in a push to end the regime's regional isolation on Sunday.
The day after the meeting, Egypt's foreign minister, Sameh Shoukry, met with Assad and also plans on traveling to Turkey after. This is the first such visit in a decade due to the tense relations between both countries.
Assad and his government have been isolated since its brutal crackdown on peaceful protesters in 2011 which ultimately led to the civil war.
However, more and more regional leaders have begun to normalize relations with Assad and there is even talk about readmitting Syria to the Arab League.
Such a move would be a huge win for Assad and a major step in ending his global isolation.
There are also continued talks of another trilateral meeting between Turkey, Russia, and Syria as the possibility of Turkey and Syria normalizing relations looms overhead.
Nukes: Iran is reported to be close to reaching weapons-grade enrichment levels for its uranium stockpiles as the regime looks at developing nuclear weapons.
The Iranian government, though, has denied reports that it has enriched uranium to 84 percent, just under the 90 percent levels required for it to reach weapons-grade status, and has called such reports a "conspiracy."
Iran has long argued that its uranium enrichment is solely for medical and research purposes.
Israeli Prime Minister Benjamin Netanyahu has made it clear that he will stop at nothing to prevent iran from obtaining nuclear weapons, something that US President Joe Biden has also echoed, although Biden is likely push for a diplomatic solution rather than a military one.
What we're reading
MENA art abroad: Artists from the MENA region often have a hard time getting exposure abroad. Robert McKelvey looked at the MENART Fair and its third edition in Brussels, which is offering MENA artists visibility abroad.
Dollars: As Lebanon's economic crisis continues, more and more goods and services are being priced in dollars. NOW's Dana Hourany looked at this practice and why it is happening.
Debt: Lebanon's Central Bank recently claimed that the government owed it $16.5 billion. I explain what this money is and what it means for the country.
Let your hair down: The nationwide protests in Iran have largely subsided, but life there has changed in the months since. The New York Times's Farnaz Fassihi wrote about how women in Iran are seemingly able to go about their lives without wearing the compulsory hijab despite the law remaining in place.
Lebanon+
Podcasts: Ronnie Chatah is getting back to his roots with The Beirut Banyan with Heritage and Roots's Charles al-Hayek , where the two sit down in Aaliya's Books in the first live filming of the podcast. The two discussed Beirut's history as a regional hub for trade, emerging political ideas and the two decades following Lebanon's independence. 
Lebanon is no stranger when it comes to religion with the small Mediterranean country having 18 recognized religious sects. In the latest episode of Sarde after dinner Médéa Azouri and Mouin Jaber spoke with Hasan Almustafa, a Saudi writer and researcher on MENA politics, Islamic movements, and the development of religious discourse, where they discussed the roots of the Sunni-Shiite divide, how modern Islamic discourse differs from the teachings of the Prophet Muhammad, and where the line is drawn between free speech and Islamophobia.
Until next week, follow NOW Lebanon on Twitter, Instagram, Facebook, and LinkedIn, and subscribe to our weekly newsletter. And stay safe!