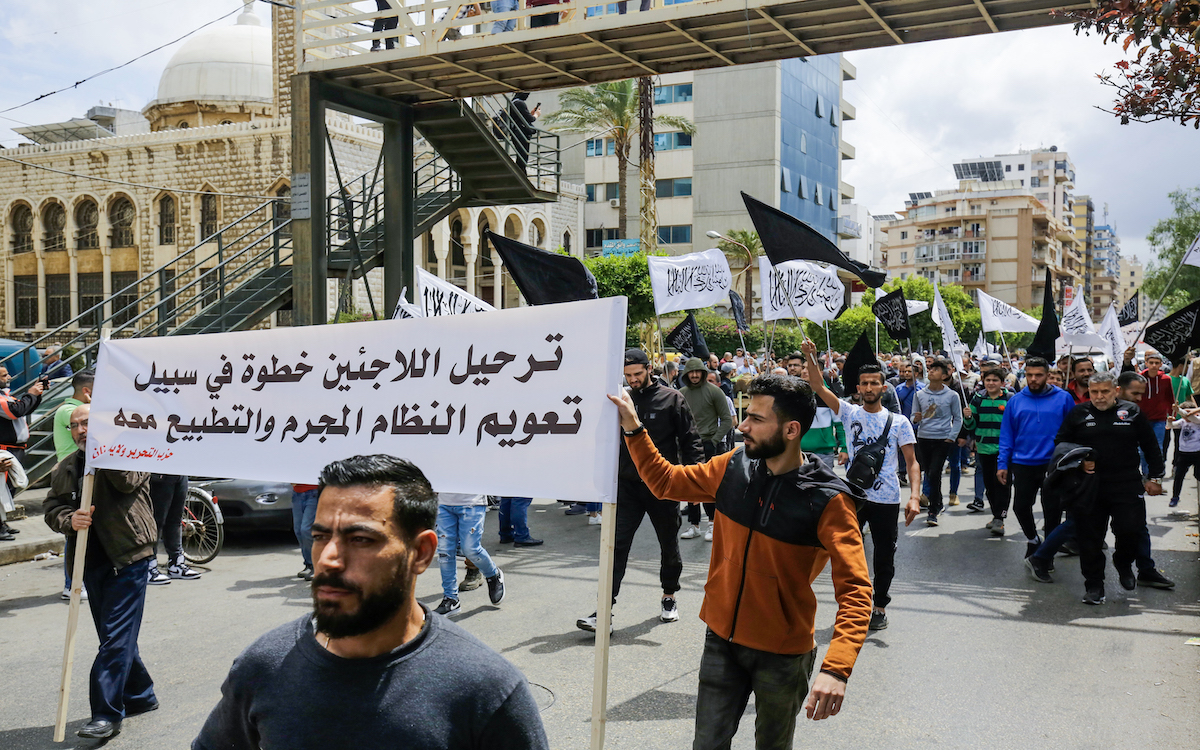 Members of the radical Islamist movement "Hizb ut-Tahrir" protest in the northern Lebanese port city of Tripoli, on April 28, 2023, against the deportation of Syrian refugees. Syrians poured into Lebanon after civil war broke out in 2011, with Damascus's brutal suppression of peaceful protests. With the regime now back in control of most of the country, calls have intensified in crisis-hit Lebanon for Syrians to go home. In recent weeks the army has intensified a crackdown on undocumented Syrians, with some 450 arrested and at least 66 deported, a humanitarian source told AFP. Photo: Ibrahim Chalhoub, AFP
[responsivevoice_button voice="UK English Male" buttontext="Listen to Post"]
Recent weeks have seen an increase in the deportation of Syrian refugees due to claims by Lebanese officials that they are contributing to the worsening economic crisis.
There are reports that the army has raided refugee camps and set up checkpoints to monitor the documentation of non-Lebanese citizens, arresting and deporting Syrians who lack legal residency.
Why this matters: Since Hezbollah became involved in the Syrian conflict in 2012, the number of Syrian refugees in Lebanon has increased, particularly in the regions of Al-Qusayr and Qalamoun. The number of international organizations that assist refugees has also increased. However, the Lebanese government refused to assign specific camps to house the influx of refugees, resulting in them settling in areas that were more welcoming to them.
As a result of the presidential vacuum, the timing of the deportations is also noteworthy. Suleiman Frangieh, a candidate supported by Hezbollah, has been positioned as an intermediary between all factions who can resolve the refugee issue.
Despite the lack of Christian support, the publicity portraying Frangieh as the solution to the refugee crisis may be seen as an attempt to gain popularity among Christians who are generally disapproving of his candidacy.
As a result: Frangieh is undoubtedly close to Syrian President Bashar al-Assad, making him the best candidate to show off in light of all the controversy surrounding refugees.
The multitude of crises that have plagued the country will not be resolved by deporting refugees and removing their battered shelters, however, this campaign against refugees allows Hezbollah to promote their candidate as a national hero while avoiding the responsibility of resolving the country's fundamental problems.
In addition, this can reflect poorly on the candidacy of the commander of the Lebanese Armed Forces, Joseph Aoun, who, in spite of his popularity within Lebanon's Christian population, has been framed negatively for how the army is handling deportations. Hezbollah would rather shrink the opportunity for Aoun by keeping its image of Frangieh as a solution provider while discrediting the army commander.
In conclusion: It should be noted that, while Syrian refugees have been caught in political crossfire before and have been subjected to obvious attempts at scapegoating, in this instance, the aim is evident; to promote and strengthen Frangieh's candidacy. It remains to be seen whether this will be successful or not. Nevertheless, one thing is for certain: the country's troubles and its future does not lie with foreigners, but with the corrupt system that has plagued it with insurmountable difficulties. 
Dana Hourany is a multimedia journalist with @NOW_leb. She is on Instagram @danahourany and Twitter @danahourany.