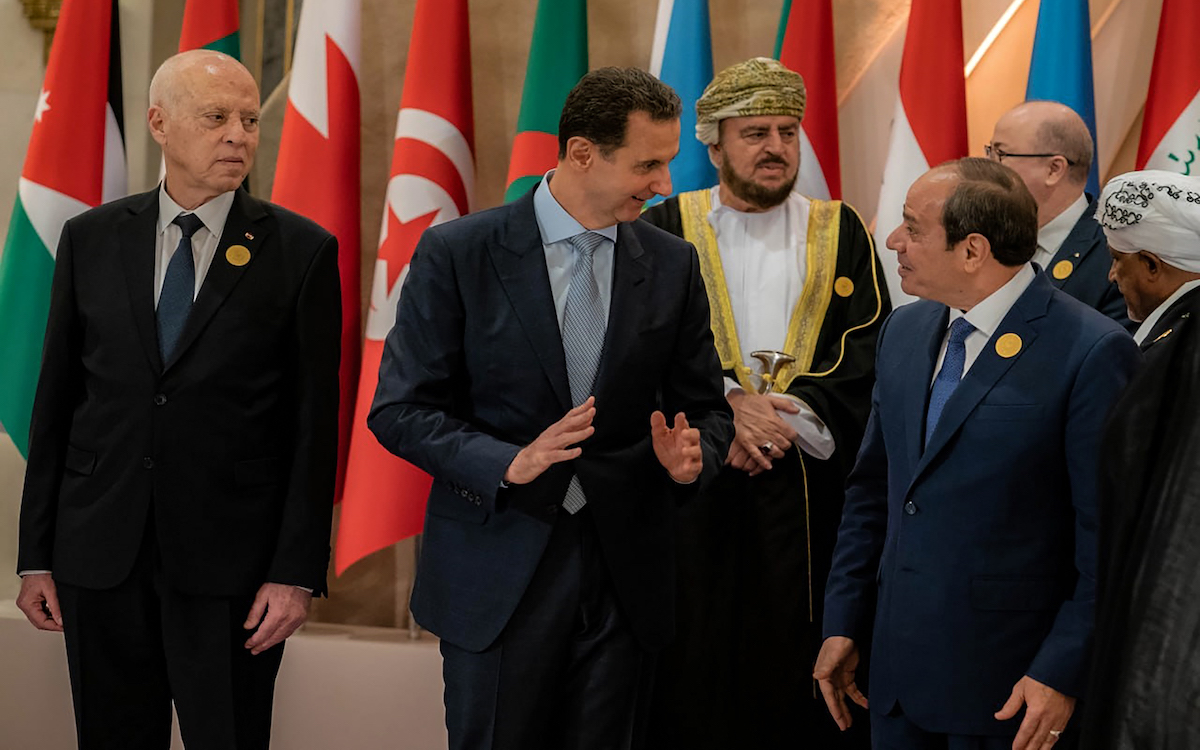 A handout picture released by the official Syrian Arab News Agency (SANA) shows Syria's President Bashar al-Assad (C) greeting his Egyptian counterpart Abdel Fattah al-Sisi (R) as Tunisia's President Kais Saied (L) looks on, ahead of the start of the 32nd Arab League Summit in Jeddah, on May 19, 2023. Photo: Stringer, SANA, AFP
Assad has rarely left Syria following the outbreak of the Syrian Civil War, traveling only to Iran and Russia until 2022 when he visited the United Arab Emirates in his first trip to an Arab country since 2011.
In a speech, Assad said Syria's "past, present, and future is Arabism," while avoiding any direct references to previously close ally Iran, and noted the "danger of expansionist Ottoman thought" in a thinly veiled jab at Turkish President Tayyip Erdogan, who has both backed Syrian rebels and sent forces into Northern Syria.
Saudi Crown Prince Mohammed bin Salman expressed optimism that Syria's "return to the Arab League [would lead] to the end of its crisis" after "painful years of struggle".
This warming towards Assad accelerated following the negotiation of an agreement in March by China that also saw Riyadh re-establish diplomatic ties with Iran, which – with Russian assistance – has helped Assad defeat Sunni rebels and regain control of some major cities.
Finding a political solution to the Syrian Civil War remains a major concern for both Arab and Western powers. UNHCR estimates over 14 million Syrians have been forced to flee their homes since 2011, while around 6.8 million Syrians remain internally displaced with 90 percent of the population living in poverty.
Arab states also hope to halt Syria's thriving trade in Captagon. In the last decade, the production and sale of this illegal synthetic drug has rapidly expanded, with millions of pills flooding the Gulf, particularly Saudi Arabia. This has led some to declare Syria a 'narco-state', and concerns remain about Assad's ability to curtail the illegal drug trade.
The U.S. State Department restated its opposition to normalizing relations with Syria, and that sanctions on the country should remain.
Qatar's Emir Sheikh Tamim bin Hamad al-Thani – who, in 2018, previously said the region would not tolerate a "war criminal" like Assad – left shortly before his address to the summit, despite Qatar withdrawing its opposition to Saudi Arabia's plans to readmit Syria earlier in May.
Crown Prince Mohammed also restated Saudi Arabia's willingness to mediate peace negotiations between Ukraine and Russia. Other Arab countries have attempted to stay neutral, despite Western efforts to push OPEC+ members to put pressure on Russia.
Speaking to the summit, Ukrainian President Volodymyr Zelensky asked Arab leaders for support and thanked Saudi Arabia for its assistance in brokering a prisoner release last year.
Robert McKelvey is a multimedia journalist with @NOW_leb. He tweets @RCMcKelvey.