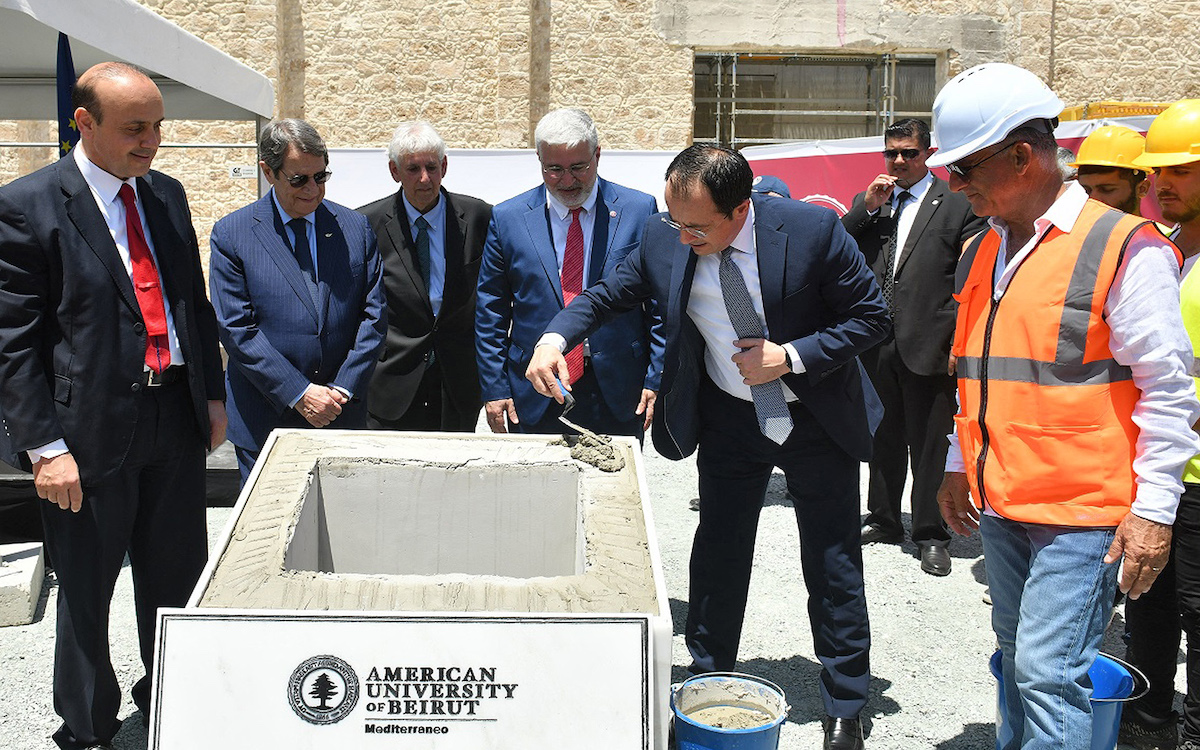 This handout picture provided by the American University of Beirut shows Cyprus' current President Nikos Christodoulides (2nd-R) and former president Nicos Anastasiades (2nd-L), accompanied by the President of the American University of Beirut (AUB) Fadlo Khuri (C), attending the ceremony to lay the foundation stone of AUB's new Mediterraneo campus in Cyprus' western city of Paphos on June 7, 2023. Photo: American University of Beirut, AFP
Across Lebanon, many institutions both public and private have suffered due to the continuing exodus of talented young people as a result of the economic collapse that began in 2019. The American University of Beirut (AUB) is no exception, having lost personnel across both its campus and medical center, as well as many students.
Because of this, many were surprised when it was announced that – despite these apparent difficulties – AUB would be opening a new twin campus in Paphos, Cyprus, this September. The revelation led to widespread speculation about how the university was able to fund such an undertaking at a time of national crisis, and whether doing so would have a negative impact on students at the main Beirut campus. To some, it was an indication that the institution was 'jumping ship', an assertion AUB itself was quick to refute.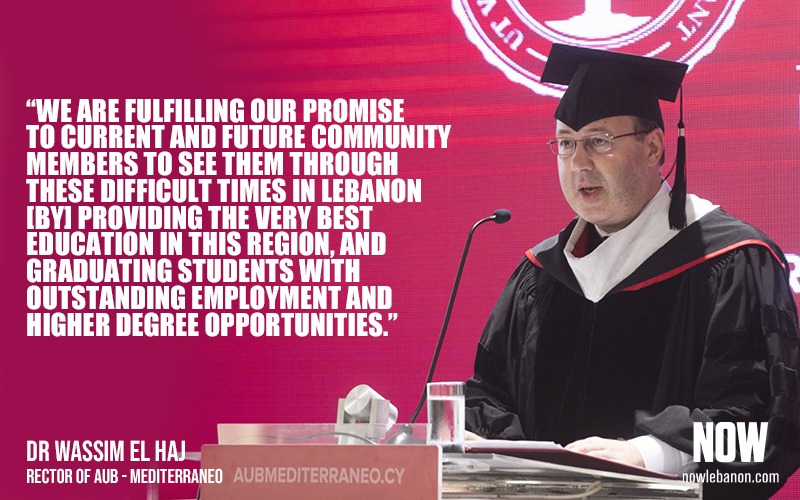 "AUB has faced this crisis head-on," Dr Wassim El Hajj, newly appointed rector of AUB – Mediterraneo, told NOW. "We are fulfilling our promise to current and future community members to see them through these difficult times in Lebanon [by] providing the very best education in this region, and graduating students with outstanding employment and higher degree opportunities."
"[We have] gone a long way along the road to recovery, recruiting outstanding new faculty and staff members and welcoming some of the strongest cohorts of students in recent years," he continued. "More than 20 percent of our students are receiving a top-notch AUB education at zero tuition, thanks to the amazing support of our trustees, donors, partners, and foundations. We have been able to financially support our faculty and staff."
According to AUB, by mid-to-late 2024, staff salaries will be back up to over 90 percent of their 2019 pre-crisis compensation, paid in US dollars. Financial assistance for students has also increased dramatically, awarding $110 million to applicants in 2023.
Despite rumors to the contrary, funds for the AUB Mediterraneo project were already earmarked by the AUB Board of Trustees, drawn primarily from donations. Projections anticipate that the institution will fully recoup the cost  – including the investment in new facilities and infrastructure – within 10 years.
"As we've said repeatedly, [this is] not from the operating budget of the university, but from funds that the Investment Committee and the Budgetary Committee made available to us," said AUB President Dr Fadlo Khuri. "It's not costing the students, faculty or staff anything. It's not money that we would otherwise have had access to to adjust salaries or anything else."
"Our expansion plans were already underway before the crisis in Lebanon, and are a crucial part of our plan to be continuously relevant, successful, and sustainable in the coming decades and beyond," agreed Hajj. "Establishing our first twin campus outside Lebanon is part of AUB's VITAL 2030 global strategic plan, which was approved by our Board of Trustees in 2020 and was many years in the making."
Following its opening, AUB Mediterraneo currently offers five undergraduate majors and two master's programs across a variety of topics, including philosophy, politics, economics, psychology, computer science, industrial engineering and business administration. For graduate programs, they currently offer a master of science in Business Analytics and in Engineering Management.
These offerings are complemented by a comprehensive general education program that seeks to help students understand themselves, their world and their role in it by introducing them to a wide array of disciplines outside their major, mirroring – if not completely replicating – the offerings of AUB itself.
For the time being, AUB still has a broader array of majors available. However, officials insist that the quality of teaching and mentoring – as well as a commitment to excellence and serving the greater good – is central to both institutions. The new campus also extends the reach of AUB as an educational platform, allowing international students who may otherwise be turned off by concerns about Lebanon's stability to still engage with the high-quality educational program they offer.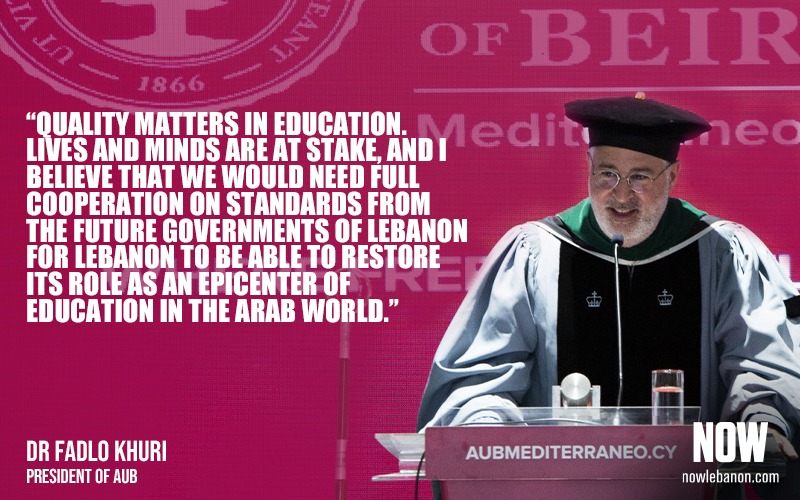 "General education programs are not common in Europe, giving AUB Mediterraneo students and future graduates a unique advantage," said Hajj. "This liberal arts model of higher education is what enables American University of Beirut graduates to be lifelong learners and engaged citizens, by giving them crucial tools such as critical thinking, problem-solving, digital literacy and communication skills."
"Eventually, we would like the two campuses to have complementary agendas [where students] can cross-register," explained Khuri. "The quality [of education] is the same. There's parity in salaries as well. Students are being offered the same level of financial support – through different mechanisms – as the ones in Beirut."
The ultimate vision for AUB is one that is rooted in Beirut, yet flourishing globally, encouraging enriching exchanges and interactions between Lebanon and the rest of the world through a diversified community of international students and faculty. This will also allow AUB to access EU funding avenues that would be otherwise unavailable, as well as a broader pool of potential academic collaborators, hopefully paving the way for future improvements in education quality within Lebanon.
"I believe that AUB can help lead the recovery of Lebanon as a major higher education center, but we need the support of a responsible government," said Khuri. "Quality matters in education. Lives and minds are at stake, and I believe that we would need full cooperation on standards from the future governments of Lebanon for Lebanon to be able to restore its role as an epicenter of education in the Arab world."
Officials are keen to champion that Lebanon is and will remain the eternal home of the AUB. Expanding to an overseas campus is still ultimately an investment in the institution as a whole. Lebanon has nothing to lose to new initiatives that attempt to raise the global profile of the country's education sector.
Robert McKelvey is a multimedia journalist with @NOW_leb. He tweets @RCMcKelvey.