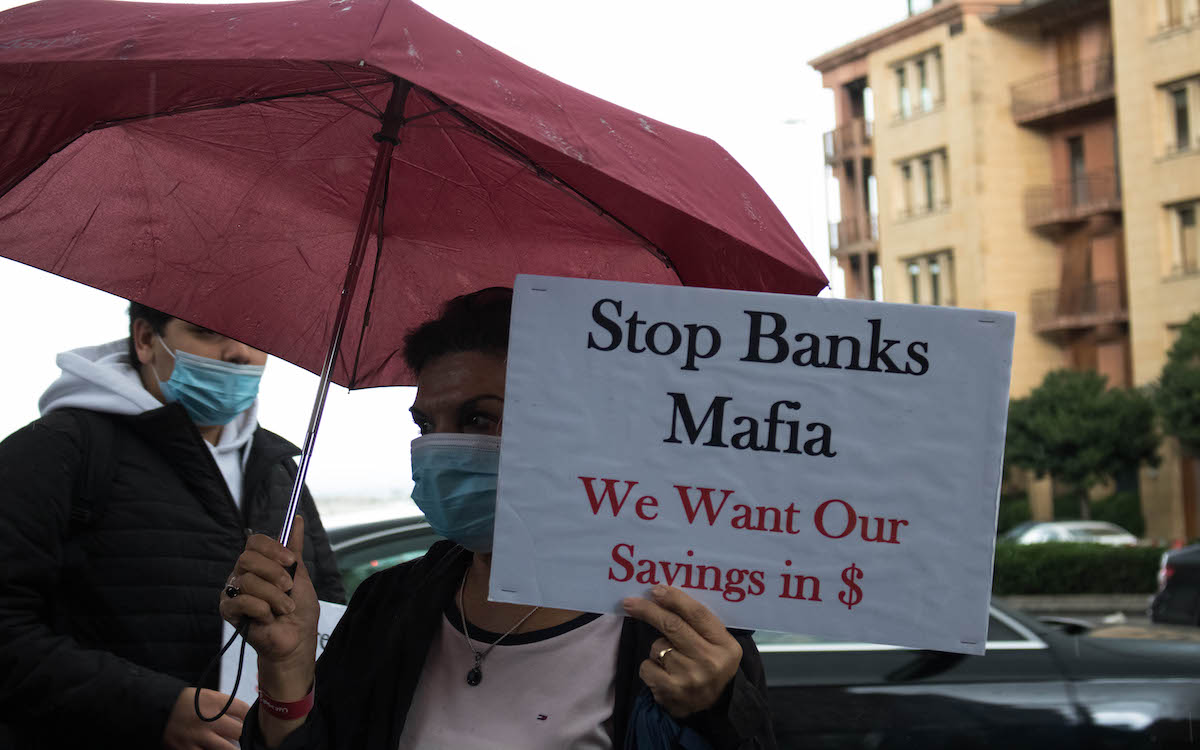 The economic crisis that has plunged the country into a downward spiral is going into its third year and the country's politicians have done little to put a stop to it, so the fact that the government is finally meeting once more does not stir up much hope. Photo: Nicholas Frakes, NOW.
After 104 days, Lebanon's government finally convened on Monday morning to discuss the many issues that the country is facing. The first item on the agenda was the 2022 budget, which is a first step to unlocking desperately needed foreign aid as well as funding the upcoming elections.
The cabinet got straight to work after being away for over three months due to the Shiite parties, Hezbollah and the Amal Movement, boycotting meetings over opposition to Judge Tarek Bitar's investigation into the Beirut port explosion.
According to Lebanon's acting information minister, Abbas al-Halabi, the government has already begun looking at the proposed budget and hopes to send it to parliament soon for approval.
"The Cabinet has begun studying the 2022 budget bill, and daily sessions will be held to complete the study of the project until it is approved and referred to the House of Representatives," the acting minister stated.
Even though the government has convened, the Lebanese have not shown much enthusiasm.
"The cabinet should be meeting nonstop in a country where people are dying of hunger and poverty – where the city exploded and hooligans with guns roam the streets," Carmen Geha, an activist and associate professor at the American University of Beirut, wrote on Twitter. "The government meeting is not news, it's a disgrace. Tfeh!"
For many Lebanese, the government meeting means little.
The economic crisis that has plunged the country into a downward spiral is going into its third year and the country's politicians have done little to put a stop to it.
So the fact that the government is meeting once more does not stir up much hope in the Lebanese people that suddenly things are going to change.
The budget: This is a very important first step for the year. Not only does it allocate funds so that the parliamentary elections can be held in May as planned, but the international community and IMF say that this is an absolute must if the Lebanese government wants to unlock the foreign aid that they have been holding over the politicians like a juicy steak.
So what is actually known about the budget so far?
What we know: According to Reuters, who saw documents of the budget, economically speaking, Lebanon is not looking any better than it has for the last few years.
The proposed budget would see Lebanon spend 49.42 trillion lira while only making 39.15 trillion lira, a deficit of just over 20 percent.
In addition to this, the draft budget also proposes a 5.25 trillion lira advance to Lebanon's state electricity company to help pay off a fuel purchase deficit, interest and loan installments.
The finance minister, Youssef Khalil, also said that customs fees, in dollars, would be paid at the "Sayrafa" exchange rate, the platform put forward by the Central Bank.
It would also see people with dollar accounts following October 17, 2019 having their accounts paid out in dollars, but any accounts prior to that date are excluded from this measure.
View this post on Instagram
Possible trouble in the government: Not everyone in the government is necessarily on board with all proposals.
The Amal Movement, headed by Parliamentary Speaker Nabih Berri, said that they would oppose any taxes and anything that they said would further burden the middle-class and poor.
"We reject any new taxes and burdens imposed on the middle and poor classes, and we also refuse to give any exceptional powers to the government with regard to tax and financial affairs," the party said in a statement. "We will keep pace with the stages of discussion of the budget and work to correct any defect, and we will not accept depositors with the burden of collapse."
Even the proposed 20 percent deficit could prove to be a problem in Parliament as, last year, the budget had a deficit of over 30 percent and was ultimately rejected by the parliament.
Should this happen or there be any delays or disagreements in passing the budget, the government would be forced to reconsider parts of it, delaying any sort of solution or movement forward.
Mending the relationship
A diplomatic visit: Last week, Kuwait's foreign minister, Sheikh Ahmed Nasser al-Mohammed al-Sabah, visited Lebanon, the first by a senior Gulf Arab official since the five countries, Saudi Arabia, Bahrain, UAE, Kuwait and Yemen, broke off diplomatic relations with Lebanon at the end of October 2021.
The Kuwaiti official's visit was coordinated with the other Gulf countries as part of an effort to bring the once closely allied nations back together.
Lebanon's own foreign minister, Abdallah Bou Habib is set to visit Kuwait at the end of the month.
Lebanese Prime Minister Najib Mikati was also invited for a diplomatic visit to Kuwait, however no date has been announced yet.
Let's make a deal: The resignation of then-Information Minister George Kordahi, whose comments on the war in Yemen sparked the crisis, last month was an important first step at mending the diplomatic ties. However, much more needs to be done before any of the Gulf countries normalize relations with Lebanon.
That is why the Kuwaiti foreign minister gave the Lebanese government some homework on his visit to the country, bringing with him suggested measures that the government could take in order to ease tensions with the Gulf.
"We are now waiting for a response from them on these suggestions," Sheikh Ahmed said.
No specific details on what the proposed suggestions are have been offered so far.
We (almost) have power!
On the dotted line: According to Lebanon's energy minister, Walid Fayed, the country will sign an electricity deal with Jordan this week that will bring much-needed power from Jordan through Syria and to Lebanon.
Along with a deal to import Egyptian gas using the Arab Gas Pipeline and the importing of Iraqi fuel, the government hopes to eventually provide the country with around eight to 10 hours of electricity per day, up from the current average of two.
Fayed says that importing the electricity from Jordan will cost around $200m per year with Egyptian gas costing around the same. 
"We secured an initial $300 million from the World Bank and we are working to secure an additional $100 million," the energy minister said.
Running on generators: With Lebanon's state electricity company finding it difficult to import fuel to provide electricity to the country, most Lebanese have resorted to relying on private generators, but this has proved costly as the generator owners have raised their prices with some even only accepting payments in dollars.
This situation is unlikely to change much even after the Jordanian electricity arrives to Lebanon as it would only produce around 250 watts during the day and 150 at night, the equivalent, according to Fayed, of two additional hours of electricity per day.
Many are likely to continue to rely on private generators as the government would be providing, on average, around four hours of electricity per day and the government has yet to sign a deal with the Egyptians who are waiting on approval from the United States as the gas would go through Syria which, normally, would trigger automatic sanctions on Egypt under the Caesar Act.
Lebanese officials are hoping to sign the deal with Egypt by spring.
Another tough year
The French connection:  This week, a Lebanese judicial delegation will travel to Paris to meet with French authorities to discuss the investigation into Central Bank Governor Riad Salameh.
Authorities opened an investigation into Salameh in May 2021 over questions surrounding his personal wealth after Switzerland also opened an investigation into the Central Bank head.
Salameh's own Lebanon also opened an investigation into him last year with Judge Ghada Aoun issuing a travel ban against him on January 11 and freezing some of his assets on January 18.
According to Jean Tannous, the lead prosecutor on the case against Salameh in Lebanon, and Raja Hamoush, the meeting with French authorities "will focus on cooperation and exchange of information between the two sides regarding suspicions around Salameh and some of his close associates with regards to… money laundering, illicit enrichment."
La Casa del Libano
It's my money and I want it now: The Spanish Netflix series La Casa de Papel (Money Heist) was an extremely popular series in Lebanon with some people even dawning the iconic Salvador Dali mask during the popular uprising that started on October 17, 2019.
What happened in Jeb Janine, in the Bekaa Valley, on January 18 could easily have been a scene right out of the popular series.
A customer walked into a local branch of the Bank of Beirut and the Arab Countries (BBAC) and demanded $50,000 of his own money from the bank.
The bank refused and, in response, "he brandished a gun and grenade in front of staff and doused himself in petrol before pouring it on the premises and threatening to set it alight," a source at BBAC told AFP.
Eventually, he was given some of his money and then surrendered to security forces. No one was physically hurt in the incident.
The context: After Lebanon's economic crisis began, banks instituted their own capital controls, limiting how much money people could withdraw every month and preventing them from sending it abroad.
The Central Bank eventually came up with a haircut policy in which customers with dollar accounts could withdraw money at a rate that the Central Bank chooses, currently at 8,000, and a limited amount of dollars every month.
With the lira currently at 24,000 to $1 on the black market, around 80 percent of Lebanese living in poverty and inflation continuing to rise, this is barely enough for many to get by with many people continuing to demand access to their money.
Lebanon+
A mixed response:  When Netflix announced a Lebanese adaptation of the Italian film "Perfect Strangers," many in Lebanon were extremely excited about it.
Netflix was funding a Lebanese director to make an original Lebanese film!
Then the film, titled أصحاب…ولا أعزّ, or Perfect Strangers, came out on January 20 and the response was mixed, to say the least.
Some said the film lacked creativity and was merely a ripoff of other films.
0 imagination to create a movie made in lebanon. 100% copy paste #اصحاب_ولاأعز pic.twitter.com/Adc0ADPsLg

— dany renno (@renno_dany) January 24, 2022
Some went as far as to say that the film "supports perversion" and "destroys the principles of society."
فيلم سئ يدعم الشذوذ
ويهدم مبادئ المحتمع pic.twitter.com/O2h2dU2v4S

— رئيس جمهوريه تويتر (@Mohamed15127445) January 21, 2022
Others praised the film for inclusivity in its representation, and how it pushed the boundary on what is considered to be acceptable in Lebanese society.
This movie is really good the tea, the messiness, the drama, the good LGBT representation chef kiss pic.twitter.com/quWGhpuIfJ

— joud (@brrr4life) January 20, 2022

There were also those who were more neutral and praised it for its realness.
As a psychiatrist who has practiced 10 years in Middle Eastern countries I can confirm that all that is featured in this movie could happen and probably has happened in our society, regardless of background, ethnicity or religion. It is neither alien nor imported. #اصحاب_ولاأعز pic.twitter.com/EeUBUl0g1t

— Joseph El-Khoury (@JEK_Psych) January 23, 2022
Either way, the film started a social media war between its supporters and detractors.
People against#اصحاب_ولا_اعز #اصحاب_ولاأعز https://t.co/ka2m4VggpI pic.twitter.com/i5RY6Q027k

— Tony El Mir ✊?? (@tonyelmir) January 23, 2022
Renovating a landmark: Tripoli's Empire Cinema started its renovations on Friday, headed by the actor and theater director Kassem Istanbouli, to turn the city's iconic building into a national theater.
Istanbouli founded the National Theater in the southern city of Tyre four years ago and is hoping the connect the south to the north through this project. 
The newly renovated building will have a public library and host workshops and art festivals.
View this post on Instagram
Podcasts: This week's episode of Sarde After Dinner saw hosts Medea Azouri and Mouin Jaber speak with investigative journalist Riad Kobaissi about the Beirut port explosion.
The Beirut Banyan also returns after a short vacation with a new episode coming out on Tuesday where Ronnie Chatah speaks with L'Orient Today finance journalist Kabalan Farah.
Till next Monday, follow NOW Lebanon on Twitter, Instagram, Facebook, and LinkedIn, and subscribe to our weekly newsletter.