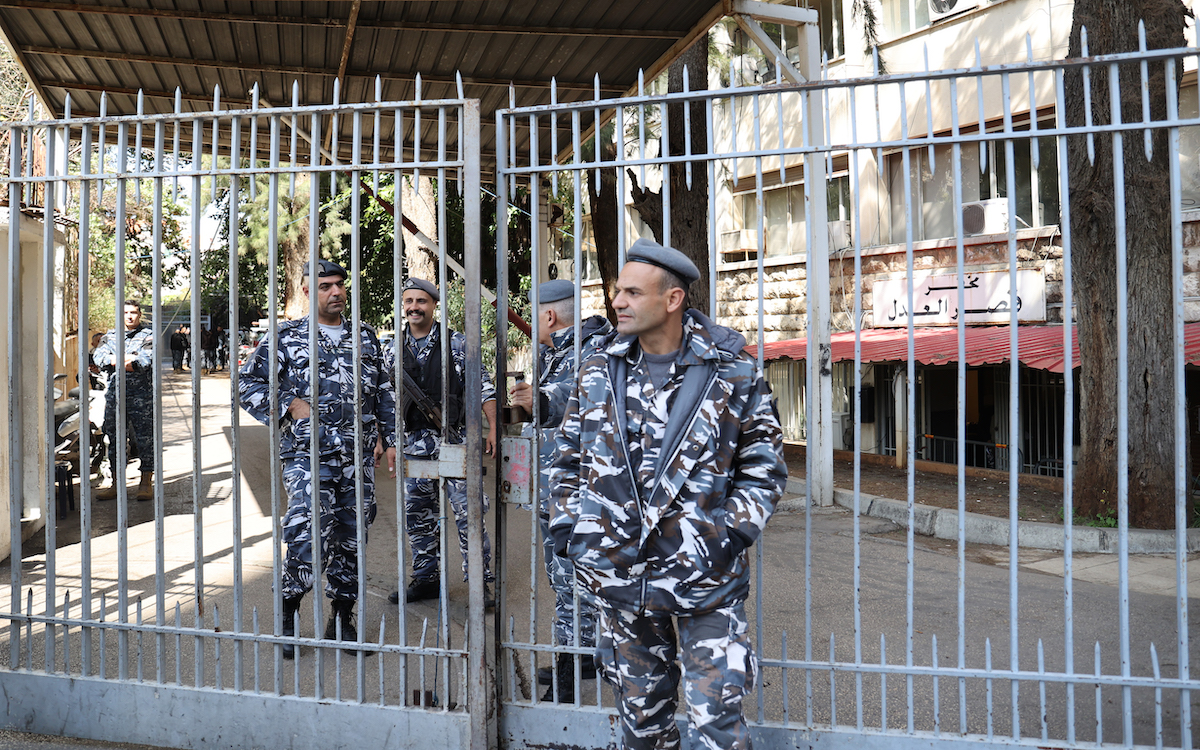 Security forces stand guard outside the Justice Palace in Beirut as Lebanese central bank chief Riad Salameh appeared on March 16, 2023 for the first time before a European delegation visiting Beirut as part of investigations into his personal wealth, according to a judicial official. Photo: Anwar Amro, AFP
Governor of Lebanon's Central Bank (BDL) Riad Salameh, attended a court hearing in Beirut on Thursday alongside European investigators looking into whether he embezzled millions of dollars in public money.
This is Salameh's first appearance before French and German judicial officials after a previous session on Wednesday was delayed on procedural grounds when Salameh's lawyer objected to their presence.
Why this matters The failed banking system and the freefalling local currency do not seem to be on anyone's priority list after four years of a continuing economic crisis with no solution in sight.
According to Salameh, whose 30-year tenure is set to end over the summer, the accusations are an attempt to scapegoat him for Lebanon's financial crisis, and he refuses to take the blame.
On Wednesday, representatives from France, Germany, and Luxembourg took up a two-hour stay at the Justice Palace in Beirut. Salameh's lawyer presented an application opposing his examination by foreign judicial authorities, which was disregarded by the prosecutor's office.
In response, the session was postponed until Thursday with a second session being held on Friday. Salameh attended both sessions despite opposition to the European investigators' presence.
This was the investigators' second trip to Beirut since a January visit in which nine persons were questioned, including some current and former BDL staff, as well as executives of several banks in the economically distressed nation. 
The Europeans are also looking into possible money laundering involving about $330 million. The questioning should last until Friday, according to judicial officials.
Moreover Head of the lawsuit department at the Justice Ministry, Judge Helena Iskandar, filed suit against Central Bank chief Riad Salameh, his brother Raja, and aide Marianne Hoayek on Wednesday. 
She had been present as a representative of the Lebanese state earlier in the day when European legal experts questioned the trio about allegations of corruption, embezzlement, money laundering, and tax evasion. As a result of this complaint, their assets and bank accounts were frozen and they were all put under arrest.
It was also reported by al Hadath news interactive in February that the U.S. Treasury has accused Central Bank Governor Riad Salameh of having links with Hezbollah, according to unknown sources.
The sources added that Washington is "one step away" from imposing sanctions on Salameh after discovering a connection between Hezbollah's financiers and the Central Bank.
However, American diplomatic sources told al-Jadeed TV, the U.S. won't give much weight to the "rumors spread by some people with the aim of fueling the economic crisis in Lebanon."
Conclusion, In recent days, prior to Salameh's interrogation, the lira plunged precipitously, exceeding 100,000 lira to $1. The constant devaluation of the currency has deepened Lebanon's misery as many companies have started pricing in dollars as the value of the pound continues to decline. As things continue to deteriorate, the people have few to no options left. Accountability is a necessary step towards bettering the situation. 
Dana Hourany is a multimedia journalist with @NOW_leb. She is on Instagram @danahourany and Twitter @danahourany.