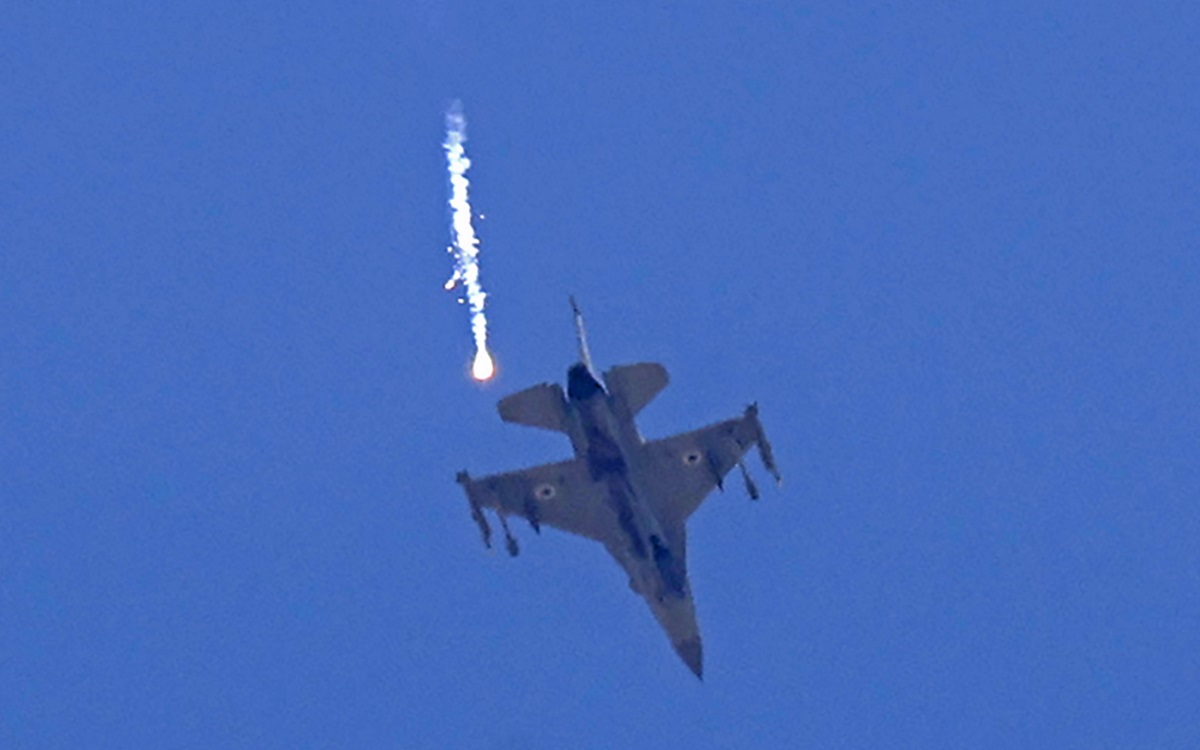 In this file photo taken on May 14, 2021 an Israeli F-16 fighter jet releases flare near Sderot, in southern Israel on the border with the Hamas-controlled Gaza Strip. Israel's military said its air defences fired at a drone that had crossed into its airspace from Lebanon on Friday, the second such incident in as many days. Israeli fighter jets also flew low over Beirut, witnesses said. Photo: Jack Guez, AFP.
On Friday evening, Beirutis took to Twitter and Instagram to seek an explanation for the loud boom they suddenly heard. There could have been two explanations: an Israeli fighter jet "sending a message to Hezbollah" or another blast like August 4, 2020 that killed hundreds and wounded thousands. 
It took less than two minutes to come up with the explanation by putting together a news puzzle: Israeli jets passed over Mount Lebanon in response to an announcement by Hezbollah that they had "successfully" flown a drone into Israeli territory that same morning. In fact, Reuters said, the device managed to scramble some fighter jets and triggered the Iron Dome air defense system before returning to Lebanon.

Hezbollah and Iranian media praised the achievement of the drone making it back home safe. Great victory!

Israeli media used terrorism language to frame the entire incident. "Hezbollah claimed responsibility". The IAF retaliated with jets flying at low altitudes to "send a message to Hezbollah". 
But you know who doesn't feel safe and who isn't safe in this whole story? The Lebanese people, many of whom don't support Hezbollah and would rather see it gone together with the rest of the clique that has robbed the country's coffers for the past decades. 
View this post on Instagram
If one distant reader may think that this is routine for us in Lebanon after so many jets flying at low altitude over Mount Lebanon, it's not. And it shouldn't be. 
For thousands of people who lived through the Beirut blast on August 4, 2020, the sonic boom of the Israeli jets triggered a trauma they had no time and resources to deal with.

Beirut doesn't have sirens to sound when a foreign jet violates Lebanese airspace so that the population is warned. Sirens work on electricity, and we've got none, you see. There is no one there to warn us when the big boys are flexing their muscles, showing off their military jets. 
So, when you guys decide to "send a message to Hezbollah", remember that its leaders are deaf to your low altitude flights. Civilians are not. And no, they are not shields for Hezbollah.

What's more, it's very clear that you've got other ways to do things, including sending a commando to raid weapons facilities inside Lebanon.
Meanwhile, during a snowstorm:
Hezbollah on ice ? ? ❄️ ☃️
You're welcome pic.twitter.com/BEZCCY4JiW

— Jean-Marc Mojon (@mojobeirut) February 16, 2022
Follow the money
Banks shrinking:  Once the economy's crown jewel, Lebanon's banks are shutting branches and laying off employees in droves, resizing to the bleak reality of a crisis they are widely blamed for, writes AFP.

On the run: The State Security, one of Lebanon's security branches that reports directly to the Presidency, sent officers to central bank government Riad Salameh's office in Beirut as well as to his private homes in Rabieh, North of Beirut, and in Safra, a coastal town south of Byblos. He was nowhere to be found and rumors about his real location are circulating on social media.

However, for someone with some solid financial training like our contributor Samara Azzi, the case against Riad Salameh seems exaggerated, even if it may be perfectly legit. While she says Salameh most probably had a huge role to play in the way the government borrowed money from commercial banks and other investors to make up for its deficit after 2016, he is merely the accountant, while the godfathers of the entire scheme may be putting up a show to get away with it. Read her pieces here and here. 
Depositors protest:
View this post on Instagram
Elections

There will be a poll: President Michel Aoun insisted on Friday that the parliamentary elections will be held on time on May 15. He signed a decree referring to the Parliament a draft law that allocates funds for the polls in the 2022 state budget.

Campaigns launched: The Lebanese National Bloc officially announced on Saturday, February 19, the candidates for the May general elections: former L'Orient Le Jour director Michel Helou in Baabda, engineer Wajdi Tabet in Kesserwan, Gestal Semaan in Zgharta and Camille Morani in Tripoli.  The party's Secretary-General Pierre Issa said that the party is "in a constant battle against the alliance of militia and mafia", and in "the continuous struggle to uncover the truth on who is responsible for blowing up the port and destroying Beirut." 

Kataeb also launched its electoral campaign officially on Sunday at Forum de Beyrouth. 
Lebanese Forces Party Chief, Samir Geagea, announced from Maarab that thee LF candidate for the Maronite seat in Baabda shall be MP Pierre Bou Assi. Bou Assi was the protagonist of a controversial moment when he showed up carrying a pistol at the Lebanese Parliament last October, after the armed clashes between LF supporters and Hezbollah and Amal gunmen in Tayyouneh.
Justice
One more lawsuit: The lawyers of MPs Ali Hassan Khalil and Ghazi Zoaiter on Monday filed a new lawsuit before the Court of Cassation against the head of the court's First Chamber, Judge Naji Eid, the National News Agency said

Noone even bothers anymore to count those lawsuits blocking the investigation into the Beirut blast. It has become clear that the two MPs are not out to prove their innocence, but to stop any type of investigation from taking place. 
No one wants to go down first. 
Judicial independence: Or something of the sort is what the Lebanese Parliament discussed on Monday. In fact, it was more about putting an end to the executive appointing all the members in the Higher Magistrates Council and allowing magistrates to elect the members. The proposal put together by several civil society organizations and amended heavily by MPs has been sent back to the committees, L'Orient le Jour writes. Hence, nothing really happened. 
Lebanon+
Podcasts: Medea and Mouin speak on Sarde after Dinner with communications specialist Ralph Baydoun. It's a hearty conversation about disinformation campaigns, control of public opinion, what has changed and what hasn't changed in the way masses of supporters shape their opinions today. 

The Beirut Banyan will air two back-to-back episodes this week.

Back-to-back episodes next week.

Including discussions with @HindiToufic about his political career, regional implications on local issues & upcoming elections, & @Iyadboustany about the debate surrounding federalism, various modes of governance & local identities.

Stay tuned… pic.twitter.com/mhp2ezrkZc

— The Beirut Banyan (@thebeirutbanyan) February 21, 2022
And last but not least, we launched a podcast last week, with Dana Hourany talking about how she ended up doing a story about the racism that boosts Lebanon's kafala system in employing domestic migrant workers. 
Till next Monday, follow NOW Lebanon on Twitter, Instagram, Facebook, and LinkedIn, and subscribe to our weekly newsletter.