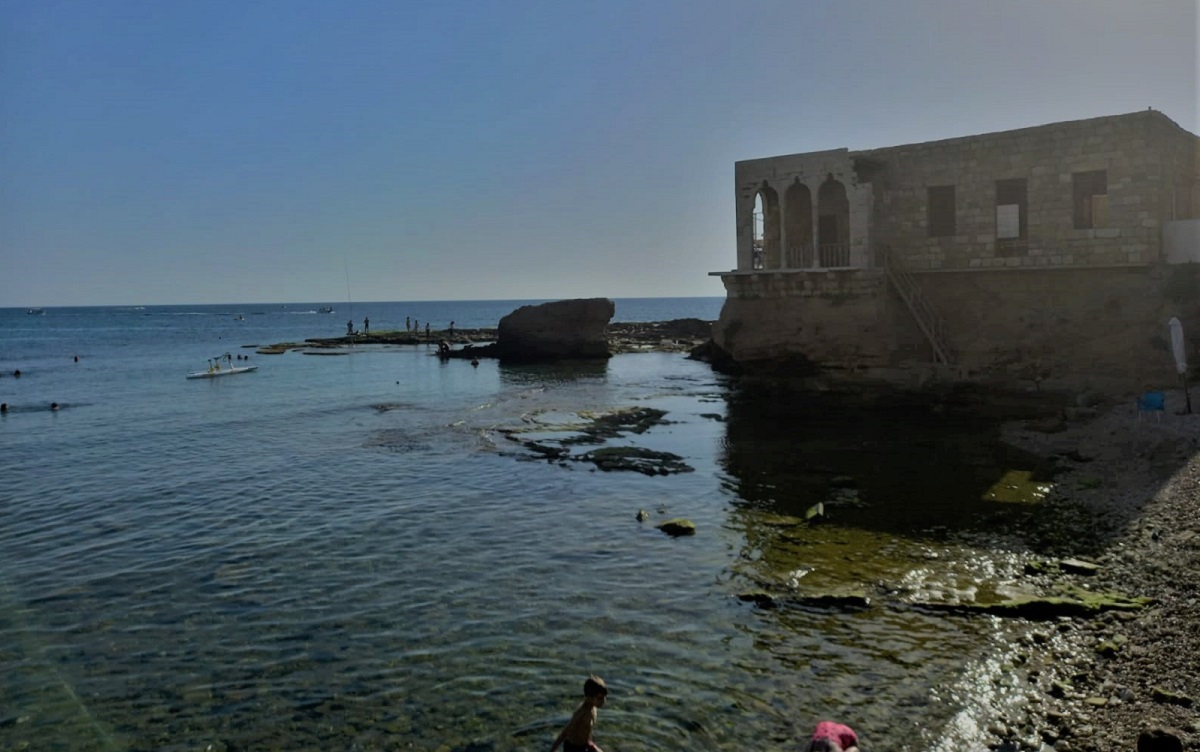 Batroun beach. Photo: NOW.
"Tfeh aleik!"
It's not life-threatening. It means "shame on you" or "you're disgusting" in Lebanese slang. 
But when it is directed at a high-profile politician who is blacklisted by the United States for allegedly taking bribes from political allies, and is also constantly surrounded by a group of bodyguards, and you're "just" a 30-year-old woman on a Saturday afternoon walk on the seaside in Batroun, you're going to get roughed up. 
Because in Lebanon any politician with a group of bodyguards, paid for by public funds, can do whatever they want. For decades, they have given the 'pollice verso' over those who they consider plebeians.  
Because you're just a woman, your father will be threatened and pressured to apologize on your behalf like a "good citizen". Not surprising in a state where women are second-class citizens who cannot even pass said citizenship on to their own children. 
Also, a state where a major political party like the Free Patriotic Movement ran for elections a few years ago with the "feminist" slogan of "Soit belle et vote!" (French for "Be beautiful and vote!")
HELLO. This is your sort-of angry weekly round-up from NOW. It's not everything you need to know, but you may find some reads and listens that will help you make sense of what the flying baseball cap is going on in Lebanon. 
No apologies: Yasmine Masri called out Free Patriotic Movement leader and presidential son-in-law Gebran Bassil as he left a restaurant with a group of bodyguards in his native town of Batroun, north of Beirut, on Saturday afternoon. 
"Tfeh aleik" she shouted at him. 
View this post on Instagram
As a result, she got roughed up and pushed to the ground by one of his bodyguards.  Adding insult to injury, her father was forced to visit Bassil on Monday and humbly apologize. 
Hear her story in a conversation with Ronnie Chatah on The Beirut Banyan.
Thank you pic.twitter.com/0JD7WwKBHj

— Yasmine Masri (@YasmineMasri7) June 15, 2021
More threats: In the aftermath, Bassil told Free Patriotic Movement supporters in a statement that 'the era of leaving swear words unanswered is over' and they should respond accordingly. 
If they're not convinced, coerce: The use of social networks, family relations and community pressure to force dissent voices into compliance or exile is nothing new, says Luna Safwan. It is reminiscent of the way Italian Sicilian Mafia operates to keep its grip on the community and keep the money flowing, she writes. 
Safwan, Mariam Seif and other journalists have been experiencing harassment and threats on social media, including  from distant family members and community, for criticizing Hezbollah's grip on its constituency. 
Lebanon's ruins: This is probably one of the most important pieces written this week and, in case you haven't already seen it, do read it. Michael Young, formerly NOW opinion editor and currently editor of Diwan and senior editor at the Malcolm H. Kerr Carnegie Middle East Center, explains why Hezbollah is the only faction that lands on its feet if Lebanon's political system crumbles completely. 
"A new Lebanon is emerging on the debris of the old, and Hezbollah wants to fashion the country in its own image. Three words are notably absent today: "International Monetary Fund." Lebanon will not soon resort to the IMF's conditions and reform its public finances to secure a bailout. Hezbollah does not want Lebanon to submit to an institution in which Western states have a major say. In this the party will have the backing of a contemptible Lebanese political class that refuses to make any concessions that diminish its power," he argues. 
Hungry soldiers: The economic meltdown is putting unprecedented pressure on the U.S.-backed army's operational abilities, wiping out soldiers' salaries and wrecking morale, Zeina Karam and Bassem Mroue write for the Associated Press a day before a UN-backed donor conference is set to raise aid funds for the LAF. 
All what the "international community" does in crisis countries is military and humanitarian support.

How about supporting people's legitimate calls for dignity and peaceful transition of power for a change?

Lebanon needs real change, not more aid.

— Jad Chaaban جاد شعبان (@JadChaaban) June 17, 2021
A painful nothing: Almost ten months since the Beirut blast, scores of NGOs and victims' families wrote a letter to the United Nations to request an international investigation or a fact-finding mission to uncover the truth. 
NOW's Nicholas Frakes met with Human Rights Watch researcher Aya Majzoub to trace everything that is wrong with the local investigation into the August 4 explosion. 
A possible silver lining: Lebanese civil society initially failed in addressing what the country lost when it surrendered its independence to regional war, Ronnie Chatah writes in his weekly column for NOW. "But they are the one group capable of bridging the generational divide. Citizens who spent years thinking, writing and lecturing on secularism, sectarianism, statecraft, and reform."
A booster shot: Yes, this week we have not one, but two. Dana Hourany spoke to stand-up comedian Shaden Fakih, known as Shaden Esperanza, about her "Long journey to laughter". A truly inspiring story. 
Another booster shot: Sultan Jalabi, winner of the Samir Kassir Award for investigative journalism, tells Nicholas Frakes about the struggle to deal with seeing and living the pain of war for a decade and reporting on it.
Lebanon+: More doom and gloom as this week's episode of Sarde After Dinner with Medea Azouri and Mouin Jaber hosts AUB Professor of Atmospheric Chemistry Najat Saliba: toxic air, extreme pollution, and trash. 
In this week's episode of Kabse, the first and only podcast dedicated to Tripoli, you're invited to a cycling tour with Natheer Halawani, who has been working on turning Tripoli into a cycling-friendly city since 2010.
Diplomacy and conflict resolution are still male-dominated fields, Middle East Institute's Rada Slim told The Diplowomen Podcast, released last week by the American University of Beirut. The next episode of the podcast will feature Karma Ekmekji talking to Libyan peace and human rights activist Hajer Sharief.
Also, Twitter introduced feminine Arabic. It can now ask you "Kifik, habibteh" instead of the generic "kifak, habibi". Just kidding, here's the thread from their Marketing MENA office.
Say hello to Arabic (Feminine), our new display language available now on https://t.co/77LYEyEEeb#FeminineArabicpic.twitter.com/fjbDpLW9AL

— Twitter Marketing MENA (@TwitterMktgMENA) June 15, 2021
Until next week, stay safe, and please  wear a mask, even if you're vaccinated.