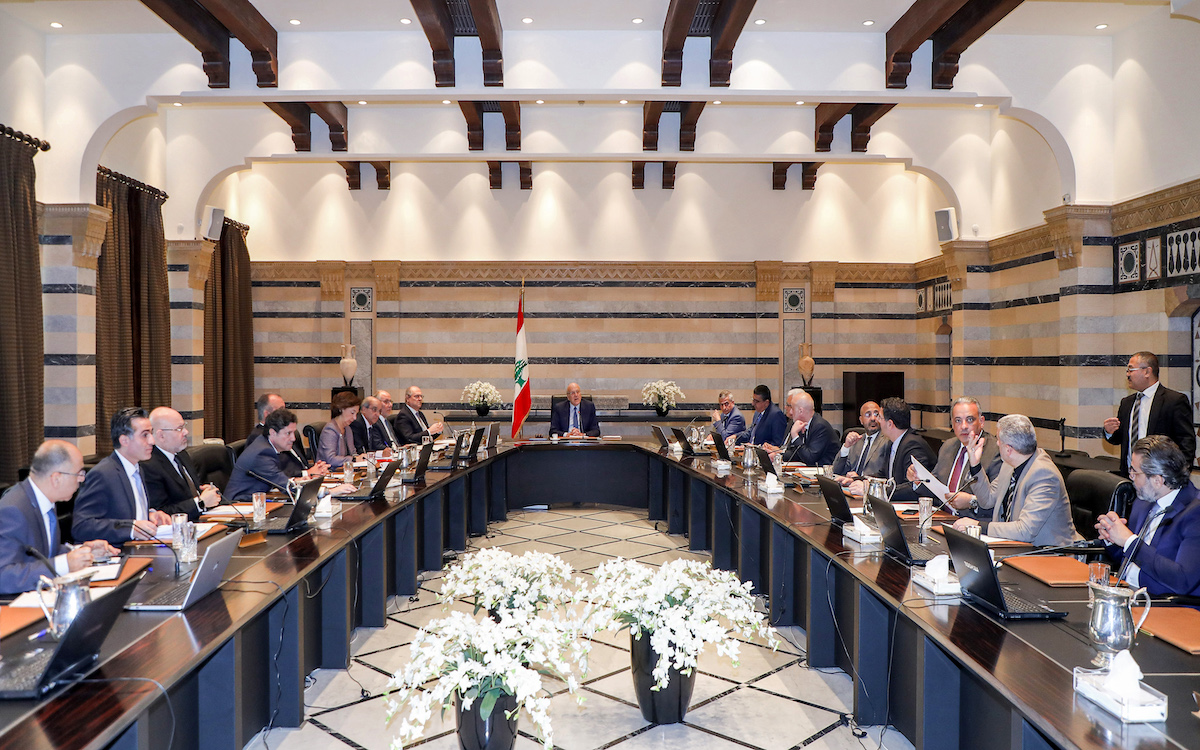 A handout picture provided by the Lebanese photo agency Dalati and Nohra shows prime minister Najib Mikati (C) chairing a cabinet meeting at the government palace in Lebanon's capital Beirut on December 5, 2022. Photo: Dalati and Nohra, AFP
In light of the power vacuum and the lack of consensus over a president, Lebanon's caretaker cabinet met on Wednesday to discuss several crucial issues.
Although the topics of addressing the economic crisis and producing state electricity were central to the cabinet's meeting, things did not go as planned.
Caretaker Minister of Energy and Water Walid Fayad and members of the Free Patriotic Movement (FPM) declined to attend, citing the constitutional barrier of convening a session in the absence of an elected president.
Why this matters Lebanon has been without a president since October 2022, leaving the current government limited in its authority.
State paralysis resulted from a disagreement between competing political parties over whether a caretaker government could be formed in the absence of a president. As long as the bitterly divided parliament cannot agree on a candidate, the state will remain paralyzed and a presidential vacancy will likely persist.
Meanwhile, a number of key issues, including water scarcity, electricity shortages, and the financial crisis, that have been plaguing Lebanese society since 2019, continue to worsen.
In a free-falling market, the lira has almost reached 50,000 lira to a dollar, after being at 1,500 lira when President Michel Aoun took office. 
Prime Minister Najib Mikati has insisted that a cabinet session is needed to install emergency reforms to ease the country's electric shortages. In Mikati's words, the goal was to provide four to eight hours of state electricity, once a plan was set in motion.
However, in its current form, the cabinet lacks the power and the will to carry out the required solutions. It is also paralyzed by disagreements that slow down the decision-making process.
The FPM, for instance, has its own plans regarding electricity. According to "the strong bloc," buying fuel through itinerant decrees is an available and viable option that protects citizens' interests and prevents consensual and constitutional violations that would exacerbate the situation and further widen the gap between the people and the State. 
Yes, but citizens have already lost trust in the government and are primarily concerned about survival. It seems unlikely that a president will be elected anytime soon since ministers are involved in petty disagreements and cannot settle their differences.
The political deadlock is also giving rise to sectarian tensions. The Maronite bishops have expressed their dissatisfaction with the failure to elect a president and in a recent statement spoke of "a rejected plan to cause an absence in the Maronite representation of the State". 
In conclusion, the rejection of several political forces for dialogue, followed by side dialogues and empty promises, indicate the same result that Lebanese have come to expect; a paralyzed state that lacks reforms and improvement opportunities. 
Dana Hourany is a multimedia journalist with @NOW_leb. She is on Instagram @danahourany and Twitter @danahourany.