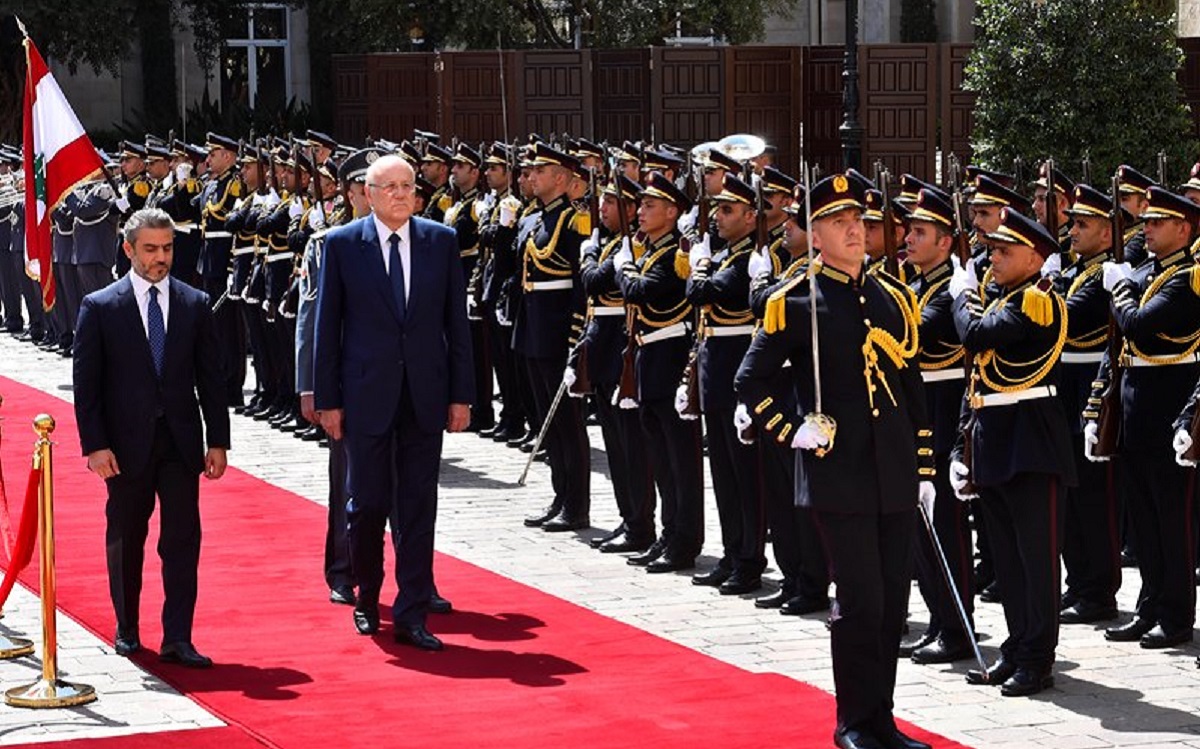 PM Najib Mikati arriving at the Serail on Monday, September 13. Photo: NNA.
There was white smoke over Baabda last week as Prime Minister-designate Najib Mikati and President Michel Aoun announced a new government. One year and one month and three PM designates later. 
People seemed to have been sleeping better over the weekend, as the September breeze makes the AC less necessary and open windows are enough to keep you cool at night. Some Lebanese have even given up sleeping on their balconies. 
Obviously, the Lebanese pound has grown a little bit, smelling the sweet scent of sudden relative stability.  BUT.
Najib Mikati himself said it: 
""The country requires exceptional measures. We all have to sacrifice."
Welcome to NOW's week in review. I'm Ana Maria and I'll be walking you through what happened in the past week, and what it may mean for all of us. I may also give you a hint or two on what you may want to read and listen to in order  to make more sense of the daily news and dive deeper into the Lebanese labyrinth.
The billion: On Monday we woke up to unexpected good news – Lebanon is to get $1.13 billion from the International Monetary Fund, under the Special Drawing Rights.  
Outgoing Finance Minister Ghazi Wazni tweeted, hours before the new cabinet was set to convene for the first time in Baabda and take the classic family picture (because no one can ditch an important tradition, right?).
Anyway: At the beginning of the month, the IMF awarded the SDR for 2021 worth $860 million, which Lebanon sold to Qatar for cash. The money was set to reach the central bank of Lebanon on September 16 (happy birthday to me!). However, this morning we found out that there was an extra $275 billion worth of SDR, for the year 2009, which was also sold to Qatar and would also reach Lebanon's coffers in three days. Why Qatar? Well, because they wanted to buy and because Doha can actually pay in dollars. 
The Iranian fuel: It's coming to Lebanon, Hezbollah chief Hassan Nasrallah announced in a speech on Monday night. But first, it had to take a detour through Syria and it would reach Baalbeck by tanker on Thursday. Then Hezbollah will donate it to hospitals, schools and public institutions that badly need it. But it had to go through Syria because Hezbollah could not possibly put Lebanon at risk of sanctions. Oh, that fine, almost invisible line between ideology and political pragmatism!
Karim Chehayeb's  Twitter thread has it all: 
#Hezbollah Secretary-General Hassan Nasrallah said the #Iran-ian tanker carrying diesel fuel has reached the #Syria-n port city of Baniyas and will be transported to #Lebanon to be stored in the Bekaa on Thursday.

— Kareem Chehayeb | كريم شهيب (@chehayebk) September 13, 2021
White smoke over Baabda
Not too great expectations: Nicholas Frakes spoke to analysts and political scientists and tried to get to the bottom of a pressing question: why the international community agreed to a government formed by the same old political factions. Likely it's the same old preference for stability over real reform; choosing the short-term over the long-term process. 
Some old faces: Critics are doubtful that the new finance minister Youssef Khalil, a veteran of the central bank, is the best man to relaunch stalled talks with the International Monetary Fund to rescue the economy.
Some new: The new health minister Firass Abiad, the head of Rafik Hariri Hospital, Lebanon's largest public hospital. 
American University of Beirut professor Nasser Yassin – the author of the quite famous Fattoush research – is to lead… the environment ministry. 
Megaphone has the names who are to handle the key portfolios: 
View this post on Instagram
Some more famous than others: The new Lebanese government spokesman is none other than the host of the country's Arabic version of "Who wants to be a millionaire?" show. A bit cynical, even if probably unintentional. 
One woman: UN Women expressed concern at the presence of only one woman in the Lebanese government. While it is concerning, it's hardly a novelty. Lebanese political parties grow boys for political roles. Women, even highly educated and competent, can only be leaders in civil society. First you have to change things at the grassroots, Joumana Haddad, one of the women who attempted at breaking Lebanon's glass ceiling and failed told NOW right when we launched.  
The incumbent: Gossip has it that Zeina Akar went to the Foreign Ministry on Monday to read her e-mail, but the ministry's secretary general – the guy who, in the governments following the French model, holds more power than the ministers themselves because he decides over money – decided she was no longer a minister. Despite the fact that Akar was scheduled to hand over the portfolio on Tuesday. Therefore, one of Akar's security officers put a hole in a wall.
The challenges: 
Stem the collapse, Carnegie Middle East Center director Maha Yahya told AFP. 

Come up with a safety net for the most vulnerable and lift subsidies, she said. 

Relaunch talks with the International Monetary Fund to unlock billions of dollars in financial aid.

Begin reforms and push for a forensic audit of the country's central bank. Without them, no financial assistance will be disbursed.
Easier said than done: In 2020, the cabinet announced a rescue roadmap that included a reform of the electricity sector, restructuring the banking sector and lifting the official dollar peg. But obviously, the whole plan stopped when the cabinet was supposed to find consensus and get all the ministers and their political factions to agree on anything. 
The central bank audit is also in limbo and there doesn't seem to be any chance to go on as BDL claims banking secrecy and does not release the necessary documents. 
The dollar effect: If on Friday at noon, when the rumors that a cabinet was to be formed led to a slight appreciation of the Lebanese pound from 19,000 LBP to the dollar to 17,000 LBP, immediately after the announcement it started trading at LBP15,000 to the dollar on the market. 
Sell while you can: Lines started to form in front of exchange offices on Friday, as many exchange offices closed. Many sought to score a higher amount of local currency before the dollar dropped even more. 
"My son sends me money from abroad and I was keeping this cash money for emergencies but I now regret not exchanging them at a higher rate," Sahar Farroukh, 50, told NOW's Dana Hourany. 
To many, the cabinet formation came as a surprise after 13 months of hopeless negotiations between political factions. The political instability had caused the Lebanese pound to plunge to historic lows. 
"I've been saving up for a while, thinking the rate would keep going up. I really wasn't expecting a government formation, I'm so shocked I don't know what to do," Rima Kalkas, 45, stated. 
Another dollar effect: To the relief of many in Lebanon, the lower exchange rate allowed the BDL to open credit line for – good Lord! – not one, not two, but seven fuel tankers. At the rate of 8,000LBP per dollar.  It would last till September 25. With or without rationing? We don't know. 
Speaking of fuel and power: Lebanon, Syria, Jordan and Egypt reached a deal on September 8: Lebanon will be able to import electricity from Jordan and natural gas from Egypt through Syria. It will just take a few months to fix the Syrian grid and the pipeline, which have both been damaged during the war. 
The deal was backed by Washington and to some it brought back grim memories of Lebanon under the occupation. 
There is another question that may need an answer: what did Syria ask for in return? 
A difficult choice for the US: If Washington wants any real results in Beirut, it has to calculate its stances better and come through with sanctions, not only help with energy deals, analysts say. But Lebanon is not really a priority, they admit. Nicholas Frakes spoke to Middle East Institute's Firas Maksad and Lebanese American University's Imad Salamey to explain what the US is most likely to do in Lebanon and why it's not enough. 
Makram Rabah also has a comprehensive take on why the US will not succeed in bringing back Syria's influence over Lebanon.
Syrians in Lebanon: Due to public pressure the Lebanese General Security decided not to deport six Syrians who were arrested two weeks ago. 
On Sunday, however, the alleged leader of a group of Syrian rebels affiliated with the-Nusra Front who sequestrated a group of Greek Orthodox nuns in Maaloula for three months in 2013-2014, was arrested by the Lebanese Military Intelligence in Majdal Anjar, Bekaa Valley, a village known for its Salafist community.
The crisis goes on: As Lebanon struggles with lack of medicine, including for cancer patients, Lebanese living abroad try to save lives and provide the treatments. But they face the challenge of procuring prescription medication from the black market. Dana Hourany reported.
Lebanon +: 
Social media was much preoccupied with the new government and what it can do and cannot do. Unlike the case of previous cabinets, ministers need to face the public this time around and I'm afraid they will have to talk to the press more than any of their predecessors. And they will have to understand that transparency means a lot. I'm personally waiting for Qordahi's first press conference. 
Meanwhile, some of the podcasts are back from summer holidays. Sarde after Dinner aired on Sunday night. No spoilers, but Medea and Mouin talk about… everything and tweet back to Walid Joumblatt's embezzlement accusation to the #civilsociety. 
Ronnie Chatah spoke energy with Laury Haytyan on The Beirut Banyan podcast.
Luna Safwan had as a guest on Beyond Politics Diana Moukaled, journalist, documentary filmmaker and founder of Daraj magazine. They spoke about misinformation. 
Until next time, hang in there. Let's see what they can do.