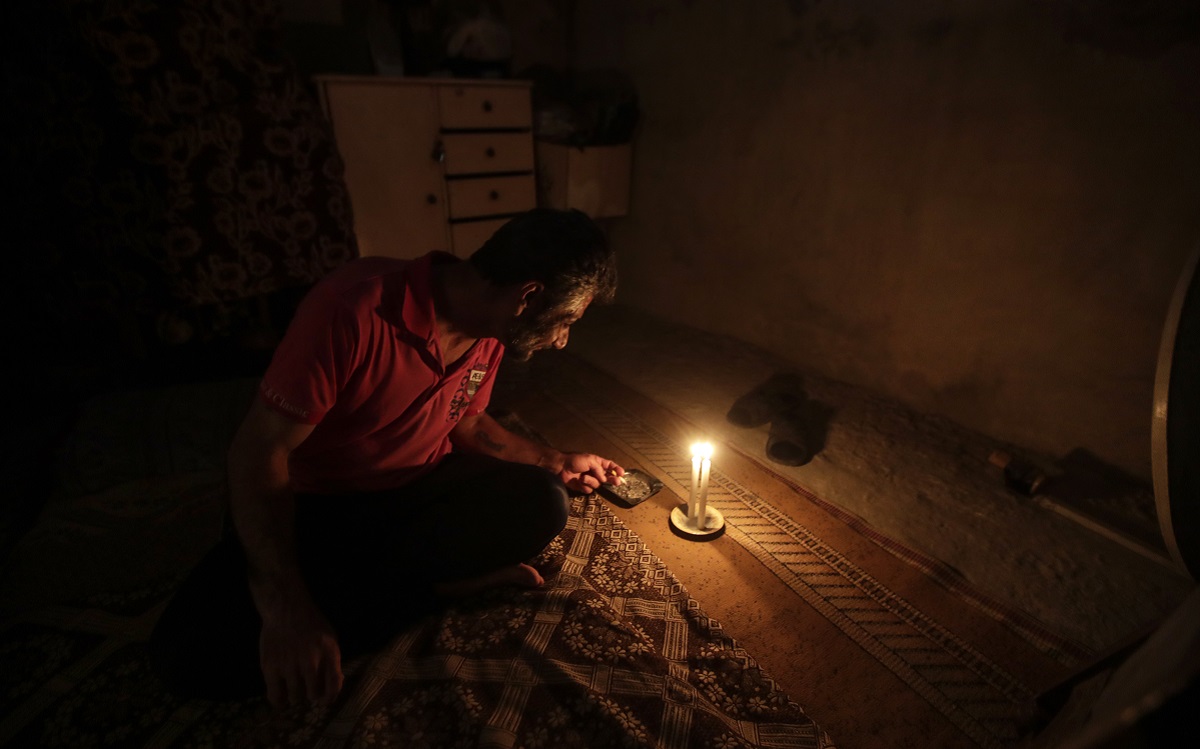 A Lebanese man smokes a cigarette by candlelight in the capital Beirut on July 10, 2021, amid severe power outages. Photo: Anwar Amro, AFP.
"My heart breaks for what the people of Lebanon are going through right now."
Chris Murphy, 48, Democratic senator from Connecticut who organized a trip to Lebanon on September 1, stood behind the podium marked with crest of the United States of America on the Lebanese air force base in Beirut. Next to him were senators Dick Blumenthal of Connecticut, Chris Van Hollen of Maryland and John Ossof of Georgia.
"As we drove through the city, we witnessed lines wrapping around blocks waiting for fuel. When we came into the city last night, we saw how little electricity is being delivered to the people of this city and this country," Murphy told the press. 
The senator also promised that when the four of them returned to Washington, they would go before the Senate and push for additional aid to Lebanon to help the country in its time of need.
But geopolitics is less sentimental. The US foreign policy to Lebanon has largely been tied to bigger Middle Eastern files, such as the Arab Israeli conflict and then the Iranian nuclear negotiations. Since the beginning of the Lebanese crisis,  the US has been boosting the Lebanese Army, leaving political affairs in France's hands. 
With Iran's push to export fuel despite sanctions to boost Hezbollah's image at home and US Ambassador Dorothy Shea's efforts to make a difficult deal with Jordan, Egypt and Syria work despite pushing the limits of US sanctions on Damascus, the fuel crisis seems a case in study of the hard choices Washington has to make beyond light military and humanitarian aid. 
On the evening of September 7, President Biden agreed to give the Lebanese army $47 million in extra aid. So far, other aid packages have been announced either by the White House or the US Congress outside of the $100 million pledge that Biden made at the August 4 conference with French President Macron. 
Firas Maksad, director of strategic outreach at the Middle East Institute, believes that US President Joe Biden will continue to focus on supporting Lebanon's security forces and giving humanitarian aid through "credible third parties," such as NGOs, in order to try and address the growing humanitarian crisis in the country.

But politically, nothing is clear yet.  Analysts worry that with the region at a  crossroads after the US disengaging from Afghanistan, US foreign policy in Lebanon is also at a crossroads, leaving room for Iran and Syria to step back in.
Easing off the gas pedal
In terms of US foreign policy, Lebanon is not very high up on the list outside of countering Iranian and Hezbollah influence in the country.
Since 2010, the US has given Lebanon over $4 billion in aid with a majority supporting the Lebanese armed forces and civil society organizations through USAID. 
For 2021, the total aid provided to Lebanon is expected to surpass $372 million, a fraction compared to the billions of dollars of aid given to its neighbor Israel, with the aid given focusing on maintaining stability in Lebanon. 
However, more recently there have been attempts to pressure the US government to start paying more attention to Lebanon given its current economic crisis, the COVID-19 pandemic, and the August 4 Beirut port explosion.
"There has been some kind of organized advocacy efforts in DC particularly towards Secretary Blinken and the Hill," Maksad told NOW. "So, due to these reasons, we saw a more advanced American position, particularly the tripartite meeting that brought together Tony Blinken and French Foreign Minister Le Drian and Prince Farhan of Saudi Arabia."
According to Maksad, who says he was present at this conference between the US, France and Saudi Arabia, there was little interest by the Saudis to invest large sums of money in Lebanon, leaving it up to France and the US. Then, the US let France take the lead.
France and US' standards for what kind of government could lead Lebanon towards reform have also been lowered as time passed and the pressure on the Lebanese population facing dramatic penury and poverty increased.

"What that translates to is that they are in favor of forming a "capable" government as soon as that's possible and they've continued to push in that direction," Maksad said. "I think that's a step back from a technocratic government. A realization that the political forces that are in Lebanon are not going to allow for that. But really it is prioritizing stability."
A power issue
As Iran announced that it was sending fuel ships to Lebanon, the US urged Lebanon not to take the fuel and put forward its own alternative to disway the Lebanese government from accepting it.
"We heard also, very troublingly, about the potential for malign Iranian influence, particularly in providing fuel," Senator Blumenthal told the press. "There's no reason for Lebanon to depend on Iran. There are plenty of other sources of fuel. Without the potential of severely damaging consequences of reliance on Iranian oil."
But it is not an issue of finding fuel to buy, but, rather, being able to afford paying for the fuel, Lebanese American University international relations professor Imad Salamey told NOW.
The alternative put forward by the US was to import electricity from Jordan to Lebanon through Syria, a deal the Syrian government had repeatedly refused in the past. However, on September 4, when Lebanon's caretaker deputy prime minister Zeina Akar headed a Lebanese delegation and traveled to Damascus to negotiate with the Syrian government, the Syrian government agreed to the deal. 
The details of the timeline of this US-backed plan were discussed during a meeting headed by Jordan on September 8 in Amman, with Lebanese and Syrian decision-makers and experts.
Egypt send natural gas to Jordan to produce extra electricity that would then go through Syria to Lebanon. Lebanon would pay for it with a loan from the World Bank. Also, Egypt's minister for oil and mines Tarek al-Molla said that his country would "be ready to transfer gas (to Lebanon) as soon as possible" via the transnational Arab Gas Pipeline.
Easier said than done. The Syrian and the Lebanese grids need heavy upgrading. They both date since the times of the cold war and the Syrian side was damaged during the Syrian civil war. Syria has already signed a memorandum of understanding with Iran in 2019 to upgrade its electricity network. 
Washington was, however, inclined to make compromises in order to keep Iran at bay. The gas and electricity going through Syria, meant that the US would make an exception from the sanctions imposed on Damascus through the Caesar Act.

"Speaking personally, my hope is that we could find a way to get this done that would not involve any US sanctions," Senator Murphy stated on September 1 in Beirut. "But that's only one of many ways in which we are working hard to try to find a solution to the fuel crisis."
Despite the deal through Syria seeming like a potential temporary and partial solution for Lebanon's decades-long electricity crisis, Salamey says that the US may be making a mistake by allowing this to happen. In the US determination to avoid Iran supplying Lebanon with fuel, Washington has provided Syria with the opportunity to use Lebanon's electricity problem to get rid of some of the sanctions.
"It doesn't change the picture in favor of the United States if that's what the ambassador was thinking. It only defeats the US interests in the region and brings it into another course of defeat after Afghanistan."
But Lebanon is more complicated than just one regional deal over electricity and natural gas.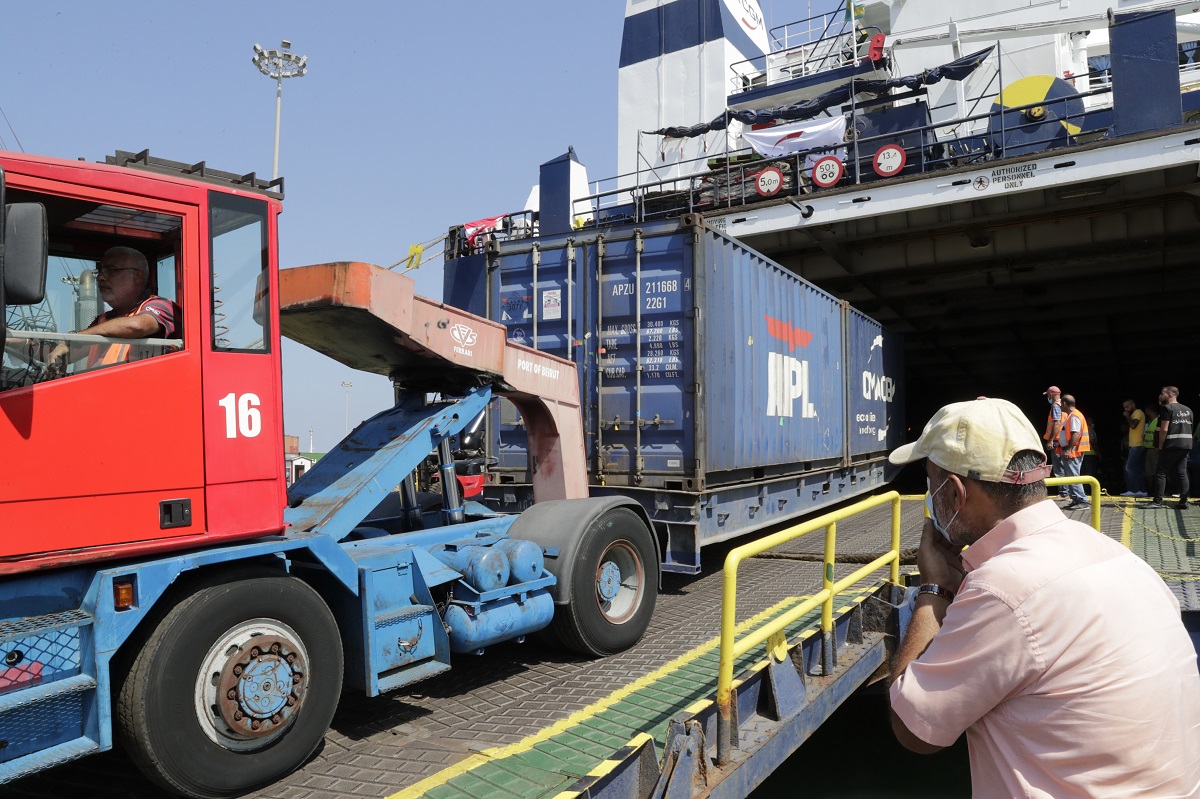 Real sanctions
For years the US has only sanctioned members of Hezbollah or businessmen with links to Hezbollah, until the Trump administration sanctioned Free Patriotic Movement leader and President Aoun's son-in-law Gebran Bassil under the Magnitsky Act. This time over accusations of corruption.
After the Beirut Blast devastated the Lebanese capital, French President Emmanuel Macron stated that his country would come to Lebanon's aid as long as a technocratic government was formed and reforms instituted within a specific timeframe, threatening sanctions against anyone who holds up the formation process
At the end of April, French Foreign Minister Jean Yves LeDrian announced that Paris was imposing entry restrictions on a number of Lebanese officials, without naming any of them.   
The EU announced in July that they were compiling a list of names to sanctions if a government was not formed by the anniversary of the explosion.
Those sanctions have not yet been issued. 
Murphy said during the conference that the US could possibly sanction multiple people in the Lebanese government for corruption.
"We heard loud and clear while we were here that corruption is a way of life in the Lebanese government. That's unacceptable," he stated.
"There was initially a list that had been drafted by the Trump administration on its way out that was focused on corruption and through utilizing the Magnitsky Act. There is still the chance that the administration may choose to move on a couple of those names but if we do have a breakthrough in government, then I think it will make it a bit less likely."
Firas Maksad, Middle East Institute
"And every single official in the Lebanese government, from the highest official to the lowest ranking official, needs to know that they are potentially subject to US sanctions if they continue to be engaged in corrupt activities," he added. 
The senators said they would be in touch with the State Department upon their return to convey what they had learned during their trip, where they met all Lebanese officials. 
According to Maksad, the possibility of new sanctions from the US was real and tangible. Only a new government could potentially deter the US from implementing those sanctions for the time being at least.
"There was initially a list that had been drafted by the Trump administration on its way out that was focused on corruption and through utilizing the Magnitsky Act. There is still the chance that the administration may choose to move on a couple of those names but if we do have a breakthrough in government, then I think it will make it a bit less likely," he pointed out.
However, no capable government was formed in Beirut. Prime Minister-Designate Najib Mikati and President Michel Aoun both put out statements blaming the other for the lack of progress, deepening the country's political crisis.
Salamey believes that Washington needs to come through with real sanctions, the real sticks, in order to have any results in Lebanon. Otherwise, continuing to offer carrots to a bankrupt system is "naivety and wishful thinking".
Nicholas Frakes is a multimedia journalist with @NOW_leb. He tweets @nicfrakesjourno.