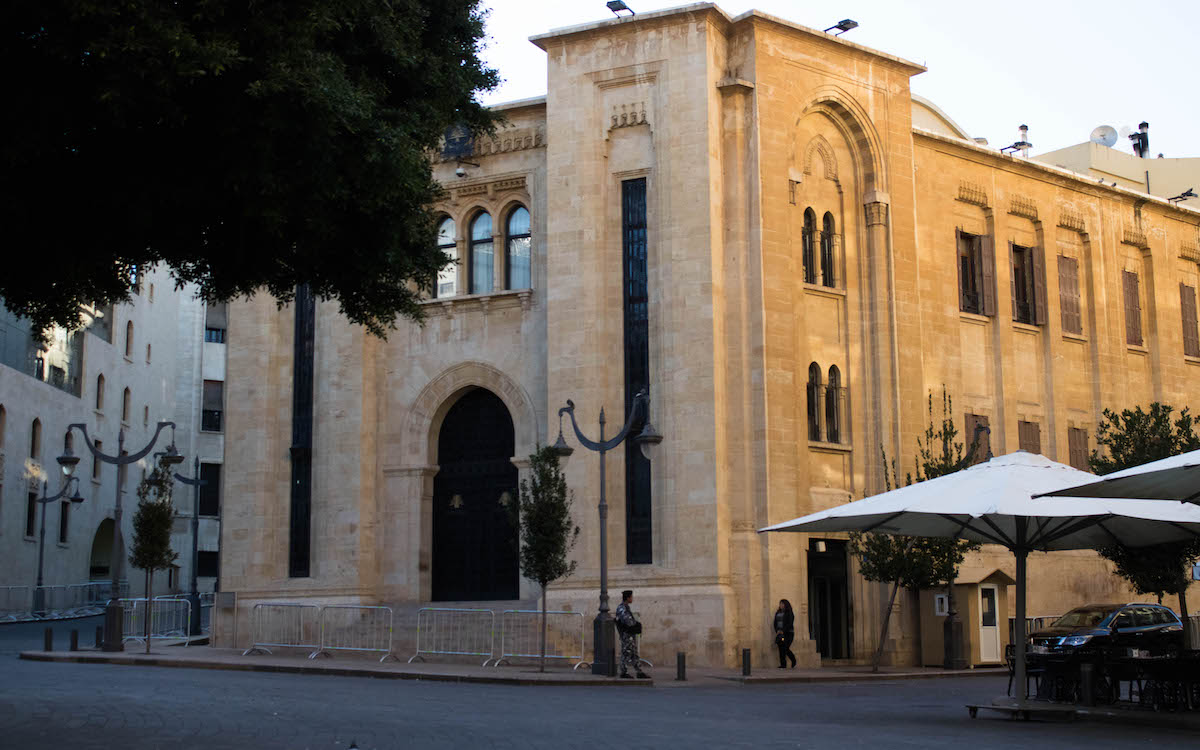 Lebanon's Parliament is still yet to elect a new president. Photo: Nicholas Frakes, NOW
During Parliament's seventh special electoral session, Lebanon's MPs, once again, failed to elect a president.
Why this matters: Lebanon has been without a president for 24 days now after Michel Aoun's tenure in office ended on October 31. On top of this, Lebanon, for the first time, also does not have a fully empowered government that can temporarily carry out the duties of the presidency until a new president is elected. Without any of this, Lebanon is unable to pass and implement any reforms.
The context: Lebanon is entering its fourth year of the worst economic crisis that the world has seen in 150 years and is in desperate need of significant economic and financial reforms in order to unlock billions of dollars in aid from the International Monetary Fund (IMF) and, potentially, the international community.
During these four years of crisis, inflation has skyrocketed, drastically raising the cost of basic goods and making them unaffordable for the vast majority of those residing in Lebanon. 

The crisis has also seen the value of the Lebanese Lira plummet to the dollar with it currently sitting at around 40,000 to $1. Prior to the crisis, the lira was pegged at 1,500 to $1.
How this seventh vote turned out: As with the six prior attempts at electing a president, the majority of votes cast were blank ballots. The actual candidate with the most votes was Michel Maowad who received 42 votes. Eight MPs have continued to submit the protest vote for "New Lebanon" while Issam Khalifa received six votes, Ziad Baroud received two votes and Badri Daher received one vote. There was one canceled vote.
The vote for Badri Daher is significant not because he actually stands a chance of being elected as president, but because of who he is. Daher served as the customs director at the time of the August 4 Beirut Port explosion and has been detained during the probe into the blast.
What comes next: After the end of the first round of voting, there was a lack of quorum, forcing the session to be ended and for Speaker of Parliament Nabih Berri to schedule a new special parliamentary session for next Thursday, December 1.
Due to the lack of consensus around a candidate, few actually expect MPs to finally elect a new president by the end of the year, much less in the next parliamentary session. Lebanon's opposition MPs are divided and

unable to agree

on a specific name. While some back Maowad, others choose to continue submitting protest votes or to cast their ballot for Kahlifa.

Hezbollah has so far refused to publicly back any specific candidate. This is due to the Iran-backed Shiite party needing to come to an understanding with Free Patriotic Movement and presidential hopeful Gebran Bassil first.

Bassil has refused to back Sleiman Frangieh, who is rumored to be Hezbollah's first choice for the presidency.

The Constitutional Council also announced that it was

annulling

Tripoli "change" MP Ramy Fringe's electoral victory and awarding it to the longtime Hezbollah-affiliated Faisal Karame.

While the Hezbollah bloc in Parliament is still short of a majority, this will give them a little more of an edge in Parliament going forward as they will require fewer members of the opposition to vote alongside them.
The consequences: The longer Parliament fails to elect a president and form a government, the worse Lebanon's economic crisis is going to get. This is because they are constitutionally unable to hold parliamentary sessions about anything other than electing a president once the process has started.
Nicholas Frakes is a multimedia journalist with @NOW_leb. He tweets  @nicfrakesjourno.