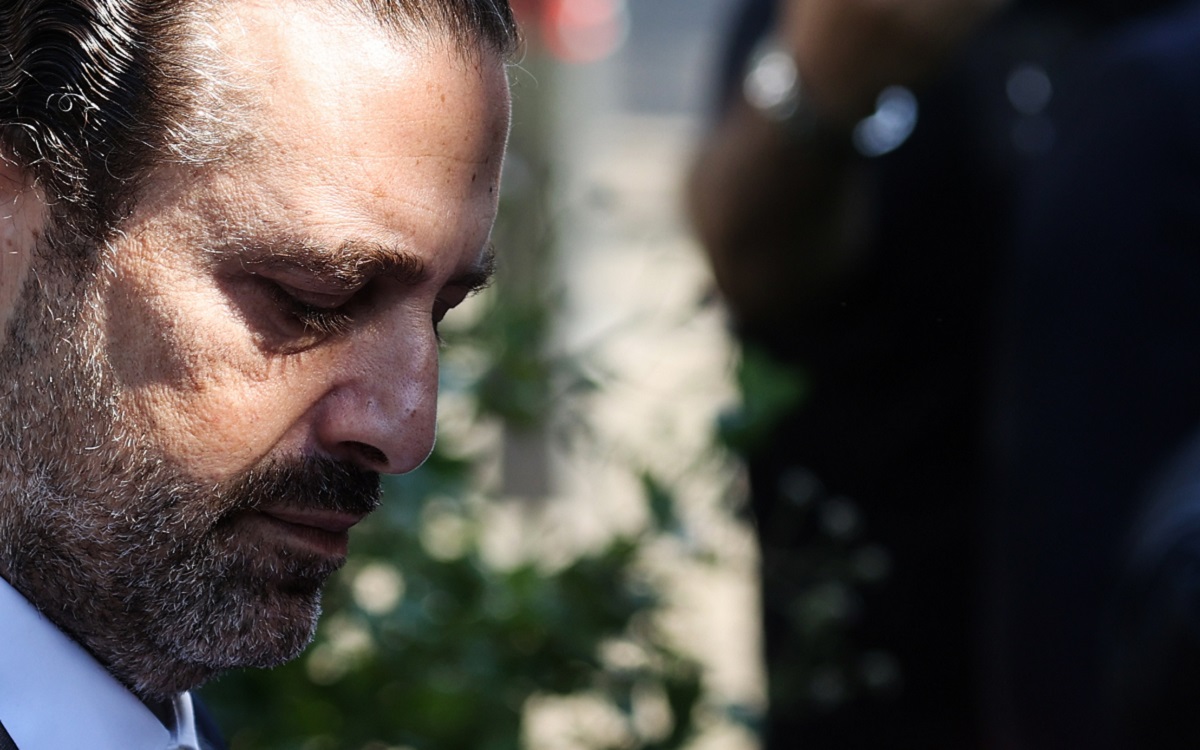 Former Lebanese prime minister Saad Hariri, reacts and speaks to the press as he leaves the UN-backed Special Tribunal for Lebanon (STL) at Leidschendam on August 18, 2020, after the expected verdict on the 2005 murder of his father former Lebanese premier Rafic Hariri. Photo: Kenzo Tribouillard, AFP.
Aside from repeated resignations and an earlier departure that lasted five years, Saad Hariri remains (in the oldest of this country's ways) Lebanon's paramount Sunni leader. But he may have made too many wrong calculations, and permanent mistakes, to render that position irrelevant.
And this may turn into his political obituary.
We need to go back in time, to decisions over the past 17 years that damaged the mantle he carried – March 14's legacy – while sidestepping all that defined political violence.
And the targeting of individuals that stood by his side.
Countering that violence, I would argue, was beyond Saad Hariri's control. But his insistence on holding onto power paved the way for his own political failure.
Beginning in 2005
The only reason we know Saad Hariri's name is because his late father, former prime minister Rafik Hariri, was murdered. A truck bombing that tore the façade of St. George apart, left a ten-meter crater in the corniche and took the lives of his security staff and dozens of innocent passersby.
And just over two months later, Rafik Hariri's senior advisor, a former minister of economy and member of parliament – and to everyone that knew him, including myself, a most decent and honorable man – Basil Fuleihan, burned beyond recognition to a coma, succumbed to his wounds in hospital.
That assassination brought my father back to politics as one of Saad Hariri's senior advisors. He was Lebanon's ambassador to the US from 1997 until 2000, when Rafik Hariri left the Serail for the second time and Emile Lahoud entered Baabda for an extended term. Those five years between 2000 and 2005 saw Rafik Hariri move from quiet behind-the-scenes posturing against Syria's occupation to a more brazen pursuit to upend Assad's control over Lebanon. 
Rafik Hariri's economics and reconstruction plan for downtown Beirut should indeed be criticized. Like many in the early 1990s, he misread Madrid and Oslo's chances at bringing an end to the Arab-Israeli conflict and ushering in regional peace. His over-the-top spending and fiscal policies clearly contributed to the massive debt and economic downturn we are living through. There is no excuse for Solidere's profit motives over public utility in downtown Beirut, disregarding the city's proud history and collective memory. Whether the Municipality would have done a better job is up for debate. But decisions made in the immediate post-civil war years did not take Assad's longevity into account. Or, for that matter, further sovereign erosion vis-à-vis Iran's relationship with Hezbollah.
Discounting geopolitics from local economics while blindly bashing Rafik Hariri's legacy or so-called Hariri-ism is a fool's errand. That one-track persuasion among well-positioned politicians and pundits is an attempt to whitewash history.
Or a sad path to seeking government posts under Hezbollah's terms.
The reality is that, albeit for different reasons but for the sake of political survivability, Saad Hariri fell into a similar trap.
I have never had this conversation with him. My interactions are limited to a few several-minute exchanges over some ten years (see my earlier piece, 'With the victims'). I do not pretend to know what went through his mind in the weeks after his father's assassination, or for that matter, his relationship to the euphoria in Martyrs Square that surrounded Rafik Hariri's tomb on March 14, 2005.
But I sense that he may have never fully appreciated what he inherited : the cause that unified West and East Beirut and brought over a million Lebanese to the streets, calling on the Syrian army to leave. An uprising that was not about his father's untimely and unjust end. It was about ending the civil war, the moment robbed from us in 1989-1990 when Assad instructed the terms of Lebanon's former independence turned dependence.
March 14 was about closing that chapter of lost time, turning the page and reclaiming lost sovereignty. And Saad Hariri, in hindsight, was not up for the challenge.
I am not purview to any closed doors discussions between March and June 2005. I do not know the thinking behind the Future Movement's seeming preference to work with Hezbollah in a national unity government rather than seek compromise with Michel Aoun's Free Patriotic Movement. 
I am equally uninformed of Michel Aoun's possible deliberations with Assad prior to his return in April 2005, and his temporary opposition turned agreement with Hezbollah less than a year later. 
But the March 14 bloc's first mistake was joining hands with that group. Whether they were aware or not of Hezbollah's now defined involvement in Rafik Hariri's assassination, the fact that the Hezbollah-led March 8 protest that sought to extend Syria's presence was dismissed overnight in an attempt to, in Hariri's own words, "prevent another civil war" ushered in a politics-by-proxy that defines our post-2005 status quo.
Every misstep made from 2005 onwards carries that weight
Including May 2008, when the remnants of the 2005 government deemed illegitimate by Hezbollah tried to dislodge cameras monitoring March 14 members near the airport runway, fire an airport security officer close to Hezbollah and shut down a parallel telecommunications network used by the group. In response, Hezbollah turned its weapons inwards, guaranteeing that election victories would hold no merit. 
Saad Hariri was given no option but to accept the Doha Agreement – including a veto that would block sovereign policies. That is not his fault, per se…such are regional agreements born from crisis management made at Lebanon's expense, from the Cairo Agreement in 1969 to the Taif Agreement in 1989, where local actors that prefer politics to arms hold little to no leverage. Hariri can be excused for accepting Doha's terms.
But what he did a year later, following another March 14 victory in the 2009 elections, was unforgivable. And had nothing to do with perceived civil war.
It is one thing for Walid Joumblatt to divorce himself from March 14 in the aftermath of May 2008's violent takeover. He can swing from one end of the geopolitical spectrum to the other, almost at ease, and his curious position within local politics allows him to better drift to regional winds instead of setting course. It is an entirely different matter when a newly installed prime minister that inherited a movement to end Syria's occupation heads to Damascus to apologize on behalf of Lebanon.
If the pressure to pursue such a reckless move came from Saudi Arabia, he should have resigned then and there. Pandering to a Gulf state opposed to Iran, in search of some shortsighted wishful thinking that Assad would leave Tehran's orbit if the Special Tribunal for Lebanon's investigation left the Syrian regime alone, did nothing but damage March 14's credibility. Hariri's words to Assad in late 2009 and his statements in 2010 deeming the investigation had been tarnished by false testimony covered for Hezbollah's gradual inheritance of all security and foreign policy decision-making.
In many heated arguments in November and December 2009, my father adamantly pushed Hariri to reconsider that trip to Damascus. I heard my father curse over the phone only once, learning later it was during one of those bitter exchanges.
It is an entirely different matter when a newly installed prime minister that inherited a movement to end Syria's occupation heads to Damascus to apologize on behalf of Lebanon.
Caution to no avail. The 'sine – sine' equation, famously espoused by Nabih Berri, took hold: Syria and Saudi Arabia would emerge on better terms; Lebanon would pay the price, and Iran would inevitably emerge triumphant.
That Hariri made the right decision in January 2011 to accept the STL's indictments against Hezbollah members by refusing to convene a cabinet meeting meant to derail those findings was too little, too late. Unable to recover his short-term tenure and diminished stature, he left the country for exile. 
It is in those five years, abroad, that I think many March 14 supporters saw little chance for his political recovery. And personal misfortunes began to show, with employees in media companies he inherited from his father no longer receiving salaries on time, all of them shutting down with the most recent The Daily Star ceasing online publication in late 2021. A once important construction company he also inherited, Oger, ran its earlier profits to the ground and sought closure in 2017. South African court testimony and New York Times coverage of some 16 million dollars spent as a gift to a bikini model did little to counter spendthrift accusations at the expense of loyal staff working without pay.
And his time away overlapped with continued assassinations of March 14 figures, including brigadier general Wissam al-Hassan in 2012 and my father in 2013.
Stern words in the press, social media posts and a quick private phone call did little to assuage the obvious to those bereaved: he had no capacity to do more.
Assassinations destroyed March 14
They silenced the voices Hariri trusted. In my own case, my father's pen and diplomacy, used in an attempt to end Lebanon's place as a permanent battlefield for external wars.
But the death-knell to Hariri's career – and this is opinion, alone – is when he refused to take the Future Movement to opposition, years ago, despite what would have been its limited footprint in local affairs.
He should have never returned as prime minister under the same conditions that led to his exile. A respected symbol would have served him better than a hostage-like pawn as prime minister. Instead, he chose an uninspiring return in March 2016, a futile partnership with the Free Patriotic Movement that brought Michel Aoun back to Baabda in November that year and also took Hariri to his second term at the Serail a month later.
Yes, other factors were at play. Even Samir Geagea accepted Aoun's return, circumventing Hariri's seeming preference for Syrian ally Suleiman Frangieh.
Yet Hariri's participation in two governments thereafter cemented his place in a regime that brought all parties into previously unseen levels of corruption. His brief detention in Saudi Arabia in November 2017 and a visibly forced resignation speech that was later rescinded guaranteed that relations with the Kingdom would never recover. And he appeared to turn into March 8's preferred prime minister, their voices loudest when calling for his release. Lackluster wins in May 2018's parliamentary elections and a continued return to reduced influence indicated his compromising skills were better designed for political suicide. And to most Lebanese, his ultimate downfall was serving as prime minister when paralysis turned to collapse in the buildup and aftermath of October 17, 2019.
Samy Gemayel got out in time. Kataeb's cabinet withdrawal in June 2016 from Tammam Salam's government and members of parliament resignation following the August 2020 port blast allowed that party just enough breathing space to persuade enough post-October 17 groups to accept them within their opposition ranks. Kataeb are among the oldest parties in this country – they, in principle, belong to the regime more than the Future Movement or any pre-October 17 party. And they are clearly not kingmakers in any local decisions taken, but their distance from power during ongoing and crippling pain shielded them from further scrutiny.
And they have emerged, largely unscathed, from our current tragedy.
The death-knell to Hariri's career – and this is opinion, alone – is when he refused to take the Future Movement to opposition, years ago, despite what would have been its limited footprint in local affairs.
Michel Aoun, Nabih Berri…and Saad Hariri…their names will remain those confronted by the largest demonstration in modern Lebanese history. That Hariri resigned 12 days after the country's most recent uprising indicated he was willing to put his own longevity aside and place the burden on parties unwilling to adhere to protestor demands. 
He used unusually blunt language when describing Hezbollah's violent and detrimental role in preserving the status quo. And with that rhetoric in the background, it is beyond me why he found it wise to return to the scene less than a year later, following the port blast (in caretaker capacity after Mustapha Adib's short-lived adventure and Hassan Diab's resignation) in another attempt to project strangled strength from the Serail.
Perhaps he really thought this time was different
In nine months of repeated visits to Baabda without success, Saad Hariri seemed genuine in his desire to form a government made of competent – and technocratic – ministers, absolved of party allegiance. He may have sensed that without his presence during a period of immense uncertainty, Hezbollah would be forced to compromise. 
Hariri was – and remains – the foremost Sunni leader, despite a steep loss in popularity among his base. But in the end, his necessity to the system wore thin. The maneuvering space he was once afforded was at Hezbollah's discretion. He had done the job of continuously compromising March 14's demands to the threat of renewed civil war. 
Those threats never materialized.
Even after his departure, the battles that took place in Tayyouneh and across Ain El Remmaneh in October last year did not degenerate into sectarian strife (see 'One-sided warzone' and 'No debate'). Hariri, willingly or not, looked away from Hezbollah's security needs, as Assad once pressured his father through a local network of appeasers and traitors. 
Regardless of civil society's momentary flirtation with other candidates, political violence determines the contours of reform. And no one in the Serail – Hariri or otherwise – can persuade Hezbollah to effectively change course.
The key difference is that Rafik Hariri pushed through to the end, paying the ultimate price for our independence. Saad Hariri, instead, cautiously tiptoed around those sensitive issues and danced to the proxy's tune, until that group saw their future without him. And a Lebanon without a once preeminent post-war movement that saw its fortunes fade to shadows rather than shine in opposition.
Saad Hariri's interview on Al Jadeed following his withdrawal as caretaker prime minister was more postmortem than resuscitation. Rather than taking the higher road and explaining structural problems that keep Lebanon's politics rotten, he honed on what seemed like petty disputes with Michel Aoun. The narrative should have been the constraints from a hijacked system that once preserved Syria's needs in Lebanon, and now caters to Iran's influence in the region, impacting anyone that enters the halls of power.
Reformists and panderers, alike. 
Regardless of civil society's momentary flirtation with other candidates, including a careerist like Fouad Makhzoumi who is aggressively making his case for prime minister, or a measured judge in The Hague like Nawaf Salam who is repeatedly named as a credible alternative, political violence determines the contours of reform. And no one in the Serail – Hariri or otherwise – can persuade Hezbollah to effectively change course.
Lebanon is stuck. And whoever tries to fill Hariri's communal leadership role – from Mikati today in his spare tire function to others too eager to jump in line – will run into the same wall. I am not suggesting that Hariri should have pursued policies that would have perhaps led to his own assassination, but I am insisting he would have been better placed in opposition (even if abroad) inspiring those in Lebanon still holding to aspirations that took a million of us to the streets.
And brought him to power.
Saad Hariri cannot be blamed for being thrown into the spotlight nearly 17 years ago, or for honoring his father by carrying his name. But he should have preserved the principles and rallying cries behind him, rather than settle for limited terrain. 
Ronnie Chatah hosts The Beirut Banyan podcast, a series of storytelling episodes and long-form conversations that reflect on all that is modern Lebanese history. He also leads the WalkBeirut tour, a four-hour narration of Beirut's rich and troubled past. He is on Facebook, Instagram, and Twitter @thebeirutbanyan. 
The opinions expressed are those of the author only and do not necessarily reflect the views of NOW.