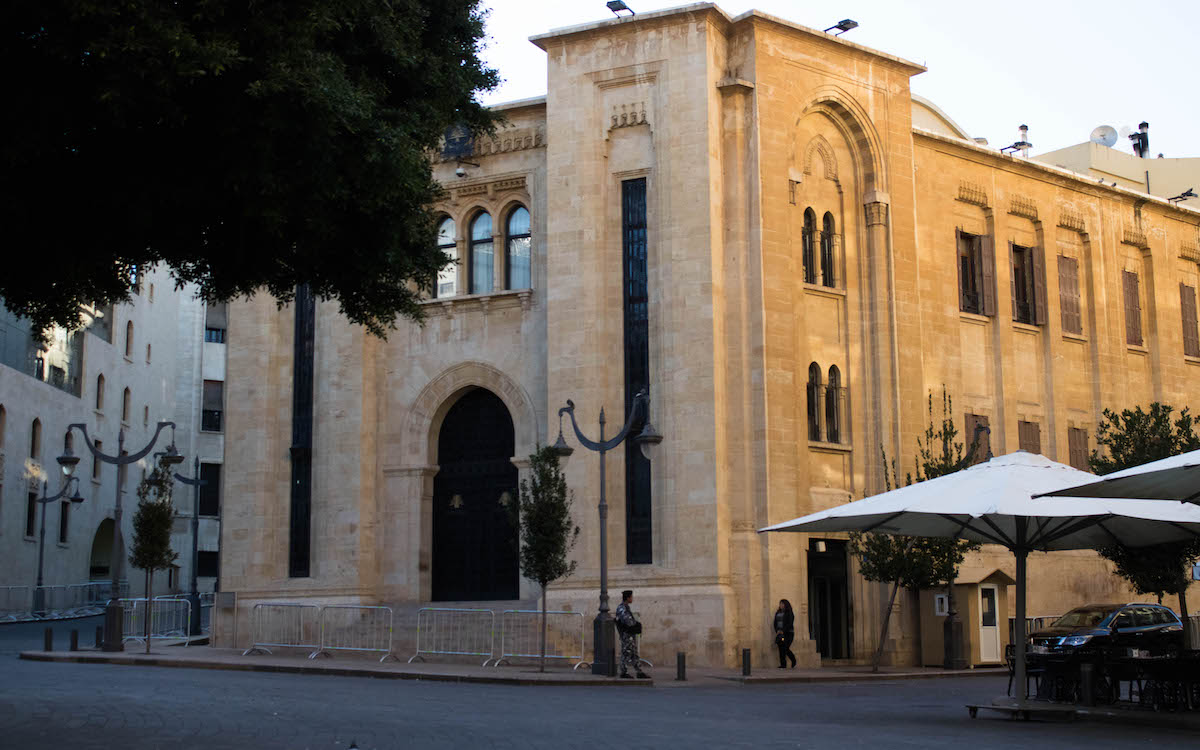 Lebanon's Parliament is still yet to elect a new president. Photo: Nicholas Frakes, NOW
Lebanon's politicians like to talk.
Practically every day, some news outlet in the country has one or more of Lebanon's political class speaking with them about one of the many issues plaguing the country.
The economic crisis. Corruption. Electing a president. Foreign interference in Lebanon's affairs.
The problem is, talking is all that these so-called political leaders seem to do. 
They are more than happy to point a finger at the problem and what they believe is causing it, but they hardly ever follow through on a solution to the problem.
The economic crisis, now in its fourth year, has been a favorite talking point for the politicians and experts associated with individual parties. Corruption caused the crisis. Lebanon needs reforms. We need a capital control law to help with the banking crisis.
All of this and more has been discussed ad nauseam on the Lebanese airwaves, only for nothing to be done, even as a growing majority of the country is being thrust into ever-worsening poverty.
Now, there is a new favorite topic of discussion: the presidential election.
Politician after politician has continued to say that Lebanon cannot elect just any president; the country needs a president who can work to reform the country and pull it out of the ongoing economic crisis. But Parliament is still nowhere closer to electing a president than when electoral sessions started in September 2022.
Lebanon has now been without a president for 126 days, and MPs are still talking about the need to compromise and hold dialogue so that they can come to a consensus on a candidate. Yet despite how much they love to talk, they seem to be unable to even talk amongst each other and come to a compromise.
Parliamentary Speaker Nabih Berri has finally named a candidate for the Shiite duo in Marada Movement leader Sleiman Frangieh, a name that has been continually rejected by Parliament's Maronite bloc, and calls into question if Frangieh has enough adequate Maronite backing in order to be considered a "legitimate" president should he be elected.
Berri has called for the opposition to name their candidate so that a session can be held where the various sides in Parliament can debate over the candidates and finally elect someone, but this is unlikely to happen.
Neither side wants to lose. It does not matter the cost.
For the Lebanese people, none of this is anything new. For decades, the political class has talked about the need to solve the many problems facing Lebanon, with arguably the most mocked being the promise of having 24 hours of government electricity.
But now, the consequences are dire. The longer there is a vacancy in Baabda, the worse the economic situation is going to get.
It is only a matter of time before a new president is elected, a new government formed and legislation passed to bring an end to the economic crisis, but it will be on the terms of the political class.
Until then, they will continue to appear on TV to talk about the need to solve these problems.
In Lebanon
Crossing the line: Tensions rose on Lebanon's southern border with Israel on Sunday, March 5, when Lebanese and Israeli soldiers came face to face after Israeli forces crossed over the border, a clear violation of Lebanon's sovereignty and UN Resolution 1701, as part of their plans to build a fence on Lebanon's side of the border.
The incident took place near the southern village of Aita al-Shaab.
View this post on Instagram
The United Nations Interim Force in Lebanon (UNIFIL) was quick to intervene, ensuring that the Israeli soldiers returned to their side of the border and that the situation did not escalate.
The volatile lira: Last week, the lira reached a new all-time low of 92,000 to $1, prompting the Central Bank (BDL) to intervene by raising the rate of its Sayrafa platform to a whopping 70,000.
After BDL Governor Riad Salameh announced that the Sayrafa exchange rate would be raised to 70,000, the #lira appreciated to around 80,000, a significant gain after it reached a record low of 92,000. However, while the lira made gains, without any reforms, it will likely…

— Nicholas Frakes | نيكولاس فريكس (@nicfrakesjourno) March 1, 2023
After BDL raised the Sayrafa rate, the lira quickly appreciated to 80,000 and has been hovering around this rate in the days since.
However, with the customs tax raised to 45,000, up from the 15,000 official rate, the rate will not stay low for long and inflation is only going to worsen, something that will have far-reaching consequences.
BDL has repeatedly used the tactic of raising the Sayrafa rate to bring the black market rate down, but this is always temporary and, without reforms, it will only aggravate the situation.
Forced into retirement: Abbas Ibrahim, Lebanon's powerful and influential, now former, General Security chief, was sent into retirement after he reached the age of 64 on March 2 and Parliament and the government failed to extend his term.
Ibrahim had been in the role since 2011 and enjoyed widespread support at home and abroad during his tenure.
Since his departure, there have been growing speculation as to what he might do next.
As a Shiite, he could challenge Berri for the speakership or, given his extensive network abroad, he could take on the role of foreign minister, a position traditionally given to a Maronite. Ibrahim has stated that he is interested in the role of foreign minister which could cause some tensions with the Maronite politicians when it comes to forming a government.
Fighting in Ain al-Hilweh: One person was killed and another injured during an hours-long clash in the Ain al-Hilweh Palestinian refugee camp near the southern city of Sidon on the night of March 1.
According to reports, the fighting took place between members of the Fatah Movement and Jund al-Sham group, and a member of Fatah was killed.
As a result of the clashes, the United Nations Refugee Workers Association (UNRAW) announced that its schools in the camp, as well as Lebanese schools and universities in the area, would be closed.
Calm has since returned to the camp, with the shooter that killed the Fatah member being handed over to Lebanese authorities, but tensions remain high.
Banks remain open: The Lebanese Association of Banks announced that banks would continue the suspension of their nationwide strike until March 10.
The banking association announced the strike on February 6, which lasted for over two weeks before an initial suspension was announced at the behest of the caretaker prime minister, Najib Mikati.
The banks have been demanding that a ruling by the Court of Cassations which called for a bank to give a depositor their entire savings be reversed, and for Parliament to pass a capital control law.
It is not clear if the strike will persist following the March 10 deadline.
On Monday afternoon, the activist Depositors Outcry Association said that a depositor had died from a heart attack while inside a bank.
Schools reopen: Lebanon's public schools opened their doors once more on Monday after several months of strikes by its teachers.
Students were able to return to the classroom after some of the striking teachers decided to return to work despite the worsening situation and the solutions offered to them being "insufficient and incomplete."
However, not all teachers have agreed to return, with a group of teachers holding a protest in front of the Ministry of Education on Monday saying that they "only got promises," with no real action being taken to address their concerns and demands.
Public school teachers have been hard hit by the economic crisis with one school administrator telling NOW that their salaries are not even enough to cover their transportation costs.
A growing mental health crisis: As Lebanon's economic crisis has worsened, it has put an increased strain on those struggling to survive.
Last week, the country recorded at least five new suicides as people are unable to get the money necessary to survive and to take care of their families.
In January 2023 alone, there were 11 recorded suicides.
In the region
Cracking down on dissent: Israeli police violently put down a protest in Tel Aviv on Wednesday where demonstrators came out against proposed legislation that would essentially neuter the country's judiciary.
During the crackdown, at least 40 people were arrested and 11 others were hospitalized with injuries sustained during the confrontation with police who used water canons and stun grenades to disperse the protesters.
This crackdown came after two months of protests by Israelis against the proposed legislation as opponents of it argue that it will bring about the end of democracy in Israel.
The judicial reform bill was put forward by the Israeli government, the most far-right government in the country's history.
Suspected poisoning in Iranian schools: Hundreds of Iranian schoolgirls have fallen ill since last November due to suspected poisonings at around 60 schools throughout the country.
Iranian authorities have offered little to no information about who could be behind the attacks or what, if any, chemicals were used to perpetrate them.
On Monday, Iranian Supreme Leader Ali Khamenei condemned the incidents and said that whoever was behind them would face the death penalty with no possibility for amnesty.
Critics of the Iranian government have argued that it was the government itself poisoning the students as a way of scaring off public dissent following the months-long protests throughout the country after Jina "Mahsa" Amini was killed while in the custody of the country's morality police in September 2022. Qom-based journalist Ali Pourtabatabaei, who had been reporting on the suspected poisonings, was arrested on Monday.
Syrian opposition figure dies: The Syrian-French academic and opposition figure Bassma Kodmani died in Paris on March 2 at the age of 64 after a long-fought battle with cancer.
Kodmani helped to co-found the Syrian National Council, a coalition of opponents to Syrian President Bashar al-Assad and his regime in Damascus, an served as the body's head of foreign relations and spokesperson until her resignation in 2012.
She also helped to create the Paris-based Arab Reform Initiative think tank.
In response to her death, world leaders sent out their condolences, including French President Emmanuel Macron.
Other Syrian opposition figures also expressed their condolences with George Sabra saying that "the Syrian revolution has lost a sharp voice and a superior mind."
What we're reading
Women's issues ignored: After caretaker Social Affairs Minister Hector Hajj said that the UN should reevaluate its priorities in Lebanon, seemingly taking a controversial stance on women's issues in the country, there was an outcry of condemnation. NOW's Dana Hourany looked at how women's issues have been ignored in Lebanon as the economic crisis has worsened.
The next generation: Violence has been rising between Palestinians and Israelis since last year and has only worsened since the new far-right government took power in December. The Washington Post's Miriam Berger, William Booth and Fatima AbdulKarim wrote about the new generation of Palestinian fighters that are not necessarily affiliated with any specific established political force.
Sounding the alarm: Following the February 6 earthquake in southern Turkey, the Turkish city of Adiyaman was practically destroyed. The Washington Post's Kareem Fahim, Zeynep Karatas and Samual Oakford looked at how experts were warning officials about the potential devastation that awaited for years, only to be ignored.
Lebanon+
Podcasts: In his second live edition of The Beirut Banyan, Ronnie Chatah spoke with industrial and environmental and waste management expert Ziad Abi Chaker about the benefits of continuing to work in civil society while outside of Parliament, vertical farming and solar power prototypes, and the kinds of incentives meant to work around poor governance.
Until next week, follow NOW Lebanon on Twitter, Instagram, Facebook, and LinkedIn, and subscribe to our weekly newsletter. And stay safe!