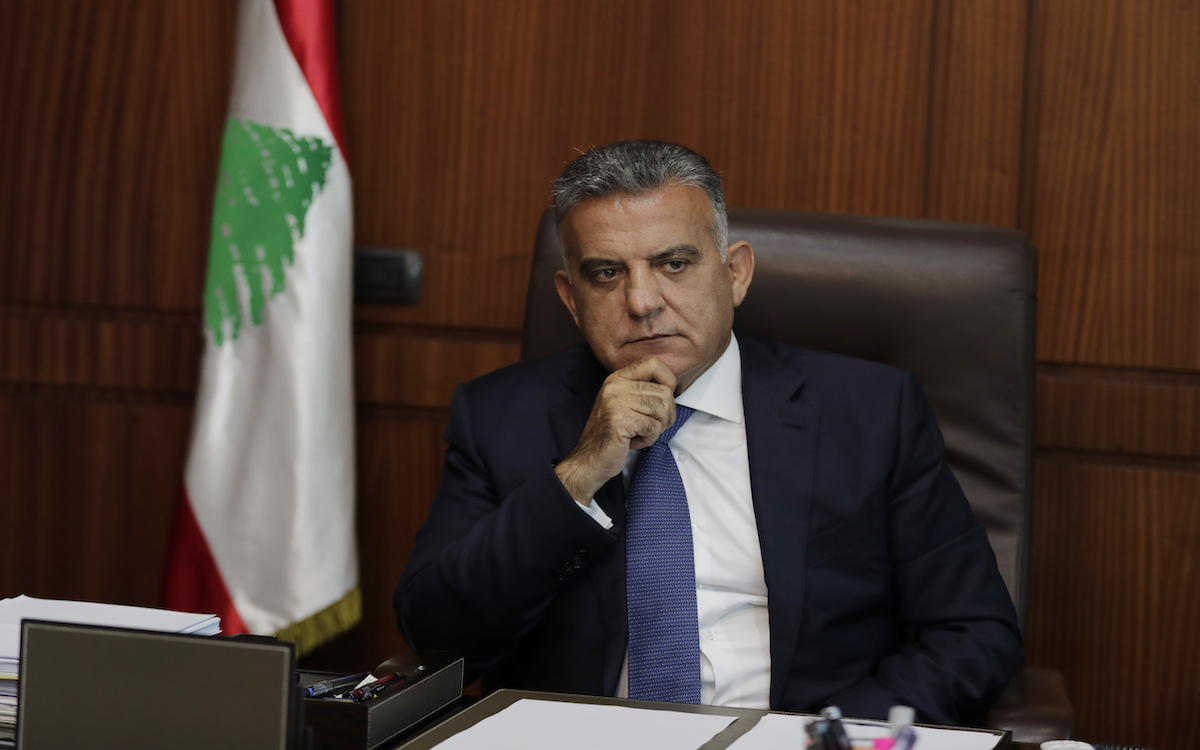 The influential head of Lebanon's General Security apparatus, Abbas Ibrahim, is pictured during an interview at his office in the capital Beirut on July 22, 2020. Photo: Anwar Amro, AFP
Lebanon's General Security head Maj. Gen. Abbas Ibrahim's term as the country's top security chief officially came to and end on Thursday, March 2, after Ibrahim reached the retirement age of 64 and Parliament failed to extend his tenure.
On Wednesday, March 1, Ibrahim left his office and was replaced by Brig. Gen. Elias Baisary, who will serve as the acting head of the security agency, adding to the growing list of things that cannot be done until a president is elected.
Who was Abbas Ibrahim?: Hailing from the Sidon district of southern Lebanon, Ibrahim enjoyed an extensive military career where he served as a bodyguard for then-President Elias Hraoui, was tasked with protesting then-Prime Minister Rafik Hariri, and headed the counter-terrorism and espionage department of Lebanon's intelligence services prior to his appointment as head of General Security in 2011.
Ibrahim was known to have extensive connections throughout Lebanon, the region and abroad, allowing him to enjoy somewhat popular support at home and abroad.
The former security chief was one of the few who were able to work with both the United States and Hezbollah, which is designated as a terrorist organization by the US.
However, it was his relationship with the Syrian government that allowed him to work as a mediator to secure the release of western nationals who were arrested by the Syrian state security apparatus.
Despite multiple attempts, he was unable to secure the release of US freelance journalist Austin Tice, who is believed to have been in Syrian custody since 2012, something that the Syrian government has repeatedly denied.
The end of his career: In the buildup to Ibrahim's retirement, the caretaker government of Najib Mikati indicated an interest in extending his term, but this never came to fruition.
In order for Ibrahim's mandate to be extended, it would have required a vote in Parliament.
This vote never came, and Parliamentary Speaker Nabih Berri has yet to schedule a new session.
The end of Ibrahim's career was also mired in some controversy after he was linked to the August 4, 2020 Beirut Port explosion which killed over 200 people and injured thousands more.
On February 24, Ibrahim was charged, along with seven others, in Judge Tarek Bitar's investigation into the port explosion and was ordered to come in for questioning.
Ibrahim never ended up having to decide whether or not he would attend his interrogation as the political elite looking to end the investigation, once again, brought it to an indefinite halt.
The need for a president: While the role of General Security chief is not vacant, Baisary is only in the position in an acting capacity until a new head can be chosen, something that cannot happen until a new president is elected.
The president is required to sign off on the appointment of the country's top security chief and Parliament has made no indications that it is anywhere close to coming to a consensus on a candidate.
The government is also only in a caretaker capacity, with a new prime minister needing to be designated to form a government, something that in itself is a long and protracted process that often takes months.
The economic crisis is also continuing to worsen, with the lira reaching a record low of 92,000 to $1 on Wednesday afternoon before the Central Bank (BDL) announced that it would be raising the rate on its Sayrafa platform to 70,000, which helped to bring the rate back down to around 80,000.
This, though, is only a temporary measure that has been used multiple times by Lebanon's Central Bank (BDL) to bring the rate down only for the lira to begin devaluing once more soon after.
According to the constitution, Parliament cannot take on any other legislation once it has started voting to elect the next president.
In conclusion: There are plenty of issues that need to be addressed in Lebanon, but for Parliament and the government to address them, it requires that a head of state be elected.
There is still no parliamentary session scheduled to vote on a new president.  But, even if there was, there is still no clear candidate who would receive the necessary votes to ascend to the presidency, meaning that the list of things that cannot be done until a president is elected will only grow for the foreseeable future.
Nicholas Frakes is a senior reporter with @NOW_leb. He tweets  @nicfrakesjourno.