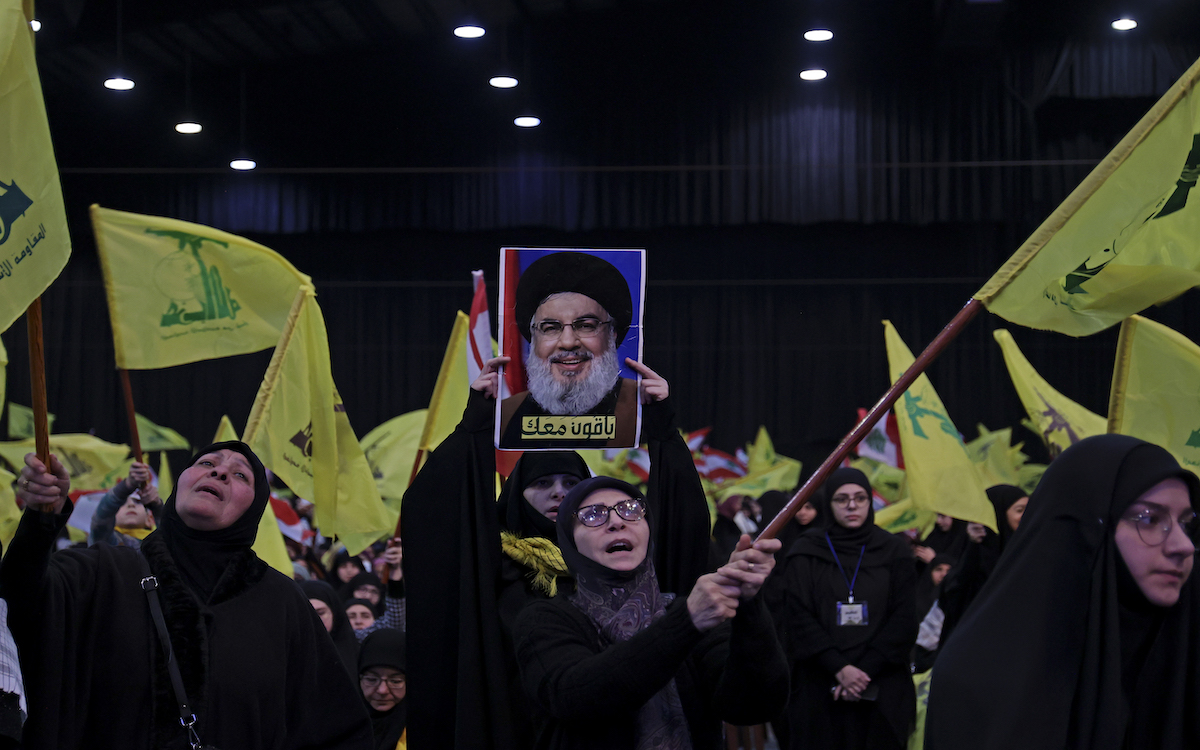 Supporters of the Lebanese Shiite movement Hezbollah attend a televised speech by the group's leader Hassan Nasrallah in the Lebanese capital Beirut's southern suburbs on January 3, 2023 marking the third anniversary of the US killing of top Iranian Revolutionary Guards commander Qasem Soleimani and Iraqi commander Abu Mahdi al-Muhandis. Photo: Anwar Amro, AFP
Hezbollah's secretary-general, Hassan Nasrallah, delivered his first speech of 2023 for the anniversary of the deaths of Quds Forces leader Qassem Soleimani and Popular Mobilization Force deputy Abu Madhi al-Muhandis, where he discussed the new Israeli government headed by Benjamin Netanyahu and the current political crisis in Lebanon. This speech came amid speculations over the leader's health when his December 30 speech was canceled due to health issues.
Al-Aqsa Mosque visit: Notably, Nasrallah's speech came the same day that Israel's national security minister, Itamar Ben Gvir, made a brief visit to the al-Aqsa Mosque in the Old City of Jerusalem that was widely viewed as a highly provocative move just days after the new government took power.
During his speech, Nasrallah threw Hezbollah's hat into the ring of groups that have said that any change in the status quo in Jerusalem, in particular when it comes to the city's holy sites, would lead to regional conflict.

It is not just armed groups who say that any change to Jerusalem's status quo could lead to wider conflict as many analysts have also echoed these sentiments.

Nasrallah has often made threatening statements toward Israel. In fact, it is practically a staple of Nasrallah's speeches, but they are more of a way to rally the group's base rather than threats that the group actually follows through on.
A government of madmen: Nasrallah also briefly discussed the new right-wing government formed by Netanyahu, where he took a traditionally strong stance against the Israeli government.
This type of rhetoric is nothing new and is something that is often echoed in Nasrallah's speeches but there are few indications that Hezbollah has any interest in taking any actual actions against Lebanon's southern neighbor that would lead to another war.

Even with Nasrallah's example of the

maritime border

where he said that "[Israel] watched us months ago, when we were ready to battle for the maritime borders, oil and gas, to go to the greatest extent to confront this enemy, they knew with certainty that we were ready for that," it rings a bit hollow as Lebanon was

on track

to sign a deal with Israel over the borders and, while the situation was tense, there was little appetite on either side for renewed conflict.
Political stalemate: The biggest topic discussed in Nasrallah's speech had to do with the continued failure of Lebanon's politicians to elect a new president following Michel Aoun's departure from office at the end of October.
The Party of God's leader reiterated their demands for the next president to be someone that would "not stab the resistance in the back," and who would not interfere in the group's activities, saying that this was a prerequisite for a candidate to receive Hezbollah's backing.

Nasrallah also took aim at claims that the election of a new president was dependent on other regional and international issues, namely the negotiations between the United States and Iran on the nuclear deal and talks between Saudi Arabia and Iran, arguing that it made no sense for Lebanon's politicians to wait for these issues to be solved and for the international community to take interest in Lebanon's internal political issues.

Recently, Progressive Socialist Party MP

Marwan Hamadeh

stated that the political vacuum in Lebanon would likely last for many more months due to internal issues in Lebanon as well as external issues relating to the international community.

In response to the claims that the electing of a new president was contingent on regional issues being solved, Nasrallah argued for internal discussion amongst Lebanon's political parties in order to solve this political crisis, a sentiment that has been echoed by leaders across the political spectrum in Lebanon, but has led to no action.

Despite Nasrallah's calls for dialogue, Hezbollah is largely viewed as the

deciding factor

as to whether or not a candidate will be elected president and has continued to refuse to name a candidate in the 10 previous attempts to elect a president.
Putting the ball in Bassil's court: In the final section of his speech, Nasrallah, for the first time, addressed the ongoing fighting between Hezbollah and its ally the Free Patriotic Movement.
For well over a month now, there has been a public disagreement between Hezbollah and the FPM over who should be elected president, with Hezbollah reportedly backing Sleiman Frangieh, but willing to settle for army commander Joseph Aoun, while Gebral Bassil, the FPM's leader and son-in-law of Michel Aoun with his own presidential ambitions, has explicitly stated his refusal to back either of these candidates.

While Nasrallah expressed interest in maintaining the alliance, he also said that if Bassil feels uncomfortable with the relationship, then he is free to walk away at any time.

Bassil

had told Lebanese broadcaster LBCI that the alliance between Hezbollah and the FPM was "at stake."

Despite Bassil's comments and Nasrallah's seemingly extending an olive branch to Hezbollah's ally, both are likely aware that, in the end, Bassil and the FPM will have to bow to Hezbollah's demands or risk being pushed into political obscurity.
Now what?: When it comes to Israel, the eyes of the world will be on Netanyahu and what this new far-right government will do and whether or not they continue to push the envelope, risking conflict.
As for the Lebanese presidency, despite Nasrallah's insistence on holding dialogues, in the end, because of the group's oversized power in the country, it is largely up to Hezbollah when the political crisis will come to an end and when a president will finally be elected.
Nicholas Frakes is a multimedia journalist with @NOW_leb. He tweets  @nicfrakesjourno.