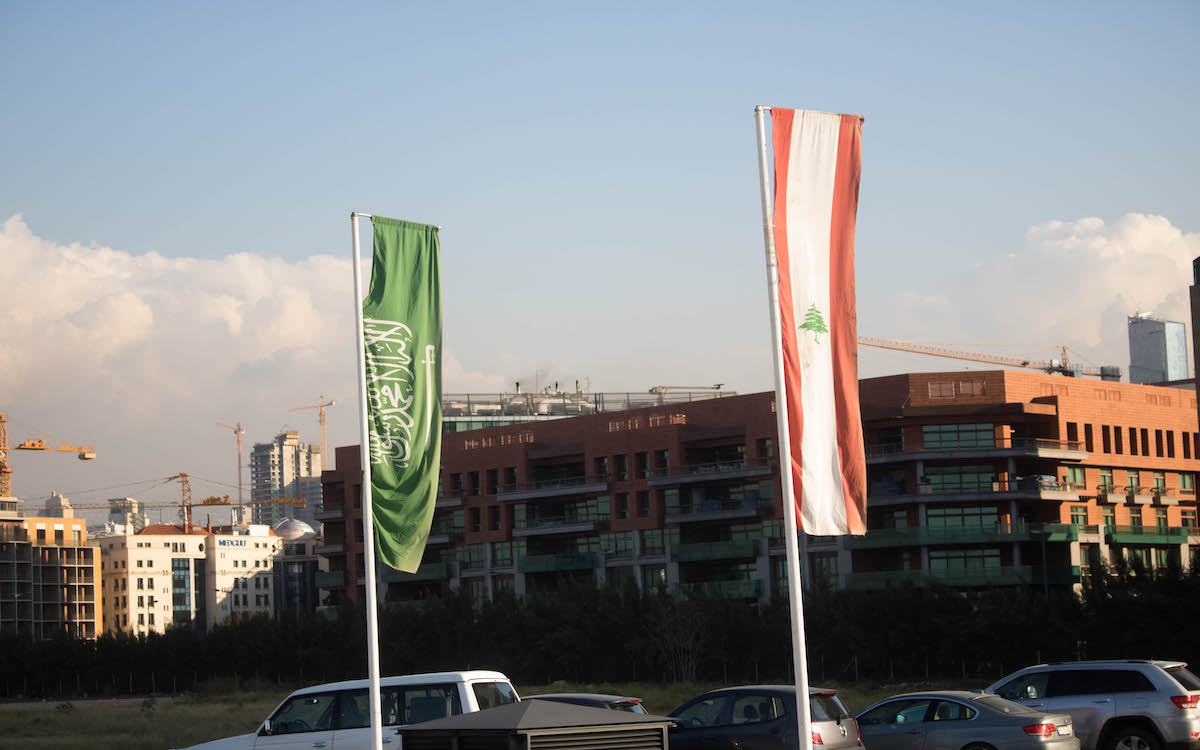 Despite Saudi Arabia being a traditional patron of Lebanon, the Kingdom has drastically decreased its role over recent years. Photo: Nicholas Frakes, NOW
For years Iran and Saudi Arabia have been holding negotiations in Iraq to try and reach an agreement that would see them reestablish their diplomatic relations.
However, none of these talks were able to yield any results.
When the two countries announced in Beijing that they had finally reached a deal, the region was surprised at the unexpected turn of events. Few had believed that China would be able to broker an agreement.
Now, many are waiting to see what might come from such a rapprochement, and the kind of impact that it could have on the region, in particular when it comes to the ongoing conflict in Yemen.
In Lebanon, some saw the restarting of diplomatic ties between Iran and Saudi Arabia as an opportunity to bring an end to their own troubles.
Before the ink was even dry on the new deal, political leaders in Lebanon were lauding it as an important breakthrough that will help the region and, most importantly, Lebanon.
Caretaker Prime Minister Najib Mikati said that the deal would "reflect positively on Lebanon" and present an "opportunity for us to breathe in the region and look forward."
"Restoring diplomatic relations between Saudi Arabia and Iran in accordance with the pledge not to interfere in the internal affairs of countries could be a real beginning in the region, if the mullahs are convinced that the policy of imposing guardianship on countries by building militias and shaking stability has fallen irreversibly," Ashraf Rifi, an MP from Tripoli who was elected from the Lebanese Forces' list, stated. "We believe that this agreement will be translated into the interest of the stability and sovereignty of Lebanon. We hope that the date of 10/3/2023 will be the end of the Iranian adventure that has devastated the region."
"We welcome the Iranian-Saudi rapprochement, and we hope that this positivity will extend to the entire region, and that it will be the beginning of stability and peace," Nadim Gemayel from the Kataeb Party said.
Iran-backed Hezbollah, a staunch opponent of the Kingdom, also expressed its support for the agreement.
"The return of Iranian-Saudi relations is an important turning point for the stability, security and progress of the region, and it is the beginning of good things for their peoples and for the peoples of the region, and it is a painful blow to the American-Israeli project that makes it more reeling," Naim Qassem, Hezbollah's deputy secretary-general, stated.
However, the optimism coming from Lebanon's politicians may be misplaced, as analysts argue that there is little indication that the reestablishing of Iran-Saudi relations will have any significant impact on Lebanon.
"It's just not on the list right now. It hasn't been discussed," Firas Maksad, a senior fellow at the Middle East Insitute in Washington DC, told NOW. "Lebanon is very low down on the list of priorities for the Kingdom."
Other things to worry about
Saudi Arabia's disinterest in Lebanon is nothing new.
For years, Iran and Hezbollah have been increasingly maintaining a strong grip on power in Lebanon, making it impossible for Saudi Arabia to wield any significant influence no matter how much money they spend on the country or which political factions, such as the Sunni Saad Hariri and Christian Lebanese forces, they back.
Saudi Arabia even went as far as to temporarily cut off diplomatic relations with Lebanon in late 2021 in an attempt to spur politicians to crack down on Hezbollah's influence, something that arguably had the opposite effect.
It is because of this lack of results that Maksad argues that Saudi Arabia is finally throwing in the towel when it comes to exercising any significant role in Lebanon.
"Iran cares more about Lebanon than Saudi Arabia does, and to the extent that Saudi officials continue to be involved in the discussions about Lebanon is largely as a favor to the French and, to a lesser extent, to Washington," he stated. "They kind of attend as observers rather than really partaking in the discussions."
Rather than putting money and effort into what the Saudis believe are hopeless cases, they would rather focus their time on issues that are of a higher importance – such as the war in Yemen.
Yemen is important because it exhausts [Saudi Arabia's] financial resources and there is a subtle competition between Saudi Arabia and the UAE in Yemen and the Saudis want to get done with it. To be able to pacify Yemen, the Saudis will have to pay a hefty price to the Iranians in Lebanon.
In doing so, Maksad says that the Saudis could work on getting more concessions from Iran when it comes to Yemen rather than making any sort of demands on Lebanon that will not have any impact.
Saudi citizens also have more important things to worry about than what is happening in Lebanon.
Saudi Arabia's Crown Prince, Mohammad bin Salman, has been attempting to end the country's dependence on oil revenues by diversifying its investments through a program dubbed Vision 2030 which has seen taxes raised on Saudi citizens and subsidies lifted.
This has led to some discontent at home, forcing the Saudis to focus more of their attention on domestic issues rather than spending a significant amount of their budget on its regional influence. This is something that Iran has done for decades, and was one of the criticisms made by the people during the months-long nationwide protests that swept through the country in late 2022 following the death of Zhina "Mahsa" Amini while she was in the custody of the morality police.
While Saudi Arabia may not have much of an interest anymore in Lebanon, the same cannot be said about Iran, who wants to ensure that its proxy Hezbollah remains the most powerful force in the country, meaning that Saudi Arabia could use that as leverage to get concessions out of Iran during future negotiations.
"Yemen is important because it exhausts [Saudi Arabia's] financial resources and there is a subtle competition between Saudi Arabia and the UAE in Yemen and the Saudis want to get done with it," Hilal Khashan, a professor of political science at the American University of Beirut focusing on regional security and the Gulf, told NOW. "To be able to pacify Yemen, the Saudis will have to pay a hefty price to the Iranians in Lebanon."
Maksad agreed with this sentiment, adding that the Saudis might be open to accepting an Iranian demand on Lebanon if they "they get something significant in return for it," something that remains a distant dream for the time being.
No one coming to the rescue
Everyone in Lebanon knows that no one can be elected president, or prime minister for that matter, without Hezbollah's approval.
So, when Hezbollah Secretary-General Hassan Nasrallah announced during a March 6 speech that his group, along with Parliamentary Speaker Nabih Berri's Amal Movement, was backing Frangieh for the presidency, Frangieh became the first candidate that had any real chance of winning the election.
The Saudis have sort of backed themselves behind the international, western position of you need to reform before any money can be put in here.
While Frangieh may enjoy support from the Shiite parties in Lebanon, the same cannot be said for the more important Christian support with practically every party refusing to back him.
Saudi Arabia was also quick to refuse Frangieh's nomination and was reportedly even planning on fighting his candidacy.
"The Saudis would not go along with Frangieh because he is Hezbollah's man and he was nominated by Hezbollah and the Amal Movement," Khashan stated. "There is also very strong Christian opposition to him on the part of the Lebanese Forces. While Hezbollah and Amal nominated Frangieh as their candidate, they knew his chances are slim and they wanted to sue him to strike a deal between the Saudis and the Iranians. Hezbollah knew that a deal was in the making between Saudi Arabia and Iran."
Even though Saudi Arabia has initially opposed a Frangieh presidency, it could still remain in the realm of possibility in the event that the Kingdom is able to receive concessions from Iran on other issues, most likely Yemen. However, a more realistic scenario would be a politician who has little name recognition and is close to Free Patriotic Movement's Gebran Bassil being chosen as a consensus candidate, as Hezbollah has essentially ruled out the possibility of army commander Joseph Aoun being elected after repeated attacks in media outlets affiliated to the group.
It is not just the presidential elections that lack Saudi Arabia's interest though, with the entire issue of the economic crisis, now in its fourth year, doing little to attract the Kingdom's attention.
"The Saudis have sort of backed themselves behind the international, western position of you need to reform before any money can be put in here," Maksad explained.
Despite the International Monetary Fund and western countries saying that the billions of dollars in promised aid are conditional to Lebanon's politicians implementing reforms, all of which would begin to help the country to start emerging from the economic crisis, neither Maksad nor Khashan are entirely surprised by the lack of Saudi willingness to provide aid to Lebanon. 
"They don't give a damn about Lebanon," Khashan said. "Nobody cares anymore. The Lebanese don't care so why should somebody else care?"
In the event that reforms are implemented, Maksad says that Saudi Arabia would likely be open to providing Lebanon with some aid that would help Lebanon to rebuild.
Exactly how much aid they would be willing to send, though, is another question.
Nicholas Frakes is a senior reporter with @NOW_leb. He tweets  @nicfrakesjourno.