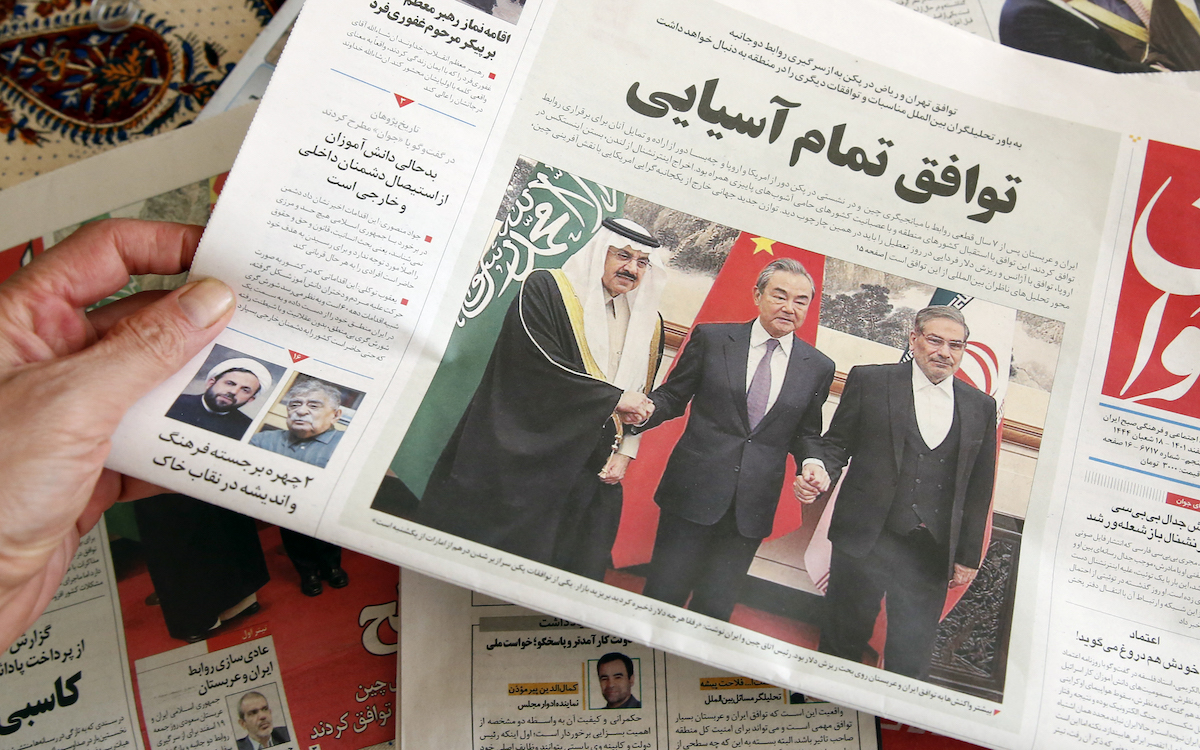 A man in Tehran holds a local newspaper reporting on its front page the China-brokered deal between Iran and Saudi Arabia to restore ties, signed in Beijing the previous day, on March, 11 2023. Riyadh and Tehran announced on March 10 that after seven years of severed ties they would reopen embassies and missions within two months and implement security and economic cooperation agreements signed more than 20 years ago. Photo: Atta Kenare, AFP
Lebanon has been without a president for 133 days, and that is something that is unlikely to change anytime soon.
However, following a March 6 speech by Hezbollah Secretary-General Hassan Nasrallah, there is finally a serious contender for the presidency.
In his speech, Nasrallah threw Hezbollah's support behind Sleiman Frangieh, a staunch ally of the Iran-backed group and the Assad government in Syria, giving the Zgharta politician a much-needed public boost in the election.
Hezbollah's backing of Frangieh came as a surprise to few in Lebanon, as the group's backing of the Marada Movement leader was one of the worst-kept secrets in the country since Parliament began attempting (and failing) to elect a president in September 2022.
While Frangieh is the first official candidate to have any realistic chance of getting elected, it is still far from a sure thing.
Parliament is almost evenly divided, making it impossible for Frangieh to be elected without around a third of the opposition agreeing to vote for him if he is to be elected in the first round of voting.
Frangieh also faces a bit of a legitimacy issue when it comes to Christian support.
While he is popular in his constituency in the northern city of Zgharta, that is practically where his favorabilities amongst Lebanon's Christian population end.
Without support from the Free Patriotic Movement and its leader, Gebran Bassil, who has previously said that he would not support Frangieh, his candidacy would be dead on arrival. The FPM is a close ally of Hezbollah, although there has been somewhat of a split in recent months, making it unclear as to whether or not the country's second-largest Maronite party with vote for him.
There is still the possibility of a consensus candidate bringing the two sides in Parliament together, but Hezbollah will assuredly push for Frangieh for as long as possible, most likely looking to make an agreement with the opposition when it comes to the premiership in exchange for a Frangieh presidency, before they would be willing to cut bait.
Whoever will eventually reach the presidential throne in Baabda will require Hezbollah's blessing, and it is going to take many more backroom deals before there is finally a new president, even as the country continues to collapse under the weight of the economic crisis.
In Lebanon
A surprise deal: After seven years of being at each other's throats, Iran and Saudi Arabia announced that they would be restoring diplomatic relations following negotiations headed by China.
Following the announcement, leaders throughout the region, and particularly in Lebanon, praised the rapprochement and the potential impact that it could have on the Middle East.
This renewal in relations could potentially bring an end to the civil war and humanitarian crisis in Yemen, as well as allow the two gulf countries to work together rather than in hostile opposition.
In Lebanon, some are hopeful that the restarting of ties could help lead to the election of a president, although Saudi Arabia has said that Lebanon's politicians should not rely on the Iran-Saudi relationship as being the solution to their problems.
Previously, Saudi Arabia flatly rejected the candidacy of Frangieh, but the newfound relations could help soften the Saudi stance or help to push Hezbollah away from the candidacy of Frangieh for someone that is more in the middle.
This announcement could also potentially lead to new Saudi involvement and investment in Lebanon after over a year of Saudi Arabia expressing little interest in Lebanese affairs due to Hezbollah's, and by extension Iran's, dominating influence in the country.
The renewal of diplomatic relations is still in its early days and we will have to wait a while before we see its full impact, but, either way, it has spurred hope that the regional situation could improve in the months to come.
Insanity: When the lira surpassed 90,000 to $1, the Central Bank (BDL) acted quickly by raising the Sayrafa rate to 70,000 in the hopes of empowering Lebanon's ailing currency.
And that is exactly what happened. The lira quickly went from 92,000 to $1 to around 80,000, and it stayed like that for a little over a week.
The problem is that that was all that BDL did. That is why the rate once again shot up to over 90,000, currently sitting at 96,000.
After a little over a week of trading at around 80,000 to $1, the #lira rapidly devalued today by around 10,000 to around 90,000 to $1. #Lebanon #لبنان #ليرة #دولار

— Nicholas Frakes | نيكولاس فريكس (@nicfrakesjourno) March 9, 2023
BDL's raising of the Sayrafa rate to bring down the black market rate is nothing new. They have done this multiple times before with the same result: the rate goes down for a little only for it to eventually worsen.
Back on strike: Lebanon's Association of Banks announced on March 9 that banks across the country would restart their indefinite strike on Tuesday, March 14, after around two weeks of suspending it.
#Lebanon's Association of Banks says that the open strike will restart next Tuesday morning as they continue to demand the reversal of a judicial ruling for a bank to pay a depositor their entire savings. #لبنان https://t.co/jsYpmCvasT

— Nicholas Frakes | نيكولاس فريكس (@nicfrakesjourno) March 9, 2023
The banks are demanding that a judicial ruling that would force one Lebanese bank to pay a depositor their entire savings be reversed, arguing that they do not have the reserves to pay the depositor.
They are also calling on the government to finally implement reforms to combat the economic crisis, such as finally passing a capital control law.
Where's my money: MP Charbel Masaad stormed a BLC branch in Sidon along with his brother to demand access to his savings at the bank.
He refused to leave until the bank promised him that they would release his trapped money.
Masaad is not the first MP to do such a thing. Cynthia Zarazir, a newly elected "change" MP, did something similar in October 2022 so that she could gain access to her savings for a medical operation.
Teacher's strike continues: Public school teachers staged protests throughout Lebanon on March 13 as they continue their strike to demand better pay amid the worsening economic crisis.
اعتصام لأساتذة التعليم الثانوي في المدارس الرسمية، أمام وزارة التربية في الأونيسكو، للمطالبة بتحسين أجورهم/ن.#أخبار_الساحة pic.twitter.com/X90iUZPfib

— أخبار الساحة (@Akhbaralsaha) March 13, 2023
The teachers have been on strike since January, demanding better pay as the economic crisis has made their salaries practically worthless.
Many teachers have complained that their salaries are not even enough to cover their daily transportation costs to and from the schools.
The government previously announced that they would be providing teachers with five free liters of fuel in the hopes that it would help to reopen the schools, something that has clearly not had its intended effect.
A blast from the past: French authorities are demanding that Lebanon allow them to question two suspects in the 1983 bombing in Beirut that killed dozens of French soldiers.
No one has ever been held accountable for the bombing although suspects had been identified.
The Islamic Jihad Organization took credit for the bombing in its initial aftermath however it has since been attributed to Hezbollah, which the Iran-backed group denies.
There is little chance that Lebanon will meet France's request.
Sitting in: European judicial authorities are in Lebanon to sit in on the questioning of BDL Governor Raid Salameh as part of their own probe into the bank head and his alleged financial crimes.
Last month, Salameh and his brother, Raja, were charged by Lebanese authorities for a string of financial-related crimes, such as illicit enrichment and embezzlement.
Salameh announced that he would not be seeking reelection when his term expires in May.
The hearing is scheduled for Wednesday, March 15.
More death: A man attempted to commit suicide on March 12 by throwing himself in front of traffic on the Ibrahim Rivier Highway in Kesserwan.
Lebanon's Civil Defense was able to administer first aid to the man and save his life before he was turned back over to his family.
Lebanon has seen an increase in suicides as the economic crisis, now in its fourth year, worsens, putting increased pressure on people as they try to find ways to survive despite the deteriorating situation.
If you or anyone you know is suffering from suicidal thoughts, be sure to seek help from a mental health expert. Embrace also offers a free mental health hotline that can be reached at 1564 as well as a clinic in Beirut. 
In the region
The fight over judicial reform: For weeks, Israel has seen tens of thousands of people go out into the streets in opposition to proposed legislation by Benjamin Netanyahu's far-right government that critics say would bring an end to Israeli democracy.
Opposition to the proposed legislation deepened last week, with many in Israel's military saying that they would refuse to serve if the bill was passed, potentially dealing a significant blow to the country, which is highly dependent on its military.
At the same time, there has been increased violence between Palestinians and Israelis, with over 70 Palestinians being killed by Israeli forces, most recently during a raid on the Jenin refugee camp in the West Bank.
Despite the large opposition to the judicial reform bill, the government remains intent on passing it.
Turkey's opposition names its candidate: After months of speculation and internal conflict, Turkey's opposition parties named a unified candidate for the country's 2023 presidential election.
Kemal Kilicdaroglu, 74, was chosen by a coalition of six opposition parties to run against Recep Tayyip Erdogan despite some opposition within the coalition.
Kilicdaroglu is hoping to unseat Erdogan who is facing a referendum on his handling of the country's economy and the government's response to the February 6 earthquake that devastated the southern part of the country.
Some are skeptical as to whether or not this broad coalition will be able to defeat Erdogan given disagreements among the parties, which could serve to derail their presidential ambitions.
Bombings in Syria: Israel carried out multiple air strikes in Syria last week with one temporarily taking the Aleppo airport out of commission.
The first strike took place on March 7 in Aleppo with the missiles targeting the Aleppo airport.
The second strike occurred on March 12 with Israel targeting the western city of Masyaf.
While Israel rarely acknowledges these strikes, they have previously stated that they take such actions to counter Iran and Hezbollah positions in the country.
Banned: The United States banned a Syrian security agent from entering the country after a video surfaced last year showing him executing prisoners.
Amjad Yousef, a member of Branch 227 of the Syrian military intelligence forces, along with his wife and immediate family members were all subject to the ban according to the US State Department.
Yousef gained notoriety last year after a video emerged which showed him taking part in the brutal execution of dozens of prisoners in April 2013.
The ban is more symbolic and will likely not have much of an effect on Yousef and his family in Syria.
What we're reading
Women's rights: Practically everyone in Lebanon has been suffering as a result of the economic crisis. But, as NOW's Dana Hourany found, as the crisis has worsened, women's rights have taken a backseat.
Safe living: Following several earthquakes and aftershocks that have hit Lebanon, many have become increasingly worried about the structural integrity of their homes. Architect Rayane Tawil wrote for NOW about how safe buildings actually are in Lebanon.
Lebanon+
From the stands: During a Sunday night match between al-Ansar FC and al-Ahed FC, supporters of al-Ansar broke off chairs at the Fouad Chehab Stadium in Jounieh and threw them on the pitch and at security forces after al-Ahed scored a third goal in the final minutes of the match which led to a contentious foul.
Fans of al-Ansar broke fences, threw chairs and other things onto the pitch and at security forces after al-Ahed scored a third goal in the final minutes of the match, forcing the teams off of the field so that the fans could be cleared out. #العهد_الأنصار #لبنان #football pic.twitter.com/4vJCzQELMa

— Nicholas Frakes | نيكولاس فريكس (@nicfrakesjourno) March 12, 2023
As a result, al-Ahed has said that they won, giving them their ninth Lebanese Premier League victory, but the Lebanese Football Association has not commented on the events and whether or not al-Ahed are truly the winners or if they would need to replay the final few minutes of the match to decide the winner.
Podcasts: Mental health has become more of a focus in Lebanon amid the worsening economic crisis and the rise in suicides. In the latest episode of The Beirut Banyan, Ronnie Chatah spoke with Embrace's co-founder Mia Atoui about mental health and psychology in Lebanon, men's mental health awareness and how sectarian anxieties can relate to individual agency.
Until next week, follow NOW Lebanon on Twitter, Instagram, Facebook, and LinkedIn, and subscribe to our weekly newsletter. And stay safe!