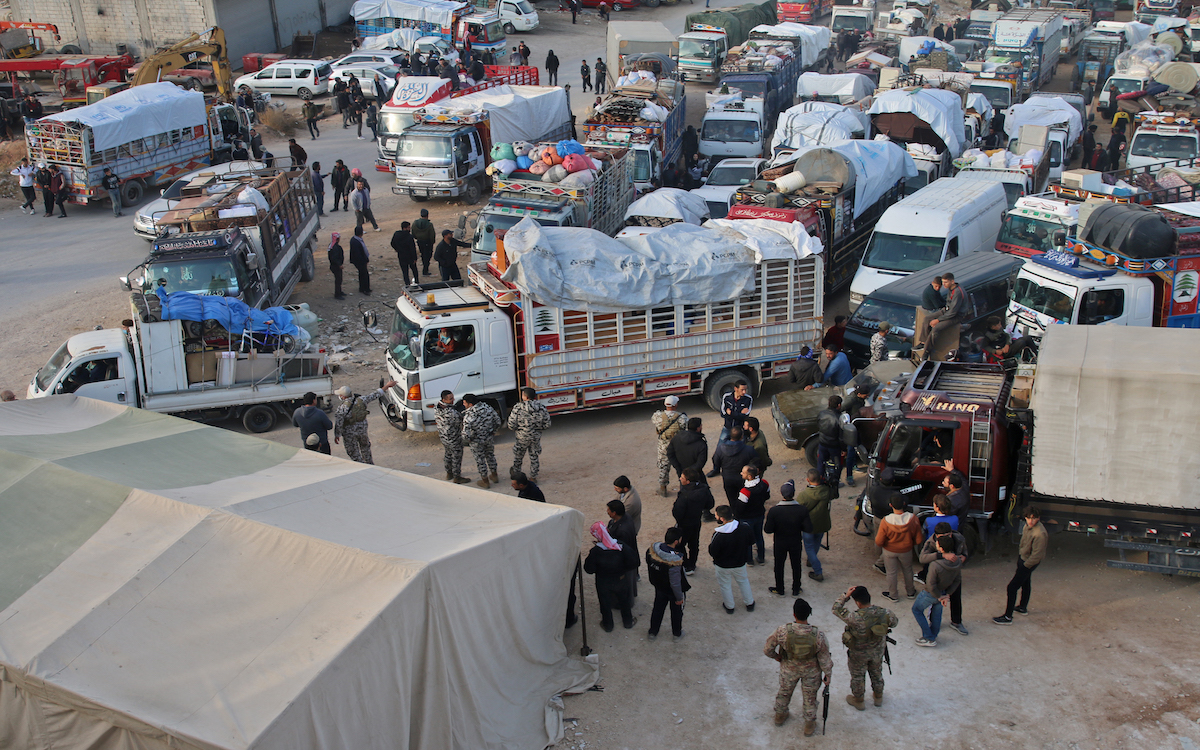 Displaced Syrians prepare to leave Lebanon towards Syrian territory through the Wadi Hamid crossing in Arsal on October 26, 2022. Photo: AFP
A protest in front of the United Nations High Commissioner for Refugees (UNHCR) in Beirut calling for the expulsion of Syrian refugees in Lebanon that was scheduled for April 26 was canceled after caretaker Interior Minister Bassam Mawlawi sent a letter to the security forces to prevent any demonstration or counter-demonstration from taking place over fears of clashes between the two sides.
Despite the protest being called off, anti-Syrian rhetoric in Lebanon is growing.
Recent actions: In recent weeks, Lebanese authorities have taken increased actions directly targeting Syrian refugees in Lebanon.
Prior to the Eid al-Fitr holiday, which marks the end of the holy month of Ramadan, the Syrian Observatory for Human Rights said that Lebanese security forces deported an estimated 177 Syrian refugees back to Syria after performing raids on their homes in areas like Bourj Hamoud.
This comes as part of a recent crackdown on refugees who supposedly entered Lebanon illegally or who do not possess the proper paperwork to be in the country legally.
Municipalities are also taking action against Syrians in their areas, with the Bint Jbeil Municipality saying on April 25 that any Syrians living in the area would be required to register with the municipality starting on the morning of April 26 and have until Friday, April 28, to do so.
Any Syrians found to have not registered after that deadline would have "legal measures" taken against them, which almost assuredly means deportation back to Syria.
Bint Jbeil is located deep in Southern Lebanon and is a stronghold for Hezbollah, a group that fought alongside Syrian President Bashar al-Assad's forces to help keep him in power.
Mawlawi has also subtly blamed the refugees for the recent outburst of anger, stating that Syrians in Lebanon are subject to Lebanese law and need to register with the proper authorities and departments because "this chaos is harmful to Lebanon and is harmful to their interests and the security situation for which we are responsible."
In a meeting Wednesday, April 26, caretaker Prime Minister Najib Mikati called on the UNHCR to provide the government and municipalities with information on Syrian refugees in Lebanon. He also requested that the Ministry of Justice  look into the possibility of turning over Syrians detained in Lebanon to Syria. 
Nowhere to go: One of the main arguments for Syrian refugees to return to their country is that Syria is "safe" now, and that there is no longer a war keeping them from going back, especially as an increasing number of countries in the region have agreed to renew diplomatic relations with Assad.
While it is true that the civil war in Syria has largely died down and any fighting is primarily located in the north of the country, this notion fails to take into account the situation that the refugees are in and the risks that it poses to return.
Many of these refugees took part in the anti-government protests that began in 2011 in the wake of the Arab Spring or have family members who fought in the civil war against the Assad regime. Others fled the country to avoid mandatory military service because they did not want to fight against their fellow citizens or because they did not support the regime.
This makes them wanted individuals who could be quickly arrested upon their return; something that could see them either forced to take part in military service or thrown in one of the country's notorious prisons.
Since the start of April, the Syrian Observatory for Human Rights found that over 39 Syrians who were deported back to Syria from Lebanon have since been arrested.
Syrian refugees are not oblivious to the situation in Lebanon and the growing anger against them.
In previous reporting, NOW found that many Syrians want to be able to return to their home country, but they say that they cannot because it is not safe for them to do so.
Since that is not possible for them, many have spoken about wanting to leave Lebanon to seek refuge in a third country, but asylum requests can go on for years before a decision is reached, with few countries actually willing to take any Syrian refugees due to racist right-wing ideals.
Because they have nowhere to go and are instead forced to stay in Lebanon despite how they are treated and the few opportunities that they have in the country, some have taken to attempting to be smuggled by boat into Europe, which can have deadly consequences.
A political tool: For several years Syrian refugees have been an easy target for Lebanese politicians to scapegoat.
Since the start of the economic crisis in October 2019, NOW reported that Syrian refugees have been used by politicians to divert blame from themselves and cast the refugees as the main reason for the country's collapse despite evidence to the contrary.
But most Lebanese are not going to do research and fact-check what a politician says about refugees, which has spread misinformation and helped to fuel anti-Syrian sentiment in the country, especially as the economic crisis continues to worsen amid the lack of action by the country's politicians.
"There is a widespread perception amongst the Lebanese that Syrians are being given money by international organizations and, therefore, they're better off," Michael Young, senior editor at the Carnegie Middle East Centre in Beirut, told NOW. "It's shameful, but the reaction is not unexpected; the socio-economic situation in the country is a disaster."
While some politicians use Syrian refugees as a way to avoid taking responsibility for the collapse of Lebanon's financial and economic institutions, others have a vested interest in having Syrians return to Syria.
Hezbollah actively supported Assad in the civil war and has reportedly worked to have Syrian refugees go back to their home country despite the risks that it could pose to them.
No end in sight: The situation for Syrian refugees in Lebanon is not likely to improve anytime soon and there is actually a higher likelihood that things will worsen for them, whether it is the anti-Syrian rhetoric or actions taken against them by Lebanese authorities.
As the economic crisis persists and Lebanon's politicians continue to fail to take action, refugees will remain easy targets for people to cast their anger upon no matter how misplaced it might be.
Nicholas Frakes is a senior reporter with @NOW_leb. He tweets  @nicfrakesjourno.