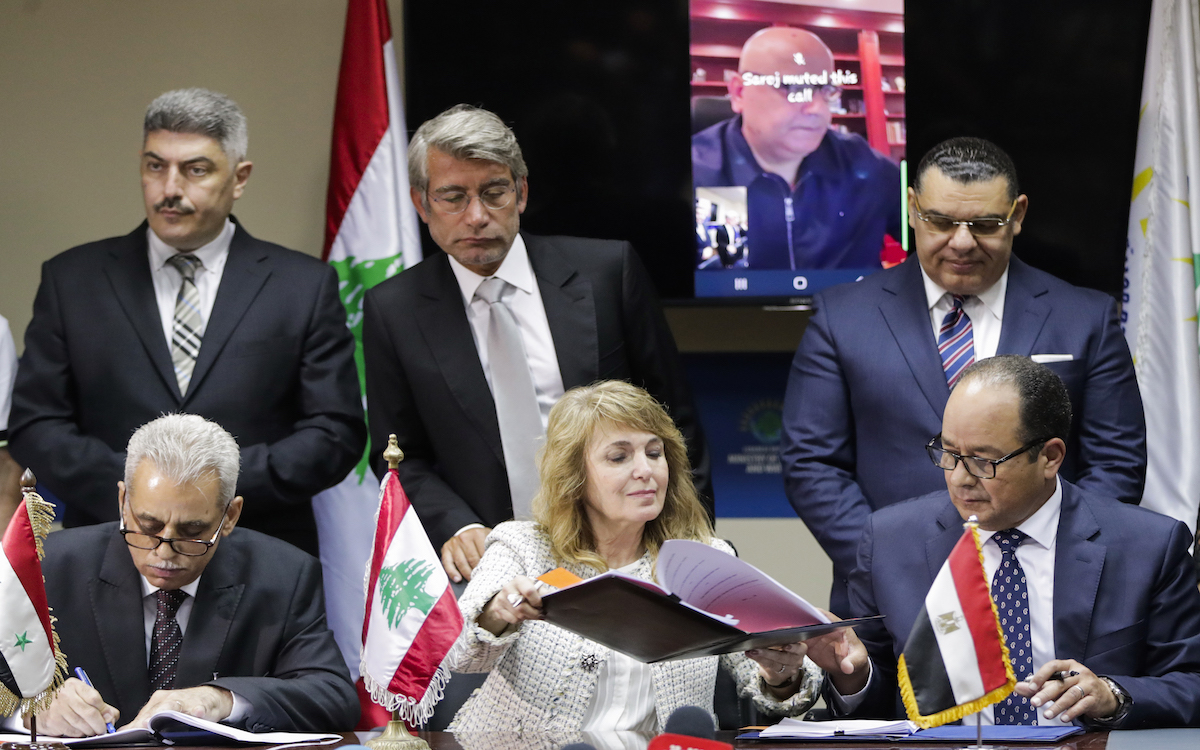 (L to R seated) Director General of Syria's General Petroleum Corporation Nabih Khrestin, Director-General of Oil Facilities at the Lebanese Energy Ministry Aurore Feghali, and Chairman of the Egyptian Natural Gas Holding Company (EGAS) Magdy Galal take part in a signing ceremony for a gas import agreement in the presence of Lebanon's caretaker Energy Minister Walid Fayad (C standing), at the Lebanese energy ministry in Beirut, on June 21, 2022. Lebanon signed a deal to import natural gas from Egypt via Syria to boost power supply by an additional four hours a day amid round-the-clock cuts. Photo: Anwar Amro, AFP
After months of claiming that Lebanon would import 650 million cubic meters of natural gas from Egypt annually, Lebanon finally signed an agreement with the North African country on Tuesday, June 21.
The deal, originally proposed by the United States in response to Hezbollah announcing that it was going to import Iranian fuel to combat Lebanon's fuel crisis during the summer of 2021, would see Egypt send Lebanon some of its natural gas reserves through a pipeline that passes through Syria. Lebanon would use the gas to power Électricité du Liban, Lebanon's state electricity company, allowing it to provide around four extra hours of electricity per day.
Currently, EDL provides two to three hours of electricity per day on average.
The US still needs to decide if Lebanon receiving this gas from Egypt through Syria, which would allow Syria would take some as payment, violates sanctions implemented on the Assad regime and, if so, should it be exempt from the Caesar Act. Furthermore, Lebanon's agreement with Iraq to import around 40,000 tons of fuel in exchange for unspecified services is set to end by September, putting a stop to Lebanon's sole source of fuel.
Because of this, caretaker Energy Minister Walid Fayad has proposed an "emergency plan" to continue importing fuel from Iraq.
However, energy consultant and non-resident scholar at the Middle East Institute in Washington DC Jessica Obeid says that all of these are only temporary solutions that will not actually address the underlying problems facing Lebanon's energy sector.
"In general, Lebanon has no sustainable electricity plans," Obeid told NOW. "Every action has continuously been temporary, expensive and unsustainable. Band-aid solutions are therefore not new to the country, but they're persisting despite the almost total black-out."
Stabilization first
Before any solutions to the energy woes can even be proposed, the ongoing economic crisis plaguing Lebanon needs to be addressed first.
According to Mike Azar, an expert on Lebanon's financial system, there is no point in putting forward any plans to import fuel or to increase energy output by EDL before the country's currency and economic situation are stabilized.
"Nothing is fixable before you restructure the financial sector and public debt," Azar told NOW. "So I don't care what plans they come up with. If the currency is this unstable and the economy collapsing, nobody can afford electricity."
Part of restructuring the financial sector and fixing the deeper problems in Lebanon would mean reforming the energy sector, which has long been a black hole for money as the government has opted to continue throwing money at EDL in order to keep the lights on, rather than fixing its structural problems.
When Lebanon was facing large-scale blackouts in March 2021, the government gave EDL a $200 million funding boost.
Crises in other countries have triggered some sort of power sector reforms, but this has not been so far the case in Lebanon, and temporary solutions that ignore the roots of the problems still persist.
Something similar happened at the beginning of 2022 when EDL was only providing a few hours of electricity per day.
Instead of reforming the institution, the government proposed giving EDL a 5.25 trillion lira (around $3.5 billion at the official exchange rate) advance payment so that it could buy fuel. However, this proposal faced steep opposition and was ultimately tabled.
"Crises in other countries have triggered some sort of power sector reforms," Obeid stated. "But this has not been so far the case in Lebanon, and temporary solutions that ignore the roots of the problems still persist."
Even though Lebanon's plans to secure fuel from Iraq, import natural gas from Egypt and have Jordan send Lebanon electricity through a network connecting the two countries, also though Syria, would allow EDL to provide an average of over 10 hours of electricity per day, it would still fail to fix the core problems facing the country, ensuring that they will resurface after a period of time.
"This [lack of reform] applies to Egypt's gas, Jordan's electricity and Iraq's fuel," Obeid explained. "None of which is sustainable, nor that the State could afford. But these also highlight the complacency of the Lebanese officials who keep expecting foreign countries to intervene to halt a total collapse, while the domestic official policy is inaction."
Even the current plans, specifically the Iraqi oil plan and Egyptian gas deal, face an uphill battle in order for them to become a reality and, even then, could have dangerous repercussions.
Unrealistic plans
The Egyptian gas deal has been in the works since Hezbollah imported Iranian fuel despite objections from the Lebanese government, providing a temporary solution that the group played off as a major victory and as further evidence that they are the sole entity capable of providing for the Lebanese people, a tactic utilized by the Shiite party in its constituencies.
Now, though, it seems like it is finally going to become a reality.
However, the project, like the Jordanian electricity deal that is also yet to materialize, is funded by the World Bank which will provide an estimated $600 million for the two projects.
While Lebanon might sign an agreement with Egypt, formalizing the deal, the World Bank has requirements that the Lebanese government would need to meet before any money could exchange hands.
The World Bank did not respond when asked what these specific requirements would be.
Most experts believe that these stipulations would require reforms in the energy sector, something that the government has both failed and refused to do for decades.
"The World Bank is requiring conditions which they know the State would not meet," Obeid said. "Because if there was a will for reforms, the power sector would have been in better shape."
Even if Lebanon meets the World Bank's conditions and the international body agrees to fund the project, securing US approval to transport that gas through Syria is not a guarantee.
"The US is considering the Egyptian gas and Jordanian electricity [projects] as humanitarian assistance, thus, they bypass the Caesar Act," Obeid explained. "However, there are pushbacks against dealing with the Syrian regime inside the US still challenging this."
This pushback is due to the Syrian government receiving some of the gas that it can then use for its own energy needs. The purpose of the crippling sanctions put on Syria was to punish the Assad regime for its endemic corruption and human rights abuses, as well as to try and force the regime to come to the negotiating table and implement major structural reforms. Syria's reception of some of the transported gas would be a way for the regime to get around the sanctions, relieving some of the pressure.
[The government] needed to look into all of that but probably they didn't. There could be a lot of unintended consequences that I am not able to predict with the information that I have.
In addition to this, there are no guarantees that Syria would not put a stop to the flow of gas due to alleged security concerns in the south of the country, where the gas would flow through.
Even as challenging as the Egyptian deal might be, Fayad's proposal to continue importing fuel from Iraq has even bigger problems.
According to the plan, tariffs would be raised drastically and the Central Bank (BDL) would sell the state $130 million per month in order to buy the fuel, but at the cost of ending BDL's subsidizing of gasoline imports.
People's electricity bills, which are already out of date, would be dollarized and then converted to lira using BDL's Sayrafa platform, causing a drastic increase, and making electricity unaffordable for most people.
Both Obeid and Azar say that this plan is wholly unrealistic.
"In light of the financial, economic crises and the lack of trust between the citizens and the state, this would mean that more people would not pay their bills," Obeid stated. "And those who can afford it would double down efforts on cutting reliance on the grid."
The Central Bank's foreign reserves are already steadily dwindling, so changing funding for the import of Iraqi fuel over gasoline would do little to help.
"Whether the deal is putting a dollar in the market to meet a dollar demanded by a gasoline importer or a dollar demanded by a diesel importer for EDL electricity, there is no difference. You need a dollar," Azar explained. 
"It doesn't really matter whether it is to meet this part of the demand or that part of the demand, it's the same thing. So, if EDL is going to be putting the exact same amount of dollars, it is just switching from selling dollars to gasoline importers to selling dollars to EDL, it's the same amount of dollars. Nothing would change."
Azar added that there is not enough information to accurately predict the impact that a plan like this could have on the country.
Since the Central Bank would no longer subsidize 15 percent of fuel imports under this plan, gasoline prices would also likely drastically increase, although to pay for 20 liters of fuel already costs more than the average monthly minimum wage in Lebanon.
Azar admits that this plan could offset people's reliance on diesel imports to fund private generators, something that, according to Obeid, people are already trying to limit due to rising costs.
The demand for dollars could also increase as EDL's output increases, which could ultimately affect the exchange rate, yet there is no research to support any of this.
"[The government] needed to look into all of that but probably they didn't," Azar stated. "There could be a lot of unintended consequences that I am not able to predict with the information that I have."
So far Fayad's Iraqi oil plan is just a proposal, but the Egyptian gas project is finally starting to gain traction.  Unless major changes are made, however, Lebanon will end up right back where it is now.
"The sector's key problems are rooted in the weak governance, corruption and mismanagement, and unless these are addressed, no plan is going to be affordable nor sustainable," Obeid said.
Nicholas Frakes is a multimedia journalist with @NOW_leb. He tweets  @nicfrakesjourno.