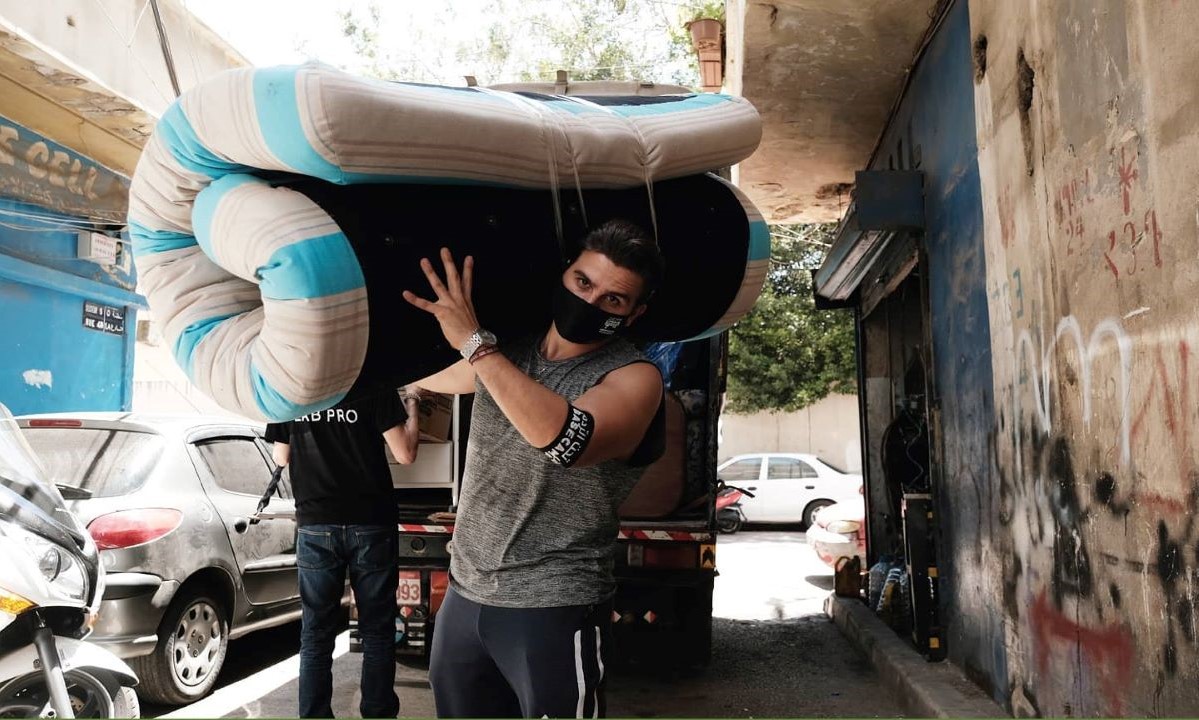 The Basecamp team recycling used furniture for people in need. Photo: Courtesy of @emiliemadiphotography .
Music filled the Jesuits Park in Geitawi, a neighborhood of Beirut. Children played together, food was distributed for free and dancers joined to add to what was already a huge smile on the children's faces. 
For a brief moment, it was easy for everyone to forget everything Beirut went through, from the August 4 port explosion to the ongoing economic collapse. 
"The kids have been confined in their houses, either because of Covid or the explosion, so they're in dire need of a way to let everything go," Roy Tohme, a lawyer in his 30s says. 
Tohme studied at the University of Boston, he returned to Lebanon in 2013 and hasn't thought of leaving the country even after the Beirut port blast. 
He works as a fundraiser with Basecamp, a youth-led organization established after the August 4 port blast whose volunteers helped renovate houses, distribute food, clothing, and even set up a medical clinic in Geitawi, one of the areas destroyed by the explosion. 
Tohme says he believes that Lebanon belonged to its people and seeing the real-life impact a handful of young people were making. He felt that was reason enough to stay. 
A big number of Lebanese young graduates are choosing to leave the country seeking scholarships and jobs abroad that offer salaries in dollars and opportunities to grow in an environment where corruption is not closing all doors. But some people decided to either return or remain in their country, just like Tohme. Many of them are boosting a vibrant NGO environment, others are opening small businesses. It's their heir form of resistance, they say.
"We take one challenge at a time, it's not like we're going to fix the electricity and fuel issues but we're also not going to pack and leave," Tohme told NOW.
Businesswoman at 25
When inflation in Lebanon hit all markets while prices soared, skincare became a luxury that not a lot of people can afford. The need for cheaper, local alternatives became of utmost importance. 
Fatima, a 25-year-old who makes her formulas in her small kitchen, started up "Ward Beauty", an online, local and organic skincare shop. 
"I started experimenting with natural ingredients because nothing was working for my skin," she said. Then she shared her finds with her friends, who later became her loyal customers. 
As social media ads became unaffordable due to their payment in dollars, which most Lebanese don't have access to, forming a community and relying on word of mouth became the only advertising alternative. 
"The feedback and the satisfaction that I see from my customers that have now formed a small community keeps me going." 
However, this did not limit the number of challenges she faced – expensive delivery fees, limited supply of organic ingredients, product pricing, among other complications.  
But Fatima believes her side gig is more than mere business as it represents a contribution to a community that can no longer access pharmaceutical brands. 
"We take one challenge at a time, it's not like we're going to fix the electricity and fuel issues but we're also not going to pack and leave."
Roy Tohme, 30, Lawyer
"It becomes part of your survival," she stated. "The idea that despite everything happening, you are still capable of putting in the work. Everything around me is falling apart, I don't want this to fall apart as well."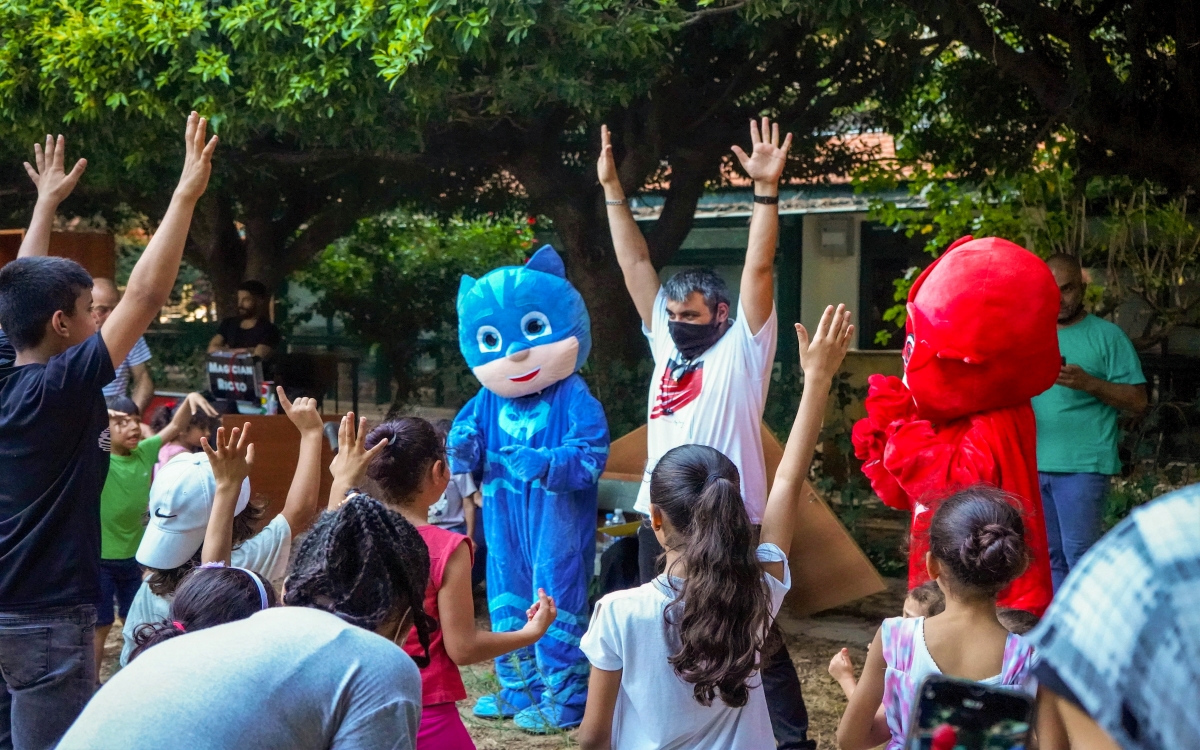 Resistance through art
Beirut was once known as the art hub of the Middle East, with private galleries all over the city and the well-known Beirut Art Fair. 
However, that took a halt after the port explosion destroyed many of the galleries situated in the heart of Beirut, as well as many shutting their doors because of Covid-19 lockdowns and a degenerating economy.
But the recent return of exhibitions indicates the possibility of reviving a much-needed space for artists and audiences alike. 
Melissa Ghazale, 29, is a visual artist curating her first group exhibition featuring Lebanese artists.
"The most important thing is that art is play, it's a way of having fun and possibly escape everything that is happening."
Ghazale's exhibition, scheduled to open later in July, centers around the theme of teenage years, – an ode to a time where the seed of rebellion is planted,  and courage begins to develop.
"During your teenage years you start to develop your own identity away from inherited ideologies and want to break free from all authority figures, it's also where you first start to feel courageous enough to do so."
"There is something special about confronting what [has] hurt us in a very gentle way, it's much better than repressing it."
Melissa Ghazale, 29, artist

For Ghazale, these formative years allow many to break free from traditional sectarian, religious, and social upbringings and develop a sense of autonomy. She relates this to the youth's eager participation in the October 17 protests. 
For Ghazale, it is also important to recognize that art is a therapeutic method of self-expression that helps navigate through this landscape of crisis. 
"There is something special about confronting what [has] hurt us in a very gentle way, it's much better than repressing it." 
Art may put Lebanon back on the map, artists hope. But for now, their role in community building and collective healing is more critical, as these exhibitions provide a safe space for Lebanon's residents to share and process experiences and emotions, and engage in important topics, Ghazale says.
"Art is definitely political but on an individual level, it can also help a lot," she pointed out. "Sometimes watching art is enough, the fact that you are able to relate to someone else, feeling like this artist is speaking your language, helps you feel less alone some days. Just enjoying the show can take your mind off things."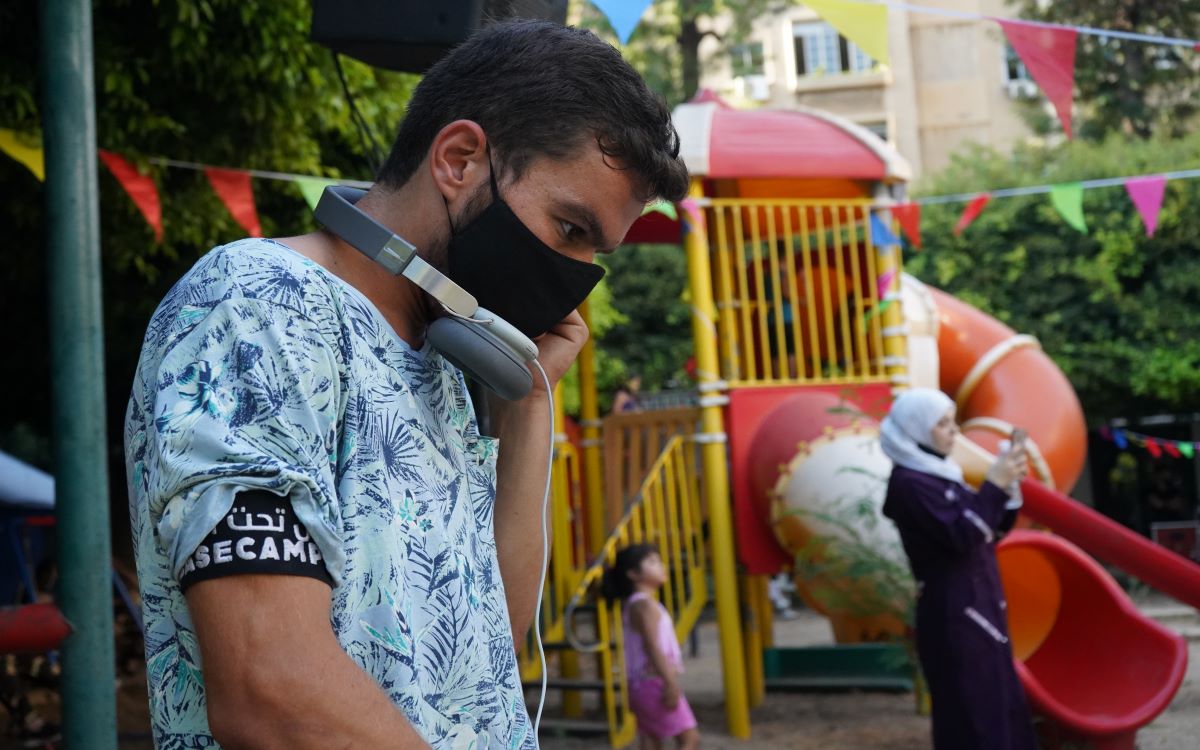 Persistence
Camille Madi, 39, is the director of  Basecamp. He also is one of the people who chose to stay in Lebanon rather than seek a better future abroad. The organization, he says, works with young volunteers, some as young as 16. 
"The younger generation stays motivated for longer," he said. "But the problem is that they lack knowledge, they don't understand how we got here. It's really confusing for them so all they focus on is leaving the country, but they should see that there is a plan for the future that's being put in action"
Madi says that every person can contribute with the smallest actions, from transporting items to distributing food, or simply talking to people. 
"We always try to keep the sense of community with the people we help by checking up on them, especially the elderly that have no one to speak to." 
Basecamp has lately participated in a period awareness campaign to support women's empowerment and remove the taboo from a woman's menstrual cycle. They even distributed a large number of pads, as the cost of this essential product has increased drastically.  
"We always try to keep the sense of community with the people we help by checking up on them, especially the elderly that have no one to speak to."
Camille Madi, 39, Director Basecamp
The group of community activists is aiming for more awareness campaigns to break taboos and discuss important subjects, for example, a campaign highlighting the importance of mental health to students at schools in September.
For Madi, the biggest changes will be sought during elections, but until then he says it is vital to encourage the younger generation to stay involved in activism, "for when you help others, you sleep better at night."  
"Don't ask what your country can do for you, ask what you can do for your country." 
Tohme also says that real change will not happen in a month or two,  but there are no small or big acts of help.  Every action and initiative, especially by the youth, play a part in shaping a future.

"We came back from death. Beirut literally fell on our heads and we were all there when it happened. When you survive that, you can survive anything and you won't stop until the job is done."
Dana Hourany is a multimedia reporter with @NOW_leb. She is on Instagram as @danahourany.