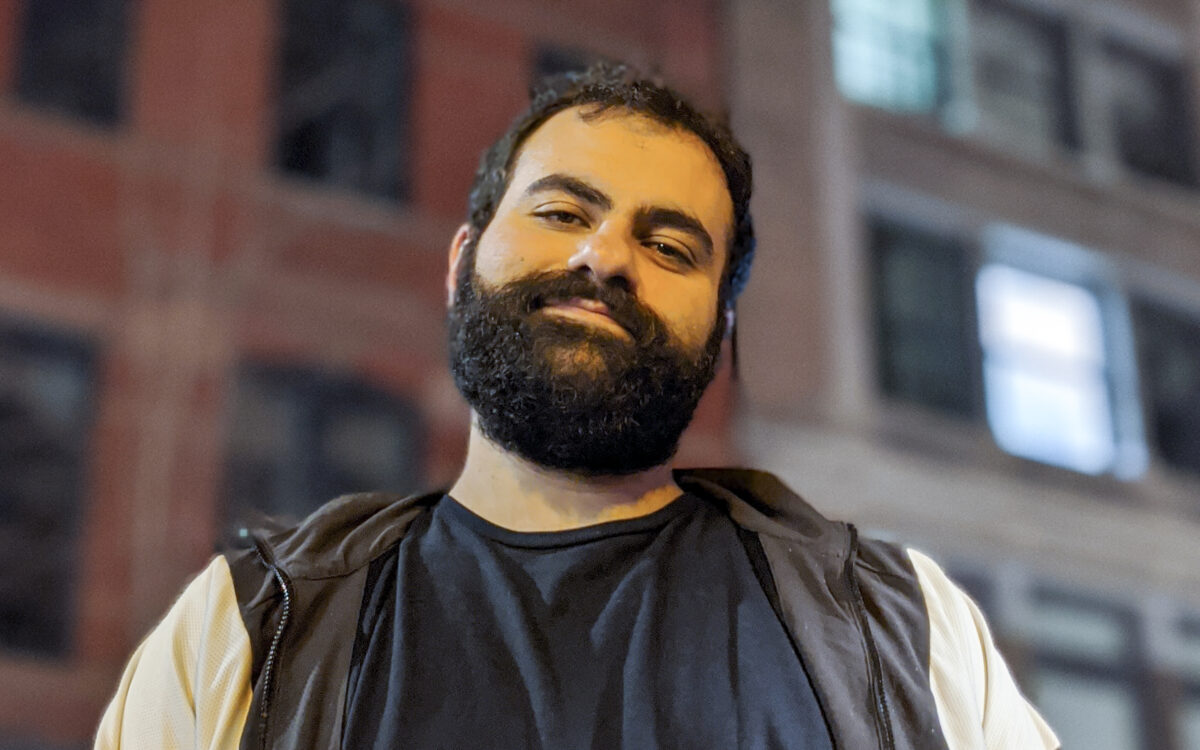 Gino Raidy has been summoned to appear before judicial and security institutions for the fifth time since the beginning of 2020. Photo courtesy of Gino Raidy.
It was 3:27am on a Wednesday morning in New York. In the city that never sleeps, Gino was starting to wind down for the day.
As he was preparing for bed, he saw his phone screen light up, it was his father. He was calling from Lebanon, Gino suspected it might be a long night.
He listened to his dad, sighing as he explained an all too familiar situation.
He had received a phone call at his grandparents' home, it was a notice for Gino to appear in a military court. No explanation was given and no date.
Gino thanked his father and hung up the phone.
He was frustrated, but not surprised. This was the fifth time since the beginning of last year that Gino Raidy, a prominent blogger and activist has been summoned to appear before the judiciary in Lebanon. 
After discussing his options with his lawyer, Gino did what he so often has when confronted by the authorities in Lebanon, and took to social media.
View this post on Instagram
A likely target
Gino's famously provocative, anti-authoritarian stances are shared widely among his 150,000 (combined) social media followers. He often ridicules and mocks the ruling political class, whilst highlighting governmental failures and corruption. He also has a blog where he writes more in-depth insights into political questions and maintains his attacks on leaders from across the political spectrum.
These stories have drawn attention, some of which have directly resulted in legal action. 
Despite this, Gino remains active online. One look at his Instagram account, and it would seem as though he has brushed off any legal action. 
"It's really bad, but I don't share my frustration or anger or anxiety about this, because I don't want them to think they are winning," Gino tells NOW Lebanon, "but it's disheartening, if not traumatizing." 
Raidy is not alone, as protests have become commonplace in Lebanon, as too has the summoning and trialing of activists, with high-profile actors being targeted more often than most.
Last year, prominent journalist Dima Sadek was summoned for interrogation by the security authorities for spreading "fake news" about a local party and "inciting sectarianism and racism." And in March, comedian and activist Shaden Esperanza was summoned for interrogation by the cyber crimes unit of state security.
Raidy thinks the summons are a tactic to crackdown on dissent.
"It's like the Syrian occupation days when the Syrian regime tried to intimidate a few people that are visible to make others think about it twice. It will never work with everything happening."
Ayman Mhanna, Director of the Samir Kassir Eyes (SKEyes) Center for Media and Cultural Freedom agrees.
"The relentless legal actions against Gino Raidy are a sign of how much the authorities want to silence individual influencers, who speak the language of common people, and express discontent in the most explicit way," Mhanna says. 
"It is as if authorities feel that the words that Gino uses are more threatening than pages of investigative articles and long hours of TV reports about their corruption and incompetence."
Being summoned to the military court has even more concerning implications, which trouble Raidy.
"I worry about my safety if I were to ever go back to Lebanon," Gino says.
"They have hurt me before and they have greater impunity today to hurt me and those like me if given the opportunity."
An abuse in power
Human rights groups have long criticised the Lebanese judicial system for involving the military courts. A Human Rights Watch investigation in 2017 revealed the many due process and international law violations were inherent in trying civilians before military courts in Lebanon, including incommunicado detention, interrogations without a lawyer, ill-treatment, and torture.
The Lebanese military court system has broad jurisdiction over civilians, including in cases involving crimes that harm the interest of the military or the internal security forces, this can also cover any conflict between civilians and military or security personnel.
"The jurisdiction of the court is quite wide and has widened in practice," explains Ghida Frangieh, a lawyer at nonprofit research and advocacy organization, Legal Agenda. "Certain non-military crimes can be referred to the court. For example, we have seen cases of some people who have been critical of the president of the republic."
It's not just high-profile activists like Raidy who are getting called in for questioning. Since the 'October Uprising' in 2019, the military prosecution has filed charges against more than 350 civilians in the context of protesting and online posting.
"We have been representing a lot of people at the court, and most of the cases do not have evidence," says Frangieh, highlighting a deeper problem.
"When you are charging people with military crimes without there being any evidence, it means you are over-prosecuting and referring civilians to the wrong court."
According to the Lawyers Committee for the Defense of Protesters, out of the 350 civilians summoned out of the 62 trials followed by the committee 57 have received a non-guilty verdict.
"Because we have all of these cases without evidence, we consider it a political strategy, which is using the military judicial system to intimidate the political opposition," explains Frangieh.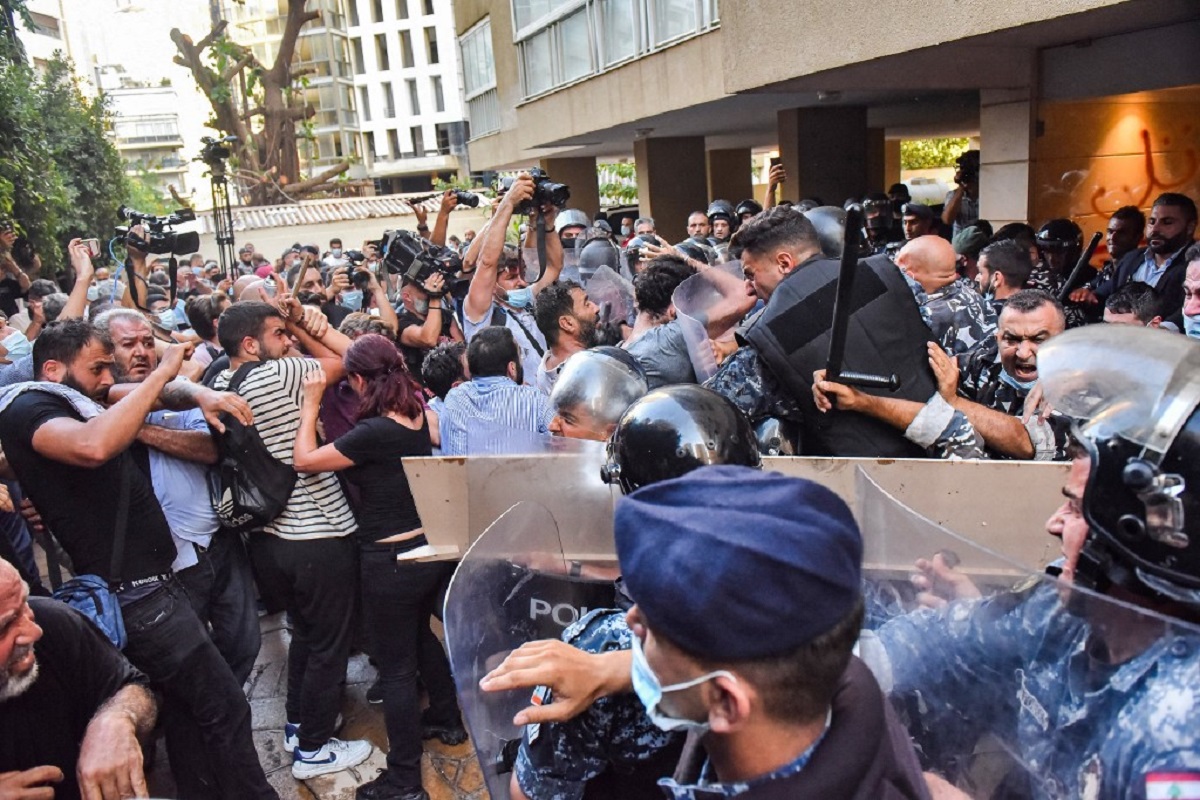 Misplaced priorities
Raidy's lawyer, Ayman Raad, confirmed the charges that have been made are "defamation of army or an army officer", and that his court appearance is scheduled on the 17th of August. However because Gino has no immediate plans to return to Lebanon, the hearing is likely to be delayed.
All of this comes as we approach the one-year anniversary of the August 4 explosion which killed over 200 people and left thousands injured. The investigation has yet to make any meaningful progress.
Last week, riot police fired tear gas and scuffled with family members of victims of the Beirut Port blast outside the home of Lebanon's caretaker interior minister after he decided to reject a request by the judge investigating the explosion to question the head of General Security Major General Abbas Ibrahim.
For Raidy, this adds further insult to injury,
"This is the worst part of all of this. Seeing people being implicated in the blast, and not giving permission to investigate them at least, if not prosecute them. It is infuriating. They have no shame anymore."