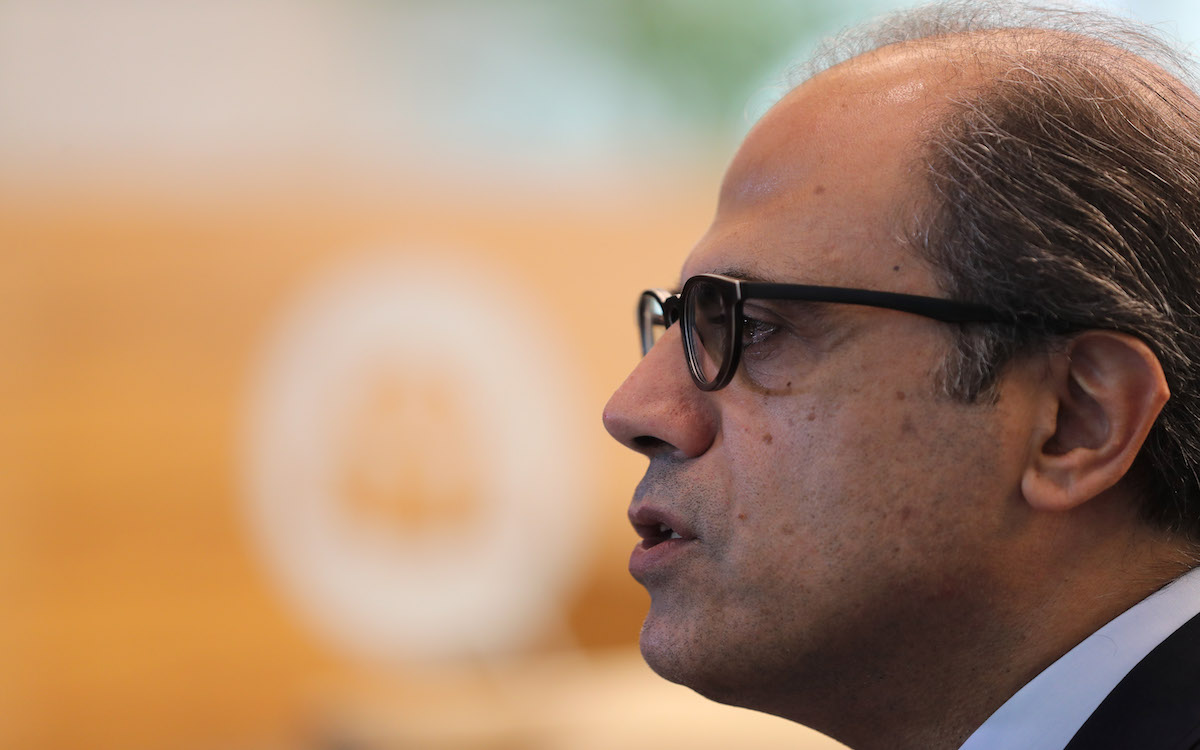 Director of the Middle East and Central Asia and International Monetary Fund, Jihad Azour, gestures during an interview with AFP at Dubai's International Financial Center on October 30 2017. Azour has been nominated by Lebanon's opposition parties, with the support from the Free Patriotic Movement, for the presidency against Hezbollah-backed candidate Sleiman Frangieh. Photo: Karim Sahib, AFP
The fight for Lebanon's presidency is heating up as the opposition finally seems to have gotten its act together and united around a single candidate. Since the presidential run began, opposition MPs had been voting for several different candidates who had no chance of winning, rather than coming to a consensus.
Significantly, the opposition also appears to have persuaded Gebran Bassil and the Free Patriotic Movement to join them in their nomination of former Finance Minister Jihad Azour.
Assuming that the FPM does indeed follow through in voting for Azour and the opposition miraculously stays united, it would put Azour over the threshold to be elected during a second-round vote. Current estimates have Azour receiving 68 votes, Sleiman Frangieh, who was nominated by Hezbollah and the Amal Movement, receiving 45 and then another 15 blank ballots.
The problem is that even if Azour has enough votes to win in the second round, it will almost be impossible to get there as Hezbollah has already rejected Azour's nomination.
For someone to be elected president, they need to win a two-thirds majority in the first round of voting, but, if a second round is called, then they only need a simple majority. This, however, is contingent on a quorum still being present, meaning that Hezbollah and its allies simply just need to leave the chamber after the first vote to end the session – a tactic that has been used by the opposition and Hezbollah in the first 11 votes.
MP Mohammad Raad, head of Hezbollah's Parliamentary bloc called the former finance minister's nomination a "waste of time" and that those nominating him were "delusional."
On top of this, the Lebanese daily newspaper Al-Akhbar, an outlet closely affiliated with Hezbollah, published a piece on Saturday about Azour's nomination with a picture that had Azour out of focus and Mohammad Chatah, another former finance minister, in focus in the background.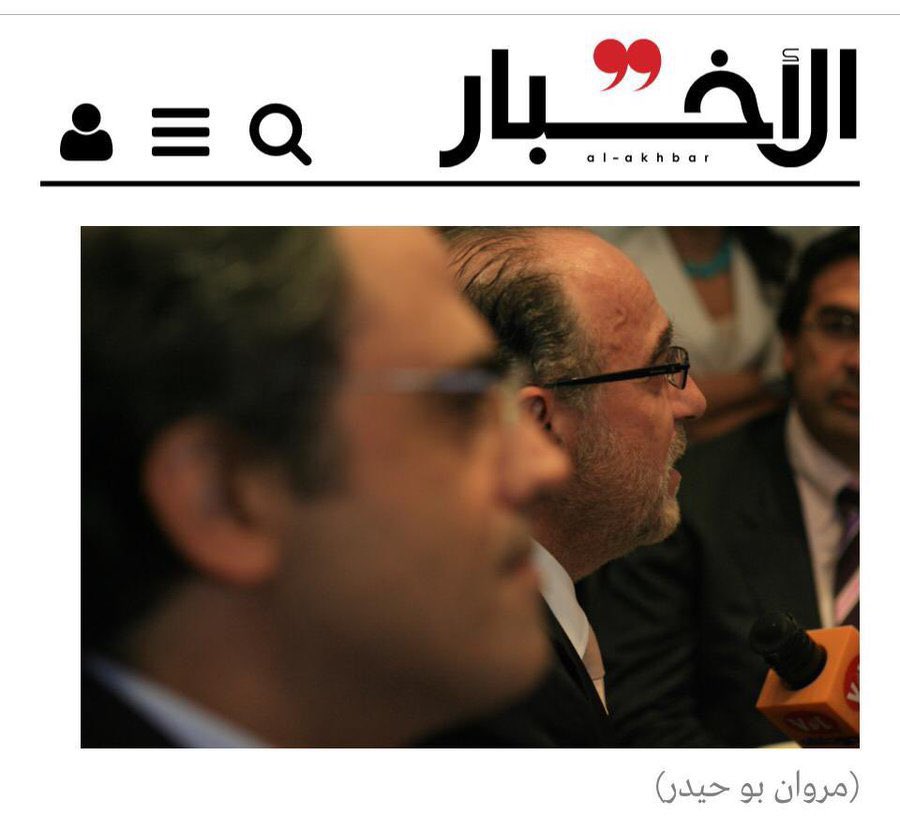 Given that Chatah was assassinated in 2013, with many believing that the hit was carried out by Hezbollah, some interpreted the picture in the Hezbollah-affiliated Al-Akhbar as a subtle warning that Azour would meet the same fate if he were elected president.
Following a backlash, Al-Akhbar changed the photo on the website and even reissued a PDF version of the newspaper with the new image.
Still, despite Hezbollah and Amal's opposition to Azour, Parliamentary Speaker Nabih Berri called for a new special electoral session for on June 14, the first since January 19th, which saw the eleventh failed session.
Because of the divide between Azour and Frangieh, it is almost assured that neither of them will get elected unless one side gives – which is highly unlikely.
Since neither candidate has a real chance of being elected, there will need to be a third candidate that works to create a consensus, or extensive negotiations so that either Azour or Frangieh can be elected. It is not clear if or when that will happen.
With Lebanon now 216 days sans president, pressure is also mounting internationally. The US has hinted that it is considering sanctioning Lebanese officials who are accused of obstructing the election of a new president. However, given the history that the US has when it comes to sanctioning Lebanese officials, this is mostly an empty threat.
In Lebanon
Implications: Six months after Irish UNIFIL peacekeeper Seán Rooney was shot and killed in south Lebanon after a UNIFIL convoy came under fire after it entered the village of al Aqbiye, Judge Fadi Sawwan has charged five men in the incident. All five men have supposed links to Hezbollah.
Only one of the five men, Mohamad Ayyad, is currently in custody with Ali Khalifeh, Ali Salman, Hussein Salman and Mustafa Salman still free.
As part of the indictment, evidence that includes interviews with bystanders as well as audio and video recordings was submitted, some of in which the gunmen could be heard saying that they were with Hezbollah.
The day after the men were charged and Hezbollah was implicated in the shooting, the party's chief spokesperson Mohammed Afif condemned the association of Hezbollah with the shooting, arguing that they not only had nothing to do with the incident but Sawwan was "intentionally offending Hezbollah."
Kidnapping in Beirut: A Saudi citizen who was kidnapped after midnight on Saturday after leaving a restaurant in Zaytuna Bay in Beirut was rescued on Tuesday, May 30, by the Lebanese military during a "special operation" in the Baalbek area.
Mushari al-Mutairi had been kidnapped by individuals dressed in security uniforms and demanded a $400,000 ransom for his release.
Following the rescue of al-Mutairi, it was revealed that Abu Silah, a drug dealer who works with the notorious drug smuggler Ali Zuaiter, was the leader of the kidnappers. Nine people were arrested in connection with the kidnapping.
A video also spread throughout social media after the Baalbek raid which alleged that Abu Silah has connections to Hezbollah.
Going on strike: The son of former Libyan dictator Moammar Gadhafi has announced that he is going on a hunger strike after having been held in detention in Lebanon for seven years without a trial.
In 2015, Hannibal Gadhafi was kidnapped from neighboring Syria, where he had political asylum following the uprising in Libya and the overthrowing of his father's government, by Lebanese militants. The kidnappers had demanded information on the fate of Moussa al-Sadr, a Shiite cleric from Iran who came to Lebanon in 1959 and worked for Shiite rights in the country, founding the Amal movement before his disappearance in 1978 following a trip to Libya. It is widely believed that Moammar Gadhafi ordered his execution.
The younger Gadhafi was later turned over to Lebanese authorities and has been waiting in detention without trial.
Gadhafi, who is married to a Lebanese woman, has said that he will continue the strike "until the end" and that "the time has come to liberate the law from the hands of politicians."
Lebanese ambassador accused of rape: Lebanon's ambassador to France, Rami Adwan, has been accused by French authorities of rape and intentional violence following complaints by two former embassy employees.
French authorities have called on Lebanon to lift Adwan's diplomatic immunity so that he can stand trial. It is not clear if Lebanon will follow through with the French request.
Lebanon is sending investigators to France to look into the accusations.
In the region
Israeli soldiers killed on Egypt border: Three Israeli soldiers were killed on Israel's southern border with Egypt in what authorities are calling an isolated incident.
The shooter was a member of Egypt's border security force that had crossed the border to Israel's side.
Egyptian and Israeli reports of what happened are conflicting, with Egypt claimed that the man was chasing drug smugglers when he crossed the border and became embroiled in a shootout with the Israeli military. Israel says that its soldiers had foiled a drug smuggling attempt in which two of its soldiers were killed. Upon finding the Egyptian soldier, there was a shootout in which another soldier was killed.
Israeli and Egyptian authorities are cooperating to investigate the incident.
Royal wedding (Arab edition): Jordan's crown prince, Hussein, married Saudi aristocrat and architect Rajwa al-Seif over the weekend in an event that caught the attention of the region.
The wedding also saw British royals Prince William, who is next in line for the throne, and his wife Catherine, the Princess of Wales, in attendance along with First Lady of the United States Jill Biden.
The two days of celebration were also viewed as a way to temporarily distract the Jordanian public from the country's recent growing troubles.
Going on trial: Two Iranian journalists who broke the news of the death of Jina "Mahsa" Amini and covered the ensuing protests are potentially facing the death penalty as they go on trial following their detention.
Elahe Mohammadi and Niloofar Hamedi are accused of "colluding with hostile powers," which they deny, and face either long prison sentences or even the death penalty.
Following the start of the protests, Iran cracked down hard on the Iranian public, with thousands being arrested and several protesters executed in an attempt to quell the uprising.
Few believe that neither Mohammadi nor Hamedi will receive a fair trial, particularly under the ruling of their judge, nicknamed the "hanging judge."
Pride: Members of Israel's LGBTQ+ community have expressed concerns about upcoming Pride celebrations due to the country's far-right government and many of its member's views on the community.
While the government has maintained the LGBTQ+ community's right to hold Pride events, some of these same members have previously taken part in marches that likened LGBTQ+ individuals to animals and have openly wanted to abolish Pride parades and weaken laws protecting LGBTQ+ rights.
LGBTQ+ activists have noted an increase in anti-gay abuse and targeting since the new government was formed.
Extensive security forces have been deployed for the possibility of violence during Pride events which have been previously targeted by religious extremists in Israel.
What we're reading
Impact: Despite not being registered as a bank, Al-Qard al-Hassan essentially acts as Hezbollah's banking system. Lawyers Adib Tohme and Rafik Ghraizi wrote about the potential legal and financial implications that al-Qard al-Hassan could have on Lebanon.
Working together: The economic crisis has put a strain on businesses and individual workers. However, Rodayna Raydan found that co-working spaces, which act as productive sanctuaries in a crisis-riddled country, are on the rise across Lebanon.
Another year: Yet another year has gone by marking the anniversary of the assassination of Samir Kassir. NOW's publisher Eli Khoury, in a piece published last year, wrote about the individual and political impressions that Kassir left behind following his death.
Escalation: It is safe to say that neither Iran nor Syria want US troops based in Syria. As part of the Discord leaks, The Washington Post's Joby Warrick and Evan Hill found that Iran is planning on escalating attacks against the US in Syria as an attempt to drive the Western power from the country.
"Precision": Israel has increasingly used targeted airstrikes on targets that they deem a significant threat to Israel, especially since it means avoiding putting Israeli lives at risk. The New York Times's Raja Abdulrahim, though, found that these so-called "precision strikes" are anything but precise – often dealing much more damage and killing many more than Israel is willing to admit.
Lebanon+
Podcasts: In the first episode of GENXZ, a sort of "spin-off" from The Beirut Banyan, Sarah al-Asmar spoke with William Noun about his older brother Joe who was killed in the August 4 Beirut Port explosion, as well as about well-being, and politics in Lebanon.
Until next week, follow NOW Lebanon on Twitter, Instagram, Facebook, and LinkedIn, and subscribe to our weekly newsletter. And stay safe!