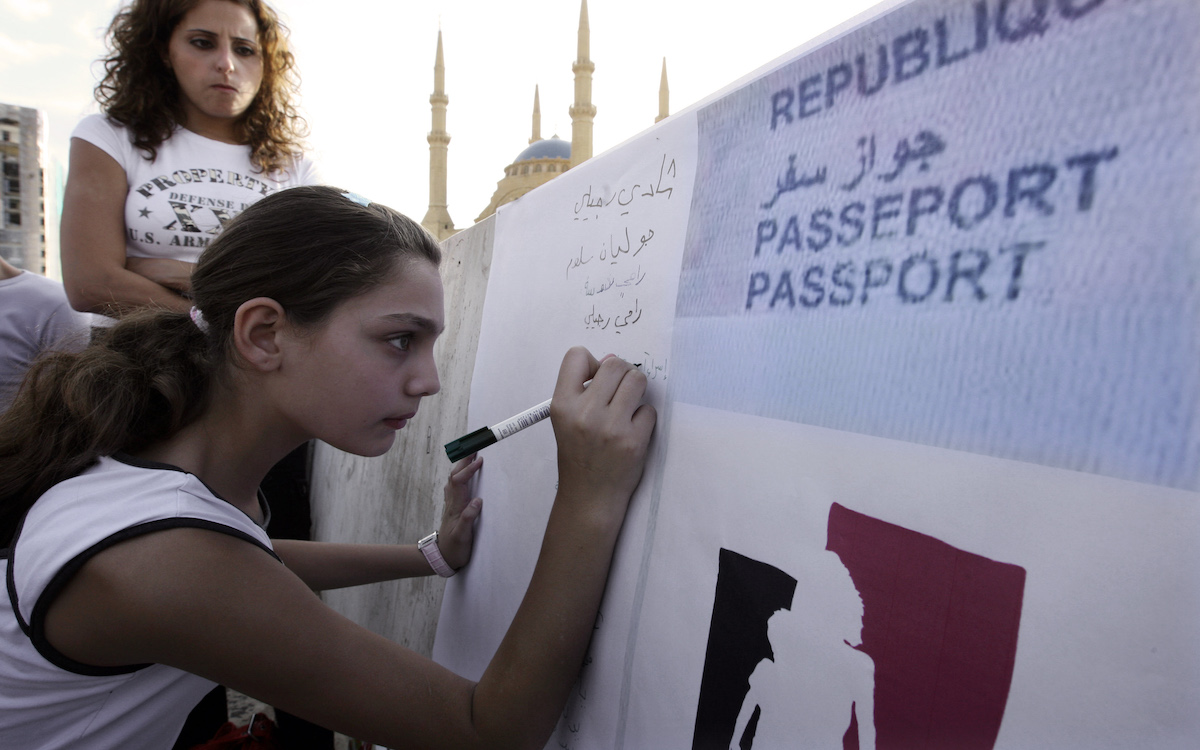 A Lebanese girl signs her name on a mural protest placard demanding the right for Lebanese women to pass on their citizenship to their children, during a protest in downtown Beirut on October 10, 2008. Photo: Joseph Barrak, AFP
After much speculation, on Tuesday, April 18 Lebanon's Parliament voted to extend the terms of the country's mayors and municipal councils until May 31, 2024 at the latest.
While the staggered elections were scheduled throughout the month of May and political leaders boasted about being ready for them, a group of 65 MPs, the bare minimum required to hold a session, unanimously agreed to extend the date of the elections for up to one year.
This is not the first time that they have done such a thing, with the elections also having been postponed in 2022.
There were multiple reasons for postponing this year's elections, with the main two reasons being that there is still a vacancy in Baabda after Michel Aoun left office nearly six months ago and the lack of funding to pay for the elections.
However, the solutions to both of these problems lie with the politicians themselves.
There has not been an attempt to elect a new president since January, and there has been little to no movement on the parties coming to a consensus on a candidate.
Hezbollah officially nominated Sleiman Frangieh in March, but there is staunch opposition to him amongst the Christian MPs in Parliament as well as from other elements in the opposition, drastically reducing his chances of being elected.
France is reportedly still in favor of a deal in which Frangieh, who is close to Hezbollah and Syria, is elected president and Nawaf Salam, who is close to the West, is named prime minister. However, many in Lebanon have scoffed at such a deal, as the president would be in power for at least six years while the prime minister could be dismissed at any point.
The issue of funding the elections also stems from the ongoing economic crisis that Lebanon is facing.
Parliament has failed for four years to act to combat the economic crisis and has instead watched as the country's foreign currency reserves continue to dwindle, reducing the government's ability to fund projects and institutions.
This could be solved by striking a deal with the International Monetary Fund (IMF) and implementing the necessary reforms, which would unlock billions of dollars in funds that would go a long way in helping the country recover from the crisis.
Still, there appears to be no end in sight for either of these issues, making it hard to imagine how they plan on holding elections a year from now when the situation in the country is unlikely to have improved by that time.
In Lebanon
Escape from Sudan: As the fight for power in Sudan continues, governments around the world have worked to get their citizens out of harm's way as the situation in the country continues to deteriorate.
For the Lebanese in Sudan, it was not initially clear if the Lebanese government would be able to get them before it became impossible to evacuate anyone.
However, the Ministry of Foreign Affairs and Expatriates announced on Sunday that it had successfully completed its first evacuation of Lebanese citizens in Sudan. The caretaker foreign minister, Abdullah Bou Habib, thanked Saudi Arabia for helping to secure the evacuation of 52 Lebanese nationals from Port Sudan.
There are still an unknown number of Lebanese stuck in Sudan, in particular the capital Khartoum, who have appealed to the Lebanese government to help get them out of the country.
Forced out: In the last few weeks, Lebanese authorities have deported 177 Syrian refugees back to their country despite the risks that returning may pose to their lives.
According to the Syrian Observatory for Human Rights, of those 177 deported on the eve of Eid al-Fitr, at least 39 have since been arrested by Syrian authorities.
According to an army official, raids on undocumented Syrian refugees in Lebanon have increased as of late and, because detention centers are full, they are choosing to deport refugees instead.
This move also comes in the wake of a spike in anti-Syrian and anti-refugee rhetoric in Lebanon. On April 20, the fountain in Samir Kassir Square in Beirut was drained after a video showing children playing in it spread on social media. The children playing in the fountain were labeled as "Syrian" even though their nationalities were never mentioned in the video.
NOW's Robert McKelvey previously wrote about how refugees in Lebanon have been scapegoated by politicians and others as the cause of all of the country's problems. You can read that story here.
The noose tightens: French authorities have told Riad Salameh, the head of Lebanon's Central Bank, that they plan on pursuing preliminary fraud and money laundering charges against him. The charges stem from forged bank account statements. 
Salameh is expected to be charged during a May 16 hearing. It is not clear if he will travel to France for the hearing.
Salameh also faces other potential charges in France and is still under investigation in Germany, Luxembourg and Switzerland. He has already been charged in Lebanon.
He has continued to deny any wrongdoing.
No show: European investigators are once again in Lebanon as part of a probe into Riad Salameh and his alleged financial crimes. 
However, this time they were looking to question his brother Raja about his involvement. 
Raja did not attend the interview scheduled for Tuesday, April 25. Instead, his lawyer attended the session with a claim that his client was "ill."
Raja, like his brother, denies any wrongdoing. 
A ruling over Khalde: A Lebanese court ruled against several individuals from Khalde over the clashes between clans in the area and Hezbollah.
In the ruling, a military court sentenced several people to up to a decade of hard labor.  Several others received death penalties, which are not likely to be carried out due to Lebanon's moratorium on executions.
The clans of Khalde have deemed the ruling unjust and wholly in favor of Hezbollah.
Members of the local clans are expected to meet to plan their next steps in response to the ruling.
A question over citizenship: For years, women in Lebanon have fought for the right to pass on their nationality to their children only to be rebuffed.
On April 18, the Lebanese government gave Lebanese women another slap in the face by agreeing to give American basketball player Omari Spellman the Lebanese nationality so that he could play for the national team.
The move immediately received backlash from women in the country who were quick to point out that they still do not have the ability to give their children citizenship but, apparently, if you are a good basketball player, then you can have the entire government make an exception and give it to you.
Infighting: Rival factions of the Syrian Socialist Nationalist Party clashed over the weekend in Beit Shabab which, while not resulting in any injuries, demonstrated the lack of consensus in the party.
The fighting took place between two factions within the SSNP, one of which supports the former minister and head of the party Assaad Hardan and the other which supports the party's current chairman Rabih Banat, in the Metn area.
The SSNP was quick to try and quash any talk of party turmoil by claiming that the fighting was between the party and an armed group.
In the region
A war on multiple fronts: In the most recent revelation to come from the Discord Leaks, Ukraine had apparently come up with a plan to attack Russian forces in Syria in an effort to force Russia to remove some of its resources in Ukraine and put them in Syria instead.
The plan, which was eventually nixed by Ukrainian President Volodymyr Zelensky, would have seen Kurdish forces within the Syrian Democratic Forces (SDF), supplied by Ukraine, stage attacks against Russia. It is not clear how far outside of the planning stages this operation got before it was canceled.
Such a plan would have likely done little to affect Russia in Syria. According to the leaked report, SDF forces requested training, air defense systems and that their involvement be kept a secret. They also requested that any attacks on Russian positions in Syria be done outside of Kurdish territory.
The SDF denied talks of any such plans.
A tragic end to Ramadan: A stampede in the Yemeni capital of Sanaa killed nearly 80 people as they tried to receive aid during a charity event at the end of the holy month of Ramadan.
Two people have been detained in the wake of the incident and an investigation has been launched.
Authorities blamed the stampede on poorly organized distribution which was not coordinated with the government.
According to eyewitnesses, armed Houthis shot into the air to maintain control of the crowd, which ultimately led to the stampede.
MP and weapons smuggler: Israeli authorities have arrested a Jordanian MP over allegedly attempting to smuggle weapons into the occupied Palestinian territories.
The MP, Imad al-Adwan, was detained at the King Hussein border crossing with weapons and gold found in his car.
A video circulated by Israeli authorities following al-Adwan's arrest show a sizeable number of seized weapons.
Relations between Jordan and Israel have worsened since the return of Benjamin Netanyahu to the premiership, where he currently leads the most extreme right-wing government in Israel's history.
What we're reading
Celebrating Eid: Ramadan has officially come to an end for Muslims around the world. In Lebanon, celebrations were largely dulled due to the economic crisis. However, NOW's Dana Hourany found that residents of the southern city of Sidon were doing their best to prepare for Eid and not to let the crisis interfere too much with their celebrations.
Hezbollah TV: Every year there are numerous series produced for the month of Ramadan, some more political than others. I wrote about how Hezbollah sometimes uses these series as a way of continuing its message of resisting Israel, even though it has not been in direct conflict with Israel in nearly two decades.
Funerals and protests: An unknown number of people were killed in the nationwide uprising in Iran following the death of Jina "Mahsa" Amini. In an investigation, The Washington Post's Nilo Tabrizy, Atthar Mirza and Babak Dehghanpisheh found that some of these funerals became another way for the Iranian people to continue protesting, but they were also an opportunity for Iranian authorities to crack down on the people.
An expensive tradition: Eid al-Fitr has many traditions that date back decades. One of those is the concept of eidiya where family members give a small sum of money to children throughout the family. The New York Times's Raja Abdulrahim looked at the tradition in Gaza, where it is a chance for women to get some extra cash, but it also puts immense pressure on the men to provide the money.
Lebanon+
Podcasts: In the latest episode of The Beirut Banyan, Ronnie Chatah spoke with co-founder of Megaphone Jean Kassir about his recent summoning, the political divide in Lebanon and the diaspora's role in the ailing country besides just sending money. You also get bonus points if you can spot me randomly walking by in the background.
Until next week, follow NOW Lebanon on Twitter, Instagram, Facebook, and LinkedIn, and subscribe to our weekly newsletter. And stay safe!