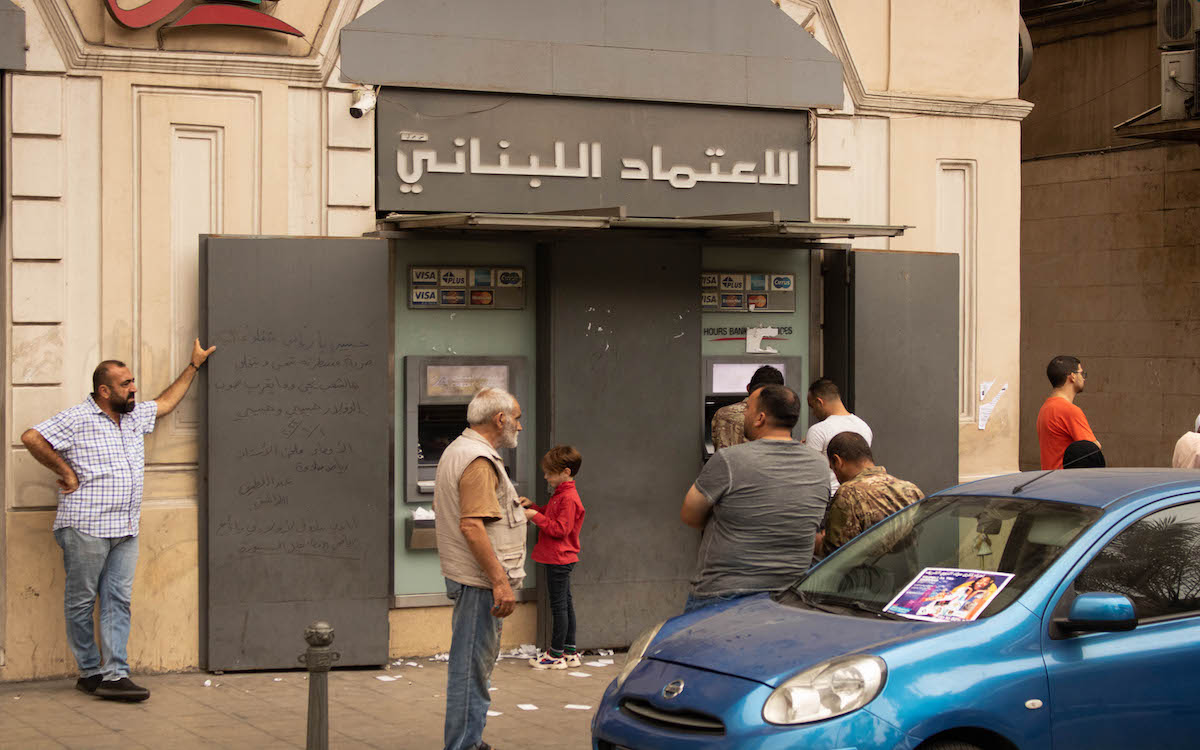 Banks across Lebanon temporarily closed on October 7, 2022 after a string of holdups by depositors trying to access their money. Photo: Nicholas Frakes, NOW
Two depositors at the Lebanese Credit Bank in Hazmieh stormed the local branch with a pistol and fuel, with one of the depositors threatening to use the fuel to light himself on fire if they did not hand over his savings, which have been trapped in the bank since the start of the economic crisis in 2019.
Ibrahim Beydoun and Ali al-Sahli entered the bank this morning demanding about $50,000 dollars of their own money. According to local reports, they received the cash, and have been waiting to be allowed to exit the bank after security forces showed up.
This is not the first time that al-Sahli has attempted to retrieve his locked savings. 
The former member of Lebanon's Internal Security Forces attempted to hold up another branch of the Lebanese Credit Bank in Chtoura on October 5, but was quickly arrested and was unable to retrieve any of his money.
Since Beydoun and al-Sahli received the nearly $50,000, security forces have cut off electricity and ventilation to the bank branch, with some of those inside saying that they are slowly suffocating because of the fumes coming from the fuel that the two depositors brought with them.
The hold-up follows a series of similar incidents in which depositors have attempted to use force to unlock their savings.
In September, there were a string of hold-ups, with many of those demanding their savings doing so because they needed the money to help pay for a family member's medical expenses or to help take care of debt that they or their families owed.
The most famous of these depositors who took matters into their own hands is Sali Hafiz who, armed with a toy gun, entered BLOM Bank in Beirut and forced employees to hand over $13,000 of her own money so that she could pay for her sister's cancer treatments.
The frequent hold-ups led to banks closing indefinitely on two occasions, asking that the government meet their demands for enhanced security. However, on each occasion, the banks reopened after only several days.
Depositors at Lebanese banks have been unable to fully access their savings for three years after banks imposed informal capital controls, drastically limiting how much money one can withdraw per month, as well as in what currency and at what rate.
With no end in sight to the worsening economic crisis, , the lira currently hovers at around 38,000 to US$1, while officially remaining at 1,507. Only able to withdraw their cash at a measly 8,000, Lebanon's depositors have become increasingly desperate to access trapped dollars in order to survive.
During the three years of crisis, Lebanon's politicians have done little to nothing to mitigate the circumstances.  No official capital control laws have been passed, nor have any sort of reforms been put in place.
While the government led by now-caretaker Prime Minister Najib Mikati was able to reach a staff-level agreement with the International Monetary Fund (IMF), Parliament has failed to pass any of the changes required to unlock billions of dollars in aid.
Now, with President Michel Aoun out of office after his six-year term came to an end on October 31, Parliament is unable to pass any reforms that could help the economic situation in the country, as there is no one to sign the laws.
According to Article 62 of Lebanon's Consitution, if there is a vacancy in the presidency, Lebanon's government would fill the role until a new president is elected.
However, Mikati's government was forced to resign following the May 15 parliamentary elections as required by law and Mikati was, once again, tasked with forming a government. He has failed to do so up to this point.
Even if Miakti were to form a government now, it would not be considered legitimate as there is no president to sign off on it.
Paul Salem, the president of the Middle East Institute in Washington DC, previously told NOW that the Constitution does not allow Parliament to hold any legislative business once they have begun the "open presidential election session."
Former MP Boutros Harb also previously told NOW that there could be far-reaching consequences should the political vacuum be prolonged.
"Unfortunately, we will face more problems and problems on the economic and social level, on the constitutional level and the security level too," Harb stated. "The best way [to avoid this] is to rush the presidential election and to push all of the parties to accept that there is no possibility of having a vacancy in the two bodies of the presidential powers and the government powers."
There is little indication from Lebanon's politicians, though, that they will be able to agree on a single name to elect as the country's next president. 
In the four attempts to vote on candidates, none have come close to reaching a majority.
A fifth session was canceled by Parliamentary Speaker Nabih Berri, with no new date for a vote scheduled yet.
Even in the time between the fourth vote and now, there has been little movement from the politicians when it comes to negotiating on a new president.
Berri apologized for not moving forward fast enough to hold dialogue between parties so that they can come to a consensus "after sowing opinions, and as a result of objection and reservations, especially from the Lebanese Forces and the Free Patriotic Movement blocs."
With no president and no government, there are likely to be more bank hold-ups as depositors are pushed to their limits,  as their elected officials have yet to give them any indication that they will take the necessary steps to ease their suffering.
Nicholas Frakes is a multimedia journalist with @NOW_leb. He tweets  @nicfrakesjourno.