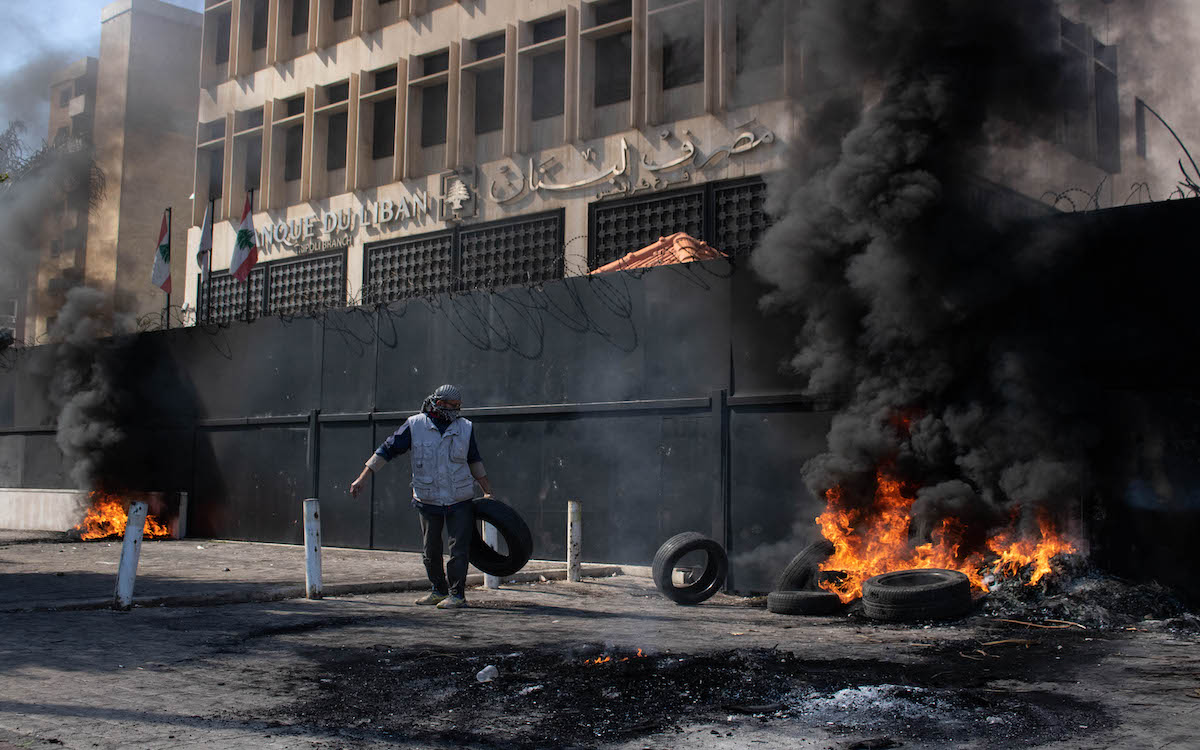 Public workers in Tripoli protest the devaluation of the lira and the worsening living conditions on February 20, 2023. Photo: Nicholas Frakes, NOW
Black smoke filled the main road in Tripoli in front of the Central Bank of Lebanon's (BDL) northern branch, blocking out the sun and creating an uneasy haze. 
Public workers were blocking the road and burning tires in front of BDL in protest of the devaluation of the lira and the worsening economic conditions.
Protesters in #Tripoli are blocking the road in front of the Central Bank and burning tires in front of it as the #lira continues to devalue and living conditions worsen. #Lebanon #لبنان #ليرة #دولار #طرابلس pic.twitter.com/zWuTtCINrm

— Nicholas Frakes | نيكولاس فريكس (@nicfrakesjourno) February 20, 2023
According to the workers, they make around five million lira per month.
"Who can live on five million lira," one man questioned.
He has three children to look after, so five million lira does not cut it for him.
Lebanon's economic crisis is well into its fourth year and little to nothing has been done about it, save for the raising of the official exchange rate which has only caused the lira to devalue and inflation to rise more rapidly.
Last week saw similar images in Beirut as protesters attempted to light multiple banks on fire.
At the start of 2022, the lira was valued at around 20,000 to $1 and reached over 40,000 by the end of the year.
Now, in the span of just over a month, the lira has gone from over 40,000 to $1 to over 82,000.
Update: The #Lira has gone up even further to surpass 82,000 to $1. #Lebanon #لبنان #ليرة #دولار https://t.co/XEZeRBC5cO

— Nicholas Frakes | نيكولاس فريكس (@nicfrakesjourno) February 16, 2023
To make matters worse, the banks are continuing their strike, only making the lives of Lebanese people that much harder.
The banks went on strike after a Lebanese court ruled in favor of a depositor who filed a lawsuit against one bank to demand their trapped money. The bank has refused to pay, and all banks announced a strike until the ruling was changed.
According to the banks, they do not have the money to pay back people's deposits. But the banks also continue to refuse any attempts for their shareholders to take the biggest losses in pulling the country out of crisis, instead arguing that it should be the government and the Lebanese people themselves who pay.
The economic crisis does not have an end in sight and is only worsening at a more rapid pace. People are being left with fewer and fewer options when it comes to just surviving in the country. 
How much longer until they explode?
In Lebanon
Hezbollah's banks see growth: While the vast majority of Lebanese banks are striking and refusing to give depositors access to their money, one company has been expanding: Al-Qard al-Hassan, a financial institution closely affiliated with Hezbollah.
Al-Qard al-Hassan recently announced that it was opening a new branch in Aley, and was also looking to expand to other regions throughout Lebanon. The legality of the loans that it gives out in Lebanon is unclear and the company is sanctioned by the US.
Despite the area of Aley being mostly opposed to Hezbollah, the group has regularly used crises as a way of expanding their reach, such as after the explosion in Talil, when the group sent aid to the people affected.
Hezbollah has long benefitted from a weak state in Lebanon, allowing it to act more freely as a sort of "state within a state."
More quakes: On Thursday, February 16, Lebanon saw two new earthquakes.
The #earthquake felt in #Lebanon originated from #Hatay, #Turkey at a magnitude of 5.2 and was also felt in northwestern #Syria. #زلزال #لبنان #تركيا #سوريا pic.twitter.com/9cHpOvoH7H

— Nicholas Frakes | نيكولاس فريكس (@nicfrakesjourno) February 16, 2023
The second earthquake was a magnitude 5.2 that originated in southern Turkey and was widely felt in Tripoli and Beirut.
Lebanon has been on edge since the massive 7.8 earthquake that struck Turkey and Syria two weeks ago.
Legitimate protest to political theater: It has been nearly a month since "change" MPs Melhem Khalaf and Najat Aoun Saliba announced that they would be staying in Parliament until MPs finally elected a president, demanding that back-to-back votes be held until there is agreement on a candidate.
Ironically, since their announcement, there have been no parliamentary sessions held and they have continued to remain in Parliament.
However, when the MPs put Lebanese flags on the seats and candles on the desks in Parliament, the support for the "change" MPs started to wane, with some beginning to argue that what they are doing is more theater than actual protest.
Wrapping parliament seats with 🇱🇧 flags and lighting candles won't help the Lebanese.
Performative politics won't save Lebanon.
Enough with your stunts and theatrics already ya @MelhemKhalaf & @najat_saliba. pic.twitter.com/CMLWUF3sNf

— Lina Zhaim ~ لينا (@LinaZhaim) February 19, 2023
No new sessions have been called yet, and  112 days after the vacancy began, Lebanon is still a long ways off from electing a president.
Backlog: When Parliament entered a special electoral session to vote on a new president, it came with certain conditions. The most notable of those conditions is that as long as the presidential vacancy still exists, Parliament cannot work on anything besides electing a president.
This has created a growing list of issues that need to be addressed, such as the economic crisis, with the most recent one being that Parliament needs to renew the mandate of General Security chief Abbas Ibrahim whose term is set to expire on March 2.
With Parliament unable to meet, other legal loopholes have had to be explored in order to ensure that the post remains filled.
According to Lebanese broadcaster LBCI, these options include either the caretaker Interior Minister or Prime Minister issuing an order or the cabinet voting to extend his term.
Aoun's candidacy in jeopardy?: From the start of Parliament's many failed attempts at electing a president, one potential candidate stood out over all of the other names being floated around: Army head Joseph Aoun.
Aoun's candidacy, which was believed to be inevitable as he is considered to be the best consensus candidate available, could now be up in the air. An article by Ibrahim al-Amin, the editor-in-chief of Al-Akhbar newspaper, an outlet closely affiliated with Hezbollah, criticized the army commander for essentially being a puppet for the Gulf Arab countries and the West.
Considering the publication's affiliation with Hezbollah, the article could mean several things.  It can illustrate that the group is growing increasingly disinterested in Aoun as a potential candidate, or could act as a warning shot to Aoun that more attacks are to come, making it impossible to confirm him as president if he does not give the group reassurances that he would not interfere in their affairs.
Aoun undoubtedly remains the most promising candidate but, without Hezbollah's approval, his candidacy would be significantly more difficult.
Soldiers killed in raid: Three Lebanese soldiers were killed during raids on drug traffickers in the town of Hortala, located in the Hermal district, on Thursday.
The raids were part of the military's crackdown on drug trafficking.
استشهاد ثلاثة عسكريين ومقتل ثلاثة مطلوبين خلال الاشتباكات التي وقعت في بلدة حورتعلا- البقاع.#الجيش_اللبناني #LebaneseArmy pic.twitter.com/ci8rCheOLS

— الجيش اللبناني (@LebarmyOfficial) February 16, 2023
The military has been increasingly working to disrupt drug networks in the country, particularly in the Bekaa.
In the region
Death toll increases: The number of people killed in the devastating earthquake that struck southern Turkey and northwestern Syria has surpassed 46,000, with the United Nations saying that they expect the toll to eventually surpass 50,000.
This earthquake has been one of the most devastating to strike the region in decades.
US Secretary of State Antony Blinken arrived in Turkey on Sunday to view the aftermath of the earthquake and oversee US relief efforts while meeting with his Turkish counterpart.
The US has promised an additional $85 million in aid, with Blinken adding that President Biden plans on approving another $50 million. This money also covers aid to Syria.
Turkey has enjoyed the majority of the international aid coming to help those affected by the disaster with people in Syria mostly being left on their own as the UN, NGOs, local authorities and the Syrian government failed to allow aid to cross into the areas affected.
For the most part, search and rescue operations have been called off, and rescuers are primarily trying to clean up the debris and pull bodies out from under the rubble.
Israel bombs Damascus: Israeli warplanes bombed several sites in the Syrian capital of Damascus early Sunday morning, killing at least five people, including civilians.
Israel has repeatedly bombed targets in Syria over the years.
While Israel rarely admits to its military actions, it has, in the past, said that it targets sites connected to Iran and Hezbollah in Syria.
Racist legislation: The Knesset, Israel's legislative body, voted on Wednesday to allow authorities to strip individuals jailed for terrorism, and those who have received a financial reward for their actions, of their citizenship or residency.
The legislation does not specifically name Palestinians as the target, but it mentions that those who receive money from the Palestinian Authority can be deported.
This action has been widely condemned by human rights groups as it does not do the same for Jewish Israelis jailed for terrorism. 
Protests continue against Netanyahu government: Tens of thousands of people have continued to hold demonstrations against the far-right Netanyahu-led government and its plans to overhaul the judiciary. 
The planned legislation would essentially make the country's courts toothless. 
Many in Israel view the courts as one of the last remaining bastions of democracy in the country. 
Despite the opposition to the planned legislation, the government has insisted that it plans on going ahead with it. 
ISIS raids in Iraq and Syria: On Thursday and Friday, Iraqi and US forces raided suspected ISIS cells in Iraq and Syria respectively.
During the Thursday raid in Iraq, several Iraqi soldiers were killed in the Tarmiya district just north of the Iraqi capital Baghdad. The raid came as Shiite pilgrims flocked to Iraq, making them a target for the extremist group.
In Syria, the US said that a helicopter raid, along with support from the Kurdish-backed Syrian Democratic Forces, led to the death of IS commander Hamza al-Homsi.
Despite IS losing all of its territory in 2019, it remains a looming threat throughout the region, with sleeper cells continuing to pull off terrorist attacks.
Postponing a vote: The US has successfully postponed a vote at the UN that would condemn Israel's expansion of settlements in the occupied West Bank and calls for their halt.
Israeli Prime Minister Netanyahu told US President Biden that he would not approve any more settlements for the time being, allowing for the UN vote to be pushed to another day.
This was pushed by the US in order for the UN meeting to focus on Russia's invasion of Ukraine.
Postponing the vote would also allow for the US to postpone any criticism of its support for Israel while it occupies Palestinian land, while fighting against the Russian occupation of Ukrainian land.
In other news
Biden visits Ukraine: US President Biden made a surprise visit to the Ukrainian capital Kyiv on Monday, where he pledged continued US support in the Ukrainian opposition to Russia.
This visit comes just four days before the one-year anniversary of Russia's invasion.
During the visit, Biden met with his Ukrainian counterpart Volodymyr Zelensky and visited the US embassy.
He departed several hours later.
What we're reading
18 years later: Nearly two decades ago, former Prime Minister Rafik Hariri was assassinated. I wrote about how his killing has continued to have an effect on Lebanon even all these years later.
Alone: The Washington Post's Louisa Loveluck has continued to have some of the best reporting in the wake of the February 6 earthquake in southern Turkey and northwestern Syria. In her most recent pieces, she wrote about the struggle to look after orphans in both Syrian and Turkey, the impact that a missing mother had on a family in Turkey and, with the help of her colleague Sarah Dadouche, the displacement of Syrians once again and the uncertainty of where they will go next. All of these reports are accompanied by fantastic photos by Salwan Georges.
Lebanon+
Podcasts: Two years ago, Lebanese writer and activist Lokman Slim was assassinated. In the latest episode of The Beirut Banyan, Ronnie Chatah spoke with Slim's widow Monika Borgmann and Marie Jo Sader, who received the Lokman Slim award for her investigation into her husband's murder, about Slim's murder two years later, the role of investigative journalism in Lebanon and accountability and justice.
Sarde after dinner is back, and Médéa Azouri and Mouin Jaber sat down with Lebanese musician and producer Wassim Bou Malham to discuss the western influence on Arab music, the success of K-Pop, and the alternative Arab music sweeping its way through the region.
Until next week, follow NOW Lebanon on Twitter, Instagram, Facebook, and LinkedIn, and subscribe to our weekly newsletter. And stay safe!