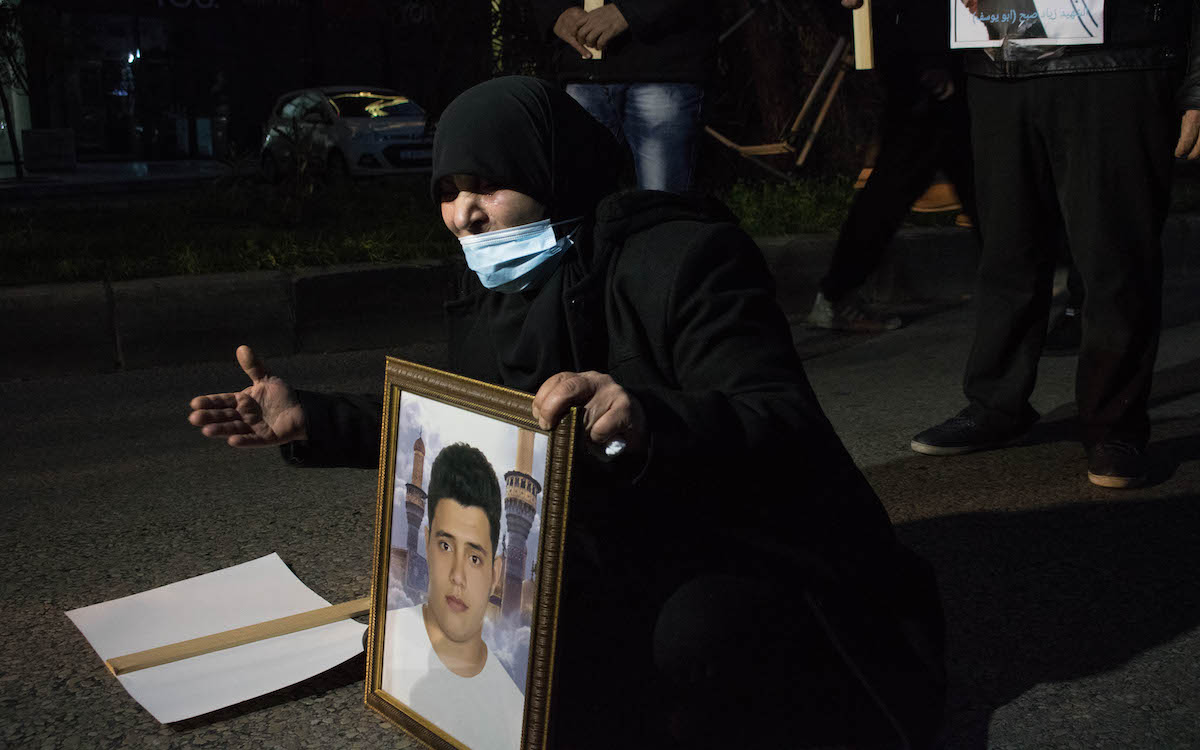 Family members of the victims of the August 4 Beirut Port explosion protest in front of the Justice Palace in Beirut on February 18, 2021 following the removal of Fadi Sawan from investigating the blast. Photo: Nicholas Frakes, NOW
In 2020, a man stood outside the Dunkin Donuts on Hamra Street in Beirut and shot himself.
He left only a copy of his clean criminal record and a note saying "I am not a heretic," speculated as being a reference to a Ziad Rahbani song whose lyric states "I am not a heretic, but hunger is a heretic… poverty is a heretic and humiliation is a heretic."
The 61-year-old man was facing the same poverty that so many others in Lebanon have increasingly faced since the start of the economic crisis and had reached his breaking point.
Lebanon has seen an increase in suicides due to the economic crisis, caused by decades of financial and economical mismanagement and endemic corruption by the country's politicians.
Corruption was one of many topics covered in the United States State Department's annual report on human rights that was released yesterday.
The report's section on Lebanon contains exactly what many in the country would expect: widespread corruption, political interference in the judiciary leading to a lack of justice and a growing crackdown on freedom of speech and expression.
"Although the legal structure provides for prosecution and punishment of officials who committed human rights abuses and corruption, enforcement remained a problem, and government officials enjoyed a measure of impunity for human rights abuses, including evading or influencing judicial processes. The country suffered from endemic corruption," the report stated.
None of these issues are new to the Lebanese. They have existed in Lebanon for decades and have become more of an unfortunate fact of life than anything else.
This was a huge reason for the October 17 popular uprising in 2019. The people were tired of the status quo and knew that it would bring the country to a collapse if nothing changed.
And that is exactly what happened.
The start of the economic crisis intensified the people's disdain for Lebanon's politicians, leading to more violent confrontations during protests.
But, now, nearly three years since the crisis began, people are more focused on simply being able to survive than anything else.
The cost of basic goods has skyrocketed. Fuel and electricity are scarce. Students are becoming increasingly unable to pay for university. With the Russian invasion of Ukraine, there is fear that there will soon be bread shortages.
This is not to say that human rights should take a backseat, nor that Lebanon should get a free pass for its numerous violations in 2021 alone. But, for many Lebanese, who are becoming growingly uncertain where their next meal might come from, it is not particularly high on their list of priorities.
The crisis is their priority, and this has grave consequences.
Bigger problems
To say that the Lebanese people are apathetic to the issue of human rights, however, is false. 
For years, prior to the start of the crisis, there were countless local NGOs that looked to tackle the issue from various vantage points. Kafa fights for women's rights and combatting violence against women. Helem stood for the LGBTQ+ community. The Lebanese Center for Human Rights focused on the issue of arbitrary detention and forced disappearances.
Even the 2019 uprising was, in a way, about human rights. The right of Lebanese to live in a functional society where the politicians do not use the government budget as their own expense account. The right to live their lives without fear just because they are gay or a woman. The right for their education to actually mean something in their country instead of having to travel abroad because there are no opportunities at home. The right to have their justice system work independently of the political establishment instead of for it.
This is something that many Lebanese continue to fight for despite the worsening economic crisis that has taken over so many people's lives.
However, this number is shrinking. When it comes to the August 4 Beirut Port explosion, it has primarily been the families of the victims who are continuing the fight for justice and for Judge Tarek Bitar to continue his investigation. The circumstances brought about by the crisis have made it increasingly hard for people to come out and protest.
The assassination of Lokman Slim, a staunch critic of Hezbollah and writer, on February 4, 2021 saw a fair amount of outrage from the public, especially as it recalled the killings of so many before him, like Samir Kassir and Rafik Hariri. But there were already signs that people's appetite to demand justice was beginning to die down.
Over a year later and, still, no one has been charged with Slim's murder. 20 months on and Bitar's investigation is stalled indefinitely with two of the people that he was calling in for questioning, Ghazi Zeaiter and Ali Hassan Khalil, running in the May 15 elections that would give them immunity from prosecution.
In Ansar, a village in South Lebanon, a mother and her three daughters were kidnapped and brutally killed in March of this year. In the wake of the murders, social media was awash with condemnation of the killings but, then, within days, silence. No more talk about protecting women and the little being done by the government to tackle killings such as these.
None of this silence has anything to do with an intrinsic lack of concern for human rights or justice.
More immediate problems of mere survival have taken precedent. Paying for university. The value of their salaries being slashed as the value of the Lebanese Lira plummets. The rising cost of basic goods.
It is completely understandable that such matters are the focus of so many people right now. 
But the inability to address pressing human rights issues will have long-term effects on Lebanon, and make it that much harder to better them in the future.
This report by the US is nowhere near the first about the human rights failures in Lebanon.
Human Rights Watch also publishes an annual report on the state of affairs in Lebanon in addition to its year-round coverage of human rights violations.
HRW acknowledges that the issue of human rights is not a priority for many Lebanese right now and is therefore calling on candidates in the upcoming election to answer a questionnaire and make human rights more of a priority if they are elected.
The current establishment parties have made it clear that they are not interested in changing the status quo, nor in the various issues of human rights.
That leaves it up to the opposition candidates running to take the pledge and continue raising the topic, even if they are only elected in the minority. 
Unless that happens, few are likely to talk about it, and increasingly, people will feel compelled to take justice into their own hands.
The unintended consequences
In August 2021, just before the one-year anniversary of the port explosion, clashes broke out in Khalde between Hezbollah and a Sunni tribe. Supposedly, Hezbollah members had killed a young man from that tribe, leading to them taking revenge by attacking a funeral procession. At least four people were killed but no one was arrested.
If crimes are able to be committed without consequence, then there is no rule of law in Lebanon.
Critics of politicians can be silenced, either through libel cases brought to the court, by intimidation or by the gun.
Even less bloody issues will have serious consequences.
According to a November 2021 UNICEF report, the number of children dropping out of school in order to work has increased as the economic crisis has worsened, with the report estimating that around 500,000 Lebanese and refugee children will drop out of school without planning to return.
Child labor laws in Lebanon say that you have to be at least 13-years-old in order to work, but I have spoken with people in Tripoli, one of the most impoverished and neglected cities in Lebanon, who have told me that they have been working since well before they were 13. 
One person, now 18, said that he has been working since he was nine.
Families can no longer afford to send their children to school or afford the required books for their classes. 
This growing lack of education will, in the years to come, have a significant impact on the country. Right now, there are still plenty of students looking to attend university and travel abroad, but what will those numbers look like when hundreds of thousands of people have not even been able to finish their basic schooling because they had to work and support their families?
If the decades of corruption are not addressed, then the billions of dollars potentially coming to Lebanon through the IMF will mean nothing.
Human rights, like much in Lebanon at this point, have become a luxury that few can afford anymore.
Nicholas Frakes is a multimedia journalist with @NOW_leb. He tweets @nicfrakesjourno.
The opinions expressed are those of the author only and do not necessarily reflect the views of NOW.